How to Use Email Marketing to Skyrocket Sales With ActiveCampaign?
Email is undoubtedly one of the most profitable marketing solutions. It enables you to promote your products to your subscribers. Moreover, it lets you share information regarding upcoming deals, coupon codes, and more with your readers. Nevertheless, an important aspect to remember when using email marketing is automation. You need to devise a strategy on how to use email marketing to improve your sales and make the most out of it.
Whenever a website visitor subscribes or contacts you using the contact form, he/she should receive an automated response. This response must confirm the receipt of their message.
While email marketing is powerful, there are chances that receivers don't open your emails. Sometimes, emails end up in spam or promotional folders. This makes it essential for you to use the right tools that help in creating a high-converting email marketing campaign. Check out our guide on best email marketing tools available in the market.
In this guide, we will take WPForms and ActiveCampaign as examples and learn how to use them to run successful email campaigns.
Creating WPForms with ActiveCampaign in WordPress
To use the ActiveCampaign addon, you need to first upgrade to the WPForms Elite Plan. Check out our exclusive wpforms coupon codes for amazing discounts. This plan offers several different features that help to skyrocket sales and significantly increase your business revenue.
After you purchase the plan, you can download and install the plugin from your WordPress admin panel. This is easy to do. Once the installation is complete, you need to create a form. For this, enter a name and select the template for Newsletter Signup Form. This will make the process more convenient.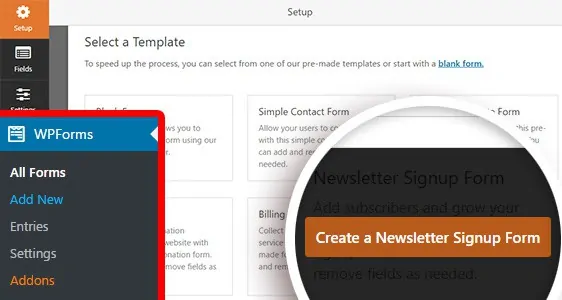 Now, you will see a simple newsletter signup form. Depending on your requirements, you can add additional fields from the left-hand side panel. Adding fields is easy. You just need to drag and drop the required fields from the left-hand side to the form on the right-hand side.
Click on a field to make any changes. You can also re-order the fields in your ActiveCampaign subscribe form by dragging them up and down.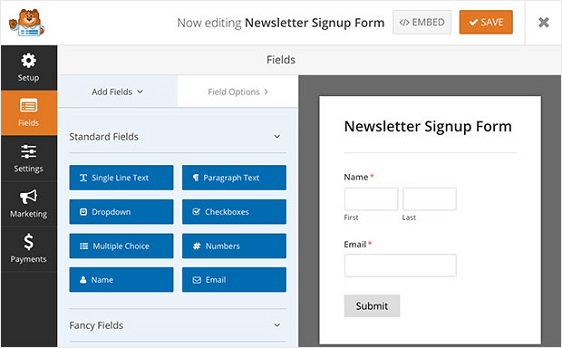 Connecting to ActiveCampaign
It is important to connect WPForms to ActiveCampaign to be able to launch the email marketing campaign. Click on the Marketing tab on the left-hand side tab. Choose ActiveCampaign.
Click on Add New Account.
You will need to enter all the details to create a New ActiveCampaign Account.
ActiveCampaign Account Name is the name you would like to give to this campaign. This information is for internal use only. For other fields like ActiveCampaign API URL and Key and Event Tracking Account ID and Key, you can use the help links provided in the form.
Then, click on Connect to ActiveCampaign to successfully connect.
You will now see a green box labeled Connected confirming the connection with the plugin.
After all the fields are filled in the WPForms Settings, press the Add button.
Congratulations. WPForms is connected to ActiveCampaign in your WordPress site.
Setting Up Your ActiveCampaign Form
In the next step, you will see a popup prompting you to Enter a connection nickname. This name is for internal purposes only and will make it easier for you to use the form with multiple email lists.
Next, you will see some more settings that you need to fill.
In the first Select Account field, select any connected ActiveCampaign accounts. The Action to Perform dropdown will provide several options. Choose the action that should be taken when a user fills out the form. Depending on the option you choose here, you will see some additional settings to fill and complete.
Click on the Save button after you have filled the required information.
Adding ActiveCampaign Form to WordPress
WPForms make it easy for you to add your Newsletter Signup Form to different pages of your WordPress site. You can add to a new page or an existing post on your website.
Open a new or existing post and click on the first block. Press the '+' button and search for WPForms. Now, from the dropdown, Select a form – Newsletter Signup form or any other form you would like to add.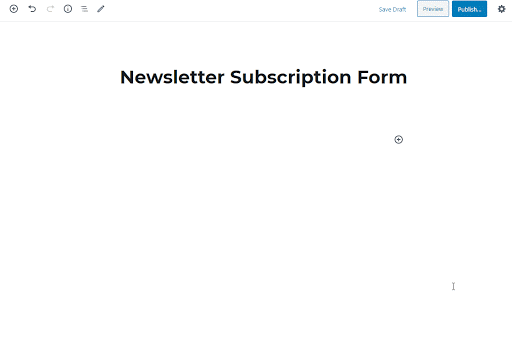 Click on Publish or Update to make the form live on your WordPress site.
That's it, you're all set! Now when a user fills out the WPForm on your website, the contact will reach your ActiveCampaign database. This database will also have information from the other fields you have specified, using which you can communicate with the users through email marketing.
How Does ActiveCampaign Work?
ActiveCampaign is a popular marketing automation tool. It allows you to connect with your leads and customers in a long-lasting relationship. Using WPForms, you can connect ActiveCampaign with WordPress. As a result, you can start building and embedding forms fast and easily.
ActiveCampaign allows you to achieve the following:
Build an automated and personalized journey for your customers
Create and deliver more segmented and targeted emails
Develop engagement with customers and prospects on other channels
Integrate real-time chat to acquire leads
Establish a sales process to find, prioritize, and route leads
Track and control customer data for complete information and analysis
What Does ActiveCampaign Do?
Some of the benefits of integrating ActiveCampaign with WPForms include:
Drag and drop builder: Using this feature, you can easily create your form in a few clicks in your WordPress dashboard.
Form abandonment: With form abandonment, you can retain partial form entries. And use the same to follow up with interested leads.
No need to log into ActiveCampaign: You don't need to integrate ActiveCampaign again and again. Once you integrate, you can create unlimited signup forms.
Add a subscription checkbox: Do you want to give users the choice to automatically subscribe to your list as they enter their information in the contact form? If yes, just add a subscription checkbox to your contact form.
Use Email Marketing to Skyrocket Your Sales
Email marketing is an efficient, reliable, and secure tool to generate more leads and record sales like never before. However, this is only possible with the right tool and auto-integration techniques. If you try to manually reply to every response or query you receive, it will be time-consuming and challenging.
Both ActiveCampaign and WPForms Elite exist to skyrocket sales through email marketing. Using these two services in combination, companies and agencies can become unstoppable. Although most webmasters know that WPForms is the best WordPress form plugin available in the market, yet not all are aware of the scope and complete features list of WPForms.
WPForms allow you to add forms to your email marketing efforts. However, ActiveCampaign is what gives the best results to take your business to the next level.
WPForms in combination with ActiveCampaign allows you to effectively execute email marketing campaigns. The tools make your tasks easier and fasten your business growth.