Blinkist App Review (The Best Book Summaries In 15 Minutes)
I read "7 habits of highly effective people" – a book on habit building in 19 minutes. It's a 381-page book. Can you believe that? Non-fiction is not my thing but Blinkist does a really good job at summarizing some of the best non-fictions ever written. In this article, we'll write Blinkist App review and tell you if you should try it out?
What Is Blinkist App?
Blinkist is a reading application that summarizes non-fiction books for busy professionals and people to quickly consume insights. Professionals hardly get any time to read. But they should read more to develop themselves and their teams.
There's a lot out there in the book world that teaches professionals about career, lifestyle, habits, and more.
Blinkist was founded in 2012 and is now serving over 14 million users. The team at Blinkist summarizes the key takeaways from non-fiction and uploads them in an audio and text format. They ensure that the summary is not more than 15-20 minutes. In this Blinkist review, we'll see how effective it is.
Blinkist Magazine is a blog where the team shares ideas to build modern readers. They share articles on book suggestions, reading lists, reading habits, and more. Blinkist is a recognized name and has featured in huge publications such as Forbes, The Guardian, BBC, and The New York Times.
Get Blinkist @ 20% Discount (Exclusive Offer)
Blinkist Review – A Detailed Study
Firstly, Blinkist has a huge library. It has over 3,000 nonfiction summaries and counting. The team adds over 50 books per month to the library. All the books have been summarized to be heard or read under 15 minutes.
There are so many activities we can club with reading. For example, driving, cooking, walking, and jogging. You can use such times to learn from one of the Blinkist books. You get books from 27 categories including the most popular ones such as politics, marketing, leadership, and psychology. Before we get into full-fledges blinkist app review, let's see how we can use it.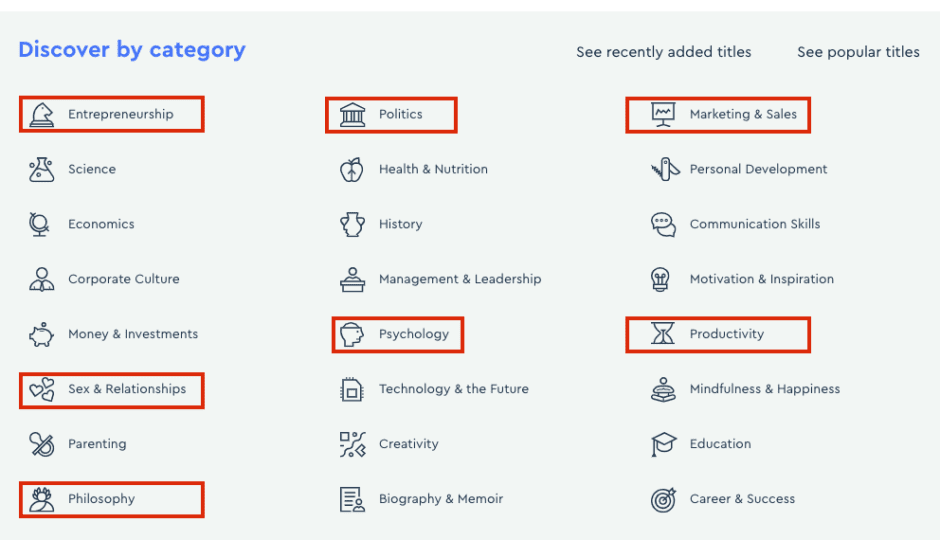 How To Use Blinkist?
Blinkist is a simple and minimal app. You can download it on Google Play and Apple's App Store. The app is basically designed for mobile phones but you can also use it on the web.
Once you download the app, you can login either through your email, Gmail ID, or Apple ID.
After signing up, you get access to the daily picks. Daily picks are the random books listed by Blinkist for free users.
Blinkist transforms a book into "blinks." Blinks are chapters of the book. Each blink is presented as text and audio. You can click through each blink to go to the previous and next chapters.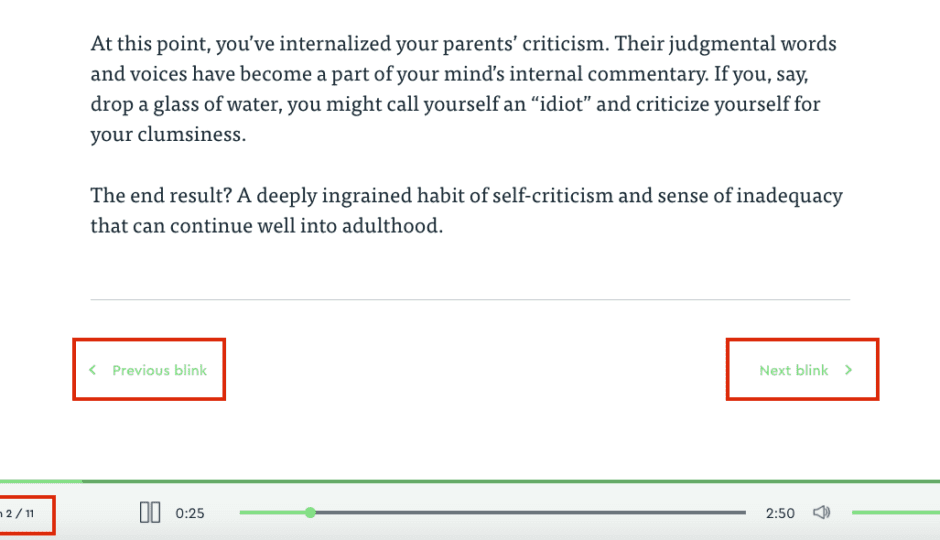 You will get to consume only one daily pick every day. Although, you can't choose what you want to read.
You can upgrade to the premium version to choose any book you want. There's a 7-day free trial from Blinkist after you fill in your payment details. We have reviewed the Free trial and paid version below.
Blinkist App Tour On iPhone
I downloaded Blinkist on my iPhone to take a tour before writing this review.
Let's take a look at the interface of the Blinkist app for iPhone users. You can go to the app store and download blinkist. The first look of blinkist is good. They use some really attractive colors and animation on their home screen. Here's the first look.
Then, I logged in with my Apple ID. The app has minimum options, which is great. It helps the readers to focus on reading and not divert.
The homescreen has 3 tabs below – Home, Explore and Library.
In the home section, you'll find your daily reads (if you are a free user) and a few more suggestions to kickstart your insightful reading with Blinkist. You can explore the list of books by clicking more, and also bookmark your picks to check out later.
The explore tab allows you to search books manually, not to mention that most of the books will be locked for you if you are a free user. The tab shows categories (Over 27) to choose books from. You can search by title, author, or topics in the search bar.
When you scroll down more, you'll find "Blinkist Originals." This is an exclusive section where the Blinkist team interacts with thought leaders and writers to create original insightful series. Obviously, a great feature to use for paid members.
The third tab is the library tab. This is your library. The bookmarks you save, the audiobooks you purchase and the episodes you wanna check out, all in one place.
Blinkist Free Trial
Oh yes! Blinkist comes with a free trial for 7 days. This is for you to try the app, check out the features, and read a few books before subscribing.
You can start your trial by signing up for the yearly plan. Sadly, the monthly plan doesn't support the free trial.
Don't worry! You just need to add your payment details as a part of the process. We're sure You will not be charged for the free trial.
Also, you can easily cancel your yearly plan any time before 7 days. However, you can only subscribe once from your email ID.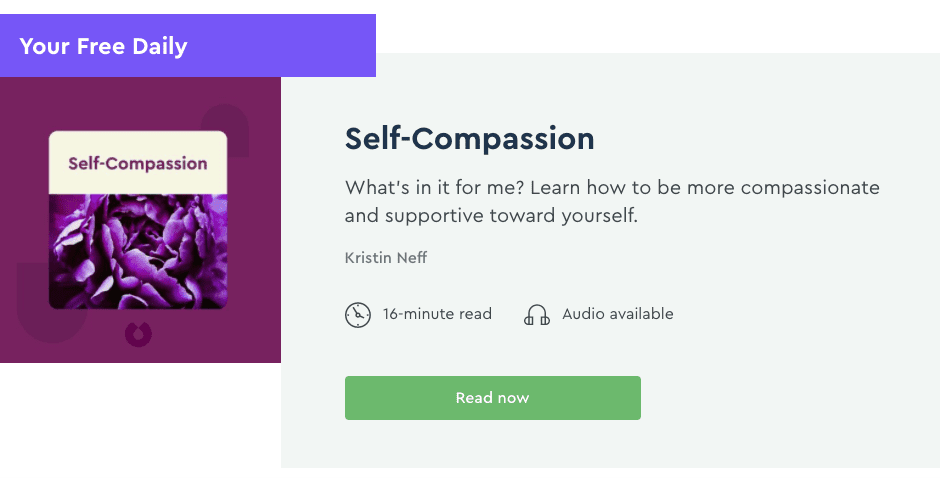 Blinkist Paid Subscription
If you are okay with the free subscription, it's great. But you will explore a much bigger world with blinkist paid. From unlimited access to all the titles to exporting your reads to other devices, Blinkist's paid subscription brings a lot more to the readers.
The paid subscription comes in two plans – monthly and yearly. The monthly plan starts at $15.99 per month while the yearly plan costs $8.34 per month. You can see there's a benefit in choosing the yearly plan.
Don't worry about the pricing in our blinkist app review, we have got an amazing 20% OFF deal for you on Blinkist App. Use out blinkist discount code and get 20% OFF on your subscription.
Blinkist Premium Features
Unlimited access to every book present in the blinkist library
Books in audio formats, which you can play while driving, walking, or making your food
The highlight feature, which allows the readers to make note of important text from the book
Offline reading option for readers that helps them read without internet connection, a rare benefit
You can sync your blinkist read list and highlights with your evernote app
If you feel more comfortable reading your books in Kindle you can export your blinkist book to it.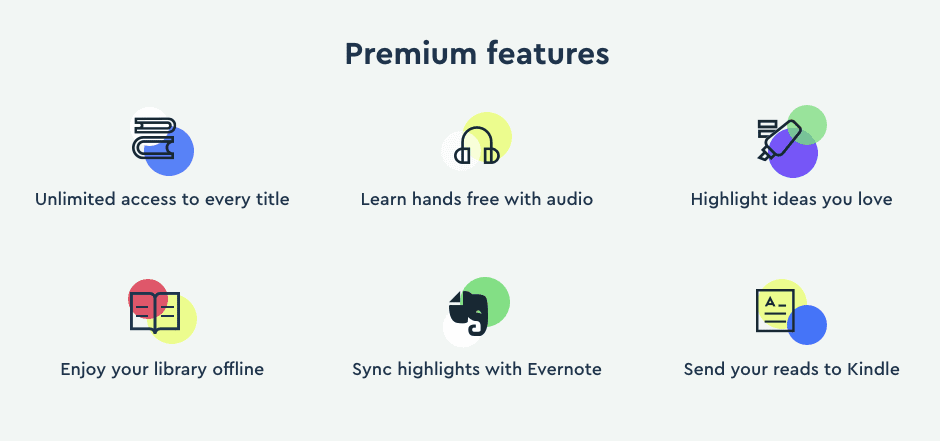 Executive Book Summaries
It reminds me of the story of a sales guy, who was about to meet the CEO of a company to pitch his product. He sat in the lobby for 2 hours waiting for the CEO to arrive. When he saw the CEO entering the lobby, he got up and introduced himself.
The CEO said, "I have to rush to a meeting on the 8th floor. Can you please explain your product to me in the lift?"
What happened next is something that I leave to your imagination. But the point is that people are busy. They don't want descriptions, explanations and huge paragraphs to read and understand. They want quick insights – short, simple and consumable.
Blinkist provides book summaries that, ultimately, helps people optimize their time and manage to learn in busy schedules. Every important word and learning from a book is summarized under 15 minutes.
There are books that help leaders make decisions. Decisions can't wait for a week just so that they can finish the book first. A summarized version can quickly give them the idea they need.
The quick summaries also benefit the readers to understand the basics of the book. It helps them decide if the book is worth reading in full.
Top Rated Books On Blinkist
To get you started with Blinkist, we can recommend a few books that have received the most love on the app. We could not cover all the books in this blinkist app review but you should check the app for more details.
7 habits of highly effective people by Stephen R. Covey, which you can read in 19 minutes
How to win friends and influence people by Dale Carnegie, which you can read in 18 minutes
The 5 AM club by Robin Sharma, which you can read in 12 minutes
The 80/20 principle by Richard Kove, which you can read in 16 minutes
Leaders eat last by Simon Sinek, which you can read in 15 minutes
The power of Now by Eckhart Tolle, which you can read in 15 minutes
Originals by Adam Grant, which you can read in 13 minutes
Outliers from Malcolm Gladwell, which you can read in 14 minutes
Think and grow rich by Napoleon Hill, which you can read in 18 minutes
Atomic habits by James Clear, which you can read in 13 minutes
Pros of Blinkist
The app helps you save time for other important activities
Blinkist summaries helps you decide if you want to read the full book or not
The premium version allows audio books which are more convenient to consume
You can filter unnecessary information from the book
Summaries would be easy to remember compared to reading whole books
Connects directly with your evernote account to save your book highlights
Helps you export your summaries to Kindle
It has a blog called Blinkist magazine that offers book recommendations to readers
It is not too pricey, especially when subscribed to the yearly plan
Cons of Blinkist
The free version supports just one read per day
Quick summaries can be great but you miss the joy of reading a full book with whole heart
There's a chance you might miss the magic of how the writers build the story and struggles of the characters.
Can we count blinkist summaries while taking reading challenges? Still confused…
Should You Buy Blinkist Premium?
We totally recommend it because we've tried it personally.
If you read our detailed blinkist app review, you wAs I said, I am not much of a non-fiction fan. Blinkist has helped me stay up-to-date with my non-fiction reading goals. The money is worth and you get exposure to thousands of book summaries.
Although, the monthly plan seems to be a bit expensive when compared to the yearly plan. If you still are confused, start the free trial and use this app to the fullest for 7 days.
Finally, we hope our review on Blinkist app was useful to you. If you liked this article, do share with your friends and colleagues who still have a dream to read a good book.