Cali Raw Discount Codes for The Best Raw Dog Food Delivery
Buy natural fresh raw dog food to improve the health of your pet in just 30 days or less. Cali Raw produces and delivers a B.A.R.F diet comprising 80% USDA meats, bone, organ, along with 20% fresh vegetables. Get your dog's meal at attractive discounts with our cali raw discount codes.
Working Cali Raw Discount Codes
How to Apply Cali Raw Discount Codes?
It is easy to apply Cali Raw discount codes with the steps mentioned below:
Choose a discount code that's appropriate to your order and click on Show Code.
In a new window, the discount code will appear. Remember to disable the pop-up blocker on your browser.
Copy the discount code onto a WordPad. The discount code also automatically copies to your computer's clipboard.
On Cali Raw's official website, add your choice of products to the cart.
Proceed to checkout.
Paste the copied discount code in the textbox on the right-hand side and press Apply.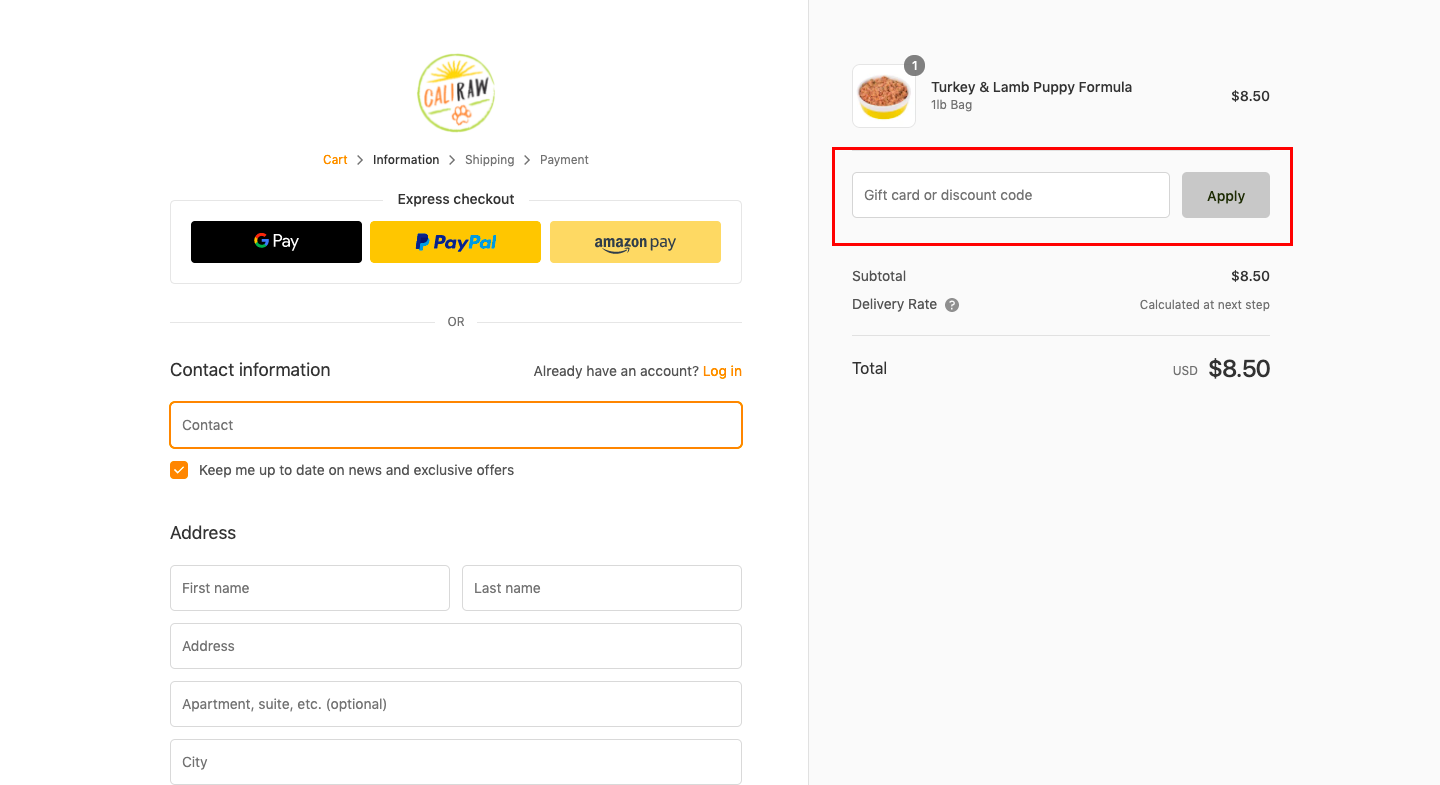 T&Cs for Applying Cali Raw Discount Codes
All cali raw discount codes are valid for a limited period.
Only one discount code can apply to every order. To use more than one discount code, place more orders.
You cannot apply the discount code with ongoing promotions and offers.
Cali Raw reserves the right to terminate the discount codes at any time. If your code fails, please reach out to the brand's customer service.
The discount codes are valid only on the official website.
Each discount code applies to specific products or product categories.
FAQs
1. How much quantity should I order?
Cali Raw suggests that you feed your dog around 2.5% of their ideal body weight each day. This quantity is the starting point. You can adjust according to the changes in the dog's weight. In the case of puppies, the brand recommends that you feed them based on their predicted/ideal adult body weight, deciding on the right quantity according to the development of your puppy.
2. Is there minimum shipping?
Yes. To keep the product frozen on arrival, the order must be a minimum of 10lbs of frozen food. The order is shipped with dry ice and 72-hour rated eco-friendly insulation.
3. Is there a return/refund policy?
If you are not satisfied with the product, please reach out to Cali Raw at 1-949-482-DOGS or support@caliraw.com. Orders once fulfilled/shipped cannot be canceled.
4. Do I have to subscribe?
No. Your order can have a la carte products of your choice. The subscription option is only there to rid you of the hassles of re-ordering and to help you save a few bucks.
5. Can I cancel my order after processing?
If you want to cancel your order and request a refund after its processing, you will have to pay a 5% merchant fee. In case you decide to cancel your order after fulfillment when the package is ready for shipping, you will be liable to pay a 20% restocking fee.
About Cali Raw
Cali Raw makes it easier and convenient for dog owners to feed their dogs a healthy diet. This diet is prepared using human-grade ingredients and keeps in mind the species and life stages of the dog. Cali Raw Nutrition's mission is to enhance the health and longevity of dogs through optimal nutrition.
The premium formulas of Cali Raw are complete and balanced, designed for delicious taste, easy digestion, and optimum bioavailability of nutrition. The diet is beneficial in improving the health of dogs with sensitive skin and sensitive stomachs. It is also appropriate for dogs that are overweight, suffer from allergies, experience digestive problems or inflammations, are diagnosed with cancer, or are simply aging.