DealFuel Coupon Codes for The Best Tech Deals & Amazing Offers
Get the best tech deals for web developers, marketers, designers, and freelancers. Buy now from DealFuel and enjoy amazing offers with incredible lifetime deals on popular software. Use our dealfuel coupon codes to save money on shopping.
Working DealFuel Coupon Codes
How to Apply DealFuel Coupon Codes?
We all love savings, only if the process to get it is easy. Follow the steps below to use dealfuel coupon codes:
Explore the different coupons shared on our website, and select one suited to your purchase.
Use the Show Code button to view the code in a pop-up window. The pop-up window will not open if the pop-up blocker is enabled on your browser.
The code automatically copies to your computer's clipboard. You can also copy it manually.
On DealFuel's website, click on the cart icon.
On the DealFuel checkout page, there will be a box for coupon codes. Paste the code in this box and press Apply coupon.
You can also paste the coupon code on the checkout page by clicking on the Click here to enter your code link.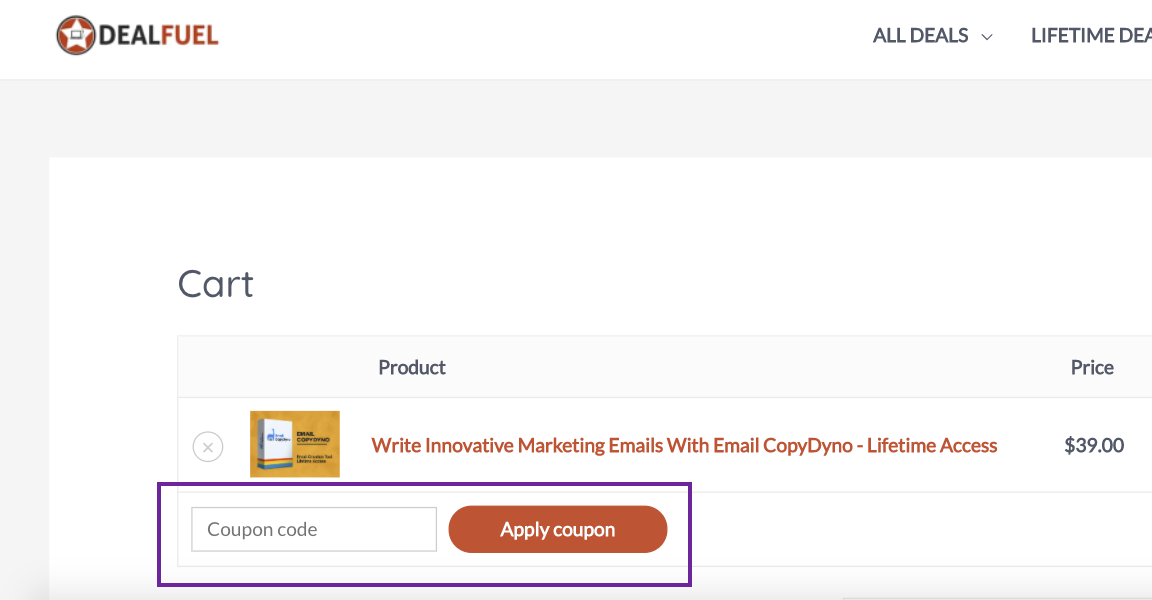 T&Cs for Applying DealFuel Coupon Codes
All dealfuel coupon codes come with limited validity.
To redeem the coupon code, you must use it on the official website.
You cannot use multiple coupon codes on a single order.
The coupon code is non-transferable and non-exchangeable.
Some dealfuel discount codes apply sitewide, while some apply to specific packages only.
You must place two orders if you want to use more than one coupon code.
You may not be able to claim a coupon with ongoing offers and promotions. Please send an email to support@dealfuel.com for further information about the same.
FAQs
1. How can I pay on DealFuel?
You can pay on DealFuel using PayPal or Credit Cards – Visa, American Express, Discover, MasterCard, JCB, Diners Club, etc. All dealfuel coupon codes are applicable via every verified payment mode.
2. What are DealClub plans and benefits?
DealFuel offers DealClub plans on a monthly, quarterly, and annual basis. The benefits that members can enjoy include premium support, an extra 25% to 50% off on all deals, access to 15 exclusive deals for free, special discounts, and more.
3. What if I am unsatisfied with the purchase?
DealFuel offers a full 100% money-back guarantee. Contact the customer support team to arrange this for you.
4. Do I need to register with DealFuel to complete my order?
No, it is not mandatory to register. However, if you sign up, you will receive information about great offers, featured deals, and discounts via email. You can use your social account for registration.
5. My DealFuel coupon codes are not working. What do I do?
Some dealfuel coupon codes have certain requirements or exceptions. Read the details of the coupon carefully to know the product or category on which it is applicable. Moreover, always copy and paste the coupon code. If you enter it manually, you may miss the right case.
More About DealFuel
DealFuel is a one-stop-shop for cool tech deals and exciting offers for designers, developers, marketers, bloggers, businesses, learners, and startups. Its parent company is Hummingbird Web Solutions. They offer amazing packages on WordPress themes, Website and SEO tools, e-Courses, Software, Plugins, Icons, Web Fonts, Graphics, Textures, Overlays, and more.
Moreover, you can choose to become a member of DealClub, an exclusive VIP Club for Web Designers and Web Developers. This club allows members to enjoy some exclusive deals for free with an additional discount of 25% to 100% on all deals.