Organic Basics Discount Codes for The Best Eco-friendly Clothing
Are you looking for high-quality, comfortable, and sustainable fashion clothing? Head on to Organic Basics to explore the vast collection of underwear, shoes and activewear for both men and women. Grab our organic basics discount codes before it's too late, and get ready to save money on your orders.
Verified Organic Basics Discount Codes
How to Use Organic Basics Discount Codes?
Here's the easy step-by-step process to use the organic basics discount codes:
Read the different discount offers mentioned above to choose the appropriate one for your purchase.
Press Show Code besides the chosen discount offer.
You will see the discount code in a new window. If the window does not appear, disable the pop-up blocker on your browser.
You don't need to copy the discount code as it copies automatically to your device's clipboard.
Navigate to Organic Basics' website and proceed to checkout.
On the right-hand side, paste the code in the text box for a Gift card or discount code.
Press Apply.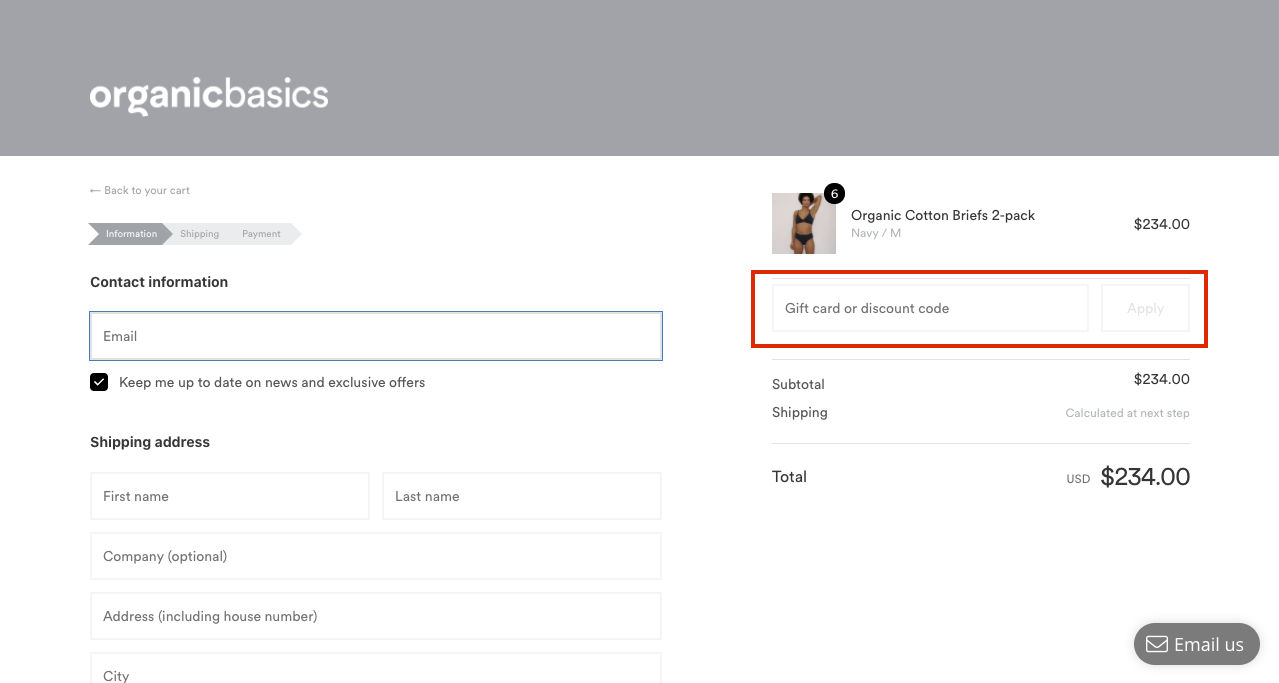 T&Cs to Apply Organic Basics Discount Codes
The use of the discount codes is restricted to the official website.
Each discount code has a validity period. In case a valid code does not work, please reach out to the brand's customer support team.
You can paste only one discount code for every order.
You can use two discount codes by placing separate orders.
A discount code applies to a particular product or category.
You can use a discount code with a gift card.
FAQs
1. Why was my payment declined on the website?
Organic Basics accepts credit cards from Visa, MasterCard, VISA/Dankort. In certain countries, you can use PayPal, Klarna, and MobilePay. If you used one of these payment methods and yet your payment wasn't successful, you can send an email to hello@organicbasics.com.
2. I already have a gift card. Can I also use a discount code?
Yes, you can use the gift card and discount codes from Organic Basics together on one order. Enter the details of the gift card first, followed by the discount code.
3. Are there any shipping charges?
Organic Basics ships the first order for free if a customer signs up for the newsletter. Orders above $150 also receive free shipping. Other shipping charges are calculated based on the delivery location.
4. What if I want to return a product?
You can register for an exchange, refund, or store credit within 60 days of product delivery. However, the refund does not include original shipping costs. In case you used a Gift Card for the purchase, the money will go back to the original gift card, and the remaining amount, if any, will be credited to the original mode of payment.
5. When I enter the discount code, I see the error – "Sorry, this code does not apply to your order." Why?
Discount codes don't apply to all product categories. So, if you see such an error, it means that the discount code you are using cannot be redeemed for the products in your cart. You will have to choose a different discount code.
About Organic Basics
Organic Basics is a fashion clothing brand with sustainability at its core. Its collection includes underwear and activewear for men and women. The fabrics used are eco-friendly and high-quality. The design focuses on simplicity and function.
The product range, including bras, bottoms, sweaters, socks, leggings, tights, underwear, accessories, and more, are comfortable to wear all day long.