South Bay Board Discount Codes for The Best Surfing Gadgets
Are you fond of surfing? Whether you are a beginner or a pro surfer, you need a high-quality surfboard to make the most of the adventure sport. South Bay Board has a large collection of different surfboards and accessories. Use our latest south bay board discount codes to enjoy attractive savings on your order.
Working South Bay Board Discount Codes
How to Apply South Bay Board Discount Codes?
The steps to apply south bay board discount codes are straightforward. Here's what you need to do:
Pick an appropriate discount code from the options shared on this page.
Press Show Code to see the complete discount code. Disable the pop-up blocker on your browser since it appears in a new window.
The discount code copies to your computer's clipboard on its own.
On South Bay Board's official website, add products you like to your cart.
Click on Checkout.
On the next screen, paste the copied code in the box provided, as shown in the image below.
Click on Apply.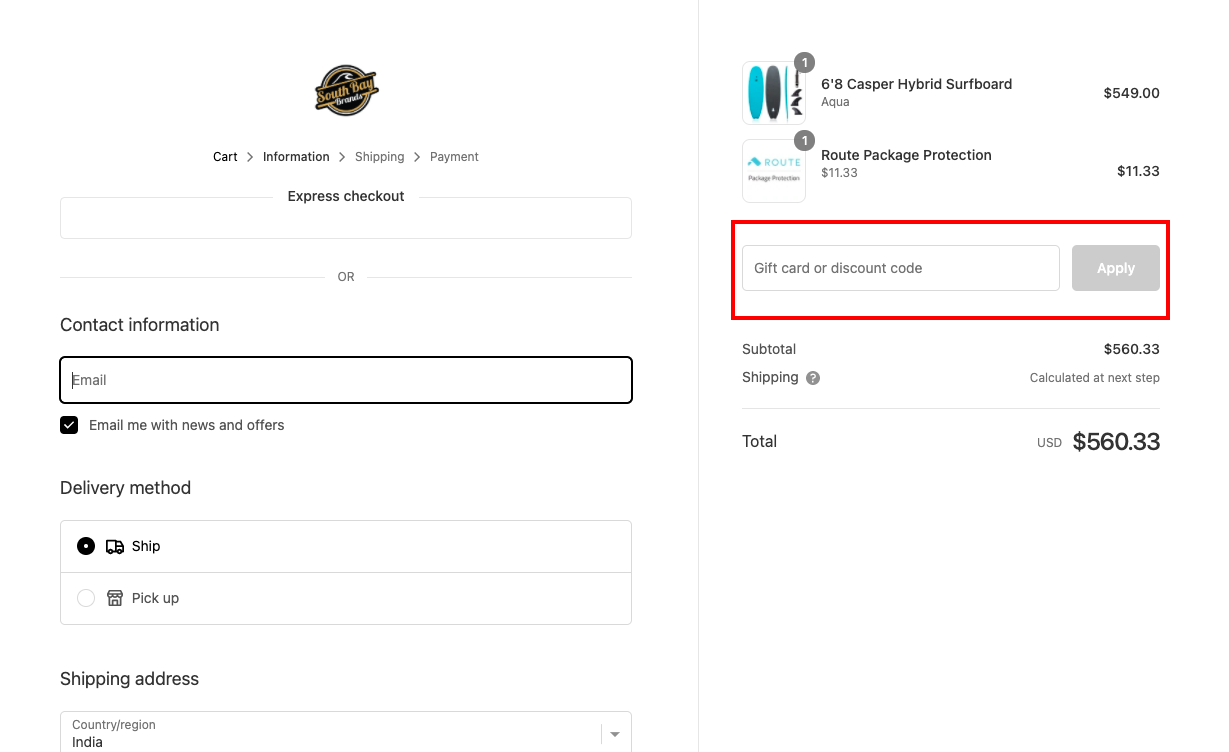 T&Cs for Applying South Bay Board Discount Codes
Every south bay board discount code comes with limited validity.
Only one discount code applies at the time of checkout. Contact the brand's customer support if your discount code fails to work.
You cannot combine the discount codes with merchant offers and promotional deals.
You can redeem the discount codes only on South Bay Board's official website.
South Bay Board can cancel or modify the discount codes without notifying the customer.
FAQs
1. How long does it take to ship my order?
South Bay Board Co (SBBC) packages and ships all orders on the same or next business day.
2. How is my order shipped?
SBBC uses the services of UPS Ground, FedEx Home Delivery, FedEx Freight, USPS, Aloha Freight, or Daylight LTL Freight to ship your order.
3. How long does order delivery take?
The delivery time is 2 to 4 business days after the order is picked up by the shipper.
4. How is my order packed?
Accessory items are packaged in generic boxes. Surfboards will arrive in custom printed boxes 99% of the time.
5. What do I get with the surfboard?
With every surfboard or paddleboard purchase, you get a leash and fin set.
6. Does South Bay Board ship internationally?
Currently, the brand has sales channels in the USA, UAE, Canada, Mexico, and Brazil. Customers from other countries should send an email to info@southbayboardco.com to receive a custom quote.
7. Is there a payment plan?
Klarna is South Bay Board's payment partner. If your mode of payment is eligible, you can split up the payments on your order.
8. What do I need to do to maintain the board?
Use fresh water to wash the board. Store in a cool and dry place. Use a board bag/sock to keep the board safe and clean when not in use. Rest the board on a wall surf rack so that there is no extra weight on the tail or nose.
About South Bay Board
South Bay Board provides a wide range of surf and paddleboards for adventure enthusiasts. The shape and aesthetic of every board are custom designed and crafted by experienced shapers. The material of the boards – IXPE foam top decks, EPS closed-cell foam cores, and different wooden stringers and bottom decks – is custom designed and made uniquely for the company. The rail, curve, contour, and shape of every board are designed specifically to maximize their performance abilities.
South Bay Board believes their boards are faster, stronger, and easier to paddle. The categories you can shop for on the website include surfboards, skateboards, skimboards, paddleboards, wakesurf boards, bodyboards, beach towels, beach chairs, beach umbrellas, rash guards, wetsuits, and clothing.