zeroUV Discount Codes for The Best Curated UV Eyewear
Get the latest and trending eyewear at a fraction of retail prices only at zeroUV. The curated eyewear boutique brings you a vast collection of glasses and sunglasses that offer complete eye protection against harmful UVA and UVB rays. Use our zerouv discount codes to make your purchase of classy eyewear even more affordable.
Working zeroUV Discount Codes
How to Apply zeroUV Discount Codes?
To enjoy exciting savings on your order, use zerouv discount codes by following the process mentioned below:
From the list of discount codes you see on this page, pick a discount code suitable for your order.
Click on Show Code. Allow pop-ups from our website for the code to appear in a new window.
Your computer's clipboard automatically copies the discount code.
On zeroUV's official website, prepare your cart to proceed to checkout.
The field on the right-hand side of the checkout screen, as shown in the image below, is for entering the discount code.
Paste the copied discount code in the textbox and press Apply.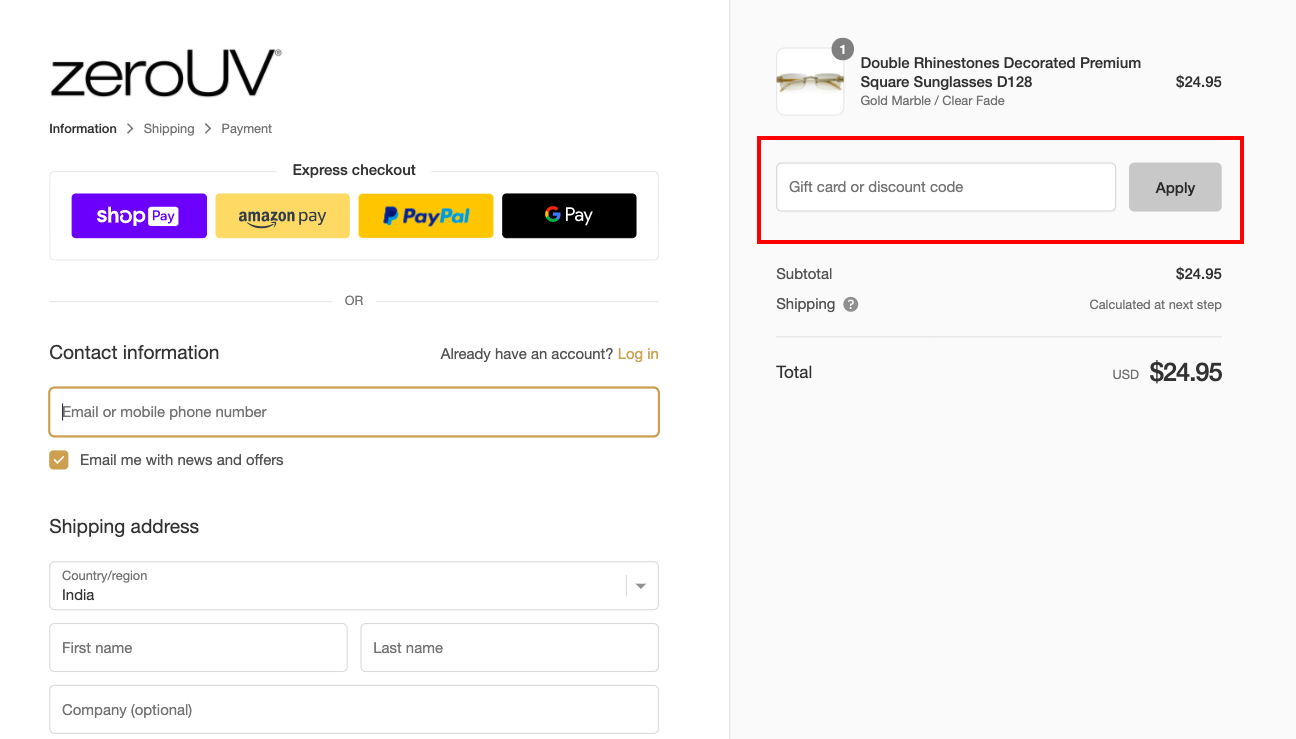 T&Cs for Applying zeroUV Discount Codes
All zerouv discount codes have an expiry date and are to be used before that.
You cannot apply more than one discount code to an order.
The items in your cart must qualify the terms of the discount code.
You cannot combine the discount codes with offers and deals already active on the website. If you receive an error while applying the discount code, contact zeroUV's customer support team.
The discount codes are for use only on the official website.
zeroUV has the right to withdraw or modify the discount codes at any time.
FAQs
1. Does zeroUV ship internationally?
Yes. zeroUV uses a package forwarder to ship orders to any country or region in the world.
2. What are the shipping rates?
zeroUV provides free shipping worldwide for orders above $35. For orders below $35, the shipping charges depend on the mode you choose. USPS Standard Shipping charges are $4.79, USPS Priority Shipping $8.99, and FedEx Express 2-Day Air $10.50.
3. How can I pay for my order?
zeroUV accepts payments via major credit cards, including Visa, MasterCard, American Express, Discover, etc. You can also pay using Shop Pay, PayPal, Amazon Pay, Dwolla, Coinbase Commerce, and Afterpay. Our zerouv discount codes are valid with all payment methods.
4. What is the return policy?
zeroUV offers free returns and exchanges for all domestic orders within 30 days from the purchase date. The shipping and handling fees are non-refundable. International orders are not eligible for free returns. You will have to use your preferred courier service to deliver the product to:

zeroUV Returns
7451 Talbert Ave.
Huntington Beach CA. 92648
5. Can I return clearance items?
Unfortunately no. All clearance items are final sale, and you cannot return them for a refund.
6. How do I find the best zerouv discount codes?
Get the best deals on fashionable eyewear and sunglasses for men, women, and kids on our website.
7. Do I have to pay customs fees or import duties?
Yes. International orders can incur import duties, taxes, and customs fees. These charges are not included in the shipping charges or product costs.
About zeroUV
zeroUV was founded in 2001 by eyewear enthusiasts. The US-based fashion eyewear brand offers a vast collection of inexpensive sunglasses and glasses for men, women, and children. The style preferences are also wide, including retro, futuristic, vintage, and modern. On the website, you can filter the range by trend, style, shape, and frame type.
Sunglasses and glasses are essential fashion accessories. zeroUV personally works with experts in the fashion industry to help fashion-savvy individuals take their ensembles to the next level. The trendy pieces are available at affordable rates. Apart from focusing on appearance, the brand prioritizes UV protection to protect your eyes from harmful UVA and UVB rays.