BestSelf Co Discount Codes for The Best Productivity Tools
Get productivity tools to help you plan your goals and succeed. BestSelf Co offers a wide range of journals, planners, action pads, conversation starters, relationship tools, and more. Grab our bestself co discount codes to enjoy savings on your order.
Working BestSelf Co Discount Codes
How to Apply BestSelf Co Discount Codes?
Follow this simple process to apply bestself co discount codes to your order:
Look through the different discount codes on this page and select one suitable for your order.
Press Show Code to view the complete discount code. The discount code appears in a new window. Remember to disable the pop-up blocker on your browser.
The discount code automatically copies to your computer's clipboard. Alternatively, you can click on Copy Code to do it manually.
Navigate to BestSelf Co's official website. Add your chosen products to the cart.
Proceed to checkout and paste the copied discount code in the textbox on the right-hand side.
Press Apply.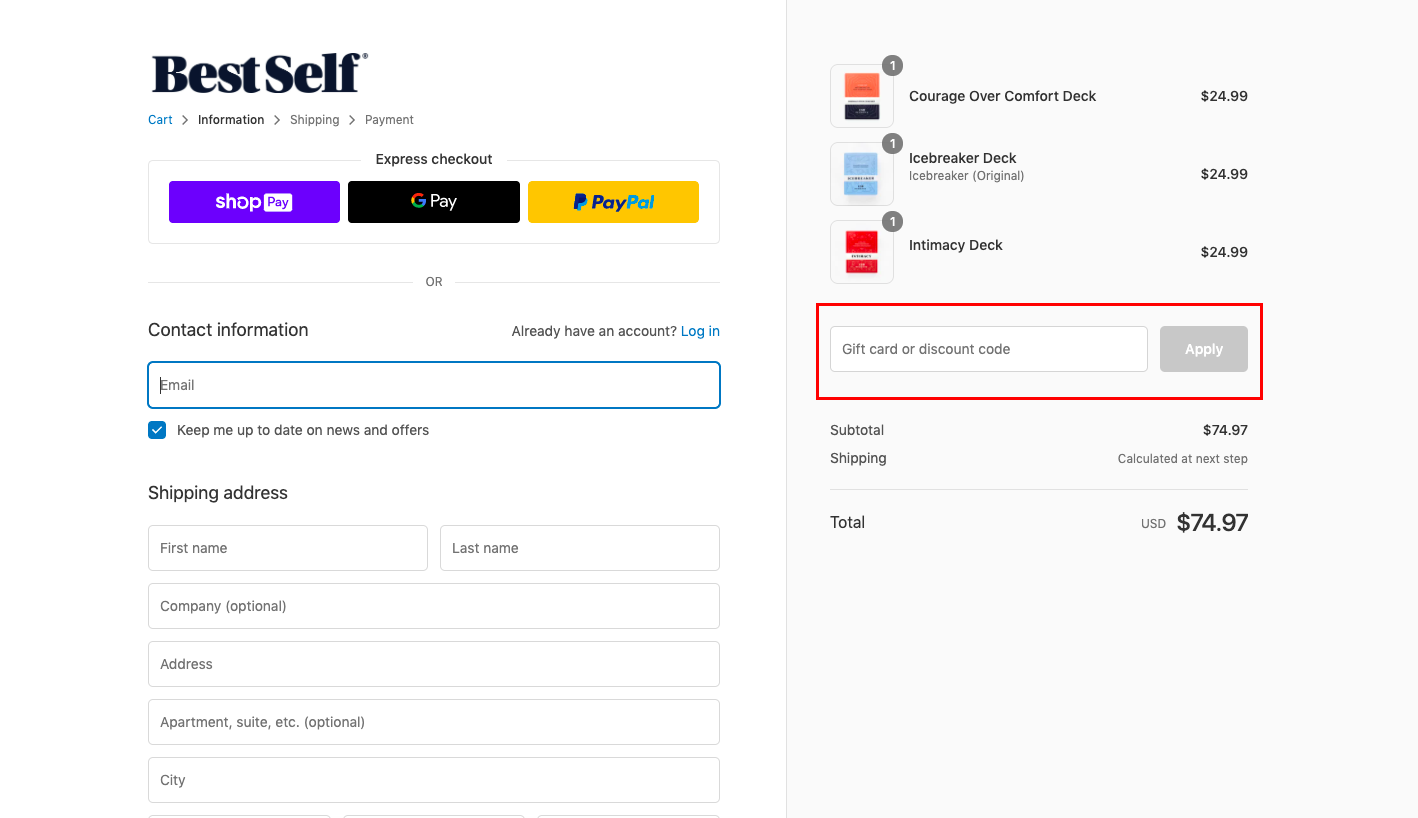 T&Cs for Applying BestSelf Co Discount Codes
All bestself co discount codes are valid for a limited period.
The discount codes apply only to orders placed on the official website of BestSelf Co.
You cannot use more than one discount code on an order. To use more discount codes, place separate orders.
The discount codes do not apply along with existing promotions and offers. Please reach out to the brand's customer support team if your code fails to work.
BestSelf Co can change or withdraw the discount codes at any time.
FAQs
1. What are the shipping timelines?
Domestic orders ship from the warehouse within 1 business day, and the standard shipping time is 6 business days. International orders ship from the warehouse within 2 business days, and the standard shipping time is 10 to 30 business days.
2. What is the return policy?
You can return products within 30 days of receipt for a full refund or a store credit. You can send in a request to support@bestself.co.
3. Is there free shipping?
BestSelf Co offers free shipping in the US and UK on orders above $55. For orders below $55, the shipping charges will appear at the time of checkout.
4. Where does BestSelf Co ship?
BestSelf Co ships orders to the United States, Canada and Mexico, United Kingdom, Iceland, Switzerland, Australia, New Zealand, South, and Central America.
5. What are my payment options?
On BestSelf Co, you can pay via major credit and debit cards, including American Express, Visa, Discover, etc. Moreover, you can pay through Amazon Pay, Apple Pay, ShopPay, Google Pay, PayPal, and QuadPay. You can apply bestself co discount codes with all these payment methods.
6. How often is the subscription sent?
The duration for the self journal is 11 weeks, while the subscription for the self planner is 5 months.
7. Can I use a gift card?
You can purchase the BestSelf Gift Card for $25, $50, and $100 increments. If you can't decide what to purchase for a friend, you can send a gift card. Or, you can share our exclusive bestself co discount codes.
8. How can I contact BestSelf Co?
There are three ways to contact BestSelf Co. You can send in an email to support@bestself.co, use the live chat on the official website or send in a message using Facebook Messenger.
About BestSelf Co
BestSelf Co aims at providing tools to help you think bigger, achieve more, and make meaningful connections. It creates your personal journey to your best self. The product collection includes action pads, habit roadmap, discovery decks, self journal, self planner, gratitude journal, and more.
The company also offers courses and challenges to help you learn how to successfully work from home, improve your productivity, build deeper relationships, and develop your best self.