How to Check Website Traffic for Your Site? (The Best Tools)
Do you want to check your website's traffic and compare it with your competitors and other relevant sites? Then, you don't have to do much. You see, folks, to check website traffic, there are a series of tools available. You simply have to put your or any other websites' URL link in the tool, and voila, you will get all traffic metrics on your screen. This post will talk a little about how to check website traffic with dynamic tools that can help you with it.
So, let's get started!
Why Do You Need to Measure Website Traffic?
There's no perfect website traffic rate. Depending upon your industry and various other factors, your ideal traffic rate will vary. But, unfortunately, the average website conversion rate across all industries is only 2.35%.
I know that's pretty low. And therefore, it is crucial to frequently check the website's traffic. With accurate website traffic measurement:
You can eliminate the guesswork. You will know the exact position of your site and which pages get the most traffic.
Metrics help you keep an eye on your competitors. You will understand how your competitors' traffic growth is higher than yours.
Importantly, you can try different strategies to grow your traffic and track performance in real-time.
In many other ways, checking your website traffic or any other site can help you. But for that, you have to first get the right website traffic measurement tool. So, let's explore the tool market next!
How to Check Website Traffic Using 12 Awesome Tools?
If you Google search for "best website traffic measurement tools," you are gonna end up with numerous great options. You might even get flustered after checking so many options.
So, here to ease your work, I have selected the best 12 tools based on:
Popularity
Functionality
Affordability
Here I present you the best website traffic checkers in 2021:
Google Analytics
Google Analytics is a fundamental tool that almost every website today uses to analyze its traffic. It is the best tool for offering reliable data information related to the interest of your customers.
Google Analytics has four main components — Data collection, Configuration, Data processing, and Reporting.
Talking about features, Google Analytics primarily helps to analyze and generate statistics logs related to the number of website visitors. This tool offers analytical data regarding:
The number of people visited your site from various channels like organic search, social media and so on
Gather information on what a visitor checked out on your site
Tells about the location of visitors on your site along with their activities, etc.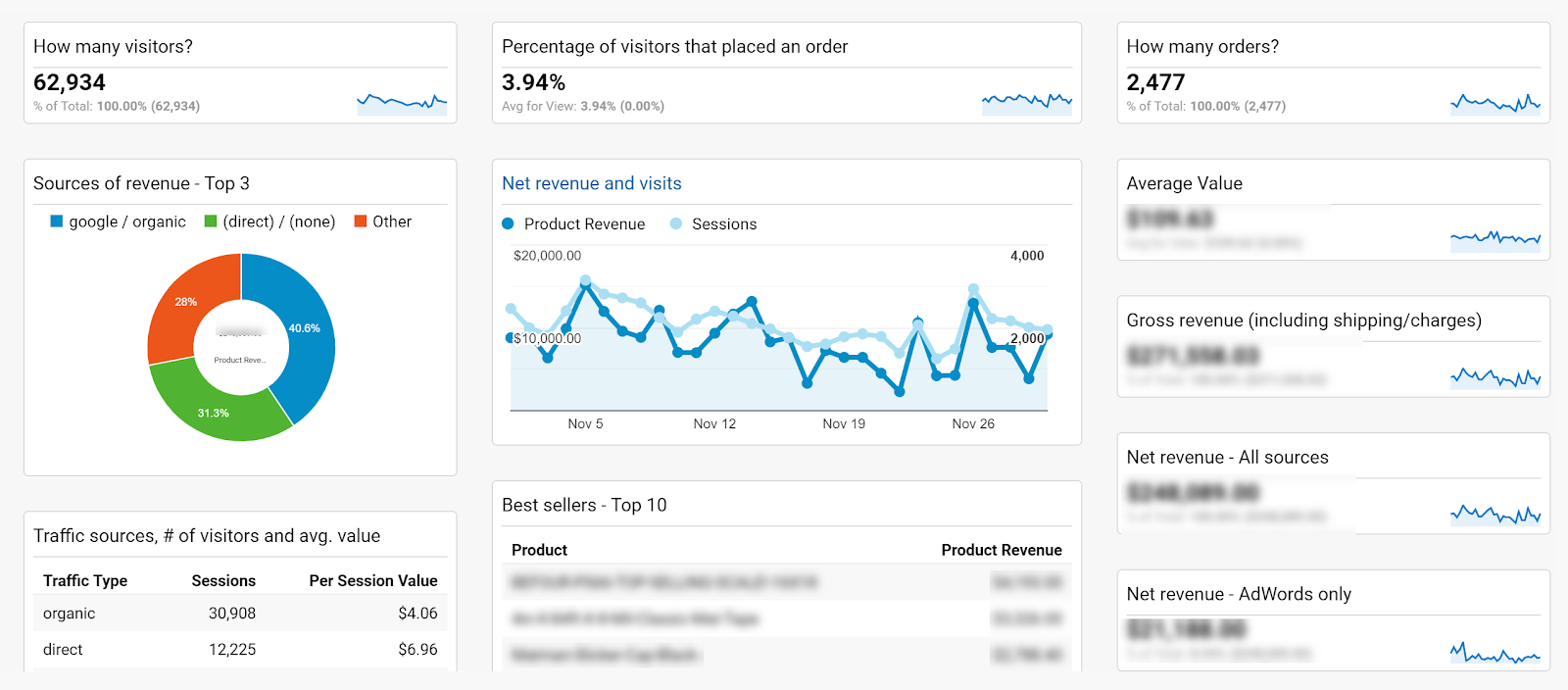 Plans and Pricing: Google Analytics is a basic free tool. However, for Google Analytics 360, you have to pay $150,000 per year.
SEMRush
SEMRush is a compact marketing toolkit for online businesses. The platform offers dynamic tools for backlink analysis, content planning, SEO audits, and so much more.
SEMRush Traffic Analytics solution is a great tool to check website traffic. It can disclose numerous important traffic metrics, including:
Total number of visitors
Unique visitors
Bounce rate
Page per visit
Traffic journey
Audience insights, etc.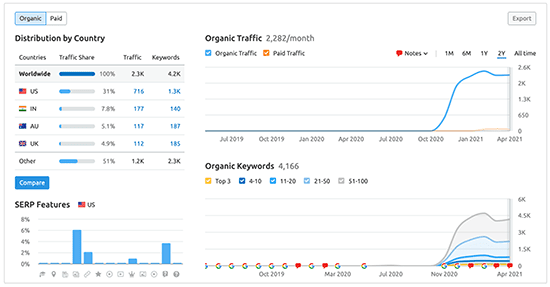 Plans and Pricing: SEMRush is available for free. However, you can upgrade to Pro ($119.95/month), Guru ($229.95/month), or Business ($449.95/month). Before getting a paid subscription, you can always use 14 days free trial.
Google Search Console
Google Search Console is a free tool that lets you, monitor, track and maintain your site's presence in Google search results. The tool gives you a complete 360 degree of how your website is viewed or ranked by Google.
It shows the number of clicks, CTR (click-through rate), impression, and performance of your keywords. If you wish to boost your Google ranking, this tool can help you with it.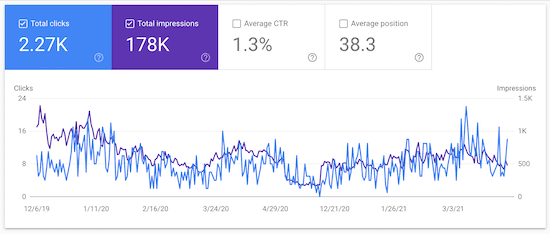 Additionally, using All in One SEO and MonsterInsights plugins, you can easily connect Google Search Console to your website. Plus, MonsterInsights offers some additional traffic measurement options.  
Pricing: Google search console is a free tool to use for anyone who has a website.
Ubersuggest
Ubersuggest is an interesting website traffic data analytics tool from Neil Patel. It is a simple tool with
Do you want to check your website's traffic and compare it with your competitors and other relevant sites?
Then, you don't have to do much. You see, folks, to check website traffic, there are a series of tools available. You simply have to put your or any other websites' URL link in the tool, and voila, you will get all traffic metrics on your screen.
This post will talk a little about the need to measure website traffic and dynamic tools that can help you with it. So, let's get rolling!
intuitive user interface.
If you haven't done keyword research or traffic analysis before, this is your tool. Ubersuggest's traffic analyzer breaks down your competitors' traffic over time, keywords, and the popular pages on the site.
You simply have to paste any website URL you wish to analyze and hit enter. Instantly, the traffic overview page will share metrics like:
Number of organic keywords the site rank for
Organic monthly traffic
Number of backlinks
Domain authority
Number of shares on Facebook and Pinterest
General top-ranked pages overview, etc.
Plans and Pricing: It is free with basic features. The best thing about Ubersuggest is it offers lifetime paid plans including Individual ($120), Business ($200), and Agency ($400).
Alexa
Alexa is a tool to check website traffic alongside analyzing SEO. It is developed to help businesses better target their audience and streamline their marketing strategies.
The features like traffic statistics, audience insights, and competitive analysis are free on Alexa. So without even signing up, you can check any website's Alexa rank, keywords, bounce rate, and many other metrics.
If you like Alexa as a tool, you can quickly create your account there and upgrade to the paid plan. On top of all, Alexa is the prominent website ranking factor, which is globally used to describe the search engine ranking of a website.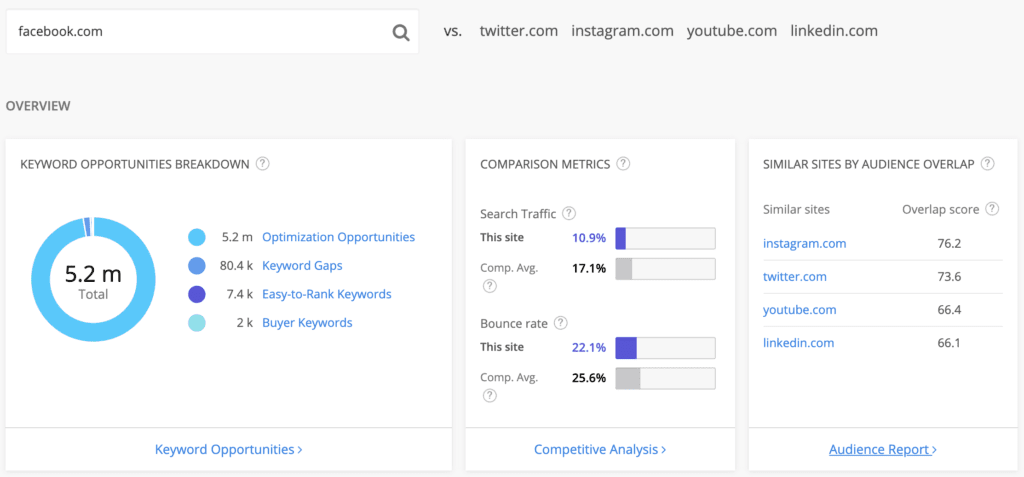 Plans and Pricing: You can try the Alexa advance plan free for 14 days and then $149 per month.
Sitechecker
Sitechecker is a dedicated SEO solution with a series of tools to improve your search engine performance.
To help you check website traffic, it has features like Site Monitoring, Rank Tracker and Backlink Tracker. Also, there are several free tools available to help you check the website traffic of any domain.
You simply have to visit Traffic Checker and enter the URL of the site you want to analyze.
Once you press enter, you will receive plenty of information to improve your site's performance, including:
Traffic overview
Traffic by countries or sources
Top performing keywords
Engagement level, etc.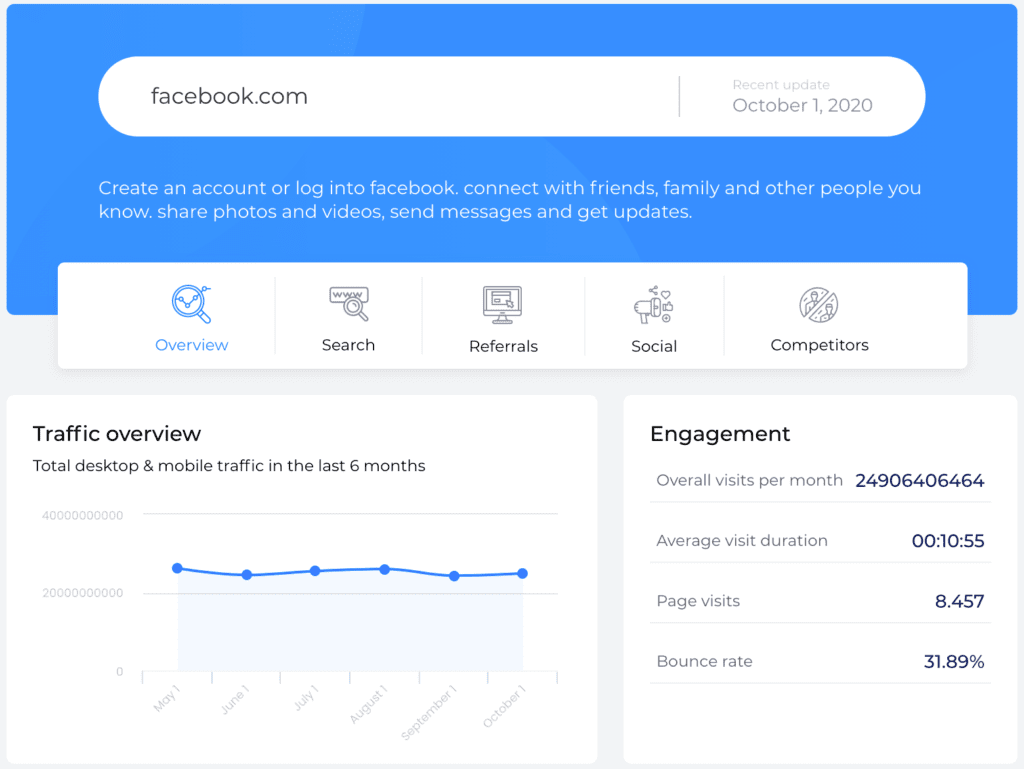 Plans and Pricing: Sitechecker offers all the essential traffic tracking features for free. But advanced users can get paid plans like Startup ($29), Growing ($69), and Business ($119) per month.
MonsterInsights
Are you a WordPress user? If yes, you won't find a better tool than MonsterInsights to analyze your own traffic. Further, setting up Google Analytics with MonsterInsights is super easy.
This tool is trusted by over 3 million sites, including Yelp, Microsoft, and more. Using this tool, you can know your top-performing posts, pages, traffic, and many other user behavior metrics
Some of the prominent MonsterInsights features are—
Universal website tracking across multiple devices and campaigns
Seamless eCommerce tracking with Google Analytics
Smoothly track every outbound link
Affiliate link tracking to help bloggers and marketers, etc.

Plans and Pricing: Along with 14 days free trial, MonsterInsights is available in three plans — Plus ($199), Pro ($399), and Agency ($799) per year.
Try our MonsterInsigths coupon codes to get a discount of up to 30% on the subscription.
Similar Web
Similar Web is an intelligent solution to generate website traffic analysis. Unlike other products on the list, Similar Web is solely focused on website traffic analysis.
Once you search a website URL on Similar Web, you will receive insights broken into the following segments—
Traffic overview based on global, country, and category of the site
Referrals that send traffic to the site
Organic and paid search results
Traffic driven through social media channels
List of competitors and other similar sites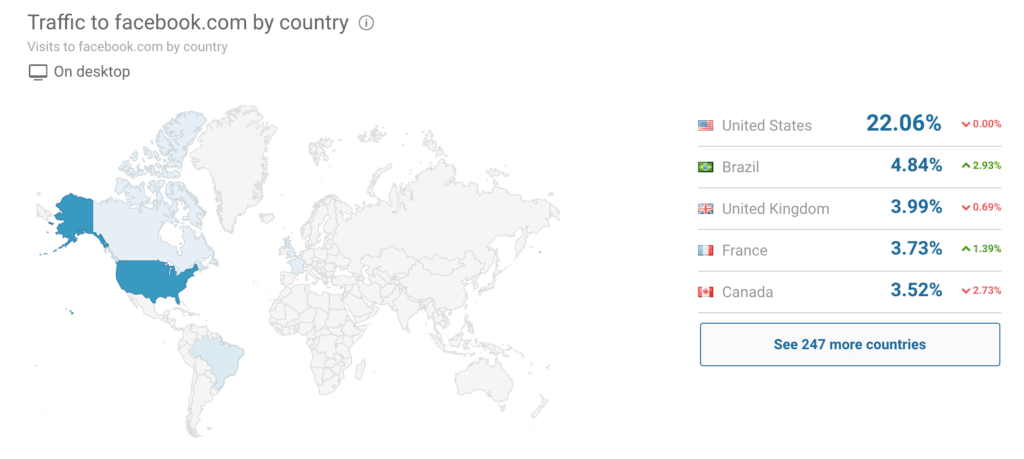 Plans and Pricing: Similar Web has a free version for regular users. However, enterprise users can request quotations from the vendor.
Ahrefs
Ahrefs is the most trusted SEO tool in the market by brands like Uber, Netflix, and Facebook. It also provides you with a complete traffic overview of your competitions.
The software crawls over 6 billion web pages every day and has more than 200 million websites indexed. So, it is a data hub that can provide you a lot of information to outrank your competitors.
Ahrefs traffic measurement metrics include domain authority, organic traffic data, and so much more.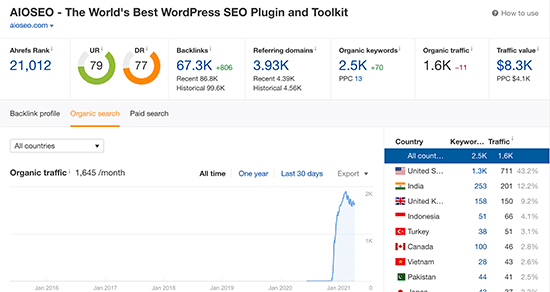 Plans and Pricing: Ahrefs offers 7 days free trial. Additionally, Ahrefs plans are Lite ($99), Standard ($179), and Advanced ($399) per month.
SerpStat
SerpStat is a complete SEO bundle with keyword research to website performance-enhancing metrics. It can analyze backlinks, track ranking, audit sites and check traffic of any website.
Once you create an account on SerpStat, you can analyze traffic and keyword trends effortlessly.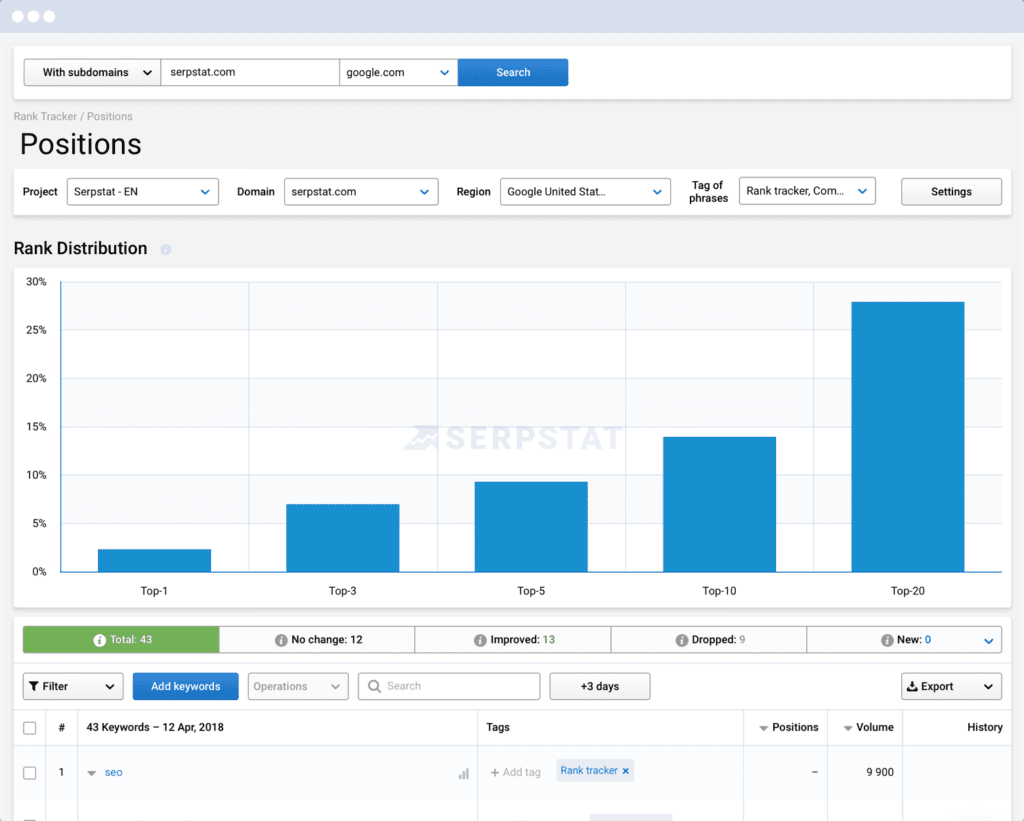 Plans and Pricing: You can use the free SerpStat version by creating an account. For the paid version, you have Lite ($69), Standard ($149), Advanced ($299), and Enterprise ($499) plans per month.
SERanking
SERanking is a comprehensive tool to research keywords, track rankings and check website traffic of any website.
The tool provides a quick overview of both paid and organic traffic per month. It can also show the ranking and performance of keywords.
SERanking shows total traffic and ranking keywords trend in line graphs for better analysis. It can also break down the traffic of your organic and paid competitors.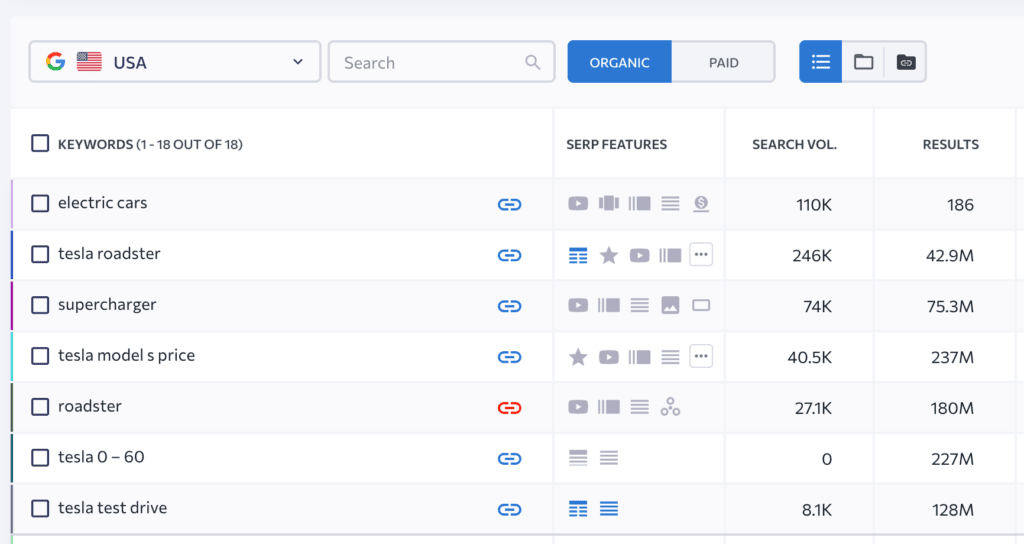 Plans and Pricing: SERanking also has free and paid versions. The paid plans are Essential ($39), Pro ($89), and Business ($189) per month.
WebCEO
WebCEO is designed for SEO agencies and marketing companies to manage multiple projects smoothly. However, like other tools in the list, it won't allow direct traffic monitoring.
Instead, you have to create a project with your site and then use the Competitor Metrics feature to analyze the traffic of other sites. It pulls Alexa statistics of your closest competitors.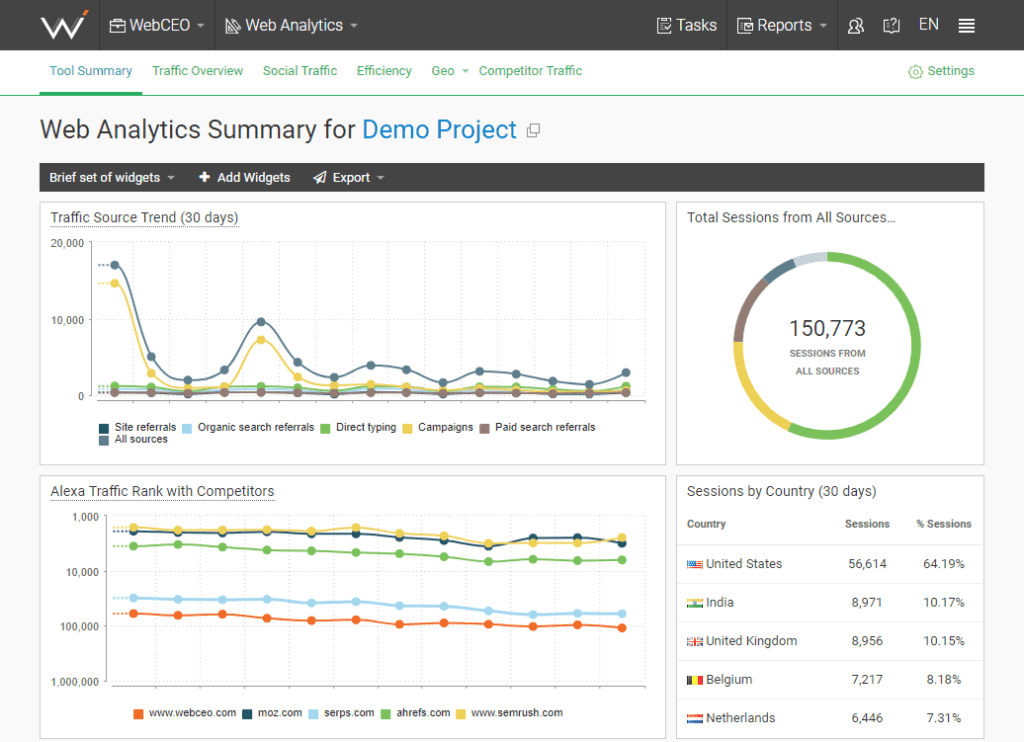 Plans and Pricing: WebCEO offers four attractive monthly plans — Startup ($99), Agency Unlimited ($99), Corporate ($299), and Solo ($35).
Keep a Check on Your Website Traffic to Grab Better Leads
Congrats, you have crossed a big step in knowing how to check the website traffic of any site. You simply need to now select a tool, set your website goals and KPIs; you are all set to grow your online business.
Based on your website platform and analytical needs, you should select a suitable tool. For instance, if you have a WordPress site, MonsterInsights is a good option for you. However, the rest is up to you, I have shared the best 12 website traffic tracking tools, so my work is done here. Now, you should go and select the right tool.