How to Create Under Construction Website Pages on WordPress?
Under Construction page is like a simple notice to inform your visitors about your website's maintenance status rather than displaying broken website links. This page can also redirect visitors to your social media channels while your website is under maintenance. Do you want to configure your website theme settings or plugins? Or, are you creating a new landing or redesigning your entire website? Then, don't forget to create under construction page to notify your visitors that the website is going through maintenance. This article will cover simple steps to put your WordPress website in maintenance mode. We will also show how to create under construction website pages more pleasant and functional.
Why Create Under Construction Website Page on Your Website?
Normally, you don't have to put the website on maintenance mode to edit it. You can make small changes like updating content, themes, or plugins on the live site.
But, when you have to change the website's theme or configure plugins, it is recommended to turn on the maintenance mode. Editing the source code changes the behavior of your website. Without a proper under construction page, your website will display broken to your visitors.
Besides this, putting your website on maintenance mode can also help to:
Intact Your Reputation
If your website has been running for years, you must already have built a solid user base that trusts your brand. In this, a broken website can dampen your reputation, and people might think your website has been hacked. Therefore, to avoid speculations, create a proper under construction page stating the reason behind maintenance and when your site will be live again.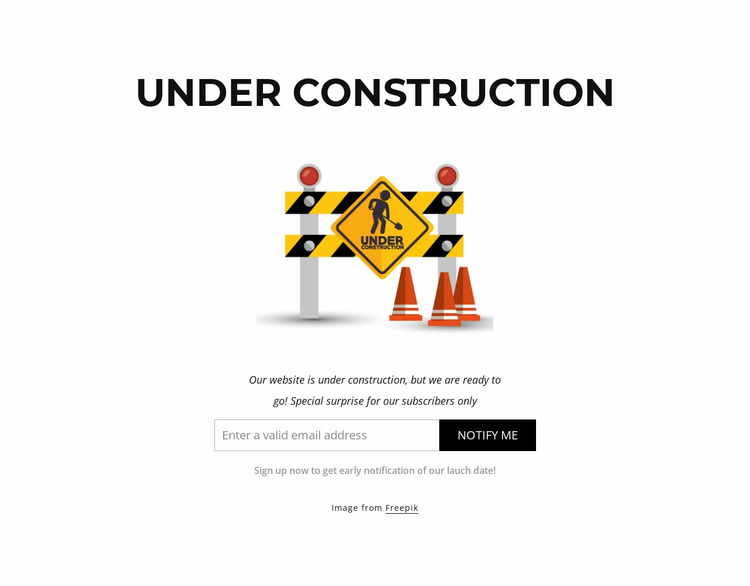 Brand Awareness
If you are launching a new website, the under construction page can work as a marketing tool. You can spread the word about your brand and spike users' interest before even the website is launched.
For example, WiseJack's under construction website clearly states to users what they are and how they can help. In fact, they have embedded video in the under construction page to make it more useful.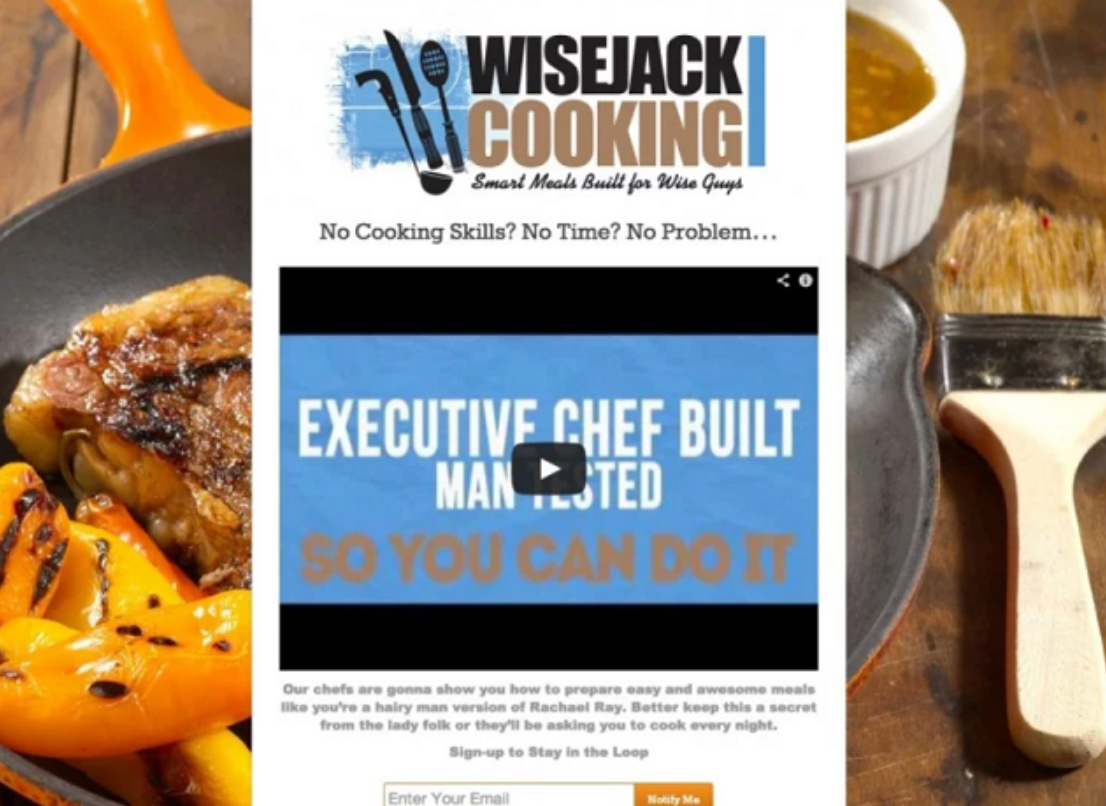 Divert Traffic
Creating under construction page will help to retain your traffic even when your website is down. You can add your social media links on the page to direct your traffic to your other portals. In fact, you can embed email popups to collect visitors' email addresses and deliver content to their inboxes until your website gets ready.
Inform Search Engines
Suppose search engine crawlers choose the exact time to crawl your site when it's down. This is a nightmare for your website's SEO. Therefore, by creating the under construction page, you can tell search engines that you are working on your site right now. And they can come back later when you are ready.
Create Under Construction Website Using SeedProd
As WordPress has plugins for everything, you can search intuitive plugins to create stunning under construction pages. Now, I will show you how to customize the under construction page using two different plugins. Let's get moving then.
SeedProd is a free WordPress plugin with a simple drag-n-drop interactive interface. Using this plugin, you can create different types of pages like:
Coming Soon pages
Maintenance Mode pages
Custom 404 pages
Full marketing landing pages
You can also subscribe to premium plans to get more advanced features like pro templates, email integration, etc.
SeedProd's basic plan starts from only $79 per year. For advanced features, you can also get Plus ($199), Pro ($399), and Elite ($599) per year plans. Don't forget to check our latest seedprod coupon codes for amazing offers & deals.
The free version of SeedProd allows you to put your website in maintenance mode. So, go to your WordPress admin page > Plugins > Add New > Install and Activate SeedProd.
After that, go to SeedProd > Pages > Set up a Coming Soon Page. Then, you can select a premade template or blank template to customize your under construction page.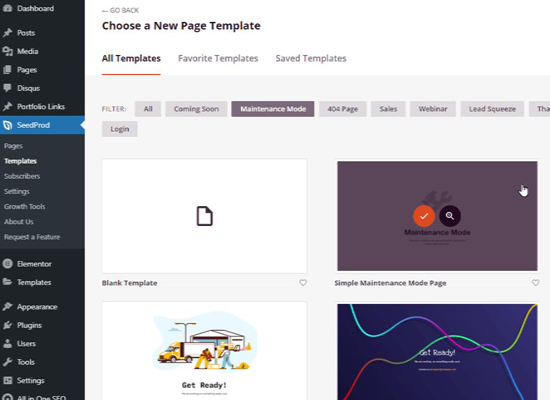 To select a template, hover mouse a thumbnail and click on the check icon. This will take you to the SeedProd drag-n-drop WordPress page builder where you can customize your page.
You can drag different page elements from the left panel, for instance, custom logo, social sharing buttons, email subscription form, and more.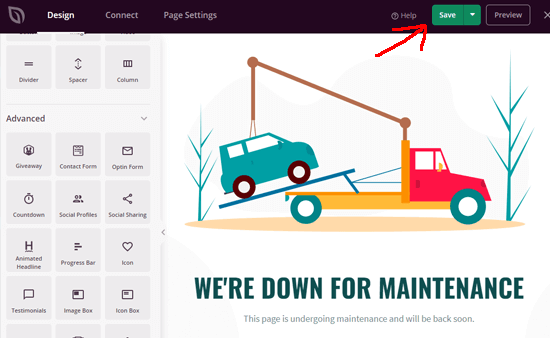 Hit the Save button once you are satisfied with the design.
The final step is active WordPress maintenance mode. To do so, go to visit SeedProd > Pages > Toggle the maintenance mode to Active.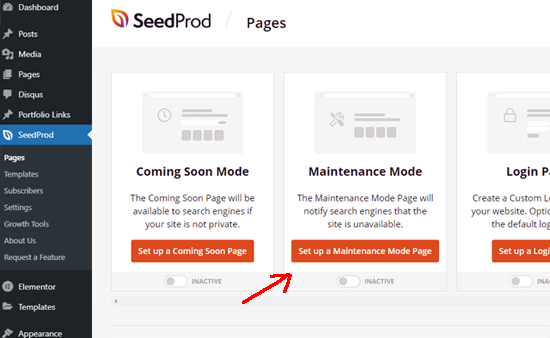 If you are creating a coming soon page for a new website, active Coming Soon Mode toggle.
Customize Website Access Under Maintenance Mode
By default, under construction website pages created from SeedProd will be visible to all visitors who are not logged in. For users with accounts on your site, things will run in the usual manner.
To allow certain users to access your website under the construction mode, go to SeedProd > Pages > Edit Page.
After that, click on the Page Settings and then on the Access Controls tab. From there, you can select the option to bypass maintenance mode like: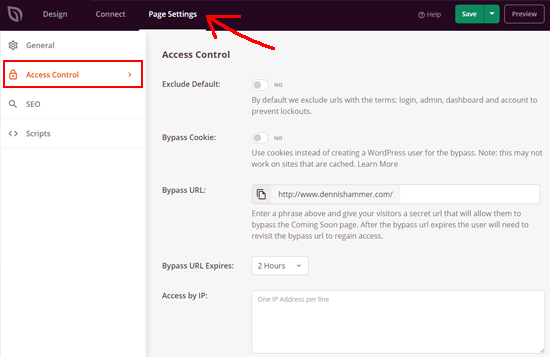 Use a cookie
Allow certain user IP addresses
Give users a secret bypass URL
Select particular user roles
Exclude Pages From Maintenance Mode
SeedProd also allows you to exclude certain pages from maintenance mode. This feature comes in handy when you want to provide access to users under specific circumstances.
For example, if you have a subscription site, you want to exclude the login page from maintenance mode. This will allow subscribers to login into their accounts without any problem.

For this, you have to paste the URL of the page you want to exclude under the Include/Exclude URL settings. After that, save the changes, and your work is done here.
Create Under Construction Website Using WP Maintenance Mode
WP Maintenance Mode is another popular WordPress plugin to create under construction website. It is a simple plugin but has less intuitive templates than SeedProd.
However, the plugin got all the basic features to customize coming soon or under construction pages, such as:
Customizable templates
Subscription form
Countdown timer
Contact form
Coming soon page
Landing page templates
Social media icons, etc.
Once you have installed and activated the plugin, go to Settings > WP Maintenance Mode. The plugin setting screen has five tabs to configure settings.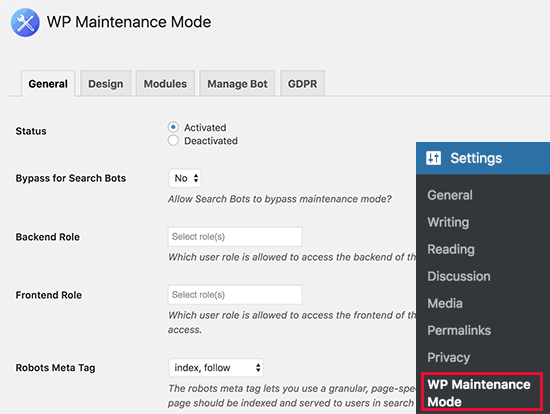 First, you have to click on the Status option under the General tab to activate the maintenance mode.
If you want search engines to see your site under maintenance mode, set the Bypass for Search Bots option to Yes.
The good thing about this plugin is it allows website owners to have full website access under the maintenance mode. You can also specify backend and frontend users who can access your website.
Once you are satisfied with the settings, simply click on the Save button.
WP Maintenance Mode lets you fully personalize your under construction page. To do so, go under the Design tab.
Customize The Under Construction Page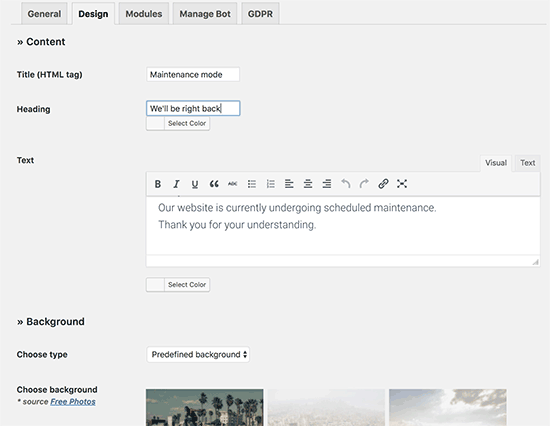 Add a title, heading, and content to appear on the page and select background color and types. You will have an option to select predefined background images or add your own background image.
If you want users to know when your site will re-launch, you can embed a countdown timer to the under construction website or page you're creating. To do so, go to the Modules tab on the plugin.
From here, you can add the start time and remaining time.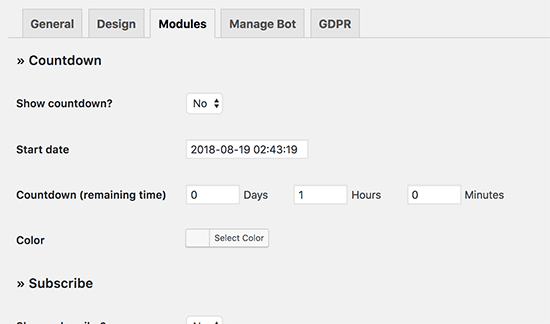 You can also add a subscriber form to notify users about your website status. The plugin will automatically notify your subscribers without any email service provider's assistance.
Up next, you can add your social media links to the under construction page. You need to enter your social media profile links, and the plugin will automatically create social icons.
You can also enable Google Analytics to monitor your construction page traffic. In addition, you can set up a pre-programmed live chatbot to have an interaction with your visitors.
Under the GDPR tab, you can make your subscription forms GDPR compliant. From here, you can select the privacy module and select your privacy policy page.
You can now open your website in another tab, and your under construction page will display there.
Bottomline
The under construction page might sound trivial. But for better user experience and search engine ranking, it can leave a big impact.
Therefore, I hope this guide has helped you learn all about creating a personalized under construction website and web pages on WordPress. Both the plugins discussed above are great to create under construction pages. But, in my opinion, SeedProd has a better WordPress page builder and templates. Rest the choice is yours.