Quick Guide: Learn How To Reduce Form Abandonment Using WPForms
Form abandonment is a nightmare for every business user. There could be numerous reasons that a user exits from your website without or partially filling the contact or lead generation form. You not only lose contact. There are fair chances to lose a potential lead, which could be a long-term engagement.
Wouldn't it be magical, if you could access the partial data of your user? A name or maybe an email ID would be enough to track your lost lead. Well, guess what? WPForms makes it possible.
WordPress needs no introduction. It is a leading content management system with easy access to plugins like WPForms, which adds tremendous flexibility to creating websites.
Form Abandonment Feature in WPForms
WordPress is a leading content Management System (CMS) that adds tremendous flexibility to creating websites. Contact or a lead generation form is the lifeline of any business website.
WPForms is a widely used beginner friendly contact form. Obviously, there are many form builders out there. But there are hardly any that intelligently recover lost leads data. However, WPForms Form Abandonment feature comes as a sigh of relief to worried businessmen. Its easy installation is another reason for its wide traction. Many business users are benefitting from the form abandonment feature of WPForms. The question is – are you ready to benefit?
How To Easily Setup WPForms on WordPress (Step by Step Guide)
With this simple guide, we'll tell you how to reduce form abandonment in your WordPress site in four simple steps.
Step 1. Install WPForms in Your WordPress Dashboard
The plugin is 24X7 available on WPForms' official website. Here's a direct link to WPForms Pricing. Choose the plan that best suits your needs.
Once you've downloaded the form, the installation is just a couple of clicks away.
Go to the WordPress admin dashboard
Go to Plugins on the left sidebars and click add new
On the next screen, click the upload plugin button
A pop-up window will appear. Click choose file button
Select your downloaded WPForms plugin from your computer
Click install now button
Wait till WordPress installs the plugin for you and then click on the activate plugin button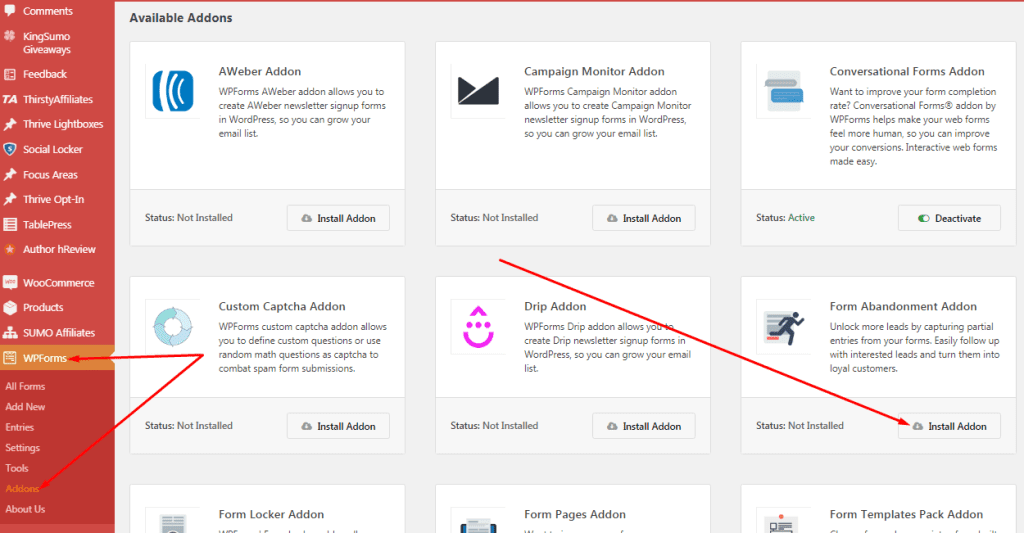 You can find more information about downloading and installing WPForms on their official website.
Step 2: Make Your Own Form
Congratulations. You've successfully completed the complex process of downloading and installing WPForms. Now, you just get to choose the type of form you want. The plugin has it all sorted for you.
So, what type of form would you like to create? It offers you a wide array of forms. Choose what suits your agenda.
Contact form
Registration form
Lead generation form
Order form
Charity form
Blog subscription form
Job application form
Newsletter signup form and many more…
Follow these easy steps:
Go to WPForms plugin
Click on Add New
Type the name of the form you want in the search box. E:g; Newsletter Signup Form
Click on the result with name – Newsletter Signup Form
This will bring you to the next window with a variety of pre-defined standard fields to fill. For example, Numbers, multiple-choice, Name, Email, etc.
Drag and Drop any field you want and easily create a form for your website.
Step 3: Enable Form Abandonment
If you are planning to deploy your form in your newsletter or blogs, please wait for a while. You still need to activate the form abandonment feature in your WPForms plugin.
Go to settings
Click on form abandonment section
Tick the checkbox with name – Enable form abandonment to lead capture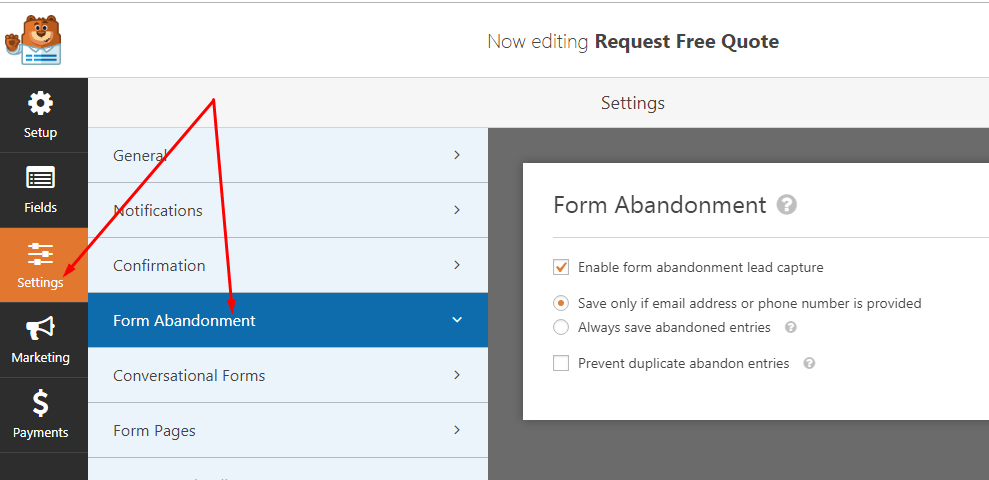 However, there are other options available such as 'save only if the email address and phone number is provided', or 'prevent duplicate abandoned entries'. Choose your options wisely, that serves your business needs.
Congratulations again, you've installed a potential plugin that has capabilities to reduce form abandonment damages. It has the power to recover partial data of your user from the forms.
Step 4: Share Your Form
Your form is now available to receive any data from your user. Publicize it through your blog posts, newsletters, or any other activity you follow for getting leads.
Create unique form pages by going to the plugin settings. Click on form pages and check the enable form page mode box.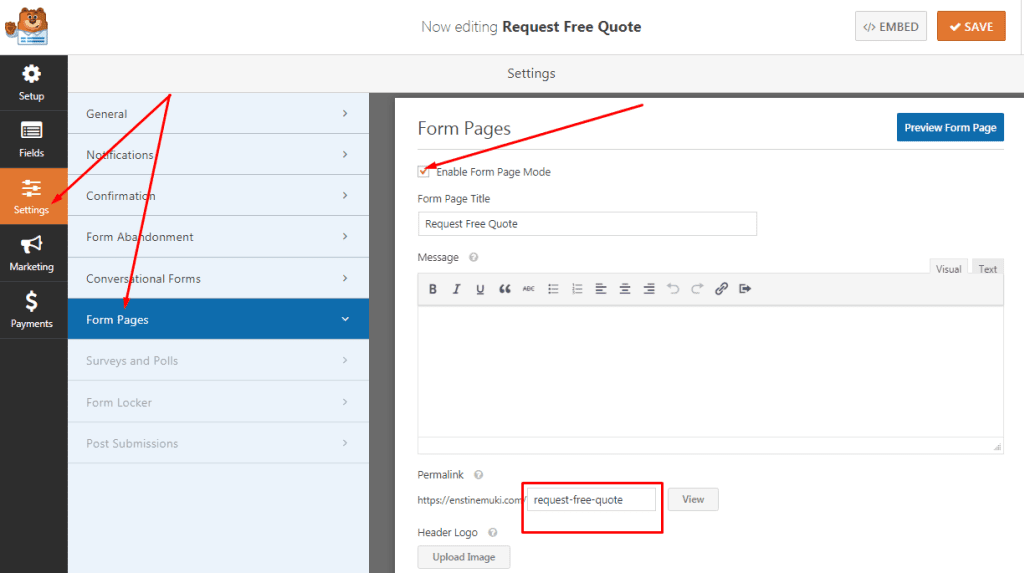 How to Recover Lost Leads by Viewing Abandoned Form Data?
Who would not be interested in checking out the abandoned or lost business data? But how to views those abandoned form entries? Simple.
Click on the WPForms plugin at the left sidebar of your WordPress Dashboard
Click on entries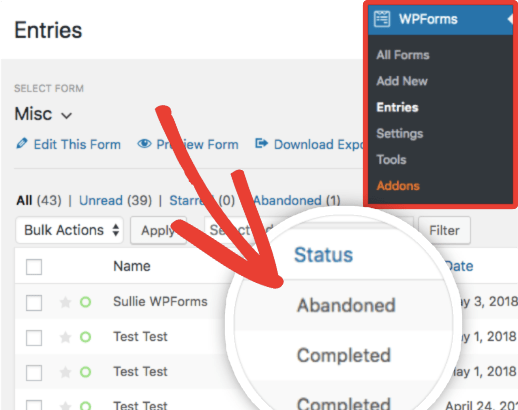 There are 2 simple steps through which you can recover the information of users who abandoned your form.
Through emails to WordPress admin: Go to settings of the plugin and click on notifications. Add your email address to trigger an alert when a user abandons your form.
Through emails to the user who abandoned the form: Create an enthralling message for the user who abandoned your form. Get their email address from the list of entries. Take a follow-up.
Conclusion
Forms are the trial and tested medium to receive contacts who interested in business engagement. Never underestimate your forms. With WPForms, add an intelligent feature to your forms and track users who were on your website, maybe were interested, but jumped off due to some reason. Form abandonment feature makes it one of the bestselling plugin among business users.