Why Choose Astra Theme For Your eCommerce Website?
Astra is one of the best multi-purpose WordPress themes. It is being used by more than 900,000 websites already. And with its premium feature – WooCommerce Module – you get powerful and exclusive styling options for your WooCommerce store. The add-on enables you to boost your e-commerce business. It is lightweight and fully compatible. Moreover, it has an in-built WooCommerce integration facility. In this article, we are going to explain 7 Reasons You Need Astra Theme For Your eCommerce Website.
Reasons to Buy Astra Theme For Your eCommerce Website
There are several reasons why you should choose the Astra WordPress theme and its latest feature – WooCommerce Module for your eCommerce website. Here are the top 7 reasons you need Astra for your eCommerce website: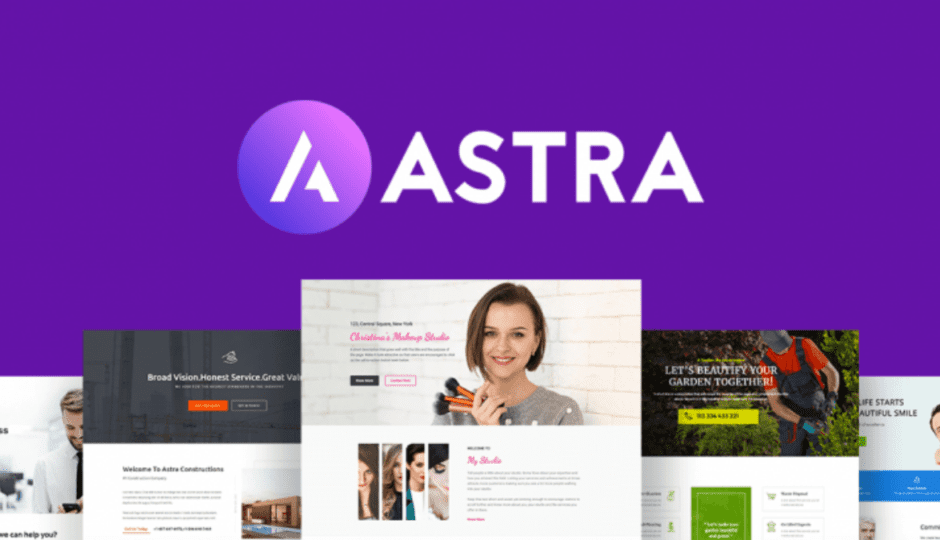 Customize Without Codes
Businessmen, affiliate marketers or e-commerce store owners don't think about coding when they set out to launch a website. This is because they usually don't know how to code. Nobody decides to first learn PHP or another software coding in an attempt to customize their website as per their preferences.
Fortunately, with Astra, you don't even need to think about this. Astra allows codeless customization. You can develop a website, give it the layout you like and choose the color of your choice. Your website looks just like you want it to.
Astra is fully compatible with WooCommerce and allows you to play with the design of your e-commerce website.
The free version of Astra provides all the necessary features for customization. However, with the paid version, you get more advanced features to give your website a stunning appearance and thereby increase sales.
Astra lets you customize your WooCommerce layout. In the image below, you can see that it provides dedicated layout options. You can choose with a sidebar just clicking or full width.

You don't need a single line code. The Astra Pro version lets you customize using some incredible features. You can change the display of product images and also choose the placement of the add-to-cart button.
Speed & SEO Responsiveness
Astra is a flawless theme built for speed, built for your website, and built for business. It is responsive as per device and is also SEO friendly and is super speedy and light-weight. It works wonders with everything from a simple blog to a completely customized WooCommerce website.
According to a statistic, if an e-commerce website takes more than 3 seconds to load, most visitors will leave. If this is true, you need a website that does not take time to load because more speed means more sales.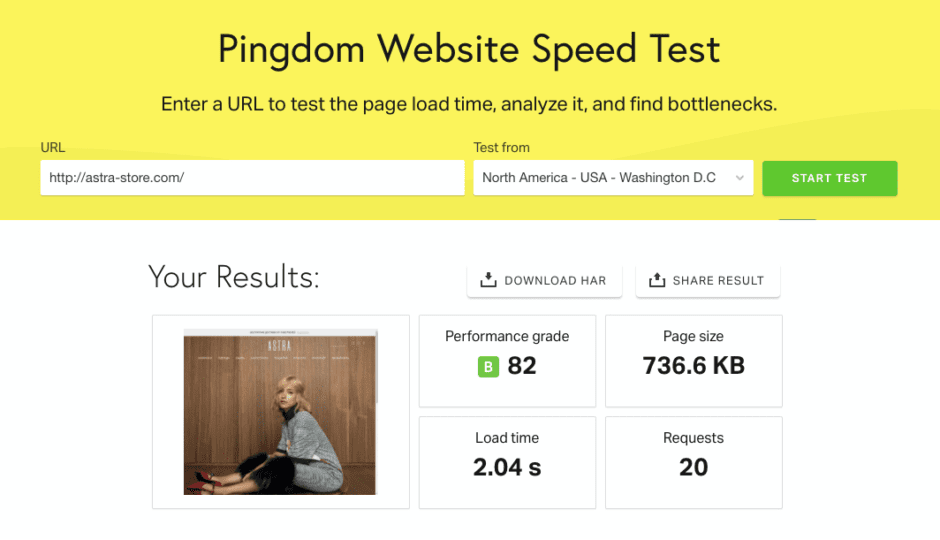 Consequently, one of the major factors affecting the success of your business is website speed. The Astra theme integrated with WooCommerce store ensures that your website will take less than 3 seconds to load. This means that you would have a fast-loading website that visitors will love. They will stay on it for longer, increasing the chances of sales.
Astra provides schema support. This means that your e-commerce products are recognized by search engines. As a result, you have a higher chance of listing your website on Google. As we can already know speed and SEO are 2 major points for any theme, thus we know why the Astra theme for your eCommerce website is best.
Advanced WooCommerce Features
Being fast does not mean that Astra compromises on functionality. The theme offers some incredible features, particularly for WooCommerce websites. Some of the distinctive features that make your website more functional include:
Grid Settings
Dropdown Card
Quick View
Checkout Options
Product Catalog
Infinite Scroll
Off-Canvas Sidebar
And more
Pre-Built Starter Templates
Designing a website becomes exceptionally easy when you get pre-built starter templates. It puts WooCommerce website creators in take-off mode. The entire process from start to finish is as simple as it can get. You require very little time to complete the website.
Supports Various Devices
Many themes claim to be fast-loading. However, they are fast only on a particular device. For instance, they would work on the desktop but fail to load fast on smartphones. Therefore, if you used any of these other themes to design your website, you will lose customers who are trying to access your website from their phone. This, in today's times, is a large portion of your target market and will impact your business revenue.
Conversely, Astra-WooCommerce works fast across devices – desktops, laptops, smartphones, tablets, iPads, etc. Astra is developed to optimize as per the device, which means that you would not lose any of your customers because of device issues. One more reason the Astra theme for your eCommerce website is best.
Cost-effective
Astra theme has both a free and paid version. Most of the features that you require to set up an e-commerce website are available in the free version. You need to upgrade to the paid version only when you are ready to scale your business and require certain extended features. The free version is perfect for beginners to create and launch their business.
Here's what you should do:
You can create your store using the free version. It has sufficient features to create an attractive, beautiful, and SEO-friendly store.
Once sales start to come in and increase, you can take the professional move to start using the paid version.
24 x 7 Dedicated Support
This is a crucial and important reason. Astra provides customers one-to-one support. This means that if you ever get stuck with the features, you can instantly reach out for assistance. There are 3 ways by which you can get 24 x 7 support:
Email
Facebook Group
Detailed articles and video tutorials
Astra Theme Pricing
Astra Theme comes in 3 different packages and they have 2 payment options; annual and lifetime. You can buy the theme for multiple purposes and pay accordingly
ASTRA PRO: Astra Pro is generally used for personal purposes. It has 20+ templates and all pro features. It costs $59 per year or $523 lifetime but there is a discount going on so you could avail it at $41 annual. Check out our latest astra theme discount codes for offers.
ESSENTIAL BUNDLE: The Essential Bundle is the ultimate license for anyone who is or wants to work on multiple websites or domains at a time or who has multiple website usage. It includes all pro features, 55+ templates, more than 7 other plugins with the license. It costs; $276 per annum or $996 for a lifetime license. Our wpastra discount codes help you get it at $169 per annum and $499 for a lifetime license.
GROWTH BUNDLE: The Growth Bundle is generally bought by small agencies or organizations that set up websites for their clients. It includes all pro features, 55+ templates plus WP Portfolio Plugin. It costs $523 annually and $1893 for a lifetime. Our astra discount codes help you get it at $249 annual and $699 for a lifetime.
Bottomline
Astra is easy to use making it convenient for beginners to use without any issues. However, if you ever require external assistance, these are the ways you can reach out for support.
Our in-depth articles about 7 reasons you need Astra theme for your eCommerce website should act as the base for your problems in selecting the theme. Most likely, they will have the solutions to help you complete your website. You can follow the steps and instructions shared in these articles. The video tutorials provided by Astra to further make it easier for you. Also, we have got exclusive Astra theme discount codes to help you ease your purchase. Check them out and enjoy your savings!!!
You now have all the reasons why you should choose Astra for your e-commerce website. It is not only easy to use but also gives your website the right appearance, functionality, loading speed, and more. As a result, you attract more visitors and improve your chances of business growth.