Atoll Boards Coupons for Best Inflatable Stand Up Paddle Board
Get ready to hit the waves with Atoll Boards – the ultimate destination for inflatable stand up paddle boards. And with our exclusive Atoll Boards coupons, you can enjoy a 10% discount on your purchase, making it an affordable choice for paddle board enthusiasts.
Working Atoll Boards Coupons
How to Apply Atoll Boards Coupon Codes?
Stand Up Paddleboarding may not be easy, but applying atoll boards coupons to get your paddle board is easy as a pie. Here's what you need to do:
Take a look at the discount offers shared in the list above. Pick one suitable for your purchase.
Click on the Show Code button. On a pop-up screen, you will see the code you need to avail of the discount. Please ensure that the pop-up blocker is disabled on your browser.
You are redirected to the official merchant website while the code automatically copies to your computer's clipboard.
Select the products you wish to purchase and Add to Cart. Once you are done, click on the cart icon.
You will arrive at a page displaying information about the products you have chosen and your Subtotal. Click on Checkout.
On the right-hand side, you will see a text box for a Gift or Discount Code. Paste the copied atoll boards coupon in this box.
Press Apply.
There will be a deduction in the final bill. Enter all the required information and payment details to complete the purchase.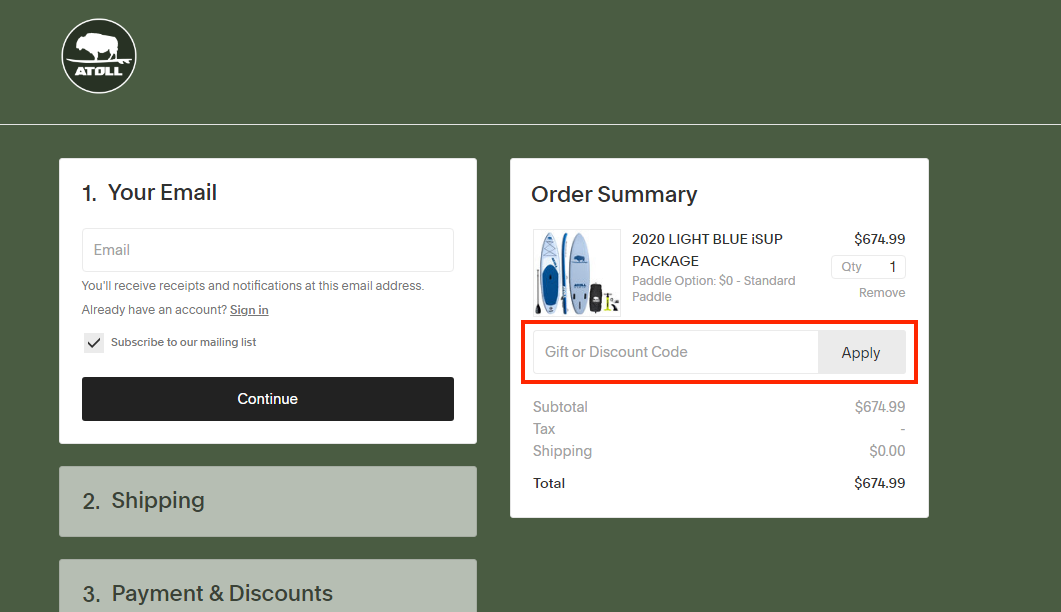 Hooray! You've just saved on your purchase with Atoll Boards.
T&Cs
Atoll Boards coupons are valid for a limited period.
You can use the discount codes only on the official website.
Each discount code applies to a particular purchase category. If you are trying to buy products from separate categories, you can use the coupons on two different orders.
The brand reserves the right to change or withdraw the offers at its discretion.
If a code does not seem to work, please feel free to contact customer support.
FAQs
1. When will Atoll Boards ship my order?
Atoll Boards dispatches all in-stock items within 2 business days. The shipping time is around 2 to 10 business days.
2. Does Atoll Boards charge import duties, taxes, or any other charges?
In the case of international shipping, the buyer is responsible for paying any VAT, duty, handling fees, tariff, customs clearance charges, taxes, etc. Atoll Boards does not collect these charges beforehand and cannot provide an estimate since charges vary around the world.
3. What is Atoll Boards' return policy?
Atoll Boards packs its boards and other products with a 30-day return policy. Unsatisfied customers can return the product without any questions for an exchange or full refund. The return shipping cost, if applicable, is borne by the customer.
4. What are the accepted payment methods?
Atoll Boards accepts payments via all major credit cards and PayPal. Our atoll boards coupon codes are valid on any and every transactional medium.
5. Do I need to Sign Up before making the purchase?
No. You can proceed with the purchase by simply entering your email address. However, you can subscribe to Atoll Boards' mailing list to receive the latest information about deals, new products, and more.
6. Can I use the discount code to purchase products from Amazon?
No. The discount codes on Reviews N Guides are valid only on the official website.
What is Atoll Boards?
Atoll Boards is a California-based company that specializes in designing and manufacturing high-quality stand-up paddleboards (SUPs). Their boards are made from the highest quality materials, including military-grade PVC, making them extremely durable and long-lasting. Atoll Boards offers a wide range of SUPs, including inflatable and hard boards, suitable for different skill levels and purposes, from leisurely paddling to surfing and racing. They value fast shipping and excellent customer service for board delivery. Atoll Boards has received rave reviews from satisfied customers, praising the quality, stability, and versatility of their SUPs. With its commitment to quality and customer satisfaction, Atoll Boards is a top choice for anyone looking for a high-quality stand-up paddleboard. In fact, it is listed as one of the best stand up paddle boards among many others.
Don't forget to check out our detailed guide on how to choose stand up paddle board before you decide to buy one.
Check out more details about Atoll Borads here.