How to Create Popups in WordPress With OptinMonster? (Guide)
Are you also figuring out the way of getting more email subscribers on your WordPress website? Then your search ends here as we have done the research for you and got the best solution to this problem. You can create popups in WordPress to retain your customers and improve the chances of conversion.
What Are Pop-ups in WordPress?
Many eCommerce and WooCommerce platforms allow you to create coupon pop-ups, spin to wheels pop-ups, pop-up forms and much more. Offering such popup codes in pop-up help you increase your sales rate, and reduce cart abandonment for your WooCommerce store. Most of the popups help you collect the personal data of a user but before collecting the data it's mandatory to get a cookie consent from the visitor under EU's strict GDPR cookie consent requirements. To learn more, check our guide on how to create cookie consent popup in your WordPress.
Pop-ups are one of the online advertising forms that help in driving more traffic or form submissions. And a good WordPress popup plugin can help you with this.
However, there are a number of plugins available from which you can choose the perfect one for your website. But the important part is 'timing', i.e. at what time these pop-ups show up to your customers. This particularly impacts your conversion rates.
In this article, we'll talk about WordPress pop-ups, their need, and a detailed guide on how to create popups in WordPress using the example of a coupon pop-up code. Well, we do have another guide that talks about adding contact form pop-ups to WordPress pages. If you want to refer that, most welcome.
Important Aspects of The Popup Plugins
There are numerous features that pop-up plugin offers to its customers, i.e. customization to screen display locations, built-in analytics, and much more. But if you want to boost the game of lead generation using pop-ups, then below two features are crucial for your website.
Choosing Appropriate Plugin
Till now we all got to know that popups plugins are helpful in many ways. But it's utilization is quite a difficult task, as pop-ups need to be handled very carefully. And making some poorly made decisions for WordPress plugin can ruin not only the user experience but your brand reputation too.
So, you must choose the solution that offers proper behavior interactions, personalization features, and targeting. With the solution, the user experience will get better and it also ensures the maximum conversions.
Targeting
Targeting means the target place on your website where these pop-ups will show up. Some ways to target your users via pop-ups are page-level targeting, geolocation, device and traffic source.
Improving the Loading Rate of Website
Now, bad performance is one of the most common issues that many WordPress Pop-ups plugins face. This happens because the WordPress pop-ups plugins use WordPress to monitor their analytics which leads to an increase in the loading time of your website. And no user will wait for more than 10 seconds to land on your website. Slow page-speed of the websites has negative impacts on SEO too.
Triggers
Triggers are the actions that the user performs to enable pop-ups. Some popular ways are page entrance, scroll depth, clicks, time on page and exit intent.
Therefore, you need to opt for the solution that includes powerful conversion features and also doesn't hinder your website page-speed.
Why You Should Opt Coupon Popups?
Coupon pop-ups are crucial as they show discounts that users need. A pop-up coupon can make your visitors feel that they are important or also part of any 'exclusive' group.
Moreover, having an optimized and well written pop-up messages on your website will always help you converting user's mind to purchase the product. But most of the new business owners think that investing in pop-up plugins will eat up their profit. On the contrary, established owners see it as a powerful way to influence their visitors for sales.
Creating a Coupon Popup in WordPress
In this tutorial, we will use the OptinMonster plugin to create a popup in WordPress for the coupon. The plugin acts as a connector between your OptinMonster account and your WordPress website. Detailed guiding steps are given below.
Step 1: Create a Coupon Popup Campaign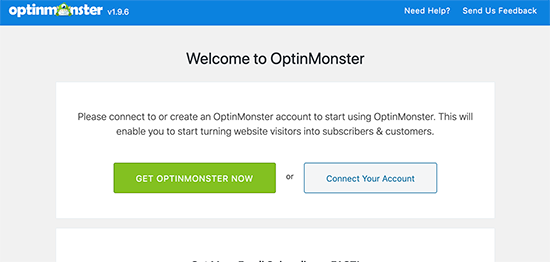 After activating the plugin, now click on the OptinMonster menu present on your admin sidebar, connecting with your OptinMonster website.
Go to your OptinMonster dashboard and click the create new campaign button.
Choose a campaign type according to your requirements. Here, we will choose popups which will be usually the default selection.
Next, you have to choose a template to show your coupon pop-up on the page. Here we will choose the coupon template.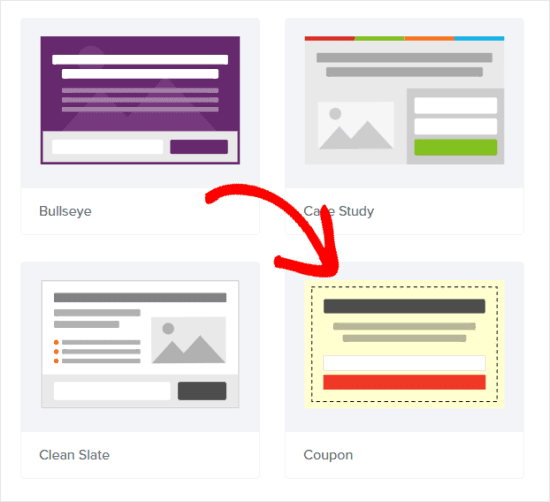 Now, click on the template and select the use template option.
Start with your campaign name and select the website you want to use it in.
Finally, click on the start building button.
Step 2: Designing Coupon Popups
You will see a drag and drop campaign builder which you can use to change the colors, text, design of the coupon.
Click on any of these elements and edit them. You can see the changes on the left-hand side of the screen.
You can also change the background color and other settings. For that, you have to close the element you are on by clicking on the X button or by clicking on the home button.
Go to the optin setting and then to optin view styles. There, you can change the backgrounds.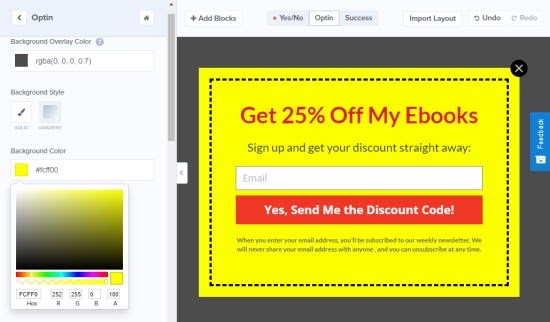 If you want to change the border, you can go to settings cog. On the left-hand side of your screen, you will find the option to edit the columns.
Click on the save button present on the top of the screen.
Step 3: Delivery of the Coupon Code
There are several ways in which you can deliver your coupon codes. Here we will use OptinMonster's success view and send the coupon via an email newsletter.
Now, by default, your coupon code will reach your visitors.
Lastly, you will click on the button and action options that are present on the left side of your screen and successfully deliver your coupons.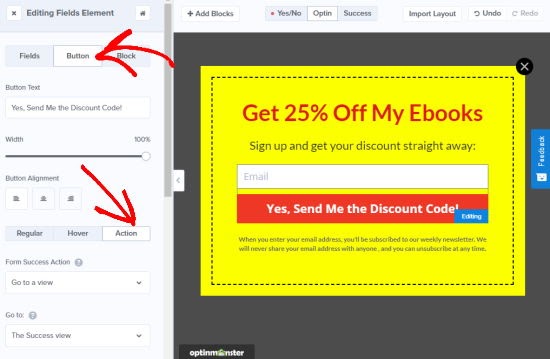 Step 4: Integrating OptinMonster With Email List
First, integrate the OptinMonster with your email marketing list.
Now set up an automated mail to everyone, who will sign up for the list using your coupon popup.
Use the integration tab from your campaign, to connect it with the OptinMonster to your email marketing services.
You will now have an option to add a tag or any other identifier. Selecting one option helps in identifying the visitors who are signing up from your popup.
Step 5: Editing the Success View Template (Optional)
You can edit and change the success view template.
Go back to the design tab present in your campaign and click on the success option.
Step 6: Checking/Changing Coupon Popup's Display Rules
First, go to the display rules button, present on the top bar of your screen.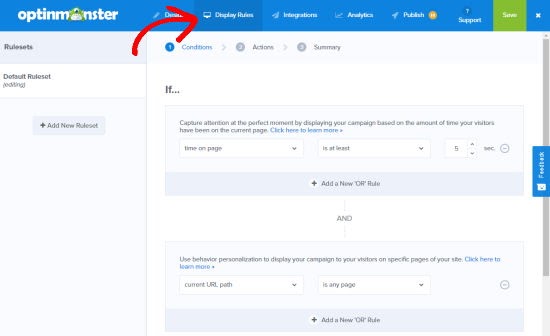 The display rules page will appear, where you can change any display rules accordingly.
Step 7: Publish Coupon Popup
After you created and edited your coupon popup, you need to first save the changes. Then click the publish button present in the menu at the top of your screen.
Now, you need to make your content live. You can use the toggle button present on the top of your screen.
Scroll down to the platform and select WordPress. You will then automatically see the instructions to put your campaign live. Thus publish it finally.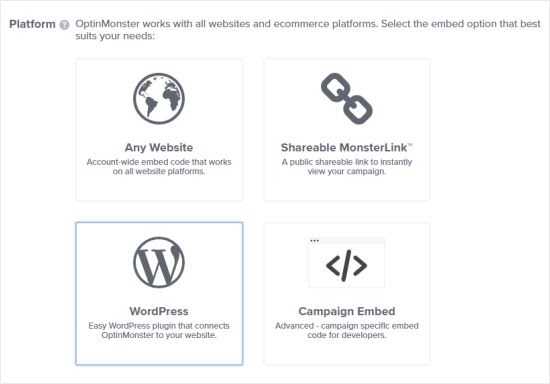 Now, another way to make coupons more interesting is to create a spin to win coupons wheels. It is another form of gaining the attention of your visitors and to influence them to purchase your products. This will also help you with increased sales.

For more details regarding the spin to win coupon wheel, you can follow our step by step guide details on how to create a spin to win coupon wheel on your website.
Always Double Check Pop-ups
After you create popups in WordPress, you must check whether the plugins are working well with your WordPress hosting environment or not. Because enormous pop-ups plugins are coded very poorly that their advanced features such as A/B testing or reporting might not work well with advanced caching solutions.
Therefore, don't miss out on checking for the above points ever while choosing the WordPress pop-ups plugins for your online store or your website.
Now with the help of the OptinMonster plugin, you can create coupon codes in your WordPress account.
Bottomline
Therefore, using the WordPress pop-ups will help you gain more traffic as well as increase the conversion and sales rate of your website. Introducing the exciting offers, special discounts via popups on your website creates engagement and excitement between you and your visitors.
The WordPress pop-ups will also help you recover your abandoned cart sales while converting your visitors into customers. You will thus find many of the WooCommerce and eCommerce platforms using these coupon codes to attract their customers while doubling their sales.
That's all we hope you find this article on creating pop-ups in WordPress helpful. If you liked it, do share it on social media and tag us @reviewsnguides.