How to Add Google Analytics in WooCommerce with MonsterInsights?
Google Analytics is a web analytics tool. It allows you to track and analyze the visitors on your website. But did you know that you can also add Google Analytics in your WooCommerce store? Did you know that you can track your eCommerce performance and understand the behavior of users on your website?
Google Analytics enhanced eCommerce tracking gives you detailed insights into the shopping behavior of your customers. Moreover, it optimizes your store to help you generate increased revenue.
Learn to Add Google Analytics in WooCommerce
By adding Google Analytics in WooCommerce, you can obtain valuable metrics to understand the performance of your store. Please note, for advanced Google Analytics features, make sure you use the WooCommerce Google Analytics Pro Version.
So, if you are ready to track customers' shopping behavior and store performance, here is a step-by-step guide to help you with WooCommerce Google Analytics integration.
Install MonsterInsights Plugin
Firstly, you need to install the MonsterInsights plugin in your WordPress. This is the best Google Analytics WordPress plugin that delivers detailed reports to your dashboard. Moreover, MonsterInsights makes set up and configuration of Google Analytics on your website easier without any coding.
The plugin provides actionable insights that help with decision-making and improving store performance. If you have the MonsterInsights eCommerce addon, you can further set up Enhanced eCommerce for your WooCommerce store. Once we install the plugin, we are on the process to Add Google Analytics in WooCommerce.
To do so,
Go to Insights – Addon
Scroll to eCommerce
Activate the addon and proceed to your Google Analytics account.
Setup & Configuration
Sign in to your Google Analytics account. If you do not have a Google Analytics account yet, please create the same before you proceed.
Select the website you would like to track customer behavior on. Visit the Admin tab from the left taskbar. Under the View column, select Ecommerce Settings.
Then, you will see a screen for Ecommerce set-up.
Use the slider to turn on the Enable Ecommerce option. You can also turn on Enable Related Products. However, this is optional.
Now, press the Next Step button.
After that, under Enhanced Ecommerce Settings, turn on Enable Enhanced Ecommerce Reporting. Finally, press Submit.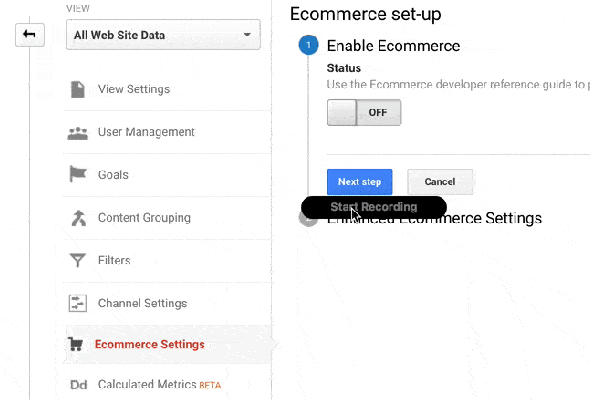 Turn on Enhanced eCommerce in MonsterInsights
We need to change setting from our google analytics account turning on the enhanced eCommerce settings.
Manage Settings
Here's some information you need to add:
Google Analytics ID: Your Google Analytics account has a Tracking ID. Paste the same here.
Set Domain Name: Fill in the domain for your website – www.yourstore.com. If you want to track multiple domains or subdomains, you will have to provide the domain name accordingly.
Now, on your WordPress dashboard, go to MonsterInsights. Click on Insights – Settings and then choose the eCommerce tab on the top. You will see a slider for Use Enhanced eCommerce. Turn it on.
This permits the addon to automatically track your WooCommerce store. Based on the data you receive, you can make decisions to expand and grow your sales revenue. How? Let's find out
Track WooCommerce Store Performance
After you add Google Analytics to WooCommerce, MonsterInsights helps you grow your online performance. It is one of the best WooCommerce plugins to use for report management and data analysis. You can also learn how to add stats dashboard for detailed information on all metrics.
To start, you need to access the report. Go to Insights > Reports > eCommerce. You will see metrics like transactions, conversion rate, revenue, and average order value. You can choose a date range to see the data for that particular period.
Moving on, navigate to the Top Products report. This will give you information about the best-performing items in your store along with stats for quantity ordered, sales percentage, total revenue generated.
Using this information from the report, you can decide which product to promote to attract more sales. Besides, you can identify products that are not doing so well in terms of conversion and accordingly decide to optimize them.
What's more, WooCommerce Google Analytics lets you see Top Conversion Sources for your store. This means that you know the websites that route in maximum converting traffic to your site. You can view the number of visits, the overall percentage of visits, and revenue.
As a result, you can decide the sources you need to focus on and where you need to run product promotions.
Some more reports that you can benefit from are Total Add to Carts and Total Removed from Cart. This indicates the number of products added and then removed by the customers at checkout.
Additionally, you can get reports on Time to Purchase and Sessions to Purchase. As the name suggests, you get to see the amount of time a customer spends to convert on your WooCommerce store.
Tracking Options
You now need to set the various tracking options. Here's what each option refers to:
Enable Standard Tracking
Use this option for basic website tracking. If WooCommerce Google Analytics Integration is the only plugin for tracking on your website, you need to check the box. However, if you have another Google Analytics plugin on your website, you can leave the box unchecked.
"Display Advertising" Support
This option is needed if you plan to execute ads on the Google Display Network. The feature helps you track display ads on your analytics account.
Use Enhanced Link Attribution
This setting is to improve the accuracy of your in-page analytics report. The option differentiates between multiple links to a single URL on the same page. In simple words, this option is ideal for pages that have several links redirecting to the same URL. As you check the box, you will obtain information about the link that is clicked more often.
Enable Universal Analytics
This setting is to enable the new standard for Google Analytics. If you are not using Google Analytics on your site, check this box. On the other hand, if you are using it, upgrade to Universal Analytics.
Anonymize IP addresses
You might need an expert's advice to understand if this is required in your eCommerce store. The setting ensures the privacy of user data and is mandatory in some countries.
Track 404 (Not found) Errors
With the help of this setting and feature, you can easily identify broken or dead links on your website. Broken or dead links don't let website visitors complete an action on your website and are, therefore, detrimental for your business. Go to Google Analytics account – Behavior – Events – Overview – Error to check how many times such a broken link or error occurs.
Purchase Transactions
This setting is to help you track purchases. Moreover, you can monitor data such as tax refunds, revenue, shipping, and more. For successful purchase transactions and tracking the same, you require a payment gateway that routes users to the order confirmation/thank you page after payment.
Add to Cart Events
You can choose to track when customers click on 'Add to Cart'. This information enables you to gather more specific details about your customers' behavior and experience on your website. On the whole, you can identify when and where a customer is dropping off and what you need to do to retain them.
Once you have checked all the options and settings, you are done adding Google Analytics to WooCommerce.
Testing Analytics
After completing WooCommerce Google Analytics Integration, you must test whether you are receiving the right data. For this, use the Google Tag Assistant tool for Chrome. The tool will check the tracking code added to your page and inform you in case of any errors or warnings.
Some of the important points to keep in mind are:
Make sure you log out before testing. Google Analytics does not track pageviews for logged-in admin users.
Issues arise if there are multiple tracking codes on the same page.
It will take some time for tracking results to appear on your Google Dashboard. Wait for 24 hours to receive real-time tracking reports.
JavaScript errors can prevent tracking. Use the browser tools to verify that there are no errors in the console.
Ensure that there are no browser extension/ad blockers since these can block the tracking.
Conclusion
With WooCommerce Google Analytics, you can learn what channels drive the most traffic to your website and accordingly take action to invest in the right channels. You can track the flow of users from product page to cart to checkout and then know where you are losing them. Besides, you can understand what your customers are looking for by identifying the pages they are redirected to from the search engine. 
All in all, WooCommerce Google Analytics allows you to obtain essential information about customers' shopping behavior, optimize the store, and generate more revenue.
And we are done with how to Add Google Analytics in WooCommerce!
I believe you guys learned the process. Let me know in the comments if anyone has any problem, I would be really happy to help.