Add Stats Dashboard In WordPress Using MonsterInsights Plugin
Just imagine. You own a WordPress website. It is important for you to know the traffic on your website. Google Analytics is the best tool to track user traffic on your website. It offers you actionable insights that help you make data-driven decisions. How cool it would be if you could operate Google Analytics right in your WordPress dashboard.
MonsterInsights is one of the best WordPress plugins to get Google Analytics on your WordPress dashboard. If you haven't done it yet, follow our guide on how to install Google Analytics with MonsterInsights.
But, Why Do You Need a Stats Dashboard?
Well, if you have a website domain, you also might have a few subdomains, such as blogs. You can do that through your Google Analytics account. But in many cases, people take a raincheck on their subdomains for two major reasons:
They would have to log in to a separate website (GA) to check the insights.
The interface of GA has a lot of sections, which makes it difficult for users to find quick insights.
By adding a stats dashboard on WordPress website can solve this problem to a major extent. Considering that, let's talk about it a bit more.
How to Add Stats Dashboard In WordPress?
The very first thing you need to do is install MonsterInsights plugin to your WordPress dashboard.
Once you've done it, go to insights>settings section and add your license key.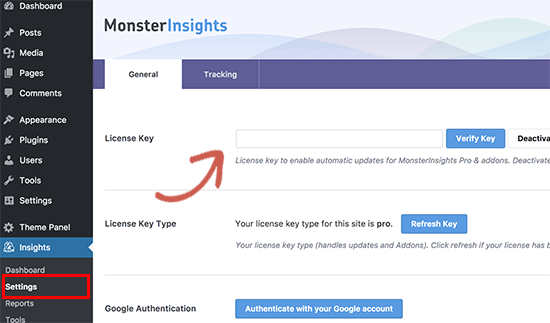 Now, you need to connect your website to your Google Analytics account. Do this by using the "Authenticate with your Google account" button on the settings page.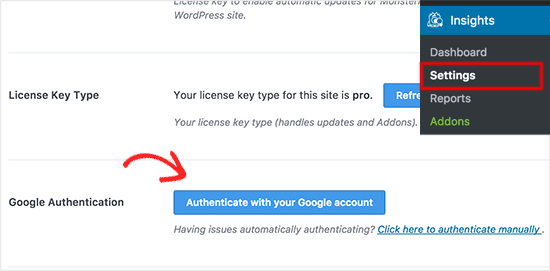 The click will redirect you to Google sign-in page. Type in your authentication credentials to log in. Allow MonsterInsights to synchronize with your Google account. This would allow MonsterInisghts to bring all the insights and reports back to your WordPress dashboard.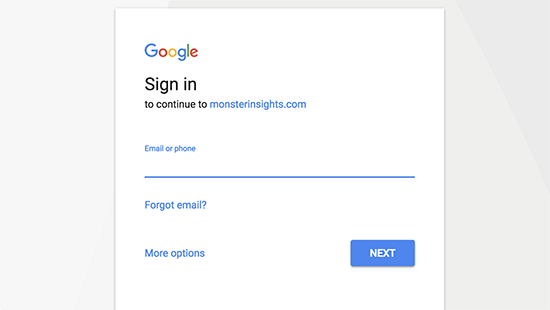 That's pretty much you needed to do. Now, you will be redirected back to your WordPress dashboard.
Check Out Your WordPress Stats Dashboard
You can, now, see your insights added to your WordPress dashboard. Your dashboard would look something like this by visiting Insights » Reports page.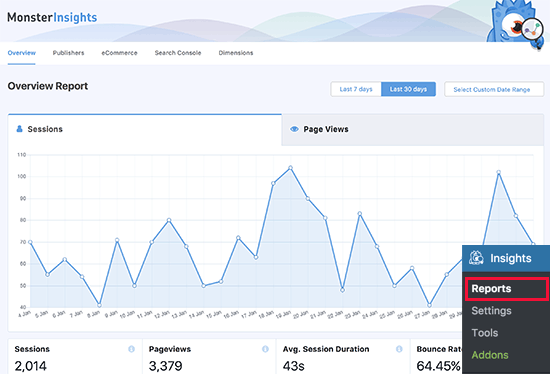 The dashboard will show you stats for 30 days which includes important insights about incoming traffic.
Right under that stats, you'll see a comparison of your stats against the last 30 days. The metrics that you could measure are numbers of sessions, page views counter, session duration, and bounce rate.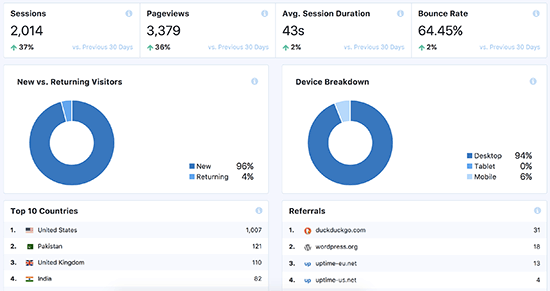 Below that there would be new insights about new vs returning visitors and devices accessing your website. After that, you can find geographic insights like traffic coming from different countries and referral insights. You can also find the top posts and pages that are receiving high traffic.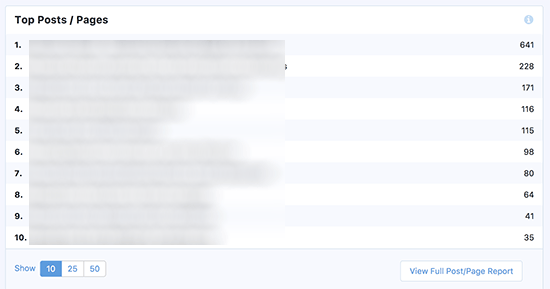 Benefits of Using MonisterInisghts Plugin
There are multiple benefits of using MonsterInsights to WordPress reporting dashboard.
MonsterInsights makes Google Analytics installation easy in WordPress.
MosnterInsights can help you customize your insights and show only limited important insights.
Google Analytics doesn't track advanced metrics like eCommerce, forms, downloads, without permission. MonsterInsights offers you to have that benefit.
MonsterInsights improves a user's ability to make data-driven decisions for the improvement of the website.
So, if you haven't installed MonsterInsights in your WordPress dashboard, do it now. Also, install a few best free WordPress plugins to elevate your blogging and website management experience.
We hope this article was helpful to you. We wish you a great experience with the MonsterInsights plugin to drive an insightful improvement of your WordPress website. If you found this article helpful, share it with your friends and acquaintances. Also, don't forget to follow us on Social Media for more updates on WordPress customization and plugins.