How to Connect Zapier With WPForms to Automate Business Workflow?

Want to add more integration options to your forms? It is possible by automating your work with Zapier and WPForms. Using Zapier add-on, you can connect your site forms with over 2000+ web applications. You can transfer your forms data to Salesforce, Asana, Trello, and other applications. Today, 80% of enterprise operating leaders are relying upon data integration. Therefore, you can automate your workflow by connecting Zapier with WPForms right now! Read our detailed guide on how to connect Zapier with WPForms.
What is Zapier?
Zapier is an online automation tool to connect different apps, such as Slack, Mailchimp, Gmail, and even Google spreadsheets. With Zapier, you don't need to code or rely upon developers for data integration. 
It is a simple platform to build a personalized workflow within a few clicks. For instance, if you receive lots of attachments in your Gmail account, you can configure Zapier to save them to Dropbox. Usually, when you receive an email attachment, you have to save it to Dropbox manually. Zapier can automate this for you.
Common Zapier Terminology
Zap: Term refers to automating workflow between your apps.
Trigger: An event in an app that starts the zap. After setting up Zapier, the trigger will monitor the app for that event.
Action: An action that completes the Zap.
Task: A data running through your Zap is called a task.
How to Connect Zapier With WPForms?
WPForms is a WordPress plugin that helps business users build lead generation forms and make the contact capture process seamless. WPForms is a freemium plugin but offers pro features such as added integration in its paid version. You can buy WPForms at a discounted rate by using our exclusive wpforms coupon codes.
Now, coming back to the process, if you have added a form to your site to retrieve customers' feedback, Zapier can quickly transfer data from the forms to other apps. You can automate your WPForms workflow within a few steps.
Install Zapier Addon 
Install and activate the WPForms plugin on your WordPress. If you want to know more features, do check out our detailed WPForms review.
Now, install Zapier add-on and connect with WPForms.
Navigate to WPForms > Add-ons and check whether Zapier is available with your license or not. If you don't see an add-on, click on the Refresh Addon button, or you can the Search Add-ons.
Once you found the Zapier add-on, click on the Install Addon button. When Zapier add-on shows activated status, go to WPForms > Settings > Integrations tab.
Pro Tip: You can try Zapier for free with limited features. However, you can upgrade to Zapier Professional for $49/month or higher for full business automation. Zapier Professionals offers unlimited zaps, Unlimited Zaps, multi-step Zaps, premium apps, filters, and more.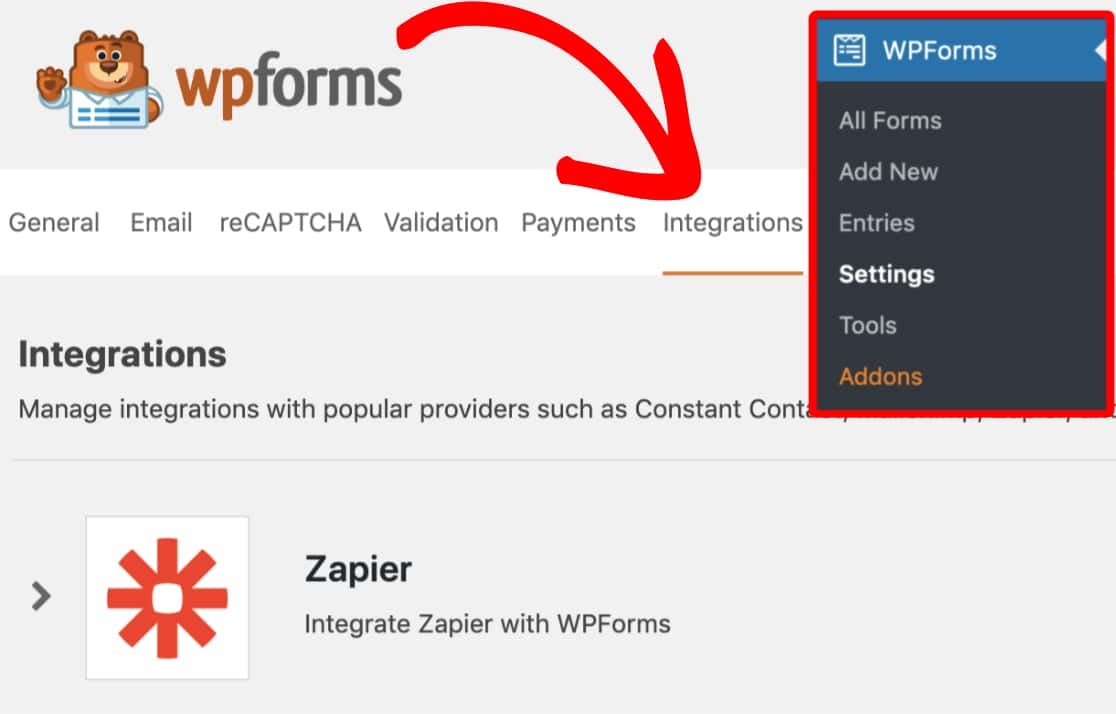 On the tab, click on Zapier for more details and copy the Zapier API key for your site.

Create a Zap
The next step is to create a zap integration that sends information from WPForms to another program.
Log in to your Zapier account, or you can create one for free. Once you log into your account, click on the '+' button in the upper left corner.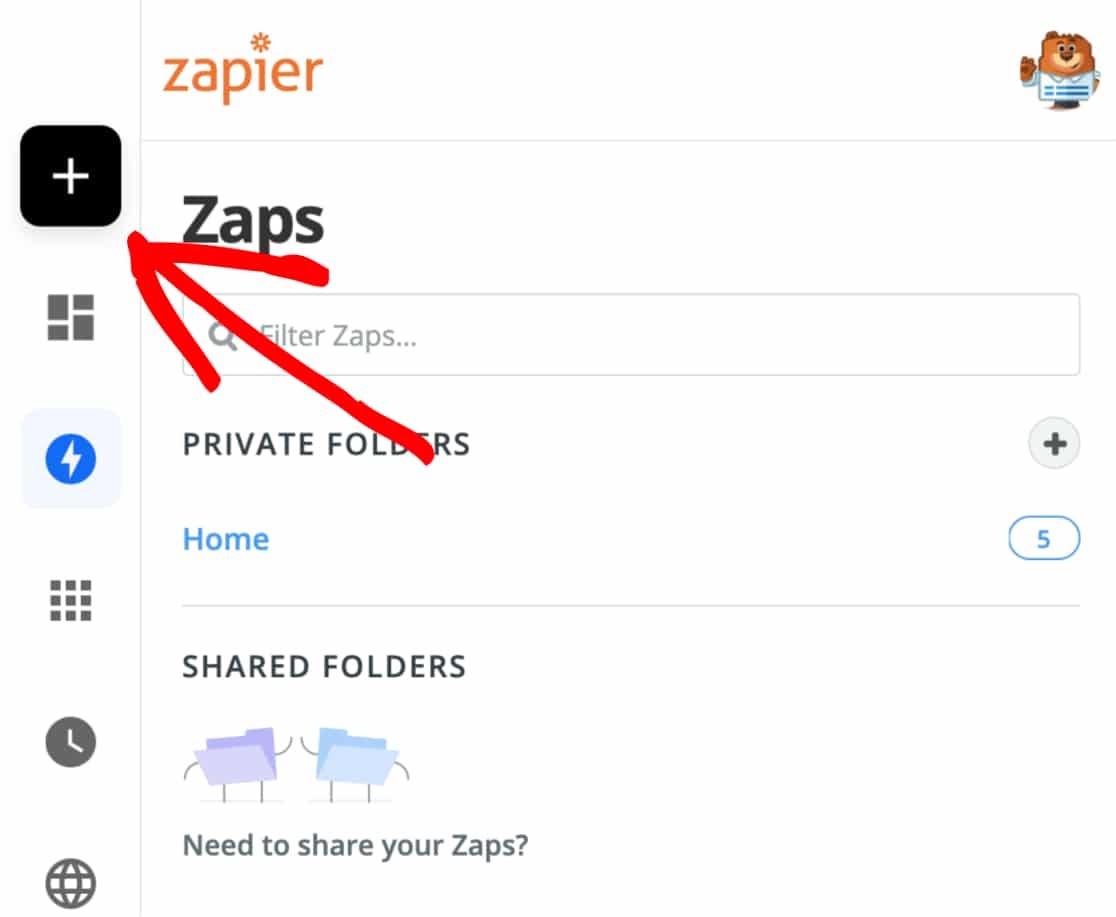 Now, a setup page for a new zap will appear. You can give a name to your zap in the left corner of the page.
You'll have to select WPForms as your first app. You can type WPForms in the "Choose App & Event" search box and then click on WPForms.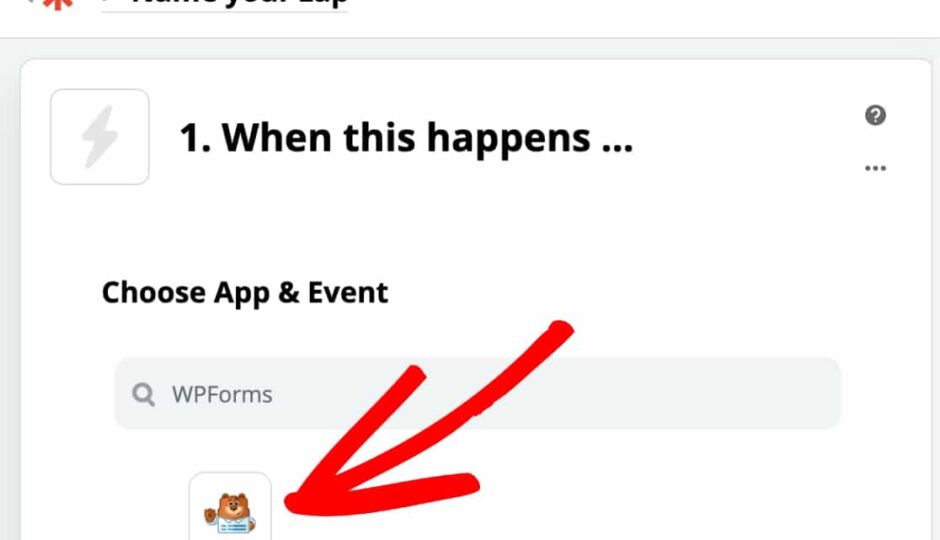 Next, Zapier will display your trigger options under "Choose Trigger Event."
Under WPForms, there's only one trigger option called "New Form Entry." So, click on the Continue button to proceed.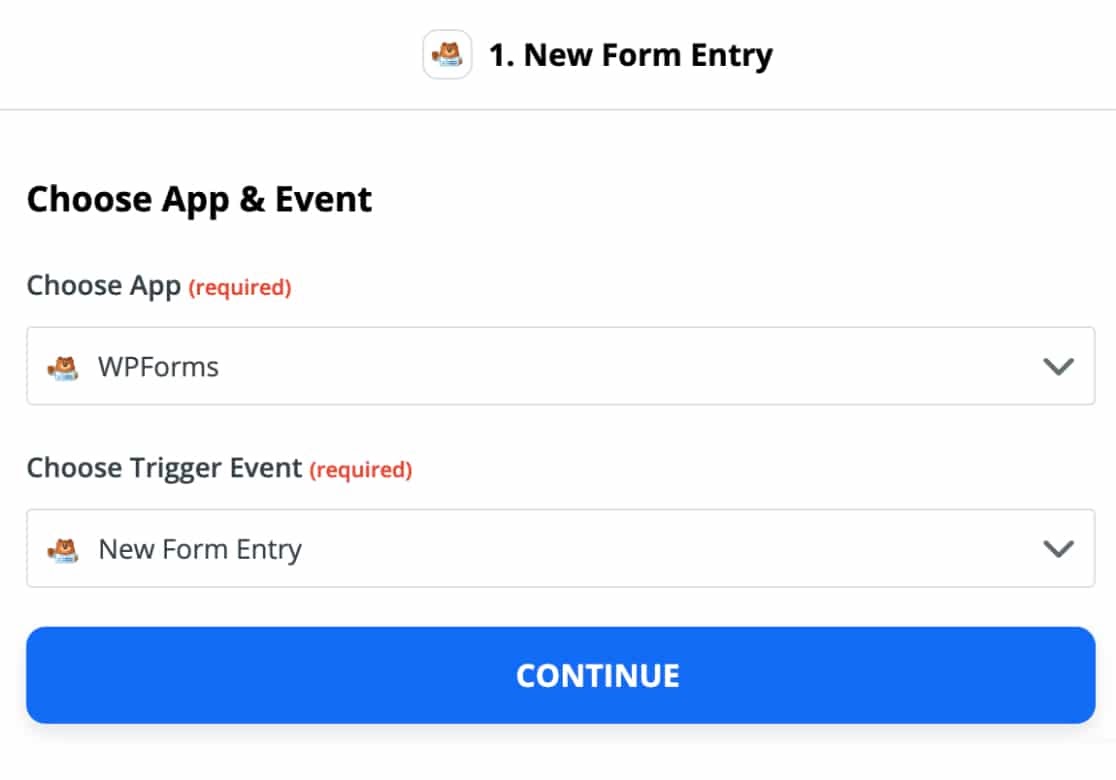 Connect Zapier with WPForms on your site by clicking on the Sign in to WPForms button.
An overlay will appear to add your API key. Open your WPForms Settings window from the first step and copy/paste the key.
You'll need to fill out the Website field with your website URL and click the Yes, Continue button.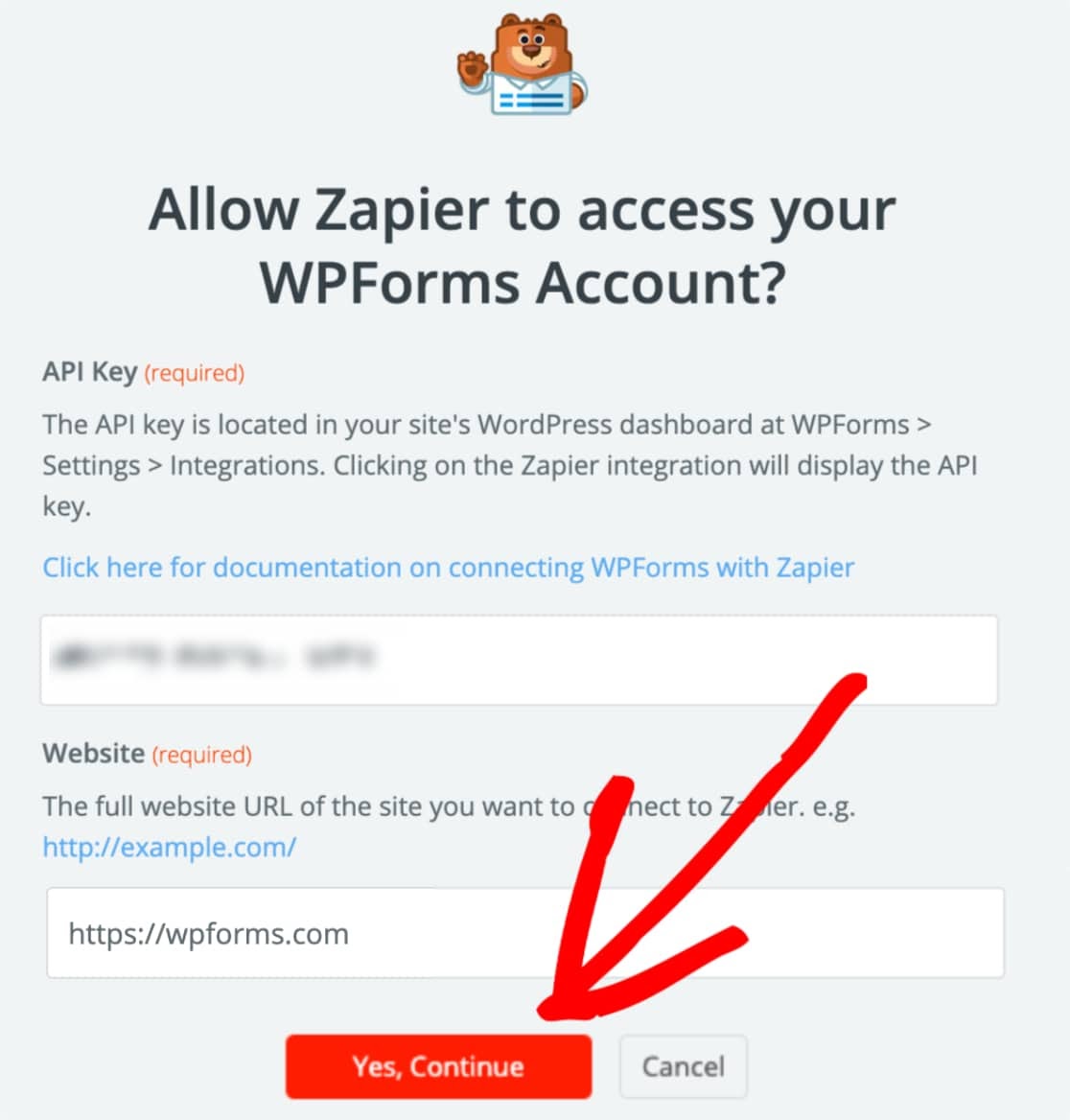 Configure Your Zap
Once the connection is established, Zapier will prompt you to choose which account to use for your Zap.
Next, you have to perform the New Form Entry step. Choose your preferred form and click on Continue.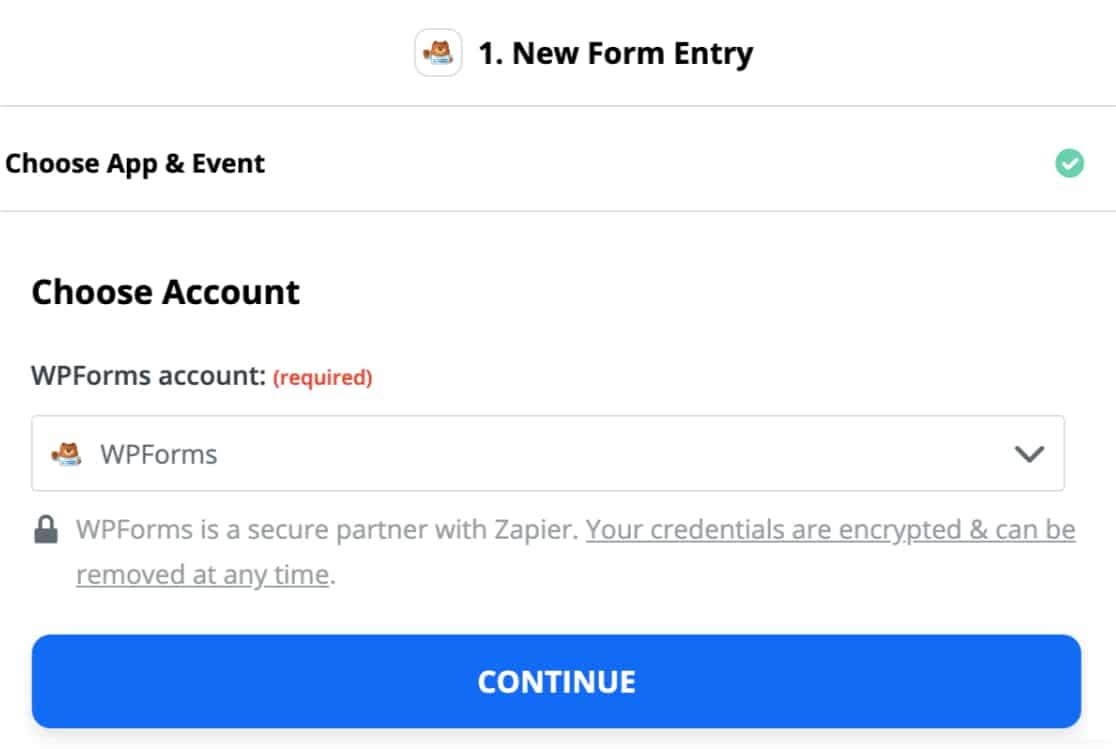 Zapier will now take you to the Find Data step.
This step will give you a chance to pull in sample entries to test your connection. You can do that by choosing the Test & Continue or the Test & Review button.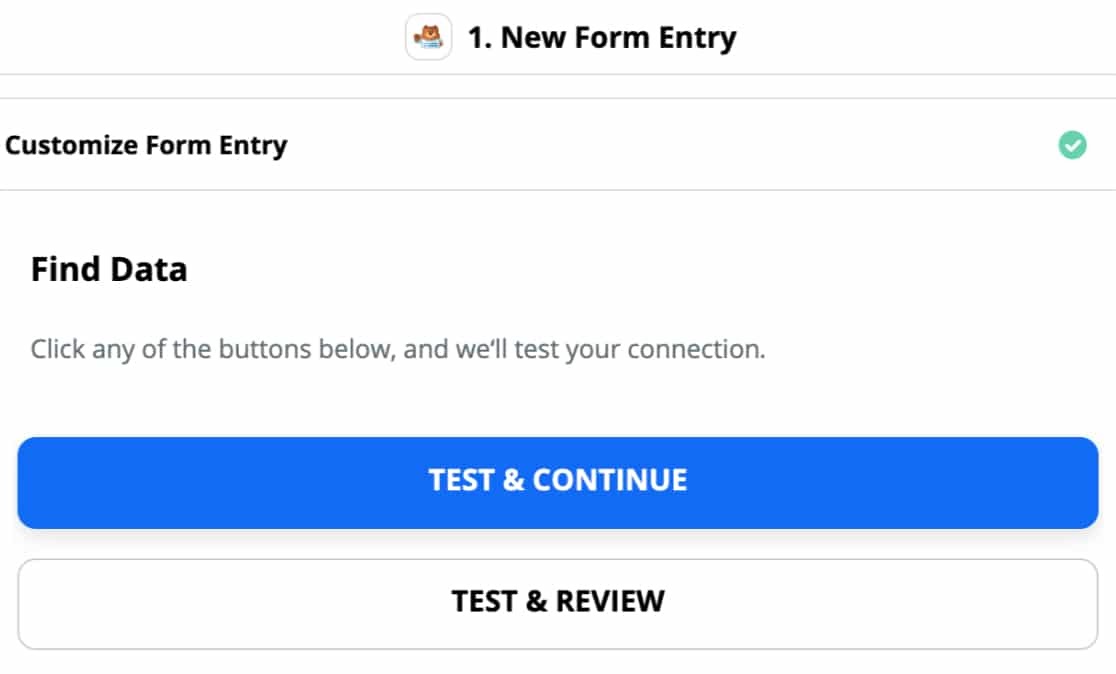 If you have picked the Test & Review option, your form entries populate after a few moments. Once this appears, you can expand the entries to ensure that all data has been pulled correctly. Then, click the Done Editing button.
If you have selected the Test and Continue button, Zapier will automatically move you to the next step.
Lastly, Zapier will ask you to Choose App & Event to transfer your form entries. You can select numerous apps for integration with WPForms.
Once you select the app, Zapier will show you how to pass form data to your chosen service. The process depends on the app you have chosen.
Benefits of Connecting Zapier & WPForms
Over one million businesses use Zapier, including Graphy, Accenture, Yousign, and more. you should automate work with Zapier because:
Saves your Time: Most businesses opt for manual processes to transfer data from one app to another. Zapier can remove manual time and errors by integrating multiple business apps.
Zero Lead Leakage: You can connect your CRM solution with Zapier and quickly strike hot leads. Zapier can even connect with a calendar app and notify about important meetings by email or SMS.
Scale Up: Growing a business has been simplified with Zapier. You can streamline admin tasks and free time for your staff to focus on core business activities.
Fast Sales: A sales process involves signing a contract, initial workshop, follow up and much more. Zapier will automate the entire sales process so you can target more customers.
Prevent Burnout: If you are a solopreneur, you have to wear multiple hats daily. It can get exhausting to perform so many tasks on your own. Therefore, Zapier can step into the role of your savior and automate all mundane tasks for you.
Vast Integration: Today, there won't be a business operational app that Zapier won't support. On the top, the company is constantly expanding its integration area.
Zapier can connect WPForms data with numerous business services, such as:
Web Storage Services: Google Drive, Dropbox, Amazon S3
CRMs: Freshsales, Hubspot, Mad Mimi, Marketo, Pipedrive
Team Collaboration: Trello, Slack, Discord
Accounting Applications: QuickBooks, Airtable
Bottomline
Connecting WPForms with Zapier add-on can help you automate your work with ease. You can quickly transfer your business data from one app to another and save lots of time. Therefore, if you are using multiple WPForms on your site, get Zapier to streamline your data immediately. For more information, keep connected with us!