How to Run Social Media Contest on WordPress Website to Grow?
Have you created a new business website or want to revive your deadbeat website? Then, there you have many ways to grow your website with content marketing, social media marketing, and more. Among all the website growth options-running a social media contest is a highly effective one. In short, to engage new followers and retain old ones, you need learn how to run social media contest on your WordPress website.
Why? Because who isn't on social media today?
Alone on Facebook has 2.85 billion active monthly users available. Other social media platforms aren't behind: YouTube (2.291 billion users), WhatsApp (1.6 billion), and Instagram (1.386 billion). Check out the statistics for yourself.
So, let's learn to run social media contest on your WordPress website.
How Running Social Media Contest Help?
Before investing your time in creating social media contests, let's understand how they can benefit your business.
If you are a new online business, contests will boost your brand awareness
Social media contests strategies will teach you how to improve website traffic with simple engagement tricks
You can improve your social media fan following with contests
Keep your audience engaged
Helps to nurture and generate leads
Build your email subscription list
Give a push to your sales and more.
That's being said, now let's move on to creating a social media contest on your website.
How to Run Social Media Contest?
Creating a social media contest requires both creative and technical skills. You have to plan your contest's content, layout, and other details for maximum ROI. And, then you require technical knowledge to put it on your site.
So, let's dig into both the creative and technical aspects of social media contests.
Define Your Objective
Like any other marketing campaign, you need to first define the purpose of running social media contests.
Do you want to gain new followers, boost traffic, generate leads, or something else? Once your objective to run a social media contest is clear, you can better track and monitor your results. Also, you can ensure your contests offer maximum ROI.
Contest Type
Here you need to use your creativity and think of an innovative social media contest that can help you achieve your objectives.
For instance, if you want to build an email subscription list, you can offer something to your subscribers in return. Like this L'Oréal Paris offer: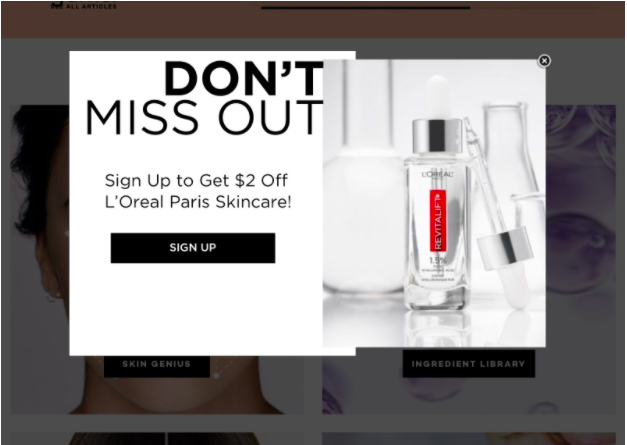 They are giving $2 off to the users who subscribe to their website. This is the best way to encourage people to share their personal information.
Offering Suitable Reward
The reward is a crucial point here. If the reward isn't exciting and lucrative, people won't participate in the contest. So, think from your audience's perspective while deciding it. Commonly; discounts, giveaways, and free memberships are used by businesses as reward.
But you can flow your creative juices free and think of a mind-blowing reward for your participants.
Choose The Right Plugin
Now, we are on the technical part. You need a robust plugin to develop a social media contest and publish it on your WordPress site.
You can run social media contests by using various software too. One such software is UpViral. UpViral is a full-service viral marketing system. It can be used to host giveaways and sweepstakes. It is an excellent utility tool if you own an e-commerce store or are a digital marketer looking to generate leads. With UpViral, you can build and engage your audience with your brand and authority. Feel free to check out our UpViral coupon codes and get 30% OFF on your purchase.
A WordPress plugin can make it easy for you to design and publish contests on your website. You will find many great and best WordPress plugins for businesses (small and medium) to create social media contests, such as:
But for this guide, I am using RafflePress because it is the best WordPress plugin to create feature-rich contests. The plugin offers:
Various giveaway templates
Goal-based actions and entry methods
Option to personalize the design with CSS
Email verification
Social media integration
Tracking and retargeting option
CRM integration
Multiple publishing options, etc.
You can use RafflePress for free to create basic social media contests on your site. But if you prefer to design a unique contest using different features, go for RafflePress Pro or higher versions.
RafflePress Pro will only cost you $99 per year. You can also get Growth and Ultimate versions for $199 and $449 per annum.
Create Social Media Contest on WordPress Using RafflePress
Install & Activate RafflePress
Go to the Plugins > Add New page on your WordPress admin area and search for RafflePress. After that, click on the Install Now button next to the RafflePress plugin and then on Activate.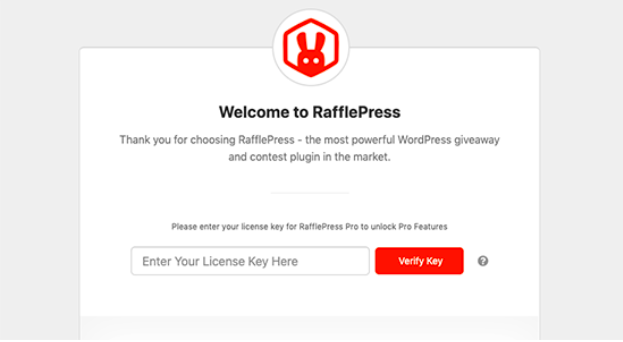 Now a new item named RafflePress will appear on your WordPress admin sidebar. You have to now open RafflePress and enter your license key. You can find your license key on the RafflePress website under your account.
Create Social Media Contest
Simply go to RafflePress > Add New page to launch the contest builder.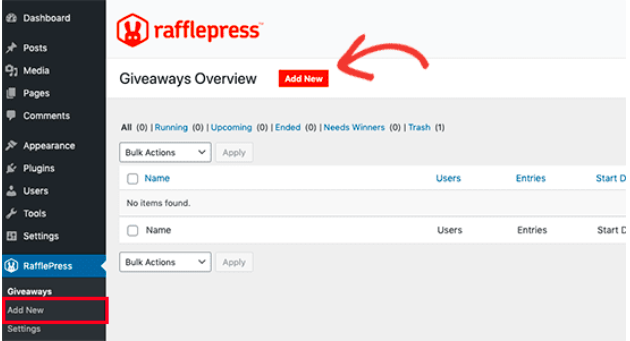 Give a title to your contest in the Giveaway Name field. After that, you can see various templates for different social media platforms like YouTube, Twitter, Instagram, and many more.
If you want to customize your contest layout, you can select the Classic giveaway template. This way, you can target different social media platforms with one contest.
After that, you have to enter your prize details. Click on the Pencil icon to give a title and description of your prize.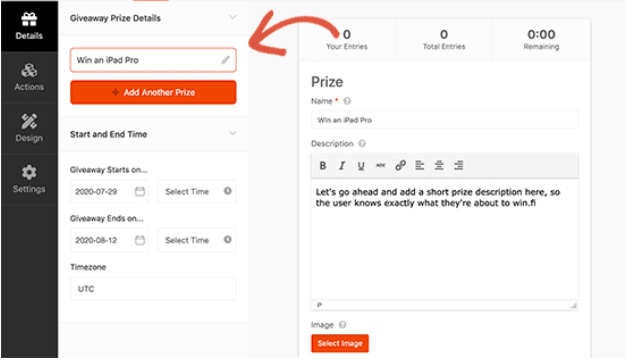 You can also upload images to display alongside your prize to make it visually attractive.
Add Actions to Enter Your Contest
Actions are the interactions that users perform to participate in your social media contest.
RafflePress offers a variety of actions that you can embed into your contest. For example, you can add the Follow on the Twitter button or Subscribe to the Newsletter action field.
You can launch the Action tab from the left menu, and all the actions will appear on your screen.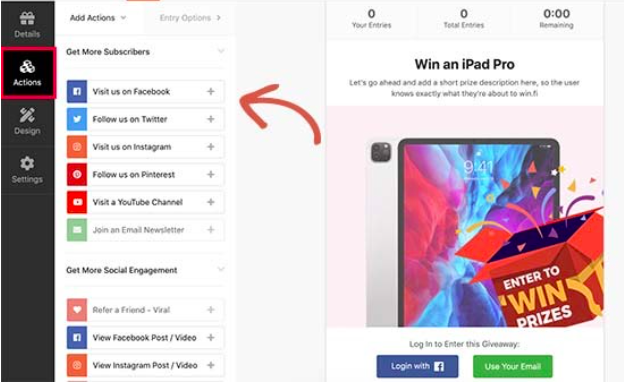 Simply click on the action you want to add to your contest. After that, you can edit the action settings from the left column.
Every action will come with some generic settings. You can change the title, select the number of participants who can win it, etc.
You can also find some specific actions. For example, you can add your Instagram profile URL to request users to follow you on Instagram.
You can add as many actions as you want. Also, you can even custom design actions as per your needs. Once you are done with the actions, just hit the Save button.
Change Appearance & Settings
You can now switch to the Design tab. There you can change the font, color, background, and all other elements of your contest.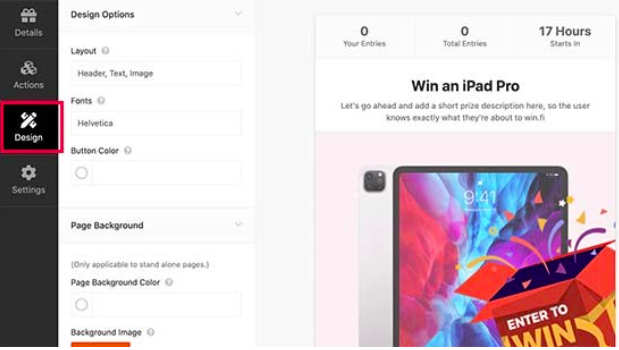 After that, switch to the Settings tab to configure your contest settings. Under the General settings, you can set various settings for your contest, such as the number of entries, limit signups per IP, and more.
Besides this, RafflePress will allow you to configure several other settings, like:
Permalink for your contest landing page
Number of redirects
Enable social logins
Email verification, and more.
Publish Your Social Media Contest
Finally, it's time to publish your contest. RafflePress lets you add contest widgets anywhere on your WordPress site.
You can add it to any page or post using the Block Editor. Then, simply select your contest from the drop-down menu and publish it on any page or post.
RafflePress also allows you to run social media contests on the WordPress website via shortcodes. You can find the shortcode for your contest on the Publish tab.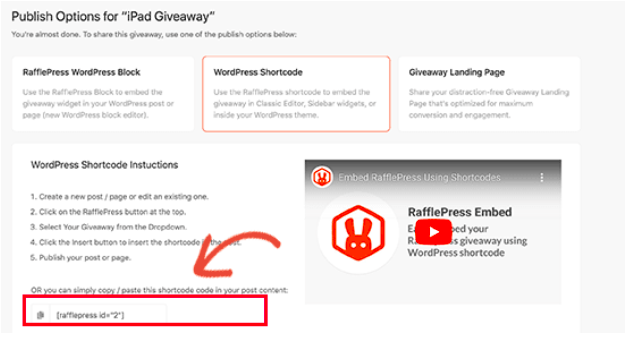 You can also publish your social media page as a standalone page. Just go to the Publish tab > Click on the landing page option and set up your landing page.
Now, give a short slug to your contest landing page, preview it, and you are ready to live your contest.
Extra Tips to Make Your Social Media Contest Successful
Design your social media contest based on your objectives
Use catchy content and visuals to make your contest attractive
Promote your contest on different portals
Offer a lucrative prize
Frequently monitor your contest's performance
Bottomline
You can now boost your sales, engagement, and brand awareness with your social media contest. All you need is a clear objective, RafflePress, and you are all set to grow your business online.
RafflePress has made it super easy to customize your contests with several actions, readymade templates, settings, and more. However, you need to get RafflePress Pro to access all the advanced features.
I hope that you can now run social media contest on your WordPress website with ease. But, if you are stuck somewhere, you can comment below. I am always happy to help.