How To Improve Website Traffic? (Best Guide to Get More Traffic)
There's no doubt that starting a new website or blog is exciting. You probably can't wait to share your site with the world. Unfortunately, the harsh reality that most new site owners face is a lack of traffic. In this blog, we'll discuss multiple answers telling you how to improve website traffic, keep reading for some exciting and valuable tips.
It doesn't matter how great your website or blog is if no one knows about it and no one sees it.
Search traffic from Google is what every website owner and blogger wants. After all, web traffic is directly related to your primary goal which is generating leads. Check out our exclusive guide to find out how to check website traffic using multiple toolsets.
Additionally, the more traffic your page or website gets, the higher are the opportunities to monetize it through advertisements. However, it usually takes several months for search traffic to kick in. If you don't want to wait around for Google to start sending traffic to your site, what can you do?
Let's get started with practical and actionable tips you can begin implementing right away.
9 Easy Ways To Improve Website Traffic
We've come across a few winning formulas and we would like to share them with you in this post. Each one of the following tips is tried, tested, and practically guaranteed to increase traffic to your WordPress website.
Optimize Your Posts For SERPs
Most bloggers are obsessed with ranking in Google. On the other hand, many of them don't realize that how the posts look on the Search Engine Results Pages (SERPs) in Google can make a big difference too.

Broadly speaking there are two things you should concern yourself with while strategizing to improve traffic on WordPress websites:
The Title: you may want to change this so that it is more appropriate to people using Google to search for information.
The Description: you should always write a meta description for your posts to give people a clear idea of what they can expect if they click.
Customizing the title and description is a piece of cake with the Yoast SEO plugin. Just make the changes via the meta box on the Post screen. You can make your WordPress blog popular by doing simple SEO best practices.
That's all there is to it – Google will pick up the information and use it within their SERPs and hopefully a more attractive and clickable snippet will help increase traffic to your site.
That being said snippets are a great way to increase traffic. When Google displays a snippet of one of your WordPress pages or sites, traffic will start to pour in. With a featured snippet, you can highlight your content and increase your click-through rate right away. According to a study, highlighted snippets receive 8% of all Google clicks. To get a google featured snippet of your website, check out our guide on how to get google featured snippet for your WordPress.
Add Breadcrumbs
Breadcrumbs navigation is great for usability – it gives visitors to your site an immediate idea of where they are relative to your site's structure and enables them to navigate through your site with ease.
But there is a secondary benefit to breadcrumbs: they add another dimension to your site's appearance in the SERPs.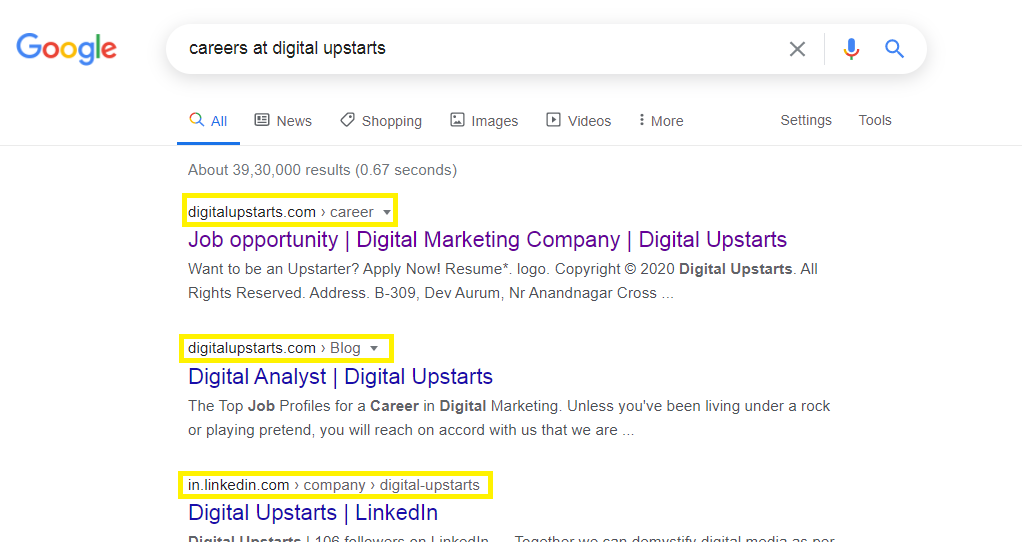 As you can see, breadcrumbs included on your site are also displayed within the SERPs. This gives searchers more information about your site before they're even on it, which can't be a bad thing.
Enabling breadcrumbs on your site is a relatively straightforward affair and uses the WordPress SEO by Yoast plugin again. You can learn how to add breadcrumbs to the WordPress site with this step-by-step tutorial.
Once your breadcrumbs are set up the right way, search engines like Google will display your website's navigation along with the page title in search results. This enhances the WordPress website's visibility in the search results and helps improve the website traffic.
Learn to Write Great Headlines
When users find your content in search results or RSS feeds, the first thing they see is your article's headline. A catchy blog post title stands out and gets more clicks. Whereas a plain and boring headline gets ignored, and users are likely to scroll by it. This makes headlines very important.
These are the basic building blocks of an effective headline:
A good headline triggers an emotional response (joy, surprise, shock, curiosity, fear, excitement, greed, and so on).
It offers users a reward and value
It promotes the content by including target keywords
Copywriters use power words to trigger emotional responses. They tell users why the article is valuable or what they will get from clicking on the headline.
Lastly, a good headline includes a call to action for users which is often subtle and sometimes implied.
Interlink Your Pages
Putting up relevant links to your own blogs (i.e. interlinking) is one of the primary factors contributing to improving the traffic on WordPress websites. Many visitors to your site will initially be blind to your navigation and you will find that the only way to compel them to explore your site further is to include links to related posts directly within your content.
As such, I recommend that you include as many relevant links to related posts on your blog as possible when creating blog posts.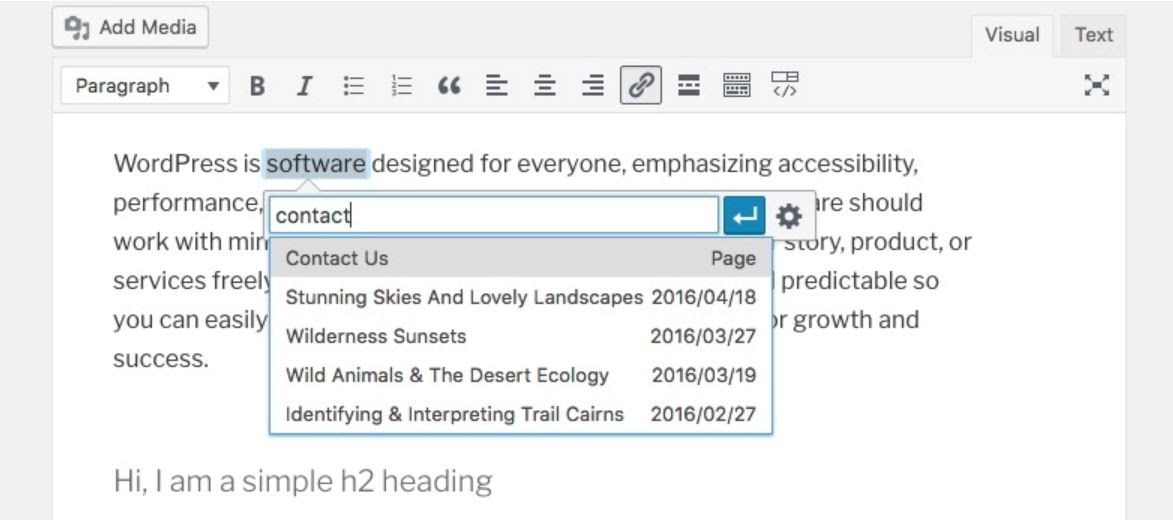 Here is why internal linking is so important:
Internal links help Google understand the context and relationship between different articles on your website. It then uses this information as ranking signals.
Internal links, when placed strategically and in context, can help you increase page views and reduce bounce rate. It is harder to ask third-party websites to link to your articles. It is way easier to create links on your own site.
We recommend making it a habit to link to your older articles from your new articles. Because internal links play such an important role in SEO, we have even made it part of our pre-publish checklist for our writers.
Strategically interlinking your pages can help you get google sitelinks. Google sitelinks are displayed beneath the top search outcome on the (SERPs). They are displayed with a brief description and are internal links to the website. Sitelinks are useful for guiding users across your website and are frequently discovered when a user conducts a brand search. Check out our guide on best practices on how to get Google Sitelinks for your WordPress website.
Include Related Posts
You are probably familiar with the concept of including related posts at the bottom of an article. If you already use Jetpack you can add related posts to your blog by simply enabling the feature. They should look something like this:

Including related posts is a proven way of boosting engagement by giving visitors a clear opportunity to continue reading content on your site. However, you may (quite reasonably) be wondering what related posts have to do with driving more traffic to your site.
It's easy to install and set up jetpack in your WordPress website.
Retweet Archived Posts
Undoubtedly, Twitter is by far the most accessible social network in terms of being able to build a following and increase traffic on WordPress websites. Not only that, you can automate the flow of traffic from Twitter (as well as Facebook, LinkedIn, Tumbler, and Xing) to your site with the Revive Old Post plugin.
The process is simple: you link the plugin to your Twitter account and it re-tweets archived posts on your blog based upon criteria that you set (such as specific post types, how often tweets should be published, and within what times).

Archived posts are periodically posted to your Twitter profile and your Twitter followers will click on them, thus discovering old content and re-engaging them with your blog. Furthermore, they may retweet your posts, leading to their discovery by people who hadn't previously heard of you.
Split Test Your Headlines to Improve Traffic
If you have been blogging for any length of time then you will know all about the importance of headlines. The same post can be a complete flop or go viral on the strength of its headline alone.
With that in mind, one of the most effective things you can do to increase traffic to your site is split test your headlines. This is easily done with the Title Split Testing for the WordPress plugin. It enables you to create two or more headlines for each post and/or page that you write, then randomly present them to visitors and measure the click-through rate.
After a number of clicks, you will be able to decide which headline is the most successful and conclude the split test. The benefits of this are immediate, but even better, if you take note of trends (i.e. what kinds of headlines perform best) you can create better headlines for your readers in the future.
Start Generating More Backlinks to Improve Traffic
A backlink is an incoming link to your content from an external website. Backlinks are one of the most influential signals in Google's rankings.
Getting backlinks from reputable websites and blogs is very difficult. Not just for beginners, even experienced bloggers struggle with it. Getting a backlink from a website that has high authority will help you improve website's traffic.
Here are some tips to get quality backlinks to your website:
Reach out to influencers and reputable blogs in your industry, and then tell them about specific content on your website that they might want to link.
Write guest posts on other blogs and websites.
Interview influencers and bloggers on your blog. They will likely want to let their users know to come checkout their interview, and you'll get a backlink.
The easiest way to get a backlink is to add a link to your website on all your social media profiles.
Bonus Strategies to Improve Website Traffic
The above-discussed ways can together drive exceptional traffic to your website. Also, if you're done implementing those, there are also various other ways and strategies to enhance your website traffic. Let's look at some of them:
Perform Keyword Research. One of the many tools that can help you with finding the best keywords is the Monsterinsights plugin. Check out our guide on how to boost website traffic with Monsterinsights.
Create Memorable Content
Write Guest Posts
Keep Active Social Media Pages
Use Advertising to Increase Website Traffic
Influencer Outreach
User behavior. One of the many ways to find out your user behavior is by knowing what they are doing after visiting your website. This can be achieved by Mouseflow. Mouseflow inserts a single JavaScript line of code into your website to track what users are doing. The script sends small periodic and highly compressed data packages to the Mouseflow platform during a visitor session, which is recorded as a session. Check out our Mouseflow promo codes and get 10% discount on your purchase.
Get ready for a website that's bustling with visitors. Generating lots of traffic to your WordPress site will be easy if you follow these tips. Start implementing these simple strategies and not only will your website traffic skyrocket. Moreover, you can begin to turn those visitors into loyal customers and see a big boom in sales too.