How to Save at Target While Shopping Online & Store? (15 Tips)
Do you want to buy shoes or groceries or any other household and gift items? The first place that pops into your mind is Target. So, if your week doesn't end without visiting your nearest Target store, you should know how to save at Target?
Target is a general merchandise store running under the flagship of Target Corporation. With the clear motto "Expect More. Pay Less", there are 1900 Target stores around the globe. In all the 50 US states and the District of Columbia, you will find a Target store at each few miles.
If you learn a way to save at Target, you can reduce your shopping bill to half. So, let's not waste any more time and learn how to save money at Target.
15 Tips on How to Save at Target?
You should have to be a smart shopper and encash all the Target offers and put some relief on your pocket. Here are some tips:
Get Target Coupons
You can make your Target shopping more economical by using different coupons. To get Target coupons, you have to visit the store's official website before heading to the actual store. There are vivid types of coupons available on the website for clothing, stationery, groceries, and many more. You can pair manufacturer coupons with Cartwheel offers to create a lucrative deal.
We have exclusive Target coupon codes for sitewide discount on a wide variety of Target products.
Apart from our website, you can use the mobile coupon program to save at Target by signing up. Target will send a fresh batch of coupons with barcodes on your phone every month that you can scan at your nearest Target register.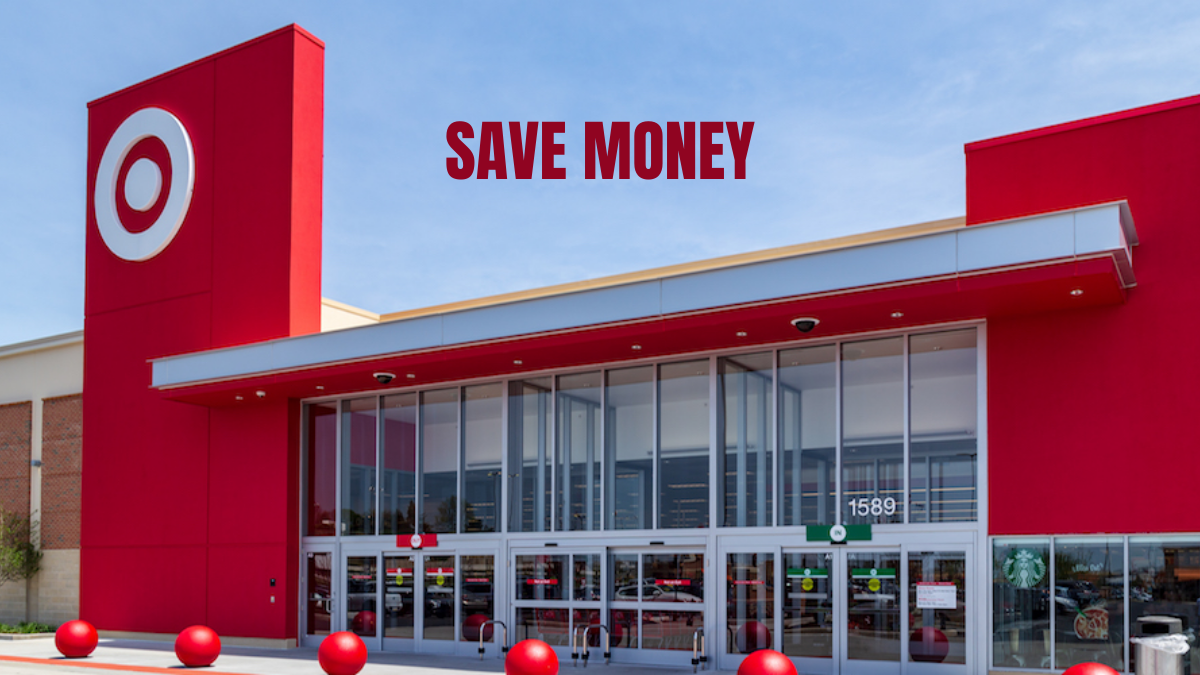 Apply for Target RedCard
Target has introduced RedCard as a strong saving tool. There are two types of RedCard available – Debit and Credit. A debit card is simply linked to your checking account, which can be used at Target's checkout register anytime. On the other hand, you have to meet certain qualifications to get a credit RedCard – it is similar to the process of getting a bank credit card.
You will get a straight 5% off at any Target store daily
Free shipping on most items bought from Target.com
Occasionally, you will get special items and gift offers
Additional 30 days return and exchange
You can save 5% at any in-store Starbucks location
Also, save 10% on hotel booking on Hotels.com and many more
You can easily apply for Target RedCard via personally visiting the store, sending mail, or online.
First of all, you require a copy of your Social Security Number, state ID, Driver's License, or any other Identity Proof
Then, as per your chosen method, you have to open the application page on Target's website and fill out all the required information
However, if you want to apply personally or through the mail, you have to take its print out and drive to your nearest Target store or post office and wait for the approval
Select a Shopping Day
Target has dedicated a day to every department for clearance. So, if you sync your shopping schedule with the Target clearance days, you can indeed save your money.
Monday – Kids clothing, books, baby products, electronics, and stationery
Tuesday – Women clothing, food items, pets, and other domestic goods
Wednesday – Men's wear, diapers, garden accessories, furniture, health, and beauty
Thursday – Lingerie, toys, housewares, shoes, sports goods, home decor, and luggage
Friday – Cosmetics, hardware, auto, and jewellery
Saturday and Sunday – Target let you rest from the nonstop shopping
Adjunct Your Price
Suppose you have been eyeing a dress for months and waiting for it to go on sale. And, suddenly, it went on 5% off. So, without wasting any time, you bought it. But, the very next day when you went to get some diapers and saw a 10% off sign on the same dress, it would be heartbreaking.
However, if the item you have bought goes on sale within 14 days of purchase, Target can adjust your price. You just have to show your receipt. Now, how cool is that!
On some products, this Target policy doesn't apply, so you have to read all the terms and conditions before demanding the price adjustment.
Opt for Target Cartwheel
Cartwheel is a super money-saving social coupon program by Target. You can log in to the Target Cartwheel app and scan your personal barcode at the nearest Target register to deduct your savings. You can store all the barcodes on your phone, or print out hardcopy. A few good things about this program is –
One deal can be redeemed four times. That means if you buy four boxes of cereals, one deal will apply to each box.
You can pair your Cartwheel coupons with Target and manufacturer coupons to prepare a sweet deal.
Save Environment and Money
Target believes in protecting the environment. And if you believe in protecting Mother Earth and bring your reusable shopping, you can receive a 5 cent discount. That's not a very big discount, but it is still something.
Hit Target Early in the Week
Mostly, Target shoppers stack their coupons throughout the week and hit the stores on Sunday. But, with such a crowd, finding the right products becomes very difficult.
On the top, Target restocks shelves on Monday and Tuesday, which means all your favorite items might go out of stock by Sunday. Thus, if you want to pick from the wide range of options, you should try to visit Target stores early in the week.
Take Leverage from Online Orders
By placing an online order at Target, you might receive a consolidation discount. When you place a bulk order for multiple different items, all your items might arrive on different dates. And to consolidate that inconvenience, Target might give you an extra discount if you tick on the 'Order Consolidation' box.
Shop From Amazon
This is one of the most uncommon money-saving tips at Target. Many people forget that Target is a retail merchandise brand. Thus, all the Target's original products are available on Amazon, too, with a price match guarantee.
So, using the special Amazon Prime sale or other festival offers, you can save money at Target.
Target Store Brand Items
Just like any other retail store, you can buy weekly Target store brands and save money. But there's always the risk of trying new things. However, if you like new things, you'll truly enjoy trying new store brands every week.
Buy From the End Caps
End caps is a term used to define shelves that appear at the end of each aisle. If you go for end caps in Target stores, you might get some clearance products. You need to have a walk around the outer perimeter of the store, and you never know when you hit the jackpot.
Usually, Target marks down the clearance sales as 15, 25, 30, 50, 75, and 90 percent off. That means 90% off is the biggest mark, and there's a high chance that the item will get sold before the mark.
Collect Target Weekly Ads
If you still buy newspapers in this digital era, you can save at Target. How? Target publishes weekly saving ads in the newspapers that you can collect and save on your shopping.
Generally, these ads run on Sunday and Saturday. And a new product sale is introduced every Sunday. Sometimes, Target even shares some special seasonal offers like Black Friday sale, back to school savings, and many more. Thus, you have to collect all these ads and redeem them along with your other Target coupons.
Target Trade-in Program
If you have old or unused electronics laying around your home, you can use the Target Trade-in Program to save money. This process is very simple – Check your products eligibility > Get quote > Ship to Target for free > Earn gift cards.
The trade-in eligible categories are smartphones, tablets, consoles, wearable devices, and speakers. You can even exchange gift cards under this program.
Start Holiday Shopping Early
To save on your holiday shopping at Target, you should start a year early. Yep, holiday items get a straight 50% cut after the holiday, and if you could wait for a week or two, you can get upto 70% off.
It means you can stock up Christmas or Halloween decorations and save tons of money. You can get special holiday prices on Valentine's Day, Easter, Halloween, Christmas and more.
Use Target Wedding Registry
Do you want to know a sneaky way to save at Target? Then, you should create a wedding or baby registry. It doesn't matter whether you are getting married or having a baby; you can save a lot with this sneaky trick.
You just have to open the Target website and create a registry for the items that you need. On the date of your event, Target will give 15% off on the remaining items. So, when you pair a 15% registry discount with 5% RedCard and any Cartwheel discount, you can save big bucks.
Be a Smart Shopper & Save at Target
The biggest mantra would be to be a smart shopper and use all the discounts and offers given by the target clever. You have to use all the methods to get Target coupons and discounts to customize your sweet deal.
I know you must be eager to practically try all the awesome Target save up tricks. So, I won't hold you back anymore. Go and shop your heart out at Target and save big time!