SOAX Review (The Best Residential & Mobile Proxies in Market)
SOAX is one of the top best proxies in the world. In this SOAX review, we will dive deep into the platform and discuss its dashboard and features. We'll dig deeper into SOAX plans and the type of secured proxies they offer that makes them one of the top best proxies.
What makes this exclusive review of the best residential and mobile proxies provider great? Well, for this SOAX review we officially collaborated with SOAX and explored their customer dashboards and proxy services features. So, you can be rest assured that this is an honest review and will fill you in with details that no other article can.
What is a Proxy?
Proxy is a medium between you and the internet traffic working as usual IPs. But, proxies mask your locations and make it anonymous. The activities you perform such as browsing, downloading and online streaming appear to come from other locations. You may still confuse proxy with the VPN.
VPN too works like a proxy but it encrypts the traffic to protect your system from ISP tracking. Whereas proxy allows access with a hidden identity.
SOAX Proxies
Residential Proxies
Residential proxies address the location it is assigned to. These proxies establish the connection between ISP and the resident system.
In this SOAX review, we encountered that with 99.99% network uptime, you get a fast and quick response in SOAX residential proxies. Residential proxies include a proxy pool of guanine and whitelisted IPv4 proxies.
Each of these proxies is secured and compatible.
Users can stay completely anonymous as these residential proxies come from actual service providers. Residential proxies explored in this SOAX review will surely help you send several requests at one time. You can filter these proxies based on region, cities, service provider, or country.
SOAX Residential proxies are available in a variety of packages starting from as low as $150/month.
SOAX Residential Proxy Pricing Plans
Starter WiFi: You can access 300 IP connections simultaneously in the starter WiFi residential package. Initially, you need to pay $15/GB for the daily traffic. This package limits daily traffic to 10GB with two whitelisted IPs.
Regular WiFi: This package costs $700/month and provides 600 simultaneous IP connections. You need to pay just $7/GB for your daily traffic. This traffic is limited to 100GB/day and gives five whitelisted IPs.
Business WiFi: This is the most preferred package among SOAX users. You have to pay $2500/month for this ultimate package providing ten whitelisted IPs. You will get 1000 ports to access IP connections at a time. This package charges $5/GB and limits traffic to 500GB/day.
Enterprise WiFi: This package starts from $4000 and above. This package can be customized as per your enterprise requirements. You will get more than 500GB traffic limit on a daily basis. You can contact the SOAX support team to know this customised plan.
Use our exclusive soax coupon codes and get 20% OFF on your subscription.
Mobile Proxies
Mobile proxies let you connect your portable device with the servers. These mobile proxies are genuine and effective in masking your location. Mobile proxies help you block real IP addresses of your devices like laptop, Smartphone and tablets.
Mobile proxy's product listed in this SOAX review provides automatic proxy rotation and GEO targeting. It also offers efficiency with high uptime and quick response. There is no limit on requests users can make concurrently. SOAX follows superior GEO targeting algorithms which guarantee a mask of user identity.
While reviewing SOAX we found that the mobile proxy plans of SOAX are very efficient, effective, and affordable. Let's take a look at their plans one by one.
SOAX Mobile Proxy Pricing Plans
Starter Mobile: This is a mobile proxy package starting from as low as $175/month. You can enjoy traffic up to 5 GB daily. It charges $35/GB for traffic on your business site. You can access 300 ports simultaneously with two whitelisted IPs.
Regular Mobile: You need to pay $600/month for this regular mobile package. It limits daily traffic to 20GB costing $30/GB. You will get five whitelisted IPs in this package.
Business Mobile: This is the best-suited package for business owners who have a traffic limit of up to 100GB daily. This package comes for $2500/month and includes 1000 ports to be used at an instant. It charges $25/GB.
Enterprise Mobile: This package starts from $4000/month which can be customized as per your views. You may need to contact seller support to know more about this package.
A Stroll to the SOAX Dashboard
Now, when you register to SOAX, you get access to an impressive dashboard. This dashboard opens up settings and customization options to make the most benefit of the service.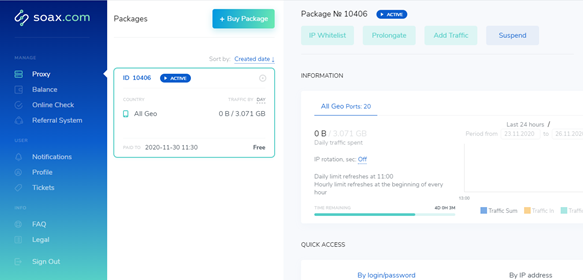 SOAX proxies let you whitelist IPs of your choice based on the package you select. You need to pay additional charges to whitelist IPs more than the free limit. These charges start from $5/IP.
Now, let's review the SOAX platform. When you run out of your package, SOAX platform provides a flexible package option. You just need to click on the prolongate button on your dashboard. You can see a pop-up window where you can specify locations, connections, and ports to be included in the package. In short, users can pay for days, weeks, or months as per your convenience.
The dashboard has an Add Traffic button which lets you add traffic limits for your website. You can select locations and traffic load in MegaBytes and GigaBytes. SOAX gives you the freedom to suspend the package any time you want.
The dashboard helps you monitor daily traffic and the balance of your package to keep you updated with your account. You can top up your account any time with the flexible packages.
Authentication Method
Most importantly, there are two ways to get quick access to services. The first method is using the login and password provided on the dashboard. Credentials have a copy to clipboard option, so this makes it easier to work with.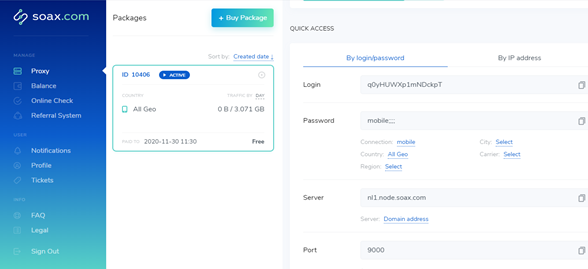 The second method is using the IP address of your system. You can select an authentication method and add a filter based on country, region, city, carrier, and connection. Although the second one is more secure, the first one is most recommended due to its hassle-free nature.
How to Setup SOAX Proxies to Your Device?
It is super easy to set up a SOAX proxy. You just need to follow the steps below.
Firstly, click on settings where you need to select network and internet to turn on the WiFi.
Now, connect your system to the WiFi access point. You can see the modify network option in settings.
Click on this modified network link and again left-click on show advanced options.
After clicking on None you can see the menu on your screen. Select the 'Manual' option.
Now fill in the below details there.
Proxy hostname: nl1.node.soax.com
Proxy port: 9000+(10000+)
Save these details and you can now open your browser to access any URLs.
SOAX Features
Excellent Coverage: A huge IP pool of about 8.5 million IPs across 120 countries provides excellent location coverage.
Flexible Packages: Select available proxy services based on country, duration, number of proxies required, and its type. SOAX offers daily, weekly and monthly packages which make it flexible for buyers to buy and test products.
Target GEO Location: Concerning the location of users, SOAX targets the country's sites and mobile carrier providers. This target also depends on the selected package.
24X7 Technical Support: You will never regret buying a product from the SOAX platform as a result of its experienced technical support and detailed FAQs section.
Superior Data Scraping: SOAX proxies are useful in applications like data scraping. You will get consistent performance in all connections.
Zero IP Block: SOAX provides all the proxies with zero IP block assurance. This feature is available with residential as well as mobile proxies.
User Authentication: SOAX authentication can be done by IP whitelisting and another through strong login credential. We found it the best security feature while researching to draft this exclusive SOAX review.
Easy to Use Dashboard: SOAX platform has an interactive and friendly dashboard. It is easy to use when compared to its competitors. Users can initially interact and GEO target from the platform.
Best Network Uptime: The platform provides 99.99% network uptime. It thus offers to break free access to IP rotation technology.
SOAX Pros
High Connection Speed: SOAX platform offers an average ping time of 81ms, average download time of 23.16mbps, and average upload time of 11.86mbps.
Large Proxy Network: SOAX platform has more than 8 million residential proxies providing a huge proxy network.
100% Whitelisted IPs: SOAX proxy service provider assures 100% whitelisted IPs masking the identity of the user. This is the most positive aspect of this SOAX review which makes SOAX service stand out from the crowd.
SOAX Cons
Connection Security With Monitoring: SOAX's end to end encryption method protects you from eavesdropping but you will be continuously monitored.
Best Only For Businesses: It is recommended to buy business packages for both residential and mobile proxies for the best benefits. The personal packages are expensive.
Limited Free Trial: SOAX proxy provider offers a one-hour free trial for $1. You need to understand and explore the service in this trial period.
Get SOAX Now
You are getting a massive proxy collection with technical support and numerous added features. Let me conclude this exclusive SOAX review with the final thought of choosing it as an attractive option for both residential and mobile proxies.
100% whitelisted proxies and unlimited usage makes SOAX a promising proxy service. You get elite stable proxies at an affordable price that makes it stand out among the competitors.