How To See Keywords People Use To Find Website Using MonsterInsights?
Online marketing is changing every day. And so is Google's algorithm to rank online traders and websites. Under such rapid change, SEO experts take every necessary step to stay put in the competition. They track two major SEO metrics, i:e: the rank of the link in Search Engine Results Pages (SERPs) and the keywords people use to find their website.
In this article, we'll talk about how you can easily track the keywords that users enter in Google to find your website. Well, yes, there are multiple paid SEO tools such as SEMRUSH or AHREFS. But, we always forget the power of Google Search Console. It's made by Google for Google. In this article, we'll discuss how you can install Google search console in your WordPress dashboard using MonsterInsights plugin.
What are Keywords?
Keywords, or focus keywords, are the lifeline of SEO experts. They are generic words used by internet users on search engines to look for information. Keywords also describe the content on your page.
A person who wants to buy a camera might enter its model name and number, which is a keyword. Similarly, another person who is looking for the same camera and doesn't have the model name and number will enter a specific keyword to look for it. For example, best Canon cameras online, cheapest Canon camera, most expensive Canon cam, etc.
SEO experts track such keywords that bring maximum users to their website. Then, they optimize their webpages for the same keywords to rank higher on the search engines.
How To See The Keywords People Use To Find Your Website
How do you think you can do that? You know, know the exact keywords that bring traffic to your website? Google Search Console is a free service offered by Google for every website to monitor and maintain the statistics on your website. Google analytics keyword tracking also works just fine.
You can directly login to Google Search Console through the Google Webmasters tool. However, there's but one small problem. If you have a WordPress website, you would have to separately login to the search console. What if you could get all the insights from Search Console, such as keywords and traffic, directly into your WordPress dashboard?
MonsterInsights plugin for WordPress helps you connect your Search Console account with Google Analytics. Furthermore, you can get any insight from the Search Console in your WordPress dashboard. Including keywords, people use to find your website.
How to Install Google Search Console in WordPress Using MonsterInsights
"How do I find keywords for my website?"
This question bothers a lot to newbie website managers and SEO experts. Well, we gave you two major keyword tracking tools, i:e: Google Analytics Keyword Tracker and Google Search Console.
Let's find out how we can install both search console and google analytics using MonsterInsights plugin.
Install Google Analytics in WordPress using MonsterInsights
MonsterInsights plugin is a multi-purpose tool that tracks your website traffic, users' interactions on your site, and shows you easy-to-understand reports.
Go to the plugin section on the left sidebar of your WordPress dashboard
Search for MonsterInsights plugin
Install MonsterInisghts plugin
Activate the plugin
Then, connect the plugin with your website's Google Analytics account. We have the simplest guide to install Google Analytics with MonsterInsights. Also, please make sure that you have the Plus Plan of the plugin as the basic plan doesn't support the search console installation.
You can also add the stats dashboard in WordPress using MonsterInsights plugin. It will reduce your efforts on finding insights into Google Analytics dashboard to a lot extent.
Add & Verify Your Site on Google Search Console
You can easily add and verify your site on Google Search Console by using Google Analytics.
Go to Google Search Console website
Sign in through your Google account credentials
Click on "Search Property"
Click "Add Property" in the navigation menu
Go to URL prefix and add your company's URL
Click "Continue"
This would connect your Google Analytics with Search Console. Now, you can track up to 50 top search terms for your website.
View the Search Console Report In Your WordPress Dashboard
The way is easy now.
Go to "Insights"
Click on "reports"
Go to the "search console tab"
Apart from the top 50 keywords people use to find your website and position of your keywords in SERPs, you'll also get to know the number of clicks, impressions of your posts, the click-through rate (CTR).
Checkout Keywords People Use to Find Your Website in Your Search Console Account
Go to the search console account
Select your website to open the Search Console Dashboard
Go to search traffic
Click on search analysis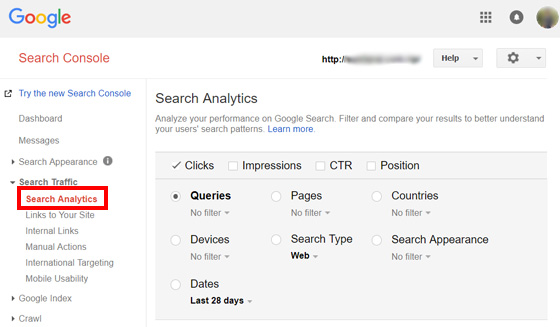 Scroll down to find the search keywords people use to find your website.
Why Use MonsterInsights Plugin?
There are multiple reasons why MosnterInsights tops the charts.
It is easy and convenient to use
MonsterInsights offers comprehensive reports
It embeds the data directly into the WordPress dashboard
The reports help you make data-driven decisions
It offers you the exact insights that you get on other paid apps
We hope this article will help you know the keywords people use to find your website. If you find our article interesting, share it across your social media channels and with your friends and acquaintances.
Check out our guide on free WordPress plugins your website needs to skyrocket. Follow us on social media for more updates on WordPress plugins. Till then, Ciao!