How to Set Up Video SEO on WordPress Website? (The Best Guide)
A study from Forrester Research revealed that video is 50 times more likely to achieve organic page ranks in Google than plain text results. That's how popular Google thinks video content is in 2021. Do you want to rank your videos higher on search engines? Then, you better start learning how to set up video SEO on WordPress website.
What is Video SEO?
SEO is a set of best practices to optimize web pages to make them rank higher in search engine results for specific queries. The most popular way to optimize web pages is by installing Yoast SEO plugin and following their on-page SEO checklist.
But, doing SEO for videos is different.
You see, video SEO is optimizing your video to rank better in search results. YouTube is the biggest and most popular video platform. Being a product of Google, YouTube offers a great set of options to optimize your video for SEO. You can optimize your video's file name, add popular tags to it, add recording date, time, and location, optimize title and description, make a playlist with time stamps, and much more. Video SEO is the next big thing because even 60% of businesses use video as a marketing tool.
There are so many reasons to sharpen your video SEO knowledge today. So, whether you are a digital marketer or a blogger, scroll down and know how to set up video SEO in WordPress now. For example, you have to select the best video hosting to bring maximum traffic to your site.
How to Set Up Video SEO on Your WordPress Site?
The easiest way to set up video SEO on your WordPress is a Video Sitemap. A video sitemap is an XML sitemap containing all the information about video content on your site. It can help you generate rich snippets to appear in Google video search results and increase your blog traffic.
It can help you generate rich snippets to appear in Google video search results and increase your blog traffic. That's because a video sitemap lets search engines index your post with the embedded video content.
In fact, if you use YouTube to host your videos, your YouTube and embedded videos can help both ranks in the search results. That's indeed cool!
The next big question is how to create a video sitemap on your site?
The answer is simple — All in One SEO plugin (AIOSEO). It is the best WordPress SEO plugin trusted by over 2 million sites. Plus, AIOSEO makes video sitemaps formatting super easy. So, let's check out the complete process to set up video SEO in WordPress using AIOSEO.
AIOSEO is popular by the name Semper Plugins. You can buy AIOSEO toolset at discounted rates with our exclusive semper plugins coupon codes.
Set Up AIOSEO Video SEO Plugin on WordPress
To install AIOSEO, just go to Plugins > Add New > Search for AIOSEO > Click on Install and then Activate. And your video SEO plugin is ready!
Just one thing, indeed, there's a free All in One SEO version available. But you need the premium version to create video sitemaps. And to buy the premium AIOSEO plan, you can use our special referral codes anytime.
Enable Video Sitemaps on WordPress
Next, move to All in One SEO > Sitemaps on your WordPress dashboard. Ensure that sitemaps are enabled on the home screen. To do so, click on the toggle next to the Enable Sitemap option.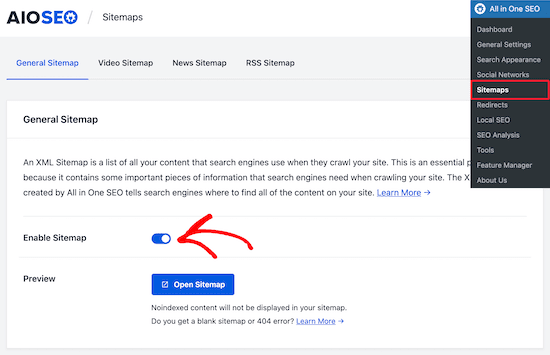 Once it's done, open the Video Sitemap menu option from the top of your screen. After that, click on the Activate Video Sitemap button to enable the video sitemap module.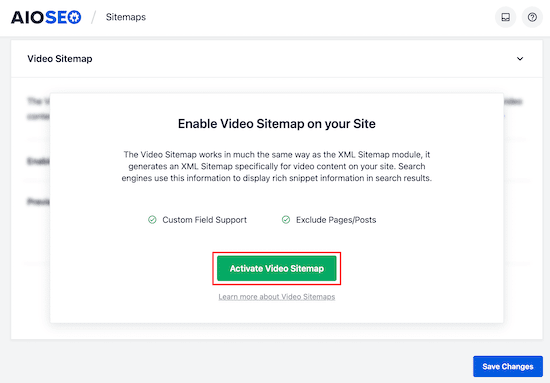 You can now view your video sitemap from the Open Video Sitemap button. In addition, the index page will automatically list all available video sitemaps on your site.
Configure Video Sitemap Settings
You have further options to configure your video sitemap settings in the Video Sitemap Settings box.
However, default settings are enough for your WordPress blogging site. But you can always adjust settings based on your video content needs.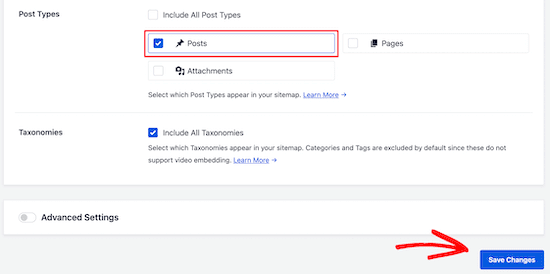 Mostly, people make changes in the Post Types and Taxonomies settings. For example, for your embedded blog post videos to appear in a sitemap, uncheck the Pages and Attachment boxes in the Post Types box.
Once you've made the desired changes in the settings, don't forget to click on the Save Changes button.
There you go, you have successfully set up a video sitemap on your site. But, before leaving, why don't we explore a few video SEO tips for better optimization?
Tips on How to Set Up Video SEO On WordPress
Find the right Keywords. As we all know, SEO begins with keyword search. So, you should hit Google Keyword Planner or any other keywords scraper tool and find relevant and high-ranking keywords for your videos.
Create light videos. So, they can load fast because Google takes page speed very seriously. Keep your videos light without compromising with the quality.
Engaging thumbnail images. They are like previews of your video that determines whether people will click on your video or not. So, make your thumbnail images engaging and click-worthy.
Catchy title and description. Just like your blog posts, your video's title and description are a significant ranking factor. Using the targeted keywords, give informative and catchy titles and descriptions to your videos.
Insert a video transcript. The text paired with your video is a video transcript. It makes your video accessible to a large audience and more scrapable by bots. So, add a relevant and keyword-oriented transcript to your videos.
Optimize the rest of your page. To set up video SEO on WordPress you can't fully rely upon just the video to rank better in SERPs. You still have to focus on other aspects of SEO on your page.
Don't embed the same videos in multiple places. No matter how great your video content is, don't embed it on multiple pages. Embedding video at one page containing the relevant information is sufficient than multiple placements.
Share your video on different platforms. The more people view and like your video, the better it will rank. So, leverage your social media and other marketing channels to promote your video.
Over to You
Peeps, for Google, videos are an important ranking factor. On top of it, online video consumption is projected to reach over 3.1 billion by 2023. Plus, the marketing industry is going gaga over video marketing. 
So, we can say that videos are the future of content. Here I have laid out what video SEO is, how to set up video SEO for your WordPress site, and a few tips. Now, it's up to you whether to start improving your video SEO or not.
In my opinion, pay attention to your video optimization right now. And share your experience with everyone in the comments.