How To Use Easy Affiliate With MemberPress? (The Best Guide)
If you haven't created an affiliate program for your membership site yet, do it right away. That's because you can generate a whopping 30% or higher revenue with it. Affiliate marketing can bring your products in the limelight and spike your sales many folds up. In fact, the global affiliate marketing industry is well over $12 billion as of now. Plus, MemberPress has now paired with Easy Affiliate to let you create affiliate programs on your site in a breeze. Let's get into how to use easy affiliate with memberpress?
Are you pumped up to grow your business with affiliate programs? YES! Let's buckle up and check out how to create an awesome affiliate program on MembrPress.

About Easy Affiliate Plugin
Simply speaking, Easy Affiliate is a tool to integrate your membership site with an affiliate program. It can help you create banner ads for your affiliates, track their marketing activities and pay them commissions.
Easy Affiliate offers all the features that you ever required to run a affiliate program:
Easy Affiliate supports MemberPress, WooCommerce, and Easy Digital Downloads to take your sales to the next level.
It is a highly secure plugin with Fraud Protection Addon to track and monitor your commissions.
Personalized Dashboard to monitor stats, edit your account information, view payment history, and more.
Customize your commission rates, such as add multiple commission levels, override commission rates and more.
Create your unique URL containing an affiliate's information.
Integration with popular email marketing services like MailChimp, ConvertKit, and ActiveCampaign.
Generate real-time reports to track and monitor affiliate programs' success.
Smooth payment flow with PayPal integration.
How to Use Easy Affiliate With MemberPress?
Before we start creating your affiliate program, first select your membership plan. Easy Affiliate offers three competitive plans — Pro ($399/year), Plus ($299/year), and Basic ($199/year).
All plans come with a 14 days money-back guarantee and many awesome features. So, pick a suitable plan, and don't forget to redeem our coupons to save your money.
Let's create a dynamic affiliate program using Easy Affiliate on your membership site this way.
Install & Activate Easy Affiliate 
Log into your WordPress site and search for the Easy Affiliate plugin. Click on the Install button and then activate it on your WordPress account.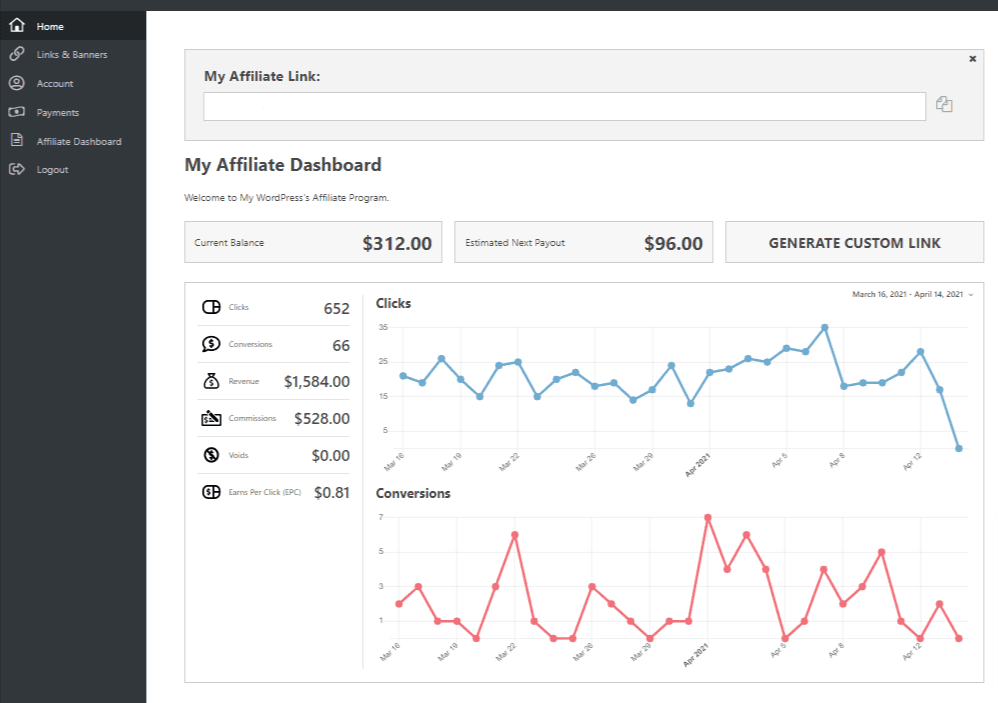 Install & Activate Easy MemberPress 
You can install and activate MemberPress on the WordPress site following the same steps if you don't already have one. You can also upgrade MemberPress membership to Pro ($699), Plus ($299), and Basic ($279) based on your requirements.
Find out our exclusive memberpress coupon codes to get up to 20% OFF on your subscription.
Configure Easy Affiliate with MemberPress
Once you have both plugins ready,  go to Easy Affiliate > Settings > eCommerce. Then, set the toggle to activate the MemberPress integration.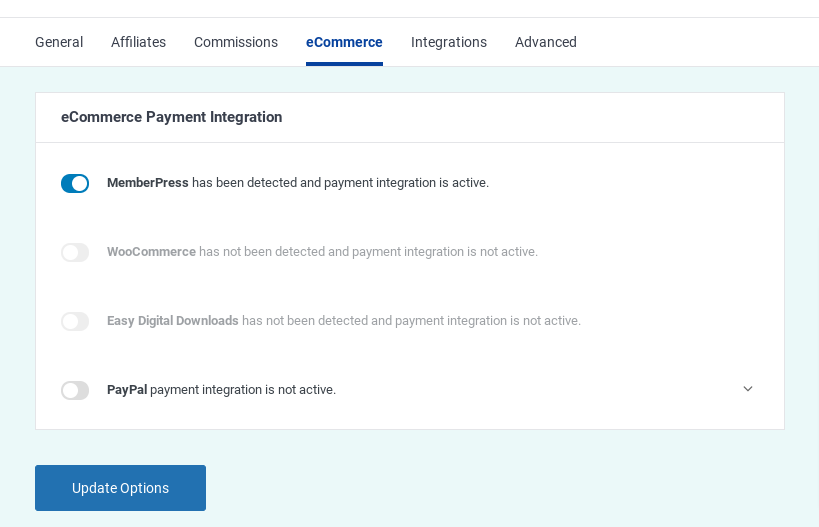 Next, using a user-friendly Setup Wizard, you can create your affiliate program in three easy minutes. The Setup Wizard walks you through:
Filling your business information
Personalizing affiliate registration pages and forms
Uploading your creatives such as text and banner ads, etc.
Set Up Easy Affiliate Integrations with MemberPress
The next step is to integrate your account to make it more functional. You can use PayPal or Stripe within MemberPress to handle all your payments. The transactions are even safer since MemberPress added Apple Pay and Google Pay into their existing payment methods. Also, you can integrate with email services like Aweber or ActiveCampaign.
Decide Commission Structure
The commission is the biggest reason that someone would want to affiliate with your brand. So, you need to decide what type of commission structure you are willing to use and at which level.
For instance, you can select the percentage commission type and the level to be at 10%. This way, when a customer subscribes $100 worth of membership via an affiliate link, the affiliate makes $10.
You can view all these transactions on Easy Affiliate's affiliate user page. You can also reference them using invoice and transaction numbers.
Draft Emails
You can write auto-generated emails on Easy Affiliate to: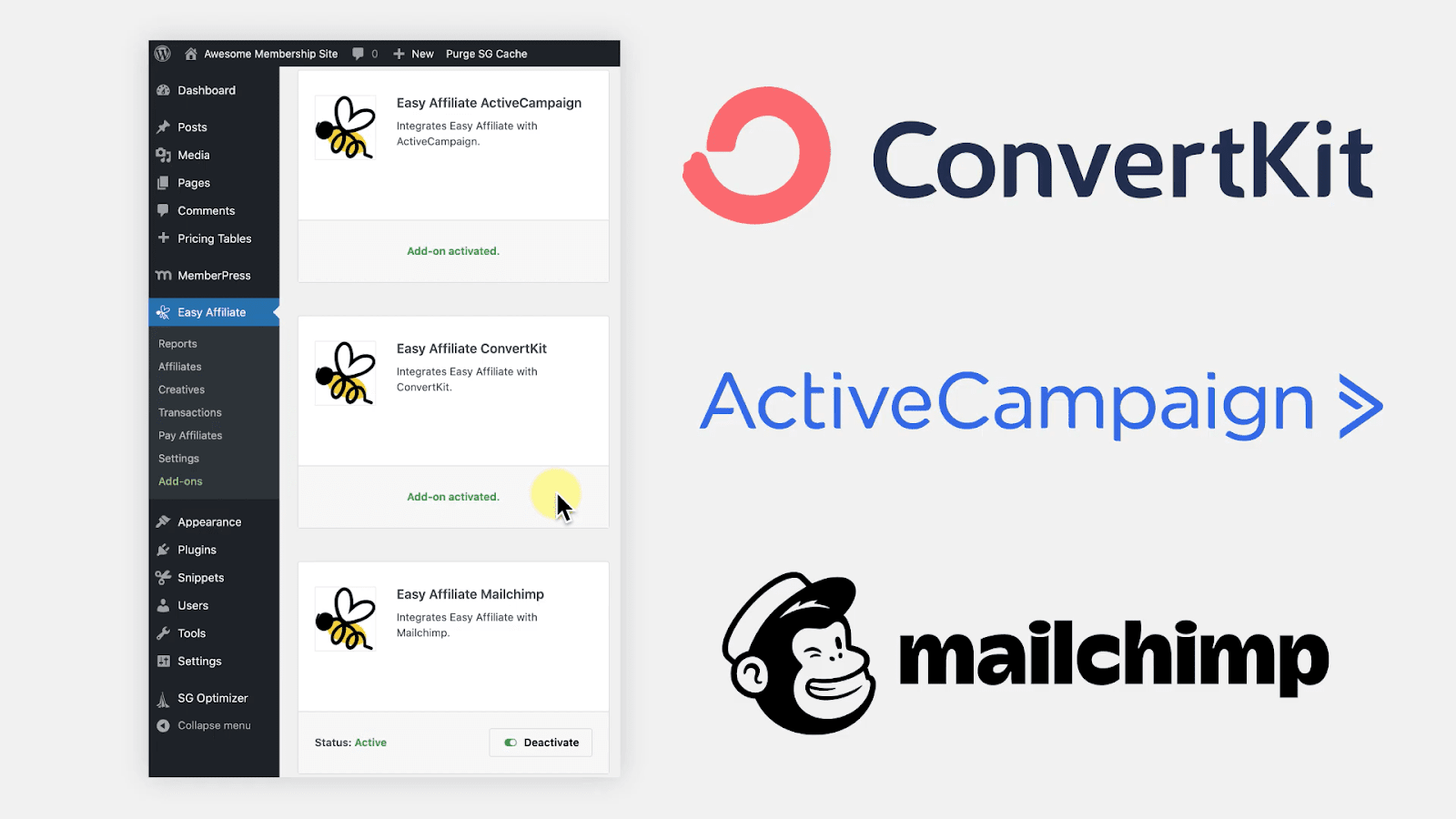 Welcome a new affiliate
Send sales affiliate link to inform your affiliates about a new sales
An administrative email to let you know about the affiliate sale
There's a lot more you can do to configure the affiliate account. However, if you are just starting, the steps mentioned earlier are sufficient to go with.
Other Benefits of Using MemberPress
The portal has gradually evolved into a system that can help you grow your income online. Passive income, to be precise. You can create content and build a list of members to buy it from you.
For online lecturers and teachers, MemberPress offers classroom mode to organize lessons and chapters.
Even the MemberPress gifting addon has allowed its users to grow their members by offering them an option to gift knowledge to their loved ones.
Why Choose Easy Affiliate Programs
Creating an affiliate program with Easy Affiliate on MemberPress is an economical marketing move. It can boost your ROI while saving your time and money. 
Affiliate programs are an excellent way to drive some referral traffic your way. 
Partnering with affiliate marketers is good from an SEO perspective, too, they know secrets to rank on the top. 
It can also help to build your brand reputation online.
Closing Thoughts
After walking through this guide, it is clear how simple it is to create affiliate programs on MemberPress. The seamless Easy Affiliate and MemberPress integration has laid down a perfect path for small businesses to grow online.
And if you are all set to turn your site into an affiliate program, today is the best day for it. Once you start using Easy Affiliate with MemberPress, do share your experience with us. Meanwhile, if you have any query or input related on "how to use easy affiliate with memberpress?", comment away!