How to Setup LearnDash Panels for Students & Teachers on WordPress?
An e-learning survey shows that 98% of universities and 75% of schools moved their academic process online in 2021. So, this is a misconception that online learning has created barriers between students and instructors. But in reality, virtual learning has brought students and teachers closer, facilitating 1on 1 learning, remote training, affordable courses, etc. Though it is crucial to learn how to setup LearnDash panels for students and teachers on the LMS solutions.
Organizing online courses in the Learning Management System (LMS) is the key to quick learning. Modules setup as per the syllabus keep students and teachers organized. The courses and syllabus are organized in panels in the LMS portals. Panels are spaces that host a series of lectures, resources, and courses. Students can monitor their progress with separate panels, and instructors can design better course materials.
Thanks to LearnDash, it is now simple to setup separate panels for students and teachers. Simply activate the LearnDash plugin, make portals for students/instructors, and assign their roles.
However, you might need additional tools to monitor and provide more features to teachers/students. And that we will discuss ahead along with detailed steps to setup separate panels for students and instructors on LearnDash.
How to Setup Separate Panels for Students & Teachers?
First of all, if you don't have an active membership website, check out our guide on how to build a membership website on WordPress.
Install and activate the LearnDash Dashboard plugin on your website. Learn how to setup LearnDash membership LMS on WordPress. Alone LearnDash will not help you setup separate panels for students and instructors.
LearnDash is an effective Learning Management System (LMS) for WordPress. But it is only useful to create online membership courses. For setting separate student and teacher panels, you need to get the LearnDash plugin.
With this plugin, students and instructors will get a frontend dashboard to monitor and manage anything related to their LearnDash account. In addition, the tool offer features like:
The frontend course builder to create and manage courses right from LearnDash Dashboard without using WordPress's backend.
Manage quizzes, lessons, assignments, and certificates.
Separate dashboard for instructors and students.
Personalized dashboard for students to monitor their progress.
Assign multiple instructors to a course.
Advanced payout methods for instructors like Bank Transfer, Paypal, etc.
The LD Dashboard plugin is available under three pricing structures — A single License for $99/year, 5 Licenses for $199/year, and a Developer License for $249/year.
So, select your LD Dashboard plan and go to your WordPress admin dashboard > Plugin > Add New > LearnDash Dashboard. After that, follow these steps to setup separate panels for students and instructors:
Setup LearnDash Dashboard for Students
Communication is vital to convey your course benefits, deals, and elements to your students. For this, you need to get another plugin called BuddyPress.
It is a free tool to build an online community, send emails and private messages and establish personal relationships with your students.
In addition, you can send no-reply emails to students with regular updates or progress updates. Also, you can set automatic emails when students hit a specific level in courses. This strategy will keep your students engaged and motivated to learn more.
Setup LearnDash Dashboard for Teachers
The best thing about LearnDash Dashboard is that it allows you to add multiple instructors to a course. In addition, you can create a separate dashboard for each instructor to manage and view their courses.
Go to the LD Dashboard plugin on your WordPress site and click on the instructor tab > Add New. Add a new inductor, and they will receive an email verification to check and approve.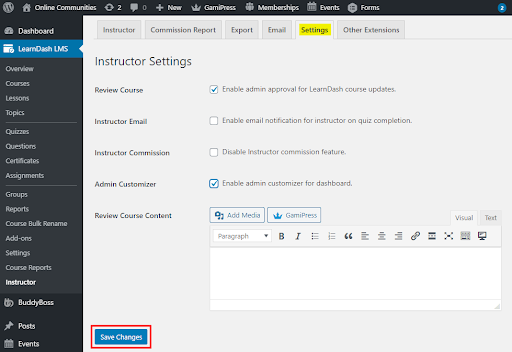 After that, choose the instructor's role from the administrator, instructor, or customized roles. Each role comes with different privileges. So, you should select the right role for an instructor based on their job.

Besides this, decide what an instructor can manage on their dashboard, like sending emails, approving tasks, managing subscriptions, etc.
If you have a big team, you can also assign an administrator to filter each instructor's activities. It will help you make sure that instructors are following your orders.
Finally, you can decide what percentage the instructor will make from each sale using the LD Dashboard plugin. The plugin allows instructors to withdraw their payments in three different modes.
How to Customize Panels for Students in LearnDash?
As you must have noticed, with the LearnDash Dashboard plugin, you get limited options to customize the students' panel. On the other hand, for the teacher panel, you get sufficient features to create a comprehensive dashboard. However, to create a powerful panel for students, you need a plugin called ProPanel.
ProPanel helps to improve your LearnDash experience with consolidated reports and assignment management. In addition, it allows you to have real-time communication with students during courses.
This plugin is well-integrated with LearnDash. It allows you to track students' progress, check their assignments, and generate reports. You can install ProPanel, similar to LearnDash, on your WordPress site.
However, LearnDash Pro and Plus users don't have to get ProPanel separately. It is included within their plan. But, Basic users have to get a separate ProPanel plugin to customize the student's panel.
So, if you are a LearnDash Basic user, I recommend you get a Pro and Plus membership for $189 and $329 per month. Using various interactive features will empower you to setup customizable separate panels for students and instructors on LearnDash.
After activating ProPanel, you can customize your students' panel this way:
Design Students' Progress Charts
ProPanel helps you create a student panel with powerful progress-tracking features. Your students can easily track their performance while learning different courses. They can check pending assignments, how far they have completed the course, what they could do better, and more.
Optimize ProPanel for Students
The best part about using ProPanel is that students don't have to do extra work to monitor their progress. Instead, they can simply click on the ProPanel tab on their dashboard and quickly monitor their progress.
How to Track Students' & Teachers' Performance?
Setting up a separate panel for students and instructors on LearnDash will help to organize your online courses better. It will help students and educators to analyze their performance and interact seamlessly.
However, if you want to monitor your students' and instructors' performance, you need to get another plugin to support LearnDash — WisdmLabs.
WisdmLabs is a standalone plugin that can also integrate with LearnDash. With this tool, you can define instructors' roles, create group registrations, generate performance reports, etc.
For the pricing plan, you have to contact the WisdmLabs team. They don't have a fixed price structure.
When you install WisdmLabs on your WordPress site, it will automatically integrate with LearnDash. You can allow instructors to edit, deny, approve, and respond to your students on the plugin screen. This will speed up the course flow, and students can better interact with teachers.
In addition, WisdmLabs comes with an email automation tool that lets you send emails to your students and fellow instructors from your WordPress dashboard.
WisdmLabs allows you to monitor your student's performance in real-time. For example, you can analyze students' quizzes and overall performance to ensure they understand lessons perfectly fine.
If your students are struggling somewhere, you can provide them with additional help. If you have launched a new online learning platform, this tool will help you provide 1:1 training to your students.
Setup Separate Panels for Students & Teachers for Your Website
So, peeps, it's over to you now. I have demonstrated the process for setting up separate panels for students and instructors on LearnDash. I have also listed LearnDash supporting plugins to build attractive online courses like WisdmLabs and ProPanel.
However, in the beginning, I will recommend you create simple panels for students and instructors. If you add too many features at the start, it can complicate your course structure.
Besides this, you should constantly monitor the performance of your students and instructors. This will give you ideas to improve your courses and generate more revenue. Plus, frequently interact with your students to keep them engaged with your courses.
So, that's it for now! To know more about LearnDash and how to setup your online courses, keep on following our blogs.