Luggage Forward Promo Codes for The Best Luggage Shipping Service
Skip the crowd and streamline your airport process by shipping your luggage ahead. Luggage Forward ships everything you need on your trip eliminating the hassles of baggage check-in for your journey. Grab our luggage forward promo codes to make the service even more economical.
Working Luggage Forward Promo Codes
How to Apply Luggage Forward Promo Codes?
Here's an easy and straightforward way to apply Luggage Forward promo codes:
Select a code from the choices listed on this page and click on Show Code next to it.
View the complete code in a new window. Make sure you disable the pop-up blocker on your browser. The code automatically copies to your computer's clipboard.
On Luggage Forward's official website, enter the location of origin and the destination to make your booking.
Fill out all the necessary details like the number of bags and other items to calculate the final bill.
On the left-hand side, paste the copied promo code in the textbox provided and press Apply.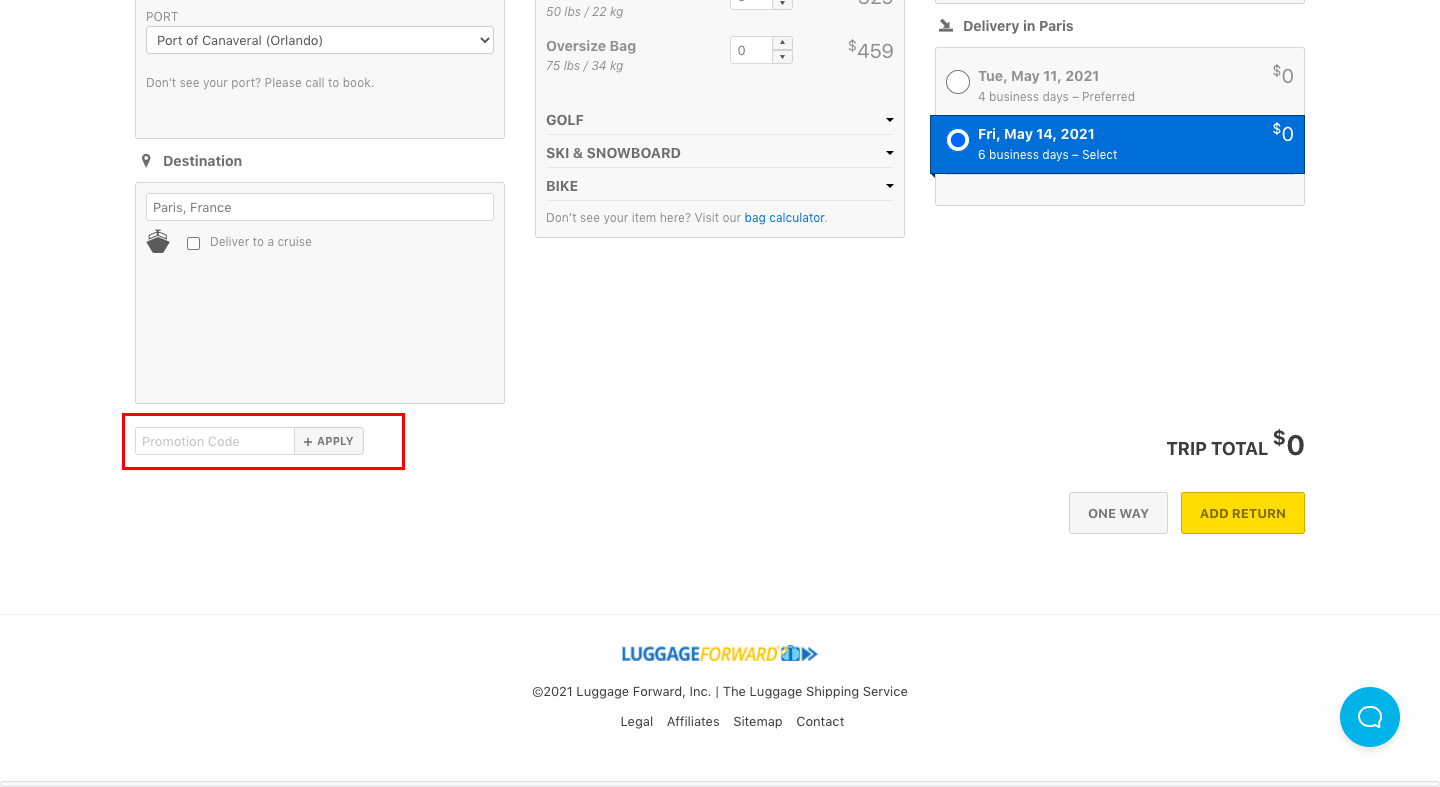 Congratulations, you have successfully applied the promo code. You will be able to see the discounted amount in the total bill.
T&Cs to Use Luggage Forward Promo Codes
All luggage forward promo codes have validity.
You can use only one promo code for every order. To use more than one promo code, place more orders.
You cannot club the promo codes with other ongoing promotions and offers.
Luggage Forward can terminate or modify the promo codes at any time without prior intimation to the customers.
The use of the promo codes is restricted to the official Luggage Forward website. If your code does not apply, please reach out to the brand's customer support.
FAQs
1. Is the service limited to only shipping luggage?
Luggage Forward can ship almost anything, but the service specialization lies in delivering luggage, skis, boxes, golf clubs, bikes, and trunks.
2. Are there any items that I cannot send?
Luggage Forward prohibits the shipment of hazardous or dangerous commodities. Besides, there are some additional items that you cannot send based on restrictions by customs of specific countries. Some of the common items include electronics, valuables, food and alcohol, medication, perfume, lithium-based batteries, and more.
3. How do I change or cancel a booking?
To make changes to your booking, you need to contact Luggage Forward by phone, email or chat. The specialists will take care of the necessary adjustments.
4. Are luggage forward promo codes genuine in nature?
Yes. To ensure that the promo codes are updated we stay in touch with Luggage Forward's offers team. All coupons and discounts you see are 100% genuine.
5. Do I need to make my bookings in advance?
Luggage Forward provides same-day bookings in many areas. You can check the website to see if the booking is available. Most clients make their bookings two weeks in advance to benefit from the most cost-effective shipping option. Bookings are also accepted for up to 180 days before pickup.
6. Is my luggage insured?
Luggage Forward offers Value Protection coverage of $500 for every piece of luggage being shipped. This coverage entitles you to compensation for the replacement cost if there is any loss or damage to your items apart from regular wear and tear.
About Luggage Forward
Luggage Forward provides cargo shipping services across the world. Using this service, you can send your luggage from your doorstep to your destination. It reduces the amount of time you spend at the airport and the number of interactions you have while luggage check-in. You can skip the check-in line and the baggage claim counters.
Luggage Forward can send more than just luggage. You can use the service to ship golf clubs, skis and snowboards, and a bike. You can also send your bags to your stateroom on any cruise ship using the cruise luggage valet. To book the service, you can use the online website or call at any time, and your luggage will be collected for delivery.