Integrate MonsterInsights with GiveWP & Restrict Content Pro (The Best Guide)
The latest developments from MonsterInsights are winning the hearts of eCommerce website owners. The best Google Analytics plugin for WordPress is out with new add-ons for the eCommerce industry. You can now integrate MonsterInsights with GiveWP and Restrict Content Pro to enhance eCommerce tracking. This will help you build reports on customer behavior, sales, and website performance.
What is MonsterInsights eCommerce Tracking?
MonsterInsights is the best Google Analytics plugin for WordPress. It is a trusted tool by millions of brands like Microsoft, FedFedEx, and Bloomberg.
MonsterInsights has come up with some amazing features lately. With the premium WordPress plugin, you can now install gtag.js on WordPress and enable one tag tracking across all the pages. Another cool feature that excites the users is the MonsterInsights speed reports to improve core web vitals. This report analyzes and shares insights on all the factors responsible for page load speed and search engine rankings.
Among all the amazing features, eCommerce tracking is the best. It allows you to uncover your shoppers' behavior to optimize your store. Now, store owners can integrate GiveWP and Restrict Content Pro plugins with MonsterInsights. This will empower them to drive more sales and revenue by making decisions based on existing user data.
You can get MonsterInsights pro for just $199.50 per year. But, we have a great deal for you. Check out our latest monsterinsights coupon codes and get up to 25% off on the yearly plans.
What is GiveWP?
GiveWP is one of the best donation plugins to collect and manage funds through donation forms. You can also manage your donors with high-end tracking and security features. GiveWP offers all that at an affordable premium price of $375 for Pro, $270 for Plus, and $187 for the Basic version.
It allows you to track and control the financial data on your WordPress dashboard. Once you integrate GiveWP with MonsterInsights, you can:
Customize unlimited forms with your brand's style and tone. You can select multilevel donations, sidebar, form display, and more.
Gain insights on donation activities and report back to stakeholders.
Allow donors to check their activities through individual profiles.
Integrate GiveWP with tributes, recurring donations, and over 30 addons.
What is Restrict Content Pro?
Restrict Content Pro is a premium WordPress membership plugin. It allows you to build gated content and give access only to the paid members. Furthermore, this plugin lets you build different membership levels and manage users.
It costs $749 for the Ultimate plan, $249 for the Professional plan, $149 for the Plus plans, and $99 for the Personal plan. Restrict Content Pro comes with a 30 days money-back promise.
You can track your membership sites with simple reports.
You can use custom dashboards to view and manage members' accounts.
The plugin allows you to define membership levels.
It comes with various inbuilt integrations like PayPal and Stripe.
You can generate a CSV file of all the activities and payments.
You can view all active, pending, expired, canceled, and free members.
How to Integrate MonsterInsights with GiveWP & Restrict Content Pro?
Installing MonsterInsights is no rocket science. In fact, if you follow our easy installation guide on MonsterInisghts, you can do it in 10 minutes. To integrate both GiveWP and Restrict Content Pro with MonsterInsights, enable the "Use Enhanced eCommerce" button.
Log into Google Analytics > Select the All Website Data > Admin tab.
Then, open the eCommerce Settings page and activate the button.
Now, MonsterInsights will detect both plugins. You just need to activate them.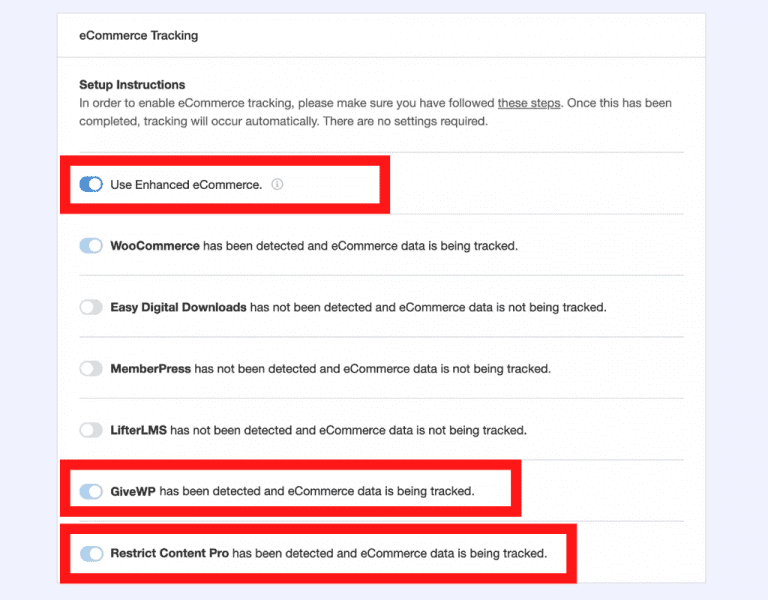 The eCommerce report provides insights in one place. You can analyze and make decisions to grow your business with metrics like:
The number of conversions compared with the total website visitors. You can offer premium content to boost your conversion rate.
The number of successful purchases that took place in your online store. This data helps you understand the performance of your marketing campaigns.
Total revenue through all transactions done on Restrict Content Pro and Give WP in a given time frame. It provides an overview of your income and base to improve.
You can divide your total revenue by the total transactions for a period to get the total number of successful purchases.
It is the list of all the top sellers in your store. You can create product-specific campaigns with this data.
The report shows the total number of products added to or removed from the Cart. This will help you to know the reason behind cart abandonment.
How Can MonsterInsights eCommerce Tracking Help You?
Now that you've integrated MonsterInsights with Restrict Content Pro and GiveWP, the eCommerce tracking becomes easy. Moreover, the integration brings out a few more cool features.
The traffic source tracking feature, which helps you understand the medium of traffic. It helps you compare different traffic sources and restrategize your focus.
You can know your returning visitors and create marketing strategies that would benefit them.
You can run conversion rate optimization tests on the site to analyze your traffic.
The report can give insights to target your high-performing keywords and improve SEO on your website.
You can compare product sales through organic and paid methods.
The report has insights on gaps in your website and disabled links.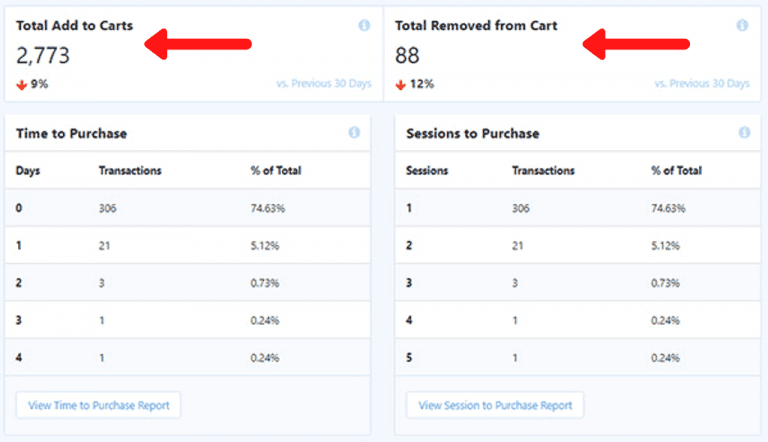 Bottomline
The latest add-on from MonsterInsights is making life easy for marketers. It's simplifying the analysis of their website visitors and enables them to make data-driven decisions. The plugin is a worthy purchase if you are maintaining your website on WordPress. You can add a stats dashboard to quickly evaluate the website metrics on WordPress. MonsterInsights eCommerce tracking addon is now fully jammed with new features. So, don't wait up and install the MonsterInsights plugin to grow your business now!