5 Best Shopify Apps To Reduce Cart Abandonment on Your Website
Studies and surveys say that e-commerce stores continue to struggle against cart abandonment, even in 2019. The average cart abandonment rate, which was 77.24% in 2016, rose to 78.65% in 2017 and unfortunately is still increasing. To bring this number down, all we need are applications that can reduce cart abandonment on your eCommerce Store.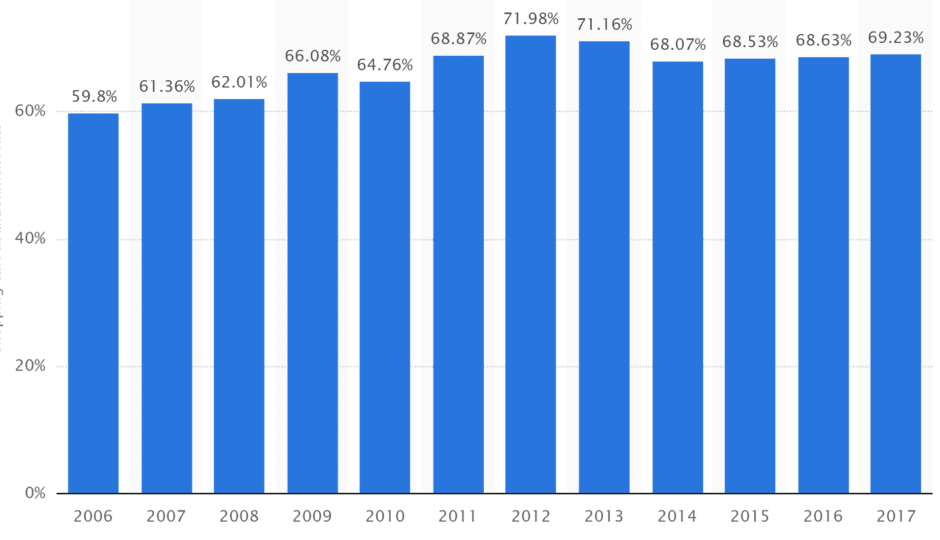 Did you know! 3 out of 4 customers shopping online, never complete their purchase. They retreat after coming to the edge of cart payment. That's called cart abandonment, which is a piece of painful news for the online shopping business users.
There could be numerous reasons for cart abandonment. Sometimes the customers do window shopping, and sometimes they opt out because of the unsatisfactory cart value. You wouldn't believe that sometimes disruption in internet connection leads to cart abandonment against the customer's will.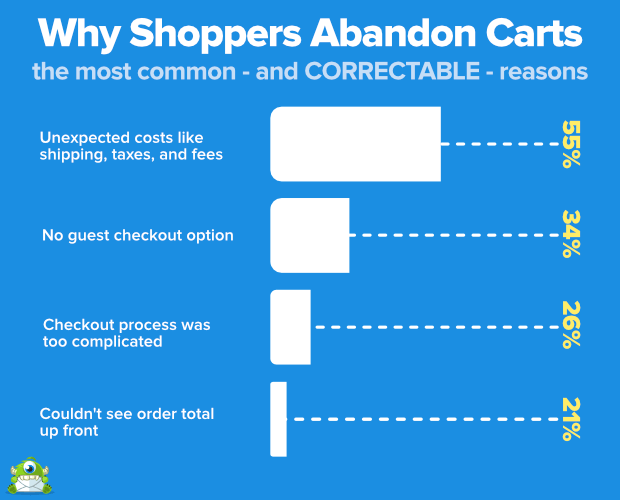 However, these reasons are key learning lessons for your sales heroes to recover those potential sales. As a business user, would you like if you lose a customer under such circumstances? No. Well, you are in luck. We are compiling 5 best Shopify apps to reduce cart abandonment.
5 Best Shopify Apps to Reduce Cart Abandonment in 2019
Where there's a will, there's a way. Marketers and sales-friendly developers are burning the midnight oil to offer you solutions to reduce cart abandonment. While, there are a plethora of Shopify apps in the market, filtering a few, which can boost your sales is a challenging task.
Allow us to share some fantastic Shopify apps that will not only reduce cart abandonment from your checkout page but also will help skyrocket your sales conversions.
1. OptinMonster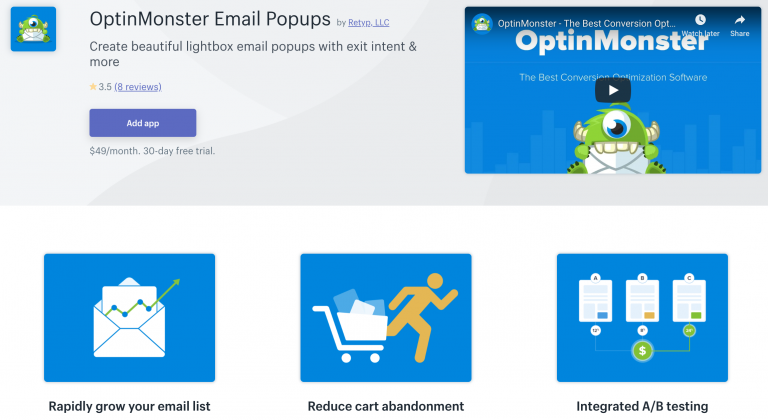 OptinMoster is an outstanding and renowned Shopify app that reduces cart abandonment to a large extent. It is more of a full-fledged email marketing solution and a go-to friend of e-commerce businesses.
OptinMonster has a promising cutting-edge smart technology that monitors the movement of your customer on your cart. It ultimately helps sales guys understand customer behavior.
How does this help? Think about it. You know your customer, and you know why they are leaving. You can easily target them with a customized campaign and bring them back to your cart. OptinMoster can:
Capture the email address of your customer
Track their movement on the page
Convert visitors that have abandoned your cart
Help sales guys to gain them back and improve conversions
The good news is that OptinMonster is dead cheap. The pricing starts from $9 per month. But with a little more investment, you can get OptinMonster Pro, which offers you advanced features such as Onsite retargeting, and countdown timers.
2. Omnisend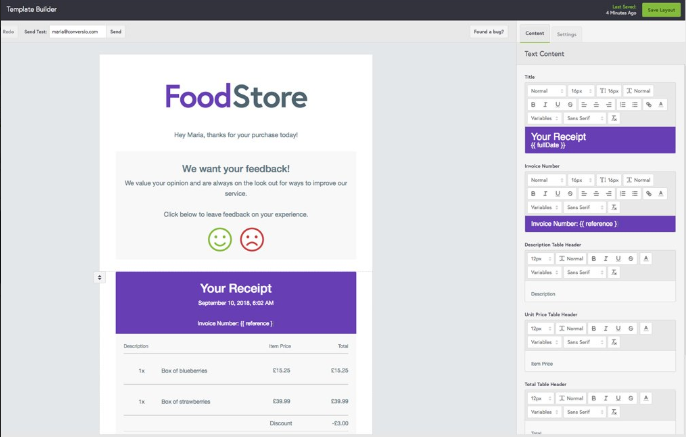 Omnisend is yet another fantastic application to reduce cart abandonment. E-commerce stores can easily integrate using their Shopify app. Omnisend offers email automation to the potential customers who got lost through cart abandonment. It can:
Send customized welcome emails to new customers
Target confirmation emails to customers for purchase
Send thank you emails to maintain customer relationship
Omnisend comes at a price of $16/per month with a 14-day free trial.
3. Recart
Ah! Here's one with a twist. Recart uses Facebook Messenger instead of emails to find customers who abandoned their carts.
Why Facebook? Well, an email inbox is full of promotional messages, spam, newsletters, discount mails, and whatnot. Such emails have high tendencies to shift to a promotional folder of Gmail. It ultimately reduces the CTR on emails. However, it's not the same when it comes to Facebook messenger.
Recart targets the abandoned customers through Facebook messenger and ensures higher opening rates. All you have to do is make the customer subscribe to your updates on messenger. A simple button can do the task. You get a notification, as soon as they add value to the cart. You can then target reminders to ensure that the customer makes the purchase.
Good things come at a cost. The pricing of Recart starts from $29 per month.
4. SMS Abandoned Cart Recovery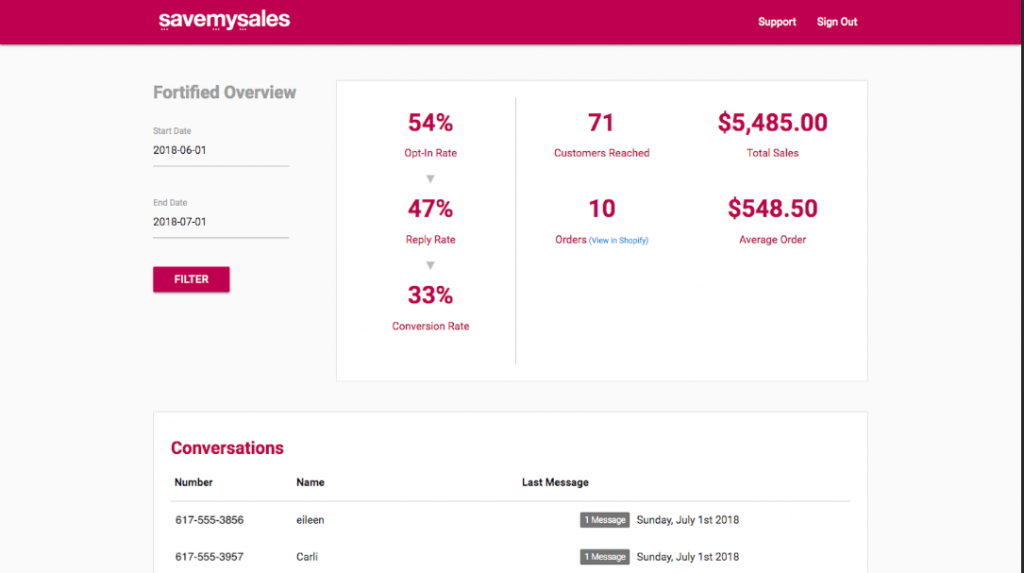 Above we showed you an app that can help you target cart abandonment customers through Facebook. Now, let's go a little old-school. Text messages or SMS are one of the easiest and finest ways to make your customers notice you reminders. SMS abandoned Cart Recovery does just that.
Once the cart information of the customer is acquired by the app, you can send upto three email reminders to tell them to complete the purchase. However, you can also schedule targeted SMS to optimize your conversion rates. Including a discount code in the text message could be a good idea for you to influence your abandoned customer to reconsider the purchase.
Unfortunately, you only get 500 messages for $27 per month. Use every message carefully and make every SMS count.
5. Leads on WhatsApp
Emails, Facebook, SMS, and now WhatsApp. Did you notice how many ways are there to get to your customers and reduce cart abandonment?
WhatsApp is everyone's go-to message buddy. Leads on WhatsApp is a uniquely designed application that allows you to target abandoned carts through WhatsApp. WhatsApp marketing is real and Leads on WhatsApp focuses strongly on it.
There are predefined buttons in the app, such as "check for a discount" that helps you initiate the conversion. In fact, the customers can also have a Q and A session with you on WhatsApp. You can understand your customers better that way.
The pricing of Leads on Whatsapp is as low as $5 per month.
Which One Are You Choosing to Reduce Cart Abandonment?
We understand that you are at the brim of frustration, watching your customers go without making the payment. All the above apps are trial and tested and show proven statistics to increase sales.
If you are still confused, we recommend you to use OptinMaster. OptinMaster can help you design beautiful content and campaigns that are proven to convert. You can make advanced page-level targeting and do A/B testing on your ideas to make better data-driven decisions.
Please remember, all we want is for you to get your customers, hassle-free, no matter what Shopify app you choose to reduce the cart abandonment.