How To Create Signature Forms With WPForms? (Ultimate Guide)
John Wallace, the CEO of a leading online consulting firm, was receiving 3-4 leads through his website every week. As per his company's policy, he was bound to use online agreements with signature mandatory for users. Someone told him to install digital signature forms on the pages. Surprisingly, in a few weeks, John saw an increase in leads by 40%. Let me explain how to create signature forms with an amazing plugin; WPFroms.
Why? It's a fact that humans don't want to waste their time. Think about it. You have a lead generation form or service agreement on your website. Due to company policies, it's mandatory for you to ask for signatures. A user would download your form, put his signature on it, scan it, and upload it. That's some time-consuming activity.
Instead, you could use a WPForms Digital Signature Form plugin for your WordPress site. It lets users add a signature to their forms with the swipe of their cursor. In this step-by-step guide, we'll tell you how to install and use signature forms using WPForms addons on WordPress.
How to Create Signature Forms Using WPForms Addon?
You will lose customers no more, for WPForms has made installing digital signature forms a piece of cake for you. It lets you add a signature field for your forms where users can sign them online.
Create A Form
Before doing anything, you need to install a signature addon for your forms. The signature addon will be a blank box where users can digitally add their signatures.
I. Go to your WordPress admin dashboard. Click on addons in your WPForms plugin on the right sidebar.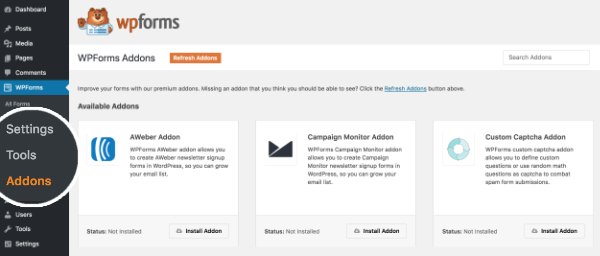 II. Search for the signature addon and activate it.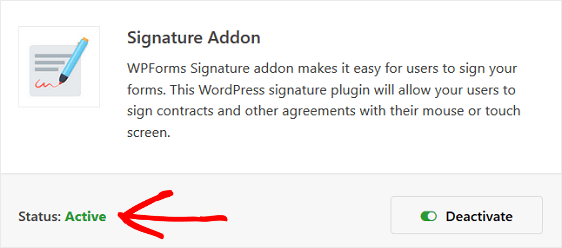 The signature addon will give you access to using the signature field in your forms. This can be done for both new as well as existing forms.
Now, let's try if it works.
Once you learn how to create signature form using the addon, go to the WPForms settings and choose to create a new form.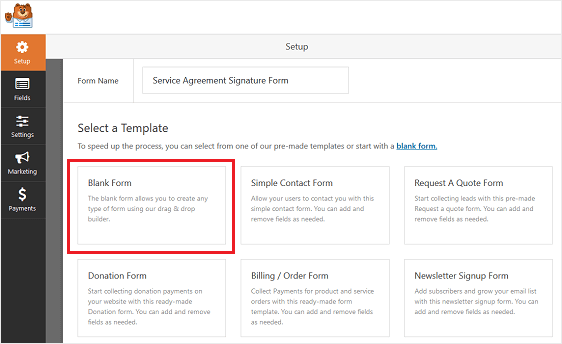 Add as many fields as you want such as Email, Phone number, First Name, Last Name, etc.
Now, go to the fancy field option where you'll find a signature field. This is the one you just installed. Click on the field or drag it to your form.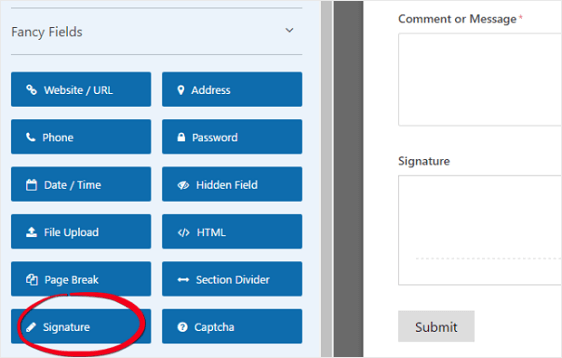 To make the e-signature mandatory, check on the required box so that the user won't be able to submit the form without adding a signature.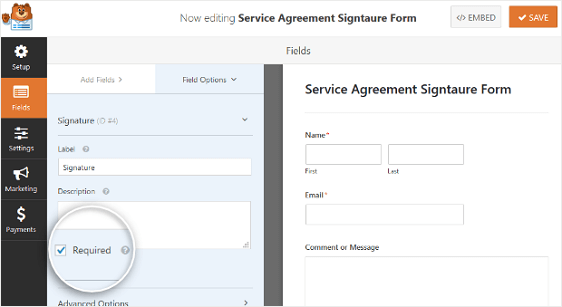 Publish Your Form
In the previous baby steps, you installed a signature field on your forms. After you are done creating signature forms, now is the time to publish your form.
Go to the pages option on the right sidebar of your dashboard. Name your page. You can name your page anything such as contact form, service agreement, lead generation form, etc.
How to Publish Signature Forms in Gutenberg Editor?
Gutenberg is one of the widely used editors in WordPress. Follow these simple steps to publish your electronic signature enabled form in Gutenberg.
If you are using a WordPress Gutenberg editor, follow these simple steps to install your signature form in WordPress. 
Click on the add block sign (+). Type WPForms in the search bar.
Select the WPForms Plugin from the drop-down and embed in your page.
Click the publish button, which will make your form live.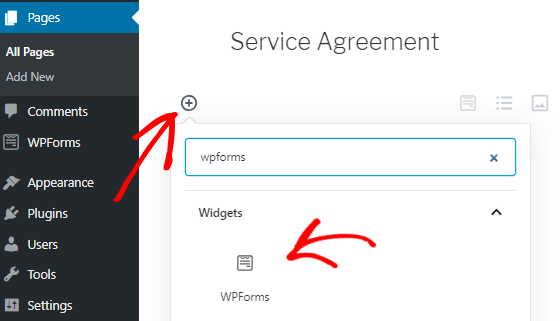 How to Publish Signature Forms in The Classic Editor?
Classic editor is yet another popular content editor in WordPress. Follow these simple steps to publish your electronic signature enabled form in your classic editor.
If you are not using the Gutenberg Editor, you can still create signature forms in the classic editor. Follow the below-mentioned steps to get it right:
Click on the add form button situated right above the page editor box.
An insert form pop up will appear. Select your form from the drop-down in the popup window.
Click on the add form button. This will add your form's short-code to the page editor.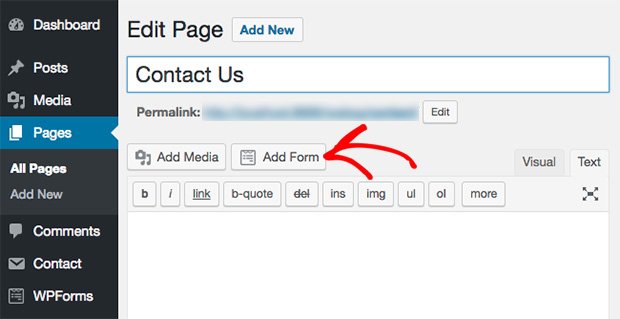 Watch your signature form doing magic doubling your leads!
Now your user won't have any trouble contacting you. The electronic signature option is enabled in your WPForms.
As soon as any user fills the form, you will receive an email notification. WPForms also offers you an Entry section in the dashboard sidebar menu to check submitted and saved forms.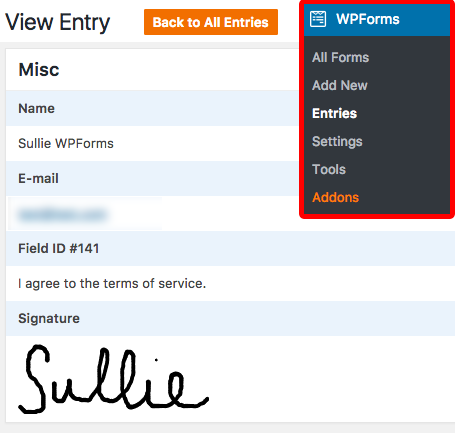 The best part is that the signature from the user is saved as an image for you to easily view it.
Using WPForms for your WordPress site you can easily convert your business leads into potential customers. WPForms offers you access to many insightful options like e-signature forms and details of users who are a victim of Form Abandonment. I have covered a detailed article on how to reduce form abandonment using WPForms in my previous publishing.
With a simple and operational interface, WPForms makes it easy for you to engage your business leads.
So, what are you waiting for? Try out one of the most powerful WordPress forms plugins. Install it with the above-mentioned simple steps.
If this step-by-step guide on how to create signature forms using WPForms was useful to you, share it on social media and educate others. Till then, ciao!