Top Best Proxies Worth Buying With Amazing Discounts in 2020
Everyone loves freedom while using the internet. Sometimes this may not be possible because the government can block access to certain websites or they may be unavailable in your location. However, internet users can use proxies to improve their access to any site worldwide. Proxy users will agree with me that finding the right proxies for their use in the market is an uphill task. Luckily for you, we have analyzed the top best proxy services in the market today.
What is a Proxy?
Any time you browse the internet, your internet service provider (ISP) or the website you visit can estimate your location. Your IP address makes this possible.
If you want to browse anonymously, then proxies can provide you with a way to conceal your home Internet protocol (IP) address. When you connect to the internet using a proxy, your device's IP address will not be shown to the rest of the world. Instead, the proxy server will display its IP address.
Therefore, we can say that a Proxy is an internet protocol address that enables internet users to access websites securely and anonymously without revealing their real IPs.
Types of Top Best Proxy Services in Market
Residential Proxy
First, we have the residential proxies that are genuine internet protocol (IP) addresses of real physical locations provided by internet services providers (ISPS) to homeowners.
The residential proxies are impossible to detect, making them highly anonymous. However, if abused, they can be exposed, and you end up restricted. Their primary usage is to access geo-blocked content.
Datacenter Proxy
Second, we will talk about datacenter proxies. The datacenter proxies are non-physical IP addresses artificially created at datacenters for internet users by secondary sources independent from the internet service providers.
Whenever you access the internet with a datacenter proxy, it hides your identity by providing a new IP address. Since ISP providers do not provide datacenter proxies, they might be blocked by some websites and precautionary actions taken against them.
The most significant benefit of datacenter proxies is that they have an excellent browsing speed. Their high speed is vital for web scraping.
Private Proxies
Third, we have private proxies. The private proxy also referred to a dedicated proxy is a proxy type whose IP address can be used by a single user at a particular time.
A private proxy can either be private residential proxy if it's from a real device or dedicated datacenter proxy if created at a datacenter.
A private proxy's main benefit is excellent speed when using the internet because you are using it entirely by yourself. However, it is expensive because no cost-sharing. The main usage of private proxies is mainly any private uses or business uses.
Dedicated Proxy
Furthermore, we have a dedicated proxy. Like private proxy, dedicated proxy refers to an exclusive proxy used by a single user or device at a given time.
If you need to keep the same IP address for a long time, you can choose a dedicated proxy. One of their shortcomings is that they are expensive because the IP address is exclusive to you.
However, they are much faster while browsing because there is no congestion from other users. The main use of dedicated proxy is running of social media accounts.
Shared Proxies
Besides, we have shared proxies. These are proxies whose IP addresses are shared among several users at the same time.
The major benefit of these proxies is that they are cheap because of cost-sharing among users. However, these proxies browsing speed is slow because it is shared among users.
They are mainly used by new proxy users to experiment until they realize what proxy they need for their projects.
SSL/Https Proxies
Moreover, we have SSL/Https proxies. These proxies use secure socket layer (SSL) protocol to encrypt and decrypt data transfer between a client and the server.
The main advantage of using SSL proxy is that your data remains secure during transmission. No one can intercept it. The main use of SSL proxy is to establish secure connections for data transfer.
SOCKS Proxy
Lastly, we have a Secure Socket (SOCKS) proxy. These are proxies that use secure socket protocols to transfer data between user and server. They are anonymous and safe.
Their major drawbacks are that they are used with a few devices, and the amount of data transmitted through them is small. SOCKS proxies establish transmission control protocol (TCP) connection with servers.
Our List of Top Best Proxies
Below we have looked at the top best-paid proxy services and best-free proxy services in the market.
Storm Proxies
At the moment, Storm Proxies are in two broad categories. First, they have residential proxies of around 40,000 IPs and are priced depending on the number of ports you buy to access them. It's easy to set up Storm Proxies on your mobile or desktop. Use the link in the previous statement to know how to.
Secondly, there are datacenter proxies, whereby they offer both dedicated and rotating proxies. The dedicated proxies have fixed IPS and are for: social media, Ticket master, and Pokémon Go.
On the other hand, the rotating proxies change their IPs every 3 or 15 minutes upon your request and are optimized for: SEO tools, scrapping sites, bulk account registration, market research, and more. Their proxies use Http/Https protocols.
With Storm Proxies, you browse at 1GB network optimized for high performance and fast multi-threaded tools. Besides, they use unique in-house high-technology that makes proxies anonymous.
Moreover, Storm Proxies have working customer care support working 24/7 to handle any of your needs. Besides, they have a user-friendly dashboard. Check out our detailed Storm Proxies Review for more information before buying.
After getting a 360-degree view, you can use our storm proxies coupon and get discounts on your purchase.
Buy Proxies
If you are looking for non-scraped proxies from the internet, Buy Proxies should be your first stop. They are paid proxies and come in four categories.
First, we have semi-dedicated proxies shared among three users, and mainly recommended when you are using for scraping sites like Amazon.
Next, they have dedicated proxies that can only be used by you, so they are faster than the former. They are for social media.
Also, there are shoe proxies that are used on shoe sites.
Finally, we have the Ticketmaster category. They use HTTP and SOCKS protocols. They are all secure and highly anonymous since they come from their server.
For customer support, Buy proxies have a ticket system where you should raise your concerns 24/7.

Luminati
Are you looking for proxies that will solve all your needs in one shop? Luminati proxies are worthy of your money. You choose from four proxy types.
First, you have the best rotating residential proxies with over72 million real IP network.
Secondly, there are static residential proxies with a pool of 110,000 real IPS in multiple countries worldwide, allowing you to access any website worldwide.
Thirdly, they have the best datacenter proxies with the most advanced datacenter network offering over 770,000 IPs shared or for private use.
Lastly, you can have mobile residential proxies with a pool of 7 million 3G/4G IPS.
They have an extensive amount of support information available in their blog, tutorial videos, and FAQS for your support. Besides, they have live support for customers to chat in real-time with their customer care.
When you sign up, you are assigned a personal account manager who can provide you with one-on-one assistance via Skype.

Smartproxy
With Smartproxy you can take your business a step higher. They are paid. It offers 7 different residential proxy pricing plans: Micro, Starter, Regular, Advanced, Premium, Professional, and Enterprise.
Each of the plans comes with limited bandwidth but allows access to a whole pool of 10 million IPs real with IPv4 addresses. Besides, we have datacenter proxies. These proxies support Http/Https protocols.
There is an experienced 24/7 technical support for customer with an average response rate of around 5 minutes via email. Besides, there is a live chat to solve any urgent questions you may have.
There is also an elaborate user guide for you and a detailed blog to provide you with more details about Smartproxy proxies.

High Proxies
They are paid fast and secure dedicated proxies, both private and shared. High proxy has over 68,000 IP addresses located in the US, UK, and Germany.
High Proxy provides great proxy packages on their website, and you can select the different categories. Apart from private and shared proxies, they offer Instagram proxies, Craigslist proxies, and Ticket master proxies.
To improve your surfing speed, they use squid proxy servers that are more stable for online use giving you 99.99% up-time. In addition, the servers run at 1000mb/s, giving you the best experience while using their proxies.
There is a ticket system for customer support. You can access incredible customer service as representatives are available 24 hours, including holidays.

Geosurf
Geosurf offers lots of paid types of proxies. Their primary service is to provide residential IPs. They have three packages for standard users; starter, plus and professional.
Geosurf offers limited bandwidth along with a few features depending on the package. All Geosurf packages come with a sticky or rotating IP address. It's for you to choose. For your support, Geosurf has a FAQ section that has plenty of information on proxies.
Besides, under the resources section on their website, they have many supportive customer resources such as tutorials, white papers, blogs, guides, and a 24/7 email ticket system.

Smart DNS Proxy
Do you want to take your streaming experience a notch higher? Smart DNS Proxy will allow you to unlock global streaming, music streaming, and sports streaming securely at a reasonable fee.
With smart DNS Proxy, you can unblock websites and channels like Netflix, Hulu, and BBC. Smart DNS Proxy offers country-specific addresses. However, all countries are grouped into various regions allowing you to access different channels in all countries within your region without blocking.
For secure surfing, you need to modify your DNS proxy IP on the device you are using to a Smart DNS Proxy IP address, and then all your inquiries go through their secure DNS network. There are no logs, so all your data and traffic remain anonymous.
For your support, Smart DNS Proxy has two main methods of establishing contact with their support team. First is through the email address, which you are required to fill. Secondly, there is a live chat system that you can use for general information.

Lime Proxies
Do you want proxies for your small or medium business? Lime Proxies are affordable datacenter IPs to online marketers and businesses ranging from small to medium. They have optimized their proxies for online gaming, Craigslist, and Ticketmaster.
Lime Proxies provide 40 plus geo-locations. For your security, IPs change on demand, making you anonymous. Moreover, for your support, they have a 24/7 toll-free phone number and email support.
It also has a FAQ section, allow you to make inquiries before buying their services and view the latest information.
In addition you can contact them by using the live chat option.

SSL Private Proxy
Are you looking for paid proxies that will give you a longer trial period? SSL Private Proxy gives you a whole week to test their proxies. There is a variety of proxies that you can choose. It offers private proxies, shared proxies, Instagram proxies, Pinterest proxies, SnapChat proxies, LinkedIn proxies, and Ticketing proxies.
For your customer support, SSL Private Proxy has a ticket-based customer service system. There is also a support email if you prefer sending an email than a ticket. They also have a relevant and helpful FAQ section for your questions.

Yourprivateproxy.com
Yourprivateproxy.com provides paid proxies. The proxies are in two plans. One, we have the datacenter proxies plan. Lastly, we have residential proxies with real IPs. Both use SOCKS5, Http, and Https protocols.
These proxies are good for browsing, streaming, social media, and tasks like SEO, web scrapping, sneaker bots, and much more. For your browsing speed, each server has a 1Gbps port; therefore, you will not be limited to a certain speed. Your Private Proxies' customer care support is available round-the-clock through online chat and email.

Proxy Seller
Are you on a small budget and in need of quality proxies? Proxy Seller got you covered. Here you get IPV4 and IPV6 proxies. Both IPv4 and IPv6 proxies can be used with HTTP, HTTPS, and SOCKS connections.
For your support, Proxy Seller provides setup guides for almost all major platforms and browsers on their website, which are very useful for you.
In addition, articles and news sections provide supplementary guides for a large range of other programs and platforms, which are very educative and helpful, exist on their website.
Lastly, there is a live chat that works around-the-clock.
Furthermore, the Proxy Seller allows you to browse freely without any data limit. Their vast network of data centers ensures you enjoy better speeds at lower pings.

ProxyKey
Are you looking for proxies with brand new IPS? ProxyKey is the place for you. With ProxyKey you get US proxies and Global proxies offering solutions for SEO, keyword research, social media, web scraping, and IM. ProxyKey proxies use Http/Https protocol.
First, your web anonymous is guaranteed since they provide you with brand new IPs. Second, you enjoy 1GBPS speed with no limits.
Lastly, for your support, ProxyKey has a dependable support team, that provides responsive assistance 24 hours a day, 7 days a week.

Oxylabs
Oxylabs specializes in providing paid residential proxies, datacenter proxies, and real-time crawlers. They Support Http/Https and socks4/5 protocols. For your security, Oxylabs proxies IPs refreshes every month.
Furthermore, Oxylabs uses squid proxy servers, which are stable and speedy for online use. The servers run on 1000mb/s, giving you the best experience.
There is no data limit when surfing with Oxylabs proxies. For your support, Oxylabs has a ticket support system with an average response rate of 10 minutes.
Likewise, there is a live chat option where you can chat with one of their customer support representatives. Lastly, they have a detailed blog full of guides that would benefit you.

Privoxy
Do you want to clean junk on your website for free? Privoxy is a web filtering proxy that you can use to remove advertisements, banners, pop-ups, manage cookies; modify web pages, and more. It has the same base features as many Adblockers.
Privoxy filters the Http headers but does not hide your IP address; therefore, you are not anonymous. In addition, it runs on whole web pages making it slower. It runs on Windows, Linux, Mac OS X, AmigaOS, and any web browser which supports an Http proxy.
For your customer support, Privoxy has a pervasive and informative FAQ section broken into different topics to address your basic concerns.
Moreover, a quick-start guide user manual and developer manuals help you with basics to configuration. The quick start guide gives you the fundamental features of Privoxy. On the other hand, the user developer manual guides you on installing, configuring, and using Privoxy.
However, they do not offer you any email address, hotline number, live chat, or even mailing address.

Proxyrack
Proxyrack offers paid proxies. It has over 1.25 million unique private IPs for all packages in over 40 countries in America, Europe, and Asia. Proxyrack proxies are categorized into: rotating residential proxies, USA datacenter rotating proxies, and mixed datacenter rotating proxies. Their primary service is the provision of the rotating residential proxies.
First, these proxies work on any software that supports Http/Https or SOCKS proxies and have unlimited bandwidth. Furthermore, Proxyrack has a working ticket support system and a live chat option for customer support.
Finally, you can benefit from our Proxyrack coupons and enjoy a discount for different packages.

FilterBypass
Do you want video streaming without spending a dime? FilterBypass is a free anonymous web proxy. It supports all major streaming portals such as YouTube and Dailymotion. Moreover, FilterBypass lets you unblock your favorite social networks such as Facebook, Twitter, and more.
Furthermore, FilterBypass allows you to delete your cookies anytime for greater anonymity and connections encrypted with 126/128 Bit SSL. When you want to access a website, you inform FilterBypass you want to unblock it, and it gets it for you using their server.
FilterBypass is on a gigabit network optimized for rapid browsing without any bandwidth limit or geo-restrictions. FilterBypass provides an elaborate and detailed FAQ section on your customer support that will help you understand more about their service.
Moreover, they have an email where you can pass your queries, suggestions and complaints. Lastly, FilterBypass provides you with articles related to anonymity, browsing, unblock websites and proxy useful to you.

Hide.me
Do you want to enjoy unrestricted browsing for free? Hide.me proxy is a free anonymous web proxy that allows internet users worldwide to unblock any blocked website and enjoy unlimited browsing. You are required to download Hide.me free proxy browser extension to protect yourself from WebRTC leaks. You can either download chrome Extension or Firefox extension.
For your security and anonymity, their servers are access controlled and are controlled and operated by Hide.me engineers and no one else. Besides, they do not store any IP addresses or logs. Moreover, the servers support IKV2, open VPN, SSTP, and SOCKS protocols.
For customer support, Hide.me has a ticket support system working around the clock, including holidays. Moreover, there is a live chat system. There are also detailed FAQs that will equip you with the basic questions you may have about their services.
Lastly, you can browse the knowledge-based articles on their site for more information.

Frequently Asked Questions
1. What is the best proxy to use?
Your precise need determines the proxy to use. Choose a reliable and fast proxy for your need. Each proxy specializes in specific market cases. 
 2. What is the best free proxy?
The best free proxy is one that:

– Protects your privacy fully
– Enables you to access restricted data in the highest number of locations
– Has the highest speed
– Perform your needs without adding extra software
 3. Are there any free proxy servers?
Yes, there are several free proxy servers in the market. We have Hide.me, FilterBypass, and more.
 4. Is free proxy safe?
Yes, free proxies are safe to us.
Bottomline
In a nutshell, if you want a quick, reasonably cheap, and easy way to protect your privacy online or bypass all restricted websites using proxies would be the best option.
If you want a free proxy, then I would suggest you go for Hide.me proxy, and FilterBypass. These two have great features and perform well without adding any software. Like any good product in the market, all the paid proxies mentioned are worthy of every dime.
If you want a proxy worthy of all your money, I will suggest you go for Luminati proxies. Finally, if our article about top best proxy services helped you in anyway, please share it on social and help us promote knowledge.
Summary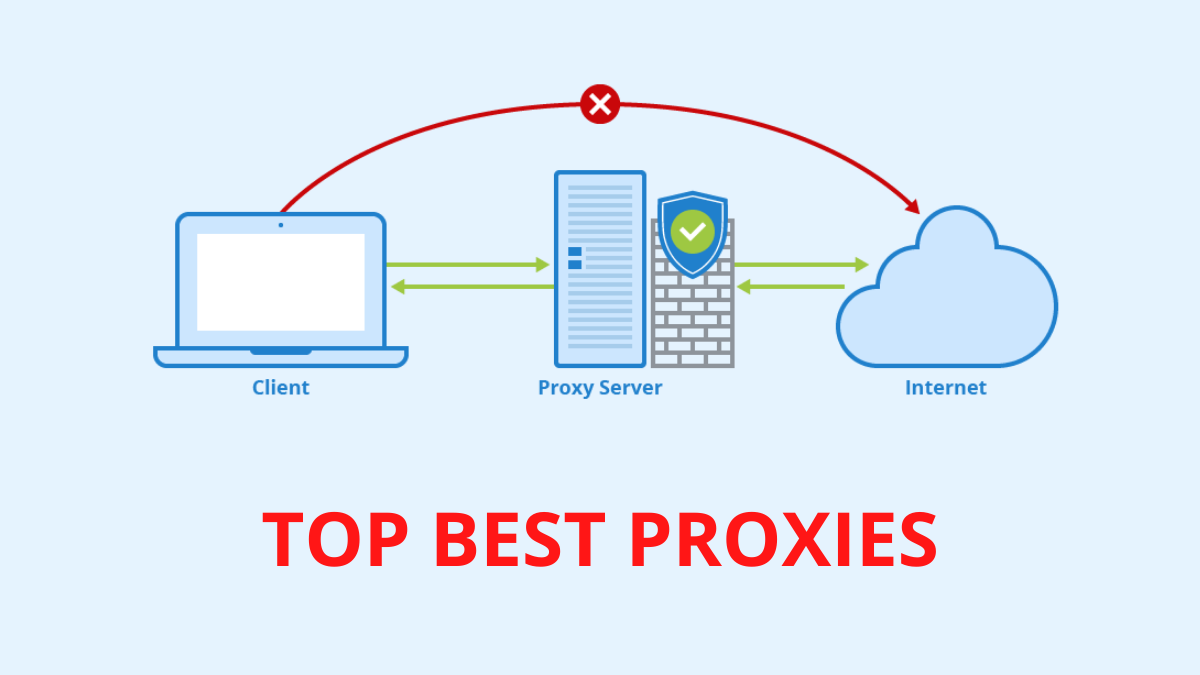 Article Name
Top Best Proxies You Should Buy in 2020 With Amazing Discounts
Description
Check our list of top best proxies worth buying with deals and discounts in 2020. Choose the proxy that suits your need for safe browsing.
Author
Publisher Name
Publisher Logo