How To Accept Payments On Your WordPress Website Using WPForms?
Who doesn't like repeat business? After all, it is easy to serve and maintain a recurring customer than polishing a new one. Recurring customers bring recurring payment, which is beneficial for the long term sustainability of your business. However, setting up a smooth recurring payment flow is a bit harder than channelling one-time payment. Well, don't worry. You can easily enable recurring payment on WordPress Forms and automate the process.
Enable Recurring Payment on WordPress Forms
This compact yet informative review is to educate you to set up automated payments in WordPress with a form for recurring payments using PayPal or Stripe. To explain the below process smoothly, we are choosing Stripe. Let's learn how to enable a recurring payment functionality on WPForms.
Create A New WordPress Form
Creating a WordPress Form is a simple task. You need to have a WordPress Website first. If you have one, great. If you don't, you can easily create a WordPress website in 5 minutes. We also have specific WordPress coupon codes to ensure a reasonable purchase.
Go to your WordPress admin dashboard
Click on WordPress plugins in the left sidebar
Search for WPForms and install
Activate WPForms after the installation
After WPForms is successfully activated on your dashboard, install stripe add-on. Stripe is one of the best methods to enable recurring payments on WordPress Forms.
Go to WPForms
Click on Add-on
Activate the Stripe Add-on

Now create a new form by clicking on "Add New".
I recently started donating to a foundation that works for environmental causes. They have enabled recurring payment on WordPress, which made it easy for them to receive monthly payments from across the globe. Let's go with the same example and create an online donation form.
By the way, here's how the raw form looks like, without any customization.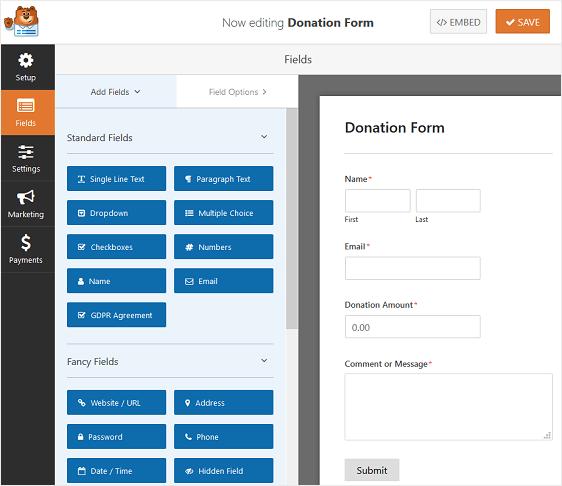 Add Relevant Fields to Your Form
WordPress makes it easy for you to switch any fields on the screen. It's literally dragging and dropping from the field panel on the left. Choose any field you want and fix it on your WPForm.
To ensure that your recurring payment on WordPress form works smoothly, you need to install the following three fields.
A credit card field to enter card details.
An item field, be it single, multiple, or a drop-down for people to choose one-time payment or recurring payment.
A total amount field to show the final value of the donation.
Save the form when you have added the said fields and details.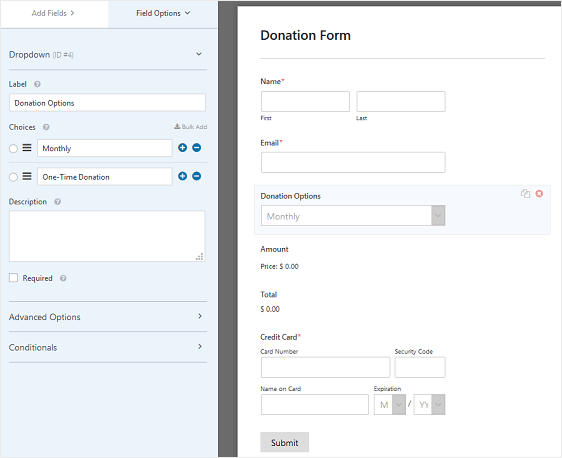 Enable Payment Settings
After saving your form, you need to configure your payment settings. This would enable the WordPress Form to accept recurring payments from Stripe.
Go to Payments and click on Stripe.
Click on the checkbox to enable stride payments.
Add your payment description, e:g: donation, charity, etc.
From stripe payment receipt drop-down, select email.

People who are doing recurring payments on WordPress Forms will receive their authentic receipts every month through email.
Add Recurring Payment WordPress Form to Your Website
The process doesn't end here. You need to keep customizing your WPForms for recurring payments.
Scroll down on the stripe setting panel.
Go to the subscription section.
Tick the checkbox of enabling recurring subscription payments.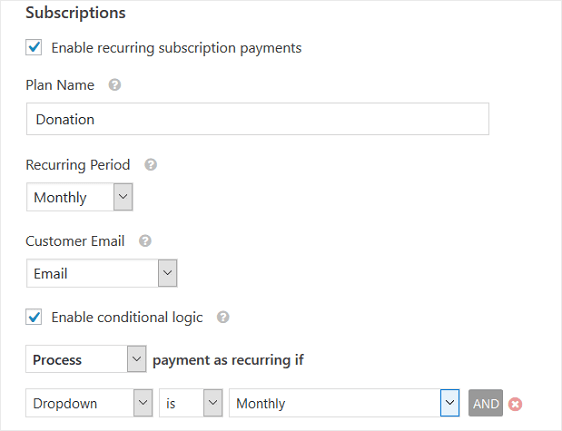 Once you do that, you would have to also configure the plan name, recurring period, and customer email boxes. As the final step, you would need to set up conditional logic rules to make the algorithm differentiate between one-time payment and recurring payments on WordPress Forms.

Save all your preferences and you are good to go.
Take A Small Test
Finally, you wouldn't want to share your recurring payment WordPress Form on your website without even testing it. The testing might take some time but it is a worthy process. Check out this amazing guide on how to test stripe payments on your website by WPForms.
Congratulations. You've enabled single and recurring payment on WordPress forms. We hope that this review guided you well through the process. If you liked it, share it across with your acquaintances and also on social media. Follow Reviews and Guides on Facebook and Twitter for more updates.