Jetpack Review: 10 Reasons Why You Should Use Jetpack Plugin
The beauty of WordPress is the flexibility it offers to its users. Each and every aspect of your website is under your control; but only if you pick WordPress as your CMS.
If you are using WordPress and want to use the amazing features offered by Automattic, the guys behind the popular CMS have the best solution for you – Jetpack Plugin for WordPress.
With over 5 million installations, Jetpack is one of the most used and best free WordPress plugins. And, it's well deserved. The amount of features this single plugin offers is something you don't see much anywhere else.
In this article, we'll take a look at some of the best features Jetpack has to offer.
Getting Started with Jetpack Plugin for WordPress
Installing and activating the Jetpack plugin is pretty easy.
Once you are logged into the WordPress dashboard, navigate to Plugins > Add New in the left-hand side panel.
Next, use the search box in the upper right-hand corner and look for the Jetpack plugin.
When you find it, click on Install Now to add it to your WordPress account. The installation takes only a few seconds.
The next step is to activate the plugin. If you are still on the install screen, you'll notice that the Install Now button has changed to Activate. Click the button to activate it.
If you've moved away from the install screen, head to Plugins > Installed Plugins, find Jetpack from the list of installed plugins and click on Activate.
Once the Jetpack plugin is activated, the next step is to connect it to your WordPress website. If you are new to WordPress, check out my previous guide on how to create a WordPress website in 5 minutes. Follow the process; here's how to activate Jetpack:
Click on Set up Jetpack, and you'll be automatically redirected to WordPress.com.
Next, you need to sign in. For this, you can either use an existing account or create a new one.
Follow the on-screen guide to finishing the setup.
The final step is to pick a payment plan. You can either go for the free one or get a premium plan with some extra features.
Jetpack connecting to WordPress in the first try is extremely rare. But it should connect in the second try and if it doesn't, try until it's done.
Jetpack for WordPress: 10 Best Features
Jetpack comes with 30+ features and all of them are useful depending on the type of website you run. Each of these plugins can be enabled or disabled individually i.e. you don't have to use all the features to take advantage of the plugin.
Content Delivery System (CDN)
A CDN is a system that uses servers to deliver static files to the people around the world faster. For example, you are using a server-based in Chicago. Now, for someone in the continental US, that's not too far away. So, there's a higher chance of achieving faster speed while delivering files. If the same server is being used to deliver content to, let's say, India; the results would be different.
Jetpack's CDN functionality is called Photon and it uses WordPress.com's already established servers to deliver the images faster to the users. Yes, just images. Well, that's kind of disappointing. But the good news is that it doesn't require you to sign up, offers unlimited CDN bandwidth and is totally free.
Lazy Loading
The more images you have on your website, the more time it would take to load the page. If the quantity is a lot, it could affect the page speed and, in turn, negatively affect your rankings in the search engine.
Lazy loading offers a simple solution – load the images when required i.e. when the visitor sees it. This Jetpack functionality only loads the image that's visible on the screen instead of loading all the images on a page at once. As the visitor scrolls downwards, new images are loaded automatically.
Related Posts
If you have a large number of posts on your website, using a related posts plugin is a no brainer. Not only does it bring older posts to the limelight, but it also gives the visitors some extra and similar content to read.
The only problem is that as the number of posts, categories, and tags increase on your website, the resource consumption on the server increases too. The solution? Jetpack.
If you use Jetpacks related posts feature, all the computation and resource consumption happens on the cloud and you get the final result – the related posts – on your website for free.
Email Subscriptions
Getting subscribers is an important part of success in the online world. Jetpack's email subscription feature lets the visitors subscribe to your posts or to the comments via email address. Whenever there's a new post or comment published on your website, they get an email with a link to the said post or comment.
Publicize Connections
The Publicize connections by Jetpack is a must-use feature as it takes away the pain of manually sharing your every post to all your social media channels. If enabled, it automatically shares a post to the pre-decided social media platforms as soon as it is published.
Embedding Content
Depending on the website, embedding rich media contents in pages could take your game to the next level. The good thing is that by enabling Jetpack on your website, you automatically enable media embedding. To embed a media file in its original form, you just need to copy and paste the direct link on the page; no need to write codes.
If you want more details on the type of files you can embed, head over to the official webpage of content embeds and check it out.
Contact Form
A contact form is an essential communication method that every website must-have. The good news is you can create such forms simply by using Jetpack's contact form feature right from the WordPress editor. It's enabled by default.
If you are into eCommerce and if you want a more robust form which can help reduce cart abandonment, you should try WPForms. It is one of the finest forms creator with drag & drop functionality.
Infinite Scroll
Infinite scroll is a feature that automatically loads new content when a visitor is done reading the current post without refreshing the webpage. This can increase user engagement as well as the time spent on the website.
Jetpack offers a bit of customization here as you can predefine how the next content loads. It can either load automatically as the users scroll downwards or you could add a "Load More" button at the bottom of a post.
Widgets
Jetpack offers a lot of extra widgets to make your website even more functional. Some of them are social icons, cookies & consent banner, milestones, authors bio, contact info, and a lot more.
Backup & Restore (Premium)
Backing up all your data is important. You never know what can happen to make your website unusable or inaccessible.
Jetpack offers an easy solution to backup and restore your complete WordPress website with just one click. The only issue is that it's a paid feature and you'll have to go for the premium version of Jetpack.
The cool thing about Jetpacks backup process is that it makes a backup every time an event occurs on the website. An event could be anything like creating or modifying a post or a page, comment submission or modification, plugin installation, etc. In short, even the slightest change in your website triggers a backup.
For restoration, Jetpack creates activity logs that lets you restore the website at a specific event.
Jetpack Pricing
While most of the features offered by Jetpack are free, some important features (Backups, for example) are only available for premium users.

The premium plan starts at $3.50 a month and goes up to $29.00 a month. The more you pay the more features you get.
So, the question is should you opt for the premium version of Jetpack? The answer is – it depends.
If you think the free features are more than enough for you, there's no point in upgrading. If you are an occasional blogger but are serious about it, the Personal plan makes sense for you as you'll get daily backups which are not available in the free plan. And, if you are a pro blogger, you should go for the Professional plan as it offers some important features like real-time automatic backups, advanced malware scanning and protection, accepting money via PayPal, etc.
FAQs
1. Does Jetpack Slows Down the Website?
No. Even though Jetpack offers so many features, it doesn't slow down your website. Why? Because the plugin runs on good code. If the plugin is badly coded, it will negatively affect the website, even if you use just one. So, you can install the plugin and enable just a few necessary features, and you are good to go.
2. How to Enable Jetpack's Photon?
To enable Photon, head to the Jetpack settings from the admin dashboard. Next, click the Appearance tab and turn on the toggle next to Photon.
3. How to Enable Jetpack's Lazy Loading?
Turn on the toggle next to Lazy loading images which are right below the Photon option.
4. How to Enable Jetpack's Widgets?
You can find and enable all the widgets under the Writing tab of Jetpack settings.
5. How to Enable Jetpack's Related Posts?
Head to the Jetpack settings in the Admin Dashboard and click on the Traffic tab. Next, turn on the toggle next to show related content after posts.
6. How to Enable Jetpack's Email Subscriptions?
Head to the Jetpack settings in the Admin dashboard and click on the Discussion tab. Next, turn on the toggle next to "Allow users to subscribe to your posts and comments and receive notifications via email."
7. How to Enable Jetpack's Publicize Connections?
Head to the Jetpack settings in the Admin dashboard and click on the Sharing tab. Next, turn on the toggle next to "Automatically share your posts to social networks."
Conclusion
There's no shortage of plugins for WordPress. The good thing about Jetpack is that since it offers a lot of features, you don't need to install multiple plugins to get the work done. This way, you can control a lot of aspect of your website from one place. Plus, you can get started for free.
Summary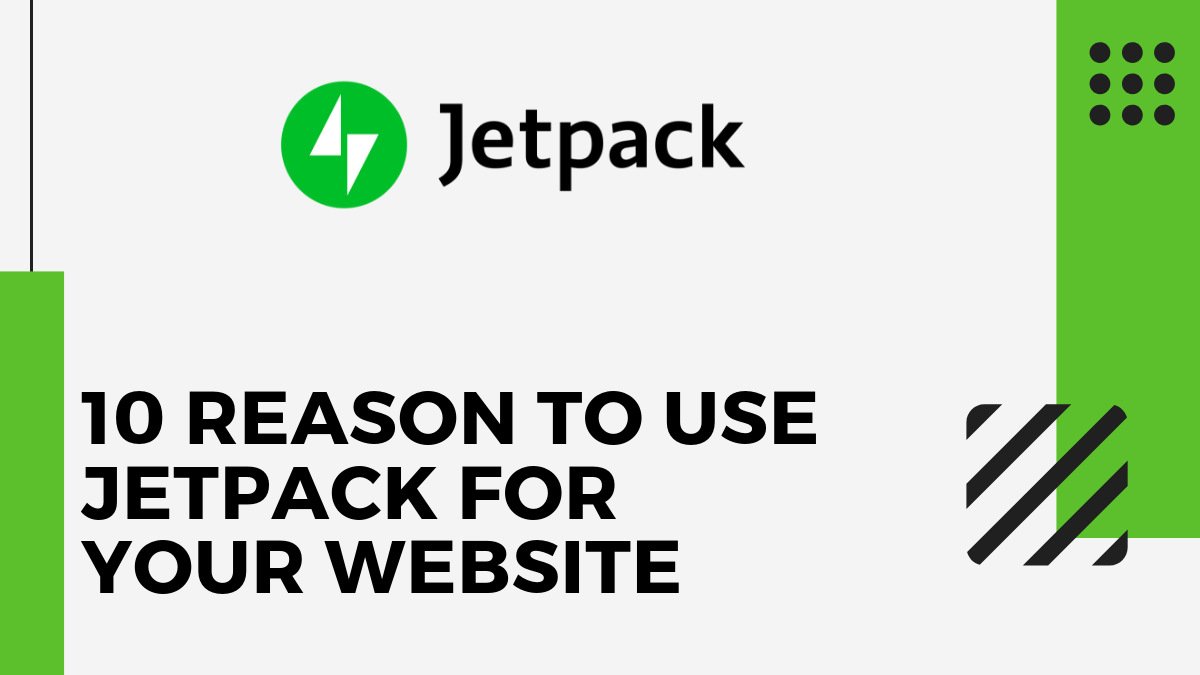 Article Name
10 Reasons Why You Should Be Using Jetpack For Your Website
Description
There's no shortage of plugins for WordPress. Jetpack Plugin for WordPress is one of the finest that offers tons of features in one place.
Author
Publisher Name
Publisher Logo