Exclusive AMZScout Discount Codes For AMZScout Pro Extension
AMZScout among all the players in the industry is the Best Amazon Product Research Finder. I am not just making a statement to please you guys. Let me explain a few things about AMZScout which will give you an idea of why I call it the best tool in the market. This tool offers features such as keyword research, historical tracking of a product, FBA fee calculator and many more. Check out our detailed AMZScout review to understand why this is one of the best tools.
Check out our exclusive amzscout discount codes and get 30% OFF on amzscout pro extension and 50% OFF on amzscout web app.
Exclusive AMZScout Discount Codes & Deals
How To Use AMZScout Discount Codes & Deals?
Each deal is a different deal and it will give you different discounts. We have got you covered by this exclusive discount deal which gives you a 30% discount on AMZScout pro chrome extension.
30% OFF on AMZScout Pro Extension
The first step is to decide on which product you want to use from AMZScout. If you are looking for just full-fledged product research tool, click on "Grab Deal" button.

Once you hit the button, it will take you to the extension on chrome web store. Add the chrome extension. Once you add the extension, you will be taken to Amazon official website.
The second step is to sign up using your desired email address. It will give you 7 days free trial to explore the tool. Once your trial period is expired, you will be redirected to the payment page. Enter your correct payment details, you will be able to see the deducted price automatically.
AMZScout Pro Chrome Extension Actual Price

AMZScout Pro Chrome Extension at Discounted Price

50% OFF on AMZScout WebApp Annual Subscription
The same goes for WebApp. The First step to avail discount is to click on "Grab Deal" button. You will be redirected to AMZScout official website after you click on the button.

The second step is to sign up using your official email address. There are 20 Free Searches on every new account. You will be asked to subscribe (BUY) the tool once your free searches get over.
There are two types of subscriptions and three types of plans. Monthly and Annual Subscription for Basic, Start and Business Plans. Discount automatically applied when you select the subscription and type of plan. The original price for a monthly subscription is $29.99 and a yearly subscription is $359.99. If you use our discount deals, you will get a flat 50% discount; monthly subscription will be $14.99 and yearly subscription will be $179.99.
AMZSCOUT WebApp Yearly Subscription at DISCOUNTED PRICE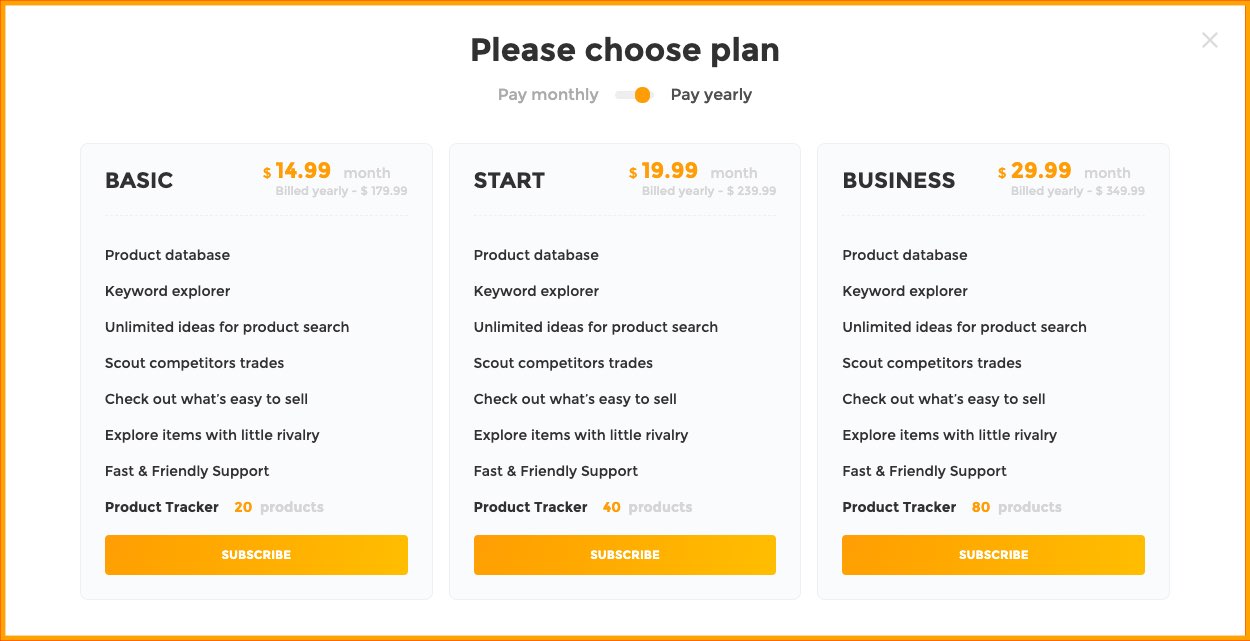 55% OFF on AMZScout All-in-one Amazon Starter Bundle
We partnered with AMZScout to present the best segment start bundle for you. This bundle has 7 tools that are essential for your amazon product research. The total price of the bundle is $506 but with our exclusive AMZScout discount deal you get a 55% Discount, making it only $228 for the all-in-one bundle. Let me give you some idea of which tools are included in the bundle.
Tools Included in the Bundle
AMZScout Extension Pro Annual – It costs at $44.99 per month and $199 for lifetime originally. You are given 12 months' license for the Pro Extension at $179 which is far less than what you will be paying for a monthly subscription.
AMZScout Web App Basic Annual – It is costs $179 per year. WebApp Basic gives you all unlimited features available in other plans at the rate of Basic for a year.
AMZScout Keyword Tracker Basic Annual – It costs $119 per year. When you buy the All-in-one amazon start bundle, you get a year's license for this tool too.
AMZScout QuickView Annual – It is a chrome extension to quickly view and check all the product metrics for any products just by clicking on it while you are on Amazon's official website. You get an annual license at $59 when you purchase the bundle.
AMZScout FBA Calculator – This is an amazing tool from AMZScout which gives you an estimated calculation about Amazon fees on your products. You get this tool at just $59 along with the starter bundle.
AMZScout Stock Stats – Check out all types of stock status of the product that you are doing your research on and make your strategies for selling on amazon. You get AMZScout Stock Stats for free with the bundle.
AMZScout Exclusive Insights, 26 Niches + 26 Products – This tool gives you exclusive access to more than 25 niches and products which will help you set up a profitable business or take your business to the next level.
The action will redirect you to AMZScout Bundle Cart page when you click on the deal mentioned "Buy Bundle" as below-mentioned in the image. You would see the discount already applied when you choose us to buy AMZScout.

20% OFF on AMZScout: Web App + Extension Pro Tool Kit
The main products from AMZScout are Pro Chrome Extension and the Web App. AMZScout Pro Chrome Extension costs you $199 for lifetime and AMZScout Web App Basic Annual costs you $179 if you buy them separately. You get a 20% discount on the Tool Kit when you click on the exclusive amzscout discount deal from us.
The action will redirect you to the AMZScout Bundle Cart page when you click on the deal mentioned "Buy Bundle" as below-mentioned in the image. When you click on the deals button, the discount applies automatically.

AMZScout Discount Deals T&C
You can apply only one coupon at a time.
You can not club this coupon with any other deals.
These discount deals are valid only at AMZScout Official Website.
Our team checks and verifies ALL the mentioned coupons and deals.
All coupons and deals are subject to change according to the AMZScout's policies.
FAQs
How to get the offer using on AMZScout?
We have exclusive AMZScout discount codes. When you click on any of the coupons, you will be automatically granted a discount on the checkout page.
What are these Exclusive AMZScout Discount Deals?
Our goal is to help you save money while buying online. We cracked a deal with AMZScout to give you an amazing discount on its Chrome Extension and WebApp. By using our amzscout discount deals, you will get 30% off on Extension and 50% off on WebApp's annual subscription.
Can I cancel my subscription?
Yes, you can cancel your subscription anytime, any day. You will be refunded for the remaining period if you have subscribed to an annual plan. If you have paid via PayPal, you can cancel the payment from your PayPal account. If you have paid via other modes, please contact their support, they will help you out in no time.
Is there any Free Trial or Free Demo?
Yes. There are 10 Free Searches for AMZScout Chrome Extension and 7 Days Free Trial on AMZScout WebApp. You don't need to cancel the free trial or subscription, if you do not wish to go ahead with the product, it will automatically expire. You will be charged only if you agree to use the product and fill in your payment details.
Do I need an Amazon account to use AMZScout?
No. You don't need an Amazon account to use the product but you need an email address to sign up and set up your account with AMZScout.
How many devices I can use at a time?
AMZScout allows you to use the tool from 5 different devices at a time. You just need to log in with the same details from which you bought the license.
What Is AMZScout?
AMZScout provides broad datasets than any other players like AMZ Tracker, ASINspector, Jungle Scout, Amaze Owl, etc. They regularly update Data like first availability, net margin, min pricing, and even best-selling products, etc. It has a built-in FBA Revenue Calculator which helps sellers directly calculate fees and profits.
The main advantages are: It is in 7 languages, covers major eCommerce platforms, and provides the most accurate data to you. The Extension works with Amazon US, Canada, UK, Germany, France, Spain, Italy, India, and Mexico. The Web App works with Amazon US, Canada, UK, Germany, France, Italy, Spain, India. Recently, they added eBay and Alibaba to their database.