AMZScout Review (The Best Amazon Seller Tool to Maximize Profit)
We all are familiar with Amazon and you might have used it many times. If yes, then you definitely know why Amazon is among the biggest product-selling platforms for sellers all across the globe! All that you seek as a seller when selling on Amazon, is the niche strategy to bring more profit to the business. There are numerous tools that offer you a comprehensive idea regarding Amazon products review and one such great set of research tools is AMZScout. Want to know more about AMZScout? Then this AMZScout review article is for you! It covers all the essential elements that make you take a clear decision about opting for the AMZScout or not! So let's get started.
What is AMZScout?
Understanding the demands, competition, and items that bring in more profit to you is what you actually need! To get all the tasks done easily and with more convenience, Amazon product research tools are there to help you bring more profits to your business.
The Amazon Web App is a comprehensive product search tool that allows you to do complete product research. It aids you with numerous features that allow you to narrow down the product search and get down to the specific data you look for. It furnishes you with a wide range of features like analyzing the data about the sale of the product, recent trends, demand, etc. that make your product research experience much easier.
This was a quick view about AMZScout, then what is AMZScout Pro Extension, and how it stands different from AMZScout? Let's move further to know more.
AMZScout Pro Chrome Extension is a product research tool that gives you a detailed review of information about the wealth of data on any product sold on Amazon. As soon as you install the AMZScout Pro Chrome Extension, go to Amazon.com and search the products and keywords. Once the results appear, open the Extension tool and discover a huge array of information about the specific product and the entire product range.
Both AMZScout Web App and AMZScout Pro Chrome Extension are the alternative to Jungle Scout which has been used as a powerful tool to discover the extensive details of the product available on Amazon.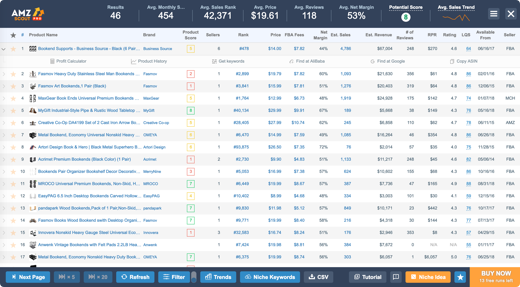 Before getting into the review of AMZScout, If you're already an Amazon seller and planning to expand your business to other platforms such as eBay, Walmart, etc., you need an online marketplace management tool. An online marketplace management tool is a one-stop solution to collaborate with all eCommerce websites you're selling on. One such solution is Sellbrite. Learn more about Sellbrite and use our Sellbrite promo codes to get a discount of 60$ on your purchase.
Let's get straight into the review now!
AMZScout Tools for Sellers
The AMZScout brings you an extensive set of features that help you enhance the productivity of your business. We reviewed all the tools that AMZScout hosts and offers to Amazon sellers.
Amazon Keyword Search
Get the advantage of choosing about 44 advanced filters that enhance your search results. Find the products based on the categorization of sales, reviews, necessities, size, and various other parameters. Amazon Keyword Search helps you sort out the products that can bring more value to your business and curtail the ones that won't work out for you.
Reverse ASIN Lookup
AMZScout makes your keyword search process much easier. All you need to do is feed in the ASIN number of the product in the Web App and soon it will generate the relevant keywords that you have been looking for. You can also modify your keyword search in Reverse ASIN Lookup by tracking the search volume and opting for the keywords that bring in more traffic.
Historical Tracking
The track of product sales gives essential information about the product trends and helps you discover the techniques that can be beneficial for your business. Historical review of data offered by AMZScout makes this job much easier. It helps you determine the product sales and price and helps you decide whether it's worth selling or not!
Product Database
Product database including ranks, sales, profits, reviews, etc. helps to modify the business strategy for the better. AMZScout Pro Chrome Extension gives you access to a broad spectrum of product data in the search results and uses it for better profit.
PRO Extension for Chrome
To gain more profits it's important to know whether the products are worth pursuing or not. AMZScout Pro Chrome Extension offers stratified scores on the scale of 1 to 10 about the products in specific and in general to rectify whether they will bring more profit to the business or not. These scores compare the demand, supply, competition, etc. to aid you further to take a receptive decision.
Quick View Chrome Extension
Historical trends in the quick view allow you to see the fluctuations in the ranks, sales, costs, etc. in the past. These trends act as a ground to determine the further outcomes of the product value, price, demand, sales, and ranks. Historical reviews help you determine what works best for you and opt for the most profitable deal.
FBA Fees Calculator Chrome Extension
This is one of the best features that came out in our AMZScout review. The tool will allow you to know your expenses prior to the sale and help you choose products with low fees and increase profits. FBA fees calculator will estimate the revenue and allow you to make informed decisions regarding the sale of the product. It is the best way to estimate profits and expenses since it will provide you with Monthly Fees, Fulfillment Fees, Referral Fees, Total FBA Fees, Profit Per Unit, Net Margin, ROI, and Estimated Monthly Profit.
Amazon Keyword Tracker Chrome Extension
See the performance of your keywords with the Amazon keyword tracker. This tool allows you to see the listing of your keyword on the search results. Optimize your search results by entering the product ASIN and tracking span. This will give you the control to optimize the ranking and sales of your products.
Amazon Dropshipping & Arbitrage
Identify the most profitable set of products by simplifying your search results with Amazon Arbitrage. This permits you to access the crucial product data in minutes with just a single click. Use this data to bring more profit to your business and raise your sales.
Stock Stats Chrome Extension
Are you looking for a way to be a step ahead of the competition? Then spy on competitors' product sales and numbers with stock stats and plan your sales strategy accordingly. Bring more prosperity to your business with a pin-point modified strategy and lead ahead in the competition.
Sales Estimator
Keep an eye on the number of sales in the particular niche and use it to your advantage with AMZScout sales estimator. Study the rank of the product based on the sales and modify your sales strategy. Raise your sales rank and lead.
Amazon Super URL tool
Boost up your Amazon search rankings to increase your product sales. Make use of the Amazon super URL tool to create a smart link that will help you increase your search rankings.
AMZScout Pricing
AMZScout stands tall in the list of best Amazon product research tools. Both the suites of AMZScout are available at a great deal in addition to the trial period. Let's have a look at all the price and product ranges of both AMZScout Amazon Seller's Bundle and AMZScout Pro Extension in this review.
Amazon Seller's Bundle
It is a complete suite for both beginners as well as experienced users. It comes with a wide range of features which include PRO Extension to see through recent trends, AMZScout Seller's course to start the beneficial business and study the intricacies in just three months, along with trend reports, exclusive products, database, and product tracker, keyword tracker and many more.
Further, you will get Amazon keyword research, reverse ASIN lookup options, instant sales data, etc. that can help you elevate your business productivity.
There are three types of subscriptions that you can opt for. The initial one is where you need to play monthly. It will cost you $49.99. The other one is to opt for a yearly subscription. It will cost you $349.99 per year. When looking closely, a yearly subscription to Amazon Seller's Bundle can reduce your monthly costs to $29. The third one is the lifetime subscription option. It costs $1,499 and can be a huge money saver option.

PRO Extension
The PRO extension suite is ideal for beginners who wish to learn and adapt to the comprehensive details of AMZScout. It includes the PRO extension benefits that help you track down the fluctuating trends, understand competitive levels, improve listing quality, etc. Besides, it includes AMZScout Seller's course as well that includes full actionable knowledge regarding the selling of profitable products.
It comes in three different payment options. The first one is the monthly plan, which gives you all the stated benefits at $45.99 per month. The other one is the yearly subscription option which is billed annually at the price of $197.99.
It can reduce your monthly charges to $16.49. The last one is the annual subscription which is available at $499 for a lifetime. You can choose the suite and respective payment options suited to your needs and save yourself huge bucks.
If you think the prices stated above go beyond your pocket, we have some exclusive offers for you. Apply our AMZScout discount codes and get a 55% discount on the AMZscout pro extension and web app kit. Get a discount on the AMZscout bundle pack.

Benefits of Using AMZScout
To understand whether AMZScout will work for you and your business you need to look at all-around aspects that can lead your business on a progressive path. We reviewed all the benefits that make you choose AMZScout again and again.
Accuracy of the Estimates: The sales data of all the products on Amazon provided by the tools is just an estimate. AMZScout, although it is very precise in predicting accurate estimates. The data completely line up with the parameters observed by the sellers in the initial stage of product selling.
Access to Tutorials: To aid beginners with detailed guidelines regarding the use of the tool, there are numerous tutorials, guides, and videos that are easy to understand. If you are among the newbies on Amazon then these tutorials are all you need. This can help access loads of information and use it for your benefit.
Product Research Tools: You will have the access to all the information, database, keyword explorer, and a lot more that you need for product research. From sales to trends and profit calculations you will get all that you need to find profitable products.
Product Tracker: AMZScout Product Tracker keeps up with the inventory products and recent trends that make a huge difference in the market.
Affordable Prices: All the tools, features, and services by AMZScout are available at a great value for money. Additionally, all the services are backed with free trials, which give you a chance to see how these tools can benefit your business on Amazon.
Large Product Database: AMZScout had access to a huge database of the products that are being sold on Amazon. A larger database gives you access to more data to understand the details needed for a profitable business.
Limitations of AMZScout
A product without a few limitations is always incomplete and the same is the case with AMZScout. Although these limitations can be overcome and do not affect the quality of the services that come along. Let's have a look at these limiting points.
The free trial is quite short and could be longer to allow the user to gain better insights.
The product launch feature is missing, which can be otherwise beneficial to attract more audience and increase the customer base.
The video tutorials include the basic steps and don't provide any information for advanced uses.
FAQs
1. What is the maximum cost of AMZScout?
AMZScout can cost you at the most $200 annually. AMZScout comes under diverse plans that range from $29.99 per month to $59.99 per month.
2. Can AMZScout be an ideal option to go for?
AMZScout is an average tool when seen through its features and functions but it comes at a great price which is an advantage for the user. It gives all the basic needs to the user to find winning products and build a solid foundation for the business.
3. How to cancel the subscription for AMZScout?
If you need to cancel the subscription, you need to contact the support team of AMZScout via email. Contact support@amzscout.net and provide the last four digits of your card number and the e-mail address that is linked with the license.
4. How to login into AMZScout?
Initially, complete the installation process and then sign in using a Google account or Facebook account. You can also log in with Chrome. Choose the most convenient option and enter your login id and password.
5. What is the maximum number of users of AMZScout?
The same AMZScout account can be logged in to multiple devices. For the PRO Extension suite, the maximum number of devices that can be connected to the same account is three.
Final Words
AMZScout is the best solution for beginners on the Amazon platform who wish to grow their business. It provides comprehensive details regarding the sales, trends, demands, prices, etc. which work as the blueprint to decide the further step in your business. The benefits of this suite make it a quality product to go for. AMZScout has received amazing reviews and has shown outstanding results to lead your business ahead. Although there are a few limitations, they are expected to be covered up soon in the forthcoming.