How to Add Nofollow Links to WordPress Website? (Guide)
We have read thousands of times that adding outbound and inbound links to your website will boost your search engine rankings. But, do you know, some links can harm your SEO game? Yes, that's true! Surprisingly, there are nofollow links to the rescue that help the search engines to learn not to follow back to their source. Wondering how to add nofollow links to WordPress website? We are here to guide you!
What Are Nofollow Links?
One of the key strategies of the search engine bots is to follow your site's links to see what websites you associate with. Nofollow link works like throwing up a "No Entry" sign in the path of search engine bots that are following where your site leads to. It indicates search engines, you don't want them to click the link and then you will not pass any link authority to the sites you linked to. According to SEO experts, making external links nofollow can help your website rank higher. However, this is not proven yet but it can help you to increase traffic on your website.
A nofollow link uses the rel="nofollow" attribute inside the <a> anchor element that represents a link in the HTML language. This attribute doesn't block any user activity, so no worries there! The only things getting blocked are Google bots.
Why Use Nofollow Links?
If you want to make your blog popular, you need to change several setting according to your requirement. If you want to learn how to make your wordpress blog popular, check out our detailed guide. Google bots (and other search engine bots) crawl your website to help them learn what your content is about, who the target audience is, and more. They then use these findings to help them index your website and display it in relevant searches.
One of the key strategies of the search engine bots is to follow your site's links to see what websites you associate with. This, of course, mainly works in your favor, especially when you link to sites with authority in your niche, as it adds extra credibility to your website.
However, there are a few instances where you will not want Google to follow your links – it is in these cases that you will want to add a nofollow attribute.
Affiliate links and sponsored links – You don't want these influencing your search rankings, especially as too many may give the impression that your site is spammy.
User-submitted links – These may not be relevant to your site's niche, or lead to malicious sites. (Usefully, WordPress nofollows these links by default).
Links to dubious sources – Not sure if a website is a desirable site to link to but still want to share some content from it with your users? Then nofollow the link, so the search engines don't group you in with untrustworthy websites.
By adding nofollow attributes to certain links on your site, you help to protect your site's rankings in the search engines. So how do we add nofollow links?
How to Add Nofollow Links to WordPress Website?
Adding Manually in WordPress Menus
Go to the Appearance > Menus page in your WordPress admin dashboard. Then choose the menu where you want to add the link and click on the Select button to open it.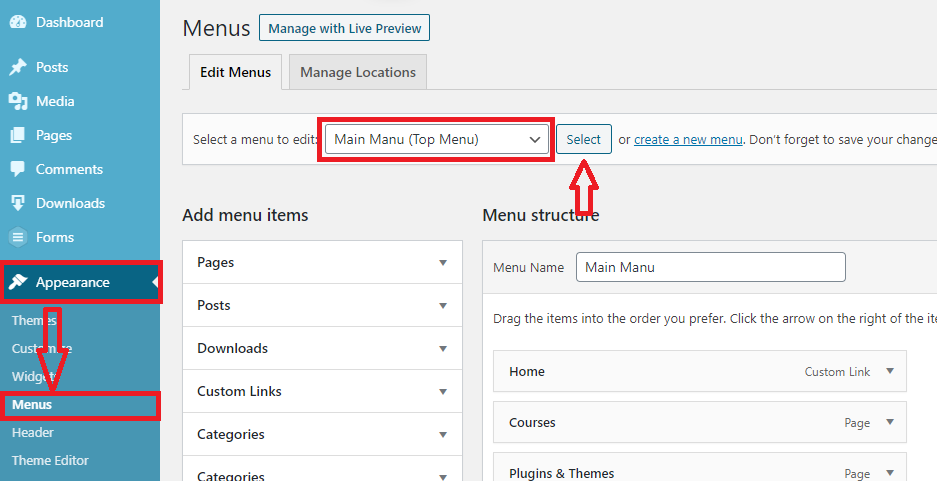 Click the Custom Links tab, add the link text and external link URL. Once done, click on the Add to Menu button.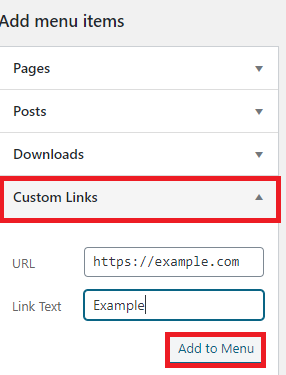 Next, click on the Screen Options button at the top-right corner of the page and select the Link Relationship (XFN) and Link Target options.

Now, scroll back down and click on the downward arrow icon of the new menu item to expand it. Type nofollow in the Link Relationship (XFN) textbox and check the Open link in a new tab option if you need it. Click the Save Menu button to save your changes.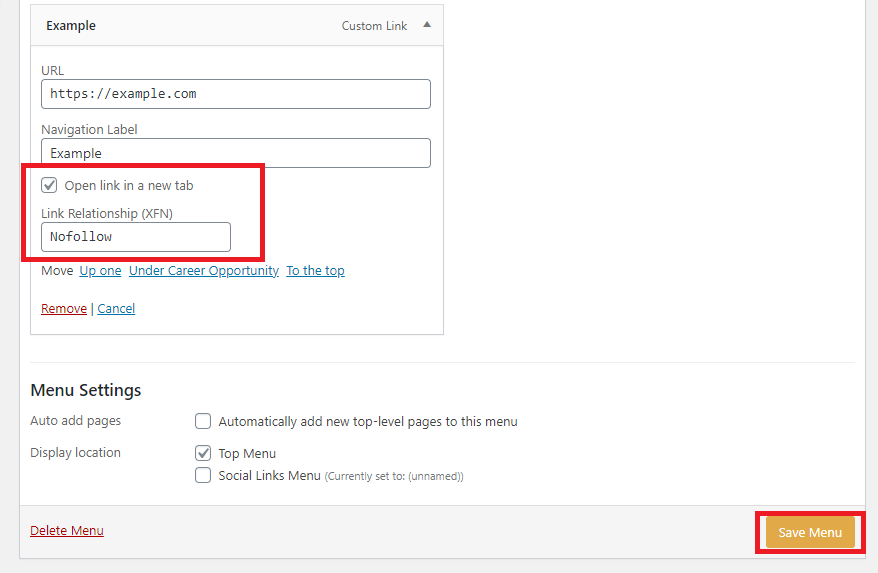 Add Manually
Go to the post or page editing screen, click on the 3 vertical dots icon in the top-right corner. This will open a dropdown menu.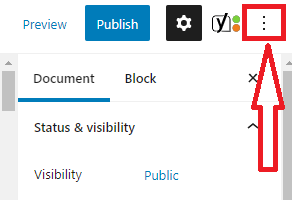 Simply select the Code Editor option – manually nofollow links on wordpress site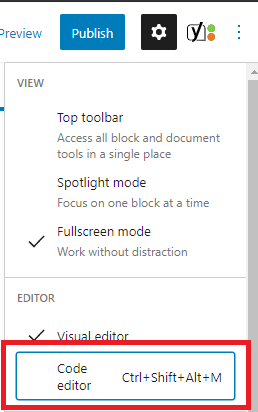 Then you will get the HTML code of your page. You can make all external links nofollow there, by adding rel="nofollow" tag to the links.
If you have a lot of external links in your post or page then this method is for you.
Add Manually in WordPress Block Editor
Navigate to the block where you want to make the link nofollow and click three vertical dots (menu for More Options).
Then click the option Edit as HTML.
Now you can use/paste rel="nofollow" attribute in opening <a> tag as shown below. If you see the rel="noopener noreferrer" attribute in the HTML code, you can use rel="nofollow noopener noreferrer" attribute to make the link nofollow and to open it in a new tab as well.

Click on the 3 dots icon again then select Edit visually to Update/Publish to the changes.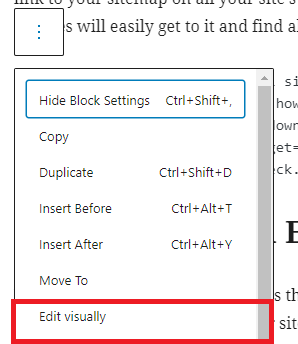 Use WP External Links WordPress Plugin
Install and activate WP External Links plugin. After activating the plugin a new menu, the External Links menu will be added to the admin menu bar.
After clicking on the External Links option you will get five sections for managing links.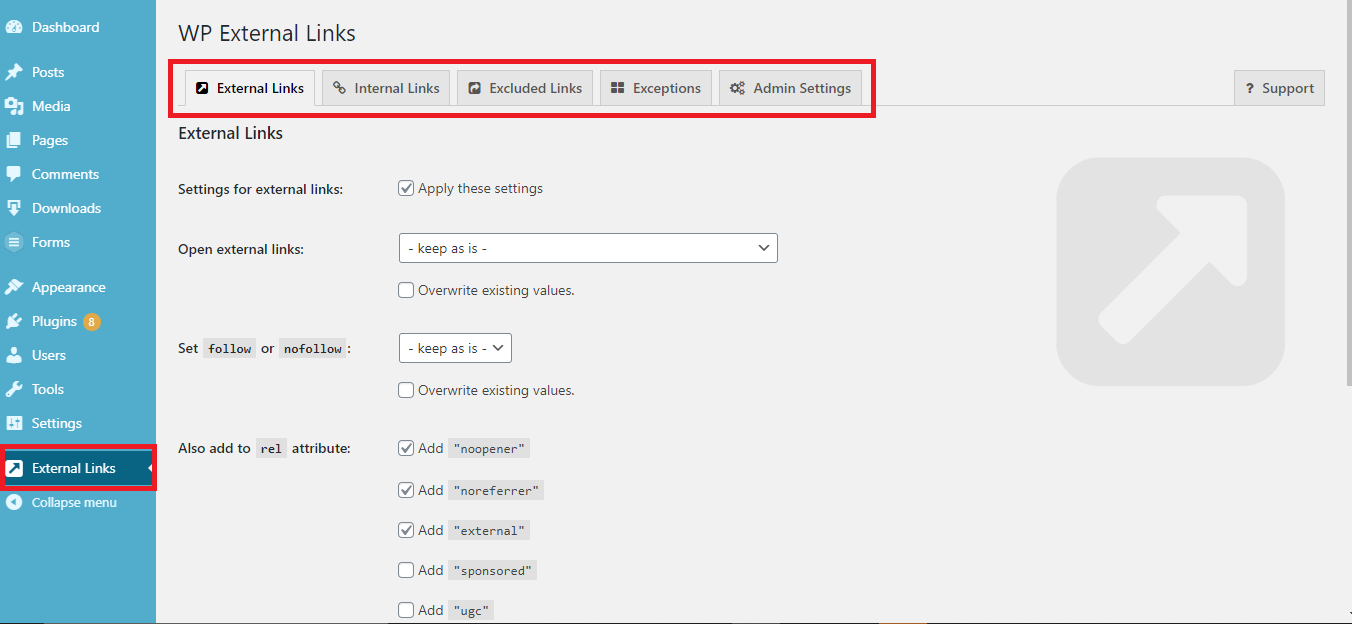 For each section, you will get several link setting options. For nofollowing the external links scroll down the page, go to the Set follow or nofollow option and select nofollow. You can make other changes if you need them, then click the save changes button.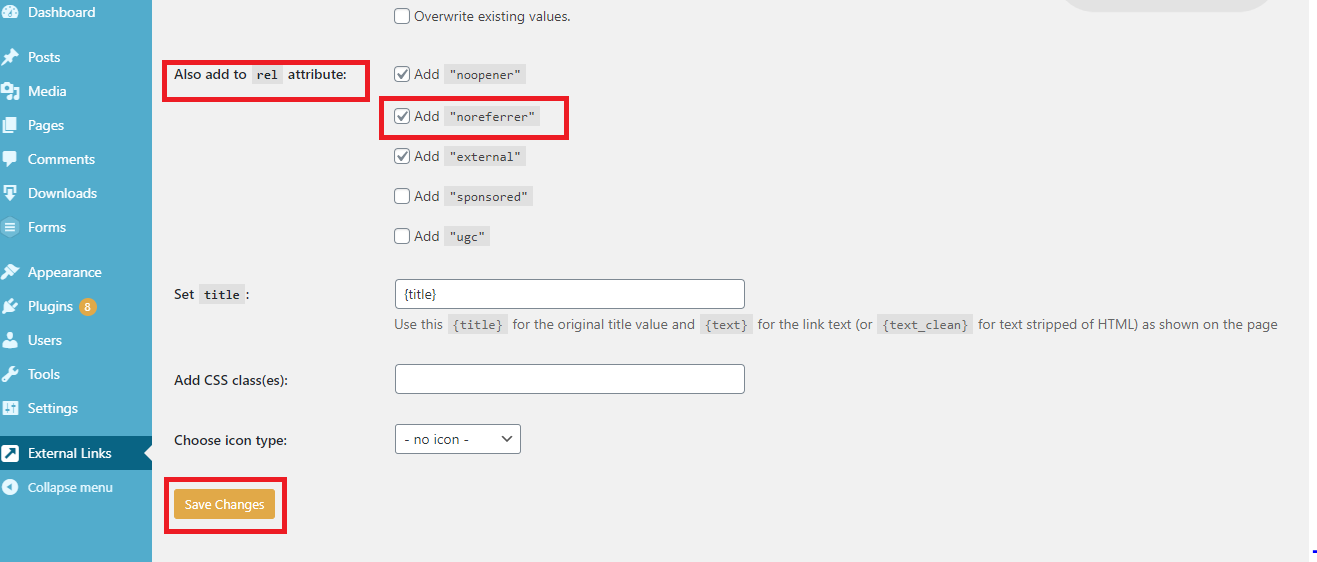 There are many other plugins for adding nofollow links to your site. you can choose your preferred one.
Make All External Links Nofollow
Many WordPress users feel the need to automatically add the nofollow attribute to all external links on their site.
Most solutions that offer this are done with the help of JavaScript. This is not helpful for Google or for your site's SEO. Instead, you should manually nofollow the links using the above methods.
Some bloggers worry about comment links. The good news is that WordPress adds the nofollow attribute to all comment links by default.
If you're still looking for a solution to automatically nofollow all external links, then you can use the WP External Links plugin.
It adds the nofollow attribute to all external links in your posts, pages, navigation menus, and the sidebar.
First, you need to install and activate the WP External Links plugin. For more details, see our step-by-step guide on how to install a WordPress plugin.
Upon activation, go to the new External Links page in your WordPress dashboard.
Here, you need to change the 'Set follow or nofollow' dropdown to 'nofollow'.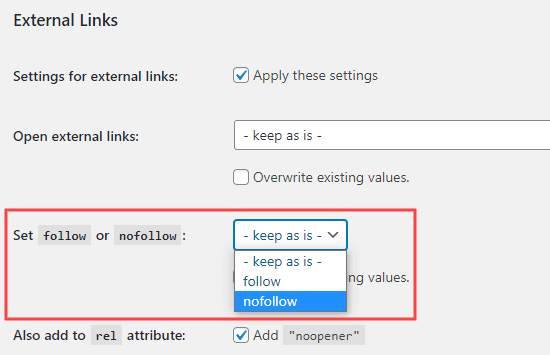 Above this, you have the option to set links to open in a new tab using the 'Open external links' dropdown.
Don't forget to click the 'Save Changes' button when you've finished. This plugin will now automatically turn all the external links on your site into nofollow links.
Wrapping Up
Adding nofollow links to your website is a quick and easy process, whichever method you choose. However, making sure that the appropriate links are made into nofollow links is important, as ignoring this task could greatly affect your SEO rankings in the search engines. So we hope this guide helped you a lot. Additionally, by now you must be ready to add nofollow links to your WordPress website.