How to Embed Videos in WordPress Blog Posts? (Detailed Guide)
Do you own a YouTube channel? Do you want to add videos to your WordPress website? It is pretty easy to add or embed video in WordPress and it has a ton of benefits.
Not only do videos make websites more interactive, but they also increase engagement and dwell time. This can have a significant impact in terms of Search Engine Optimization (SEO). Additionally, it also impacts the bounce rate. The more time a user spends on the page watching a video, the lesser bounce rate it offers.
Videos also significantly improve the user experience of your articles. They add interest, offer a different way to engage with content, and attract those visitors who prefer to watch rather than read.
In this article, we cover different ways you can add a video to WordPress. We will also take you, step by step, through the process of embedding YouTube videos in WordPress. We also cover how to embed video in WordPress manually and use plugins to get more advanced video-related features.
Why You Should Not Directly Upload Videos to WordPress?
Although adding videos to your posts and pages has many benefits, uploading videos directly to your WordPress media library can slow your site down. Adding video directly to WordPress can impact website performance and, in extreme cases, impact your SEO.
Don't worry. There is a way around that. But before we give you the solution, here are some of the reasons why we think you should not directly upload the video to your website.
Server Bandwidth
Varying Video Quality Across Devices
Compatibility With Web Browsers
The Solution: Embed, Not Upload
File Size Limits
Slow Loading and Freezing Video
You can also try to rank your videos for search engine results. Just set up video SEO on your website with the steps explained in our simple guide.
What Should You Do? Embed, NOT Upload
Embedding means that you upload your video to another site such as Vimeo, YouTube, or DailyMotion and play it on your website. This is something that we strongly advise you to do. Embedding essentially means your video is hosted on a third-party hosting service and plays through your WordPress website.
Here are the advantages of embedding over uploading:
Save Bandwidth & Storage Space
When you host videos on a third-party platform, you use up their bandwidth and resources instead of your own.
Not using your own web server for video playback can also maintain the loading time of your website, which is one of the essential factors in SEO. It also helps maintain the user experience, which is arguably more important!
Traffic & Visibility
If you want to gain more visibility, you should definitely consider YouTube. It is the second-largest search engine in the world. Rightly so, many people consider visiting YouTube for information first.
This is where you can shine. You can publish your videos on YouTube to get more brand awareness. You can also ask your viewers on YouTube to check out your website using links or shout-outs.
Other video hosting platforms will offer similar advantages.
Easy Sharing
It is very easy to share embedded videos. For example, videos can be shared from within a player on different social media channels.
Video Quality Optimization
Platforms like YouTube or Vimeo come with an inbuilt video quality selection. Users can select the size and quality of the video from within the player, meaning you don't have to load separate versions for different screen sizes.
YouTube Video Share Button
If you upload your own videos to WordPress, your entire blog post needs to be shared to watch the video. While it has its own merits, it is easier for your audience to share your message through a video-sharing platform.
How to Embed Videos in WordPress Blog Posts & Pages?
Embedding Videos in WordPress Using HTML Block Method
You won't need this option for video service providers that WordPress has blocks for but it's another way to feature videos on your site.
You can embed the videos as HTML scripts, also known as embed codes.
In this example, we are going with our YouTube video:
Get the embed code from the video that you want to embed. In the case of YouTube, you can click on the Share button.
Select Embed.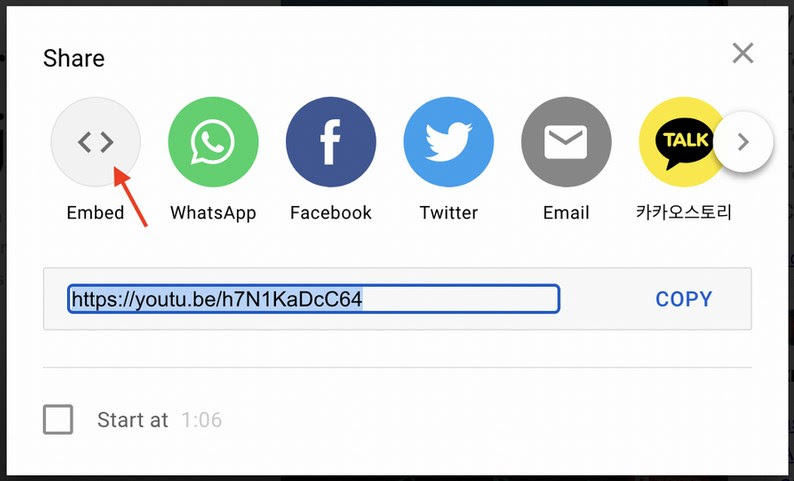 Once you select this option, another popup appears with the video and the embed code.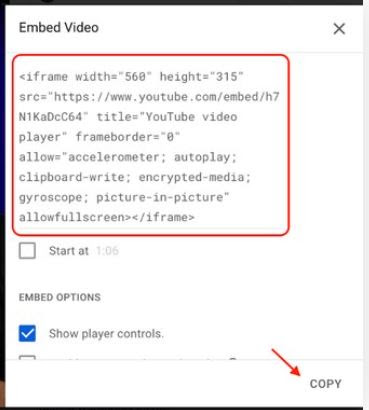 Now head back to your page editor and click on the "+" icon to select a new block.
Select the 'Custom HTML' block. If you can't find the option, just type in words in the search bar, and the option will show up.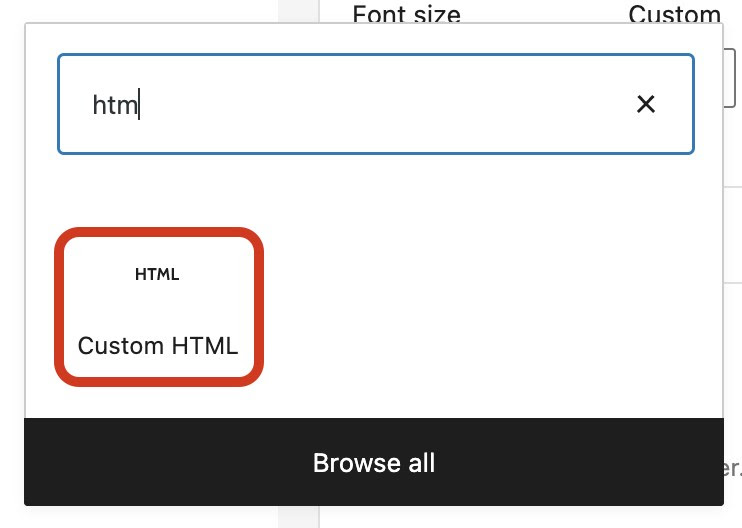 This opens the Custom HTML block. Paste the embed code in the block.

This embeds the video in your post or page.
Click on the preview button to see how it looks.
Embed Videos in WordPress Using Old Classic Editor
If you are fond of the WordPress classic editor, things might be a bit different for you. Although WordPress usually automatically embeds your YouTube video as soon as you paste the link, it may not hold for other sources.
If you are using the classic editor and want to embed a video, follow these steps:
Copy the embed code from the video that you want to embed.
Go to the classic editor and select the 'Text' tab from the top right corner of the editing area.
Paste the embed code at the appropriate place.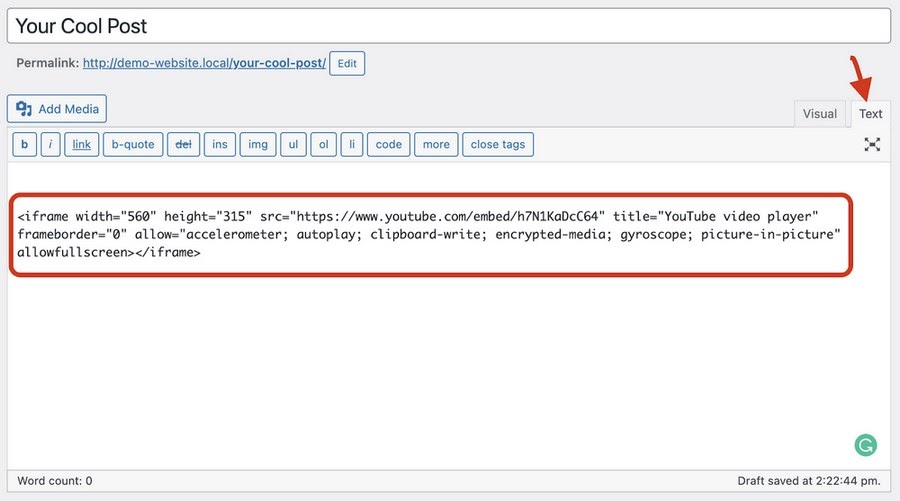 Click on the Visual tab to see the changes.
How to Embed Videos in WordPress Sidebar Widgets?
Just like a WordPress page or post, you can also embed videos in WordPress sidebar widgets.
Simply go to the Appearance » Widgets page and add the 'Text' widget to a sidebar. See our article on how to add and use widgets in WordPress.
Inside the widget settings, you need to paste the video URL in the content area. WordPress will automatically fetch the embed code and display the video preview.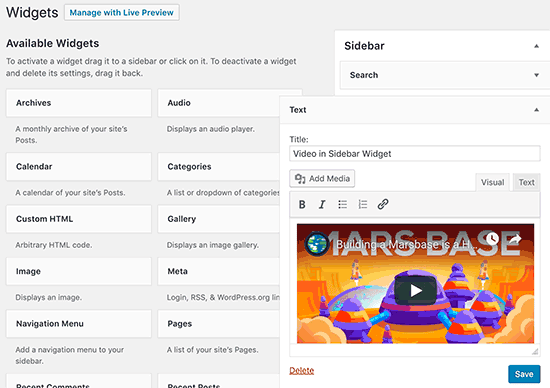 Don't forget to click on the 'Save' button to store your widget settings.
You can now visit your website to see the video embed in the WordPress sidebar widget.
Summing Up
We hope you are all set to add videos to your website. Obviously, it's easy when you know how to!
In this post, we covered different scenarios that you may come across while embedding videos in WordPress. You should now be able to add your videos to posts, pages, sidebars and even create galleries with ease.
We also shared numerous methods to include videos in your WordPress pages and posts using default blocks and in various parts of the page.