How To Choose A Backpack? (6-Step Guide & Offers Inside)
If you want to travel comfortably, you have to find the perfect backpack first. Your backpack has to be of the right size and weight. Otherwise, you won't be able to enjoy your trip properly. So, to make your travel smooth, quickly check out our guide on how to choose a backpack.
Whether you are planning a hiking trip with your friends or a laid back family vacation trip, below I have listed the right tips to find your perfect backpack for all kinds of travels.
Why are Backpacks the Ideal Travel Partners?
There are plenty of different travel bag options available in the market, like duffle bags, rolling luggage, travel trunks, fanny packs, etc. But, out of all the amazing travel bag options, backpacks are the best for traveling. Why?
Mobility – Backpacks let you move freely snuggled up on your back. Whether you have to catch a flight or run for a bus, your backpack won't restrict your moments.
Easy to Fit – You can easily throw your backpack on the top of your car or can squash under your seats. The beauty of a backpack is that it can fit anywhere.
Convenient Pillow – If you want to have a nap while traveling by train, bus, or car, your backpack can become your pillow. You can doze off anywhere and anytime.
More Compartments – As compared to a suitcase or rolling bags, a backpack has more compartments. It will help you stay organized and prevent your belongings from damaging.
Simple Detergent Wash – Mostly, backpacks are made up of durable and easy to dry material. So, after your travel, you can easily wash your backpack at home before moving to your next expedition. The easy home washable backpack materials are cotton, jute, polypropylene, etc.
Ideal for Travelers – Importantly, you are a traveler, not a tourist. A backpack is like a continuous motivation to keep on moving and exploring new things for a traveler. In short, you can't call yourself a traveler without a backpack.
Some of the best everyday backpacks are a great substitute of travel backpacks if your travel span is less than 3 days. Everyday backpacks can squeeze in all the travel essentials for a short trip.
How to Choose A Backpack? (6 Quick Tips)
If you know how to choose a backpack, you can not only help yourself but your friends also to get them the right backpack for their trip. Everything matters when you have to find a perfect backpack from the backpack's material to the size. If you don't pick the right traveling backpack, you won't be able to freely enjoy your trip. Know what makes simple bags the best travel backpacks for your trips.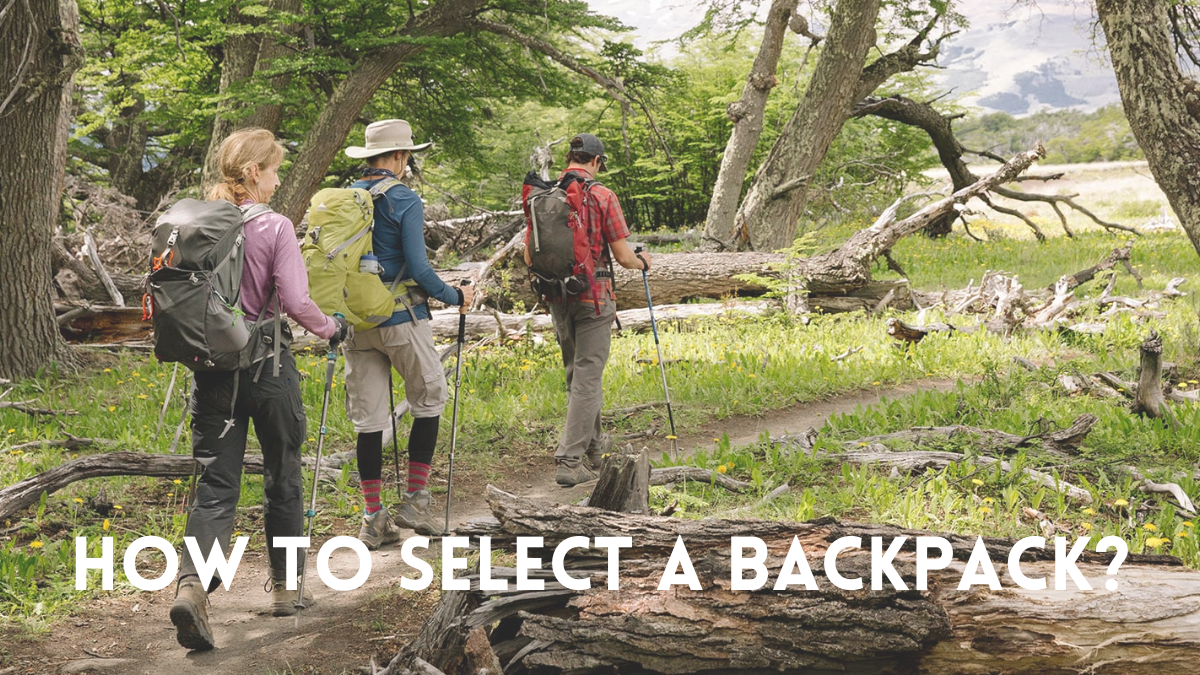 Water Resistant Material
While you are making a choice, you must choose a backpack that is waterproof. But you don't have to get a 100% waterproof backpack unless you are going on an outdoor trip. But, you should still get a semi-waterproof material backpack. That's because you never know what kind of weather you have to face while traveling. Especially , when you are planning a tropical vacation, you should get a waterproof backpack for a beach trip.
Importantly, ensure that your backpack material needs to be lightweight. The thick material can increase your backpack weight and restrict your flexibility. The treated nylon is the perfect backpack material. It is waterproof as well as a lightweight material. Plus, if you don't want to open your backpack and find wet clothes, never miss out on this tip.
Backpack Size & Space
Many people like to collect keepsakes while traveling. It's a magical way to preserve your adventurous memories. But, if you don't have enough space in your backpack, you can't take your keepsakes back with you.
That's why make sure that your backpack has enough room to store your essentials and new treasures. Just remember, if you have to sit over your backpack to close it, you need a new and spacious backpack.
For an organized trip, ensure to have these segments on your backpack:
Multiple Compartments – You'll be able to organize your stuff into separate sections for easy and quick access.
Elastic Pockets – These stretchable pockets are useful to hold water bottles and otter lose items.
Front Pocket – You can keep your money, important documents, and gadgets in the front pocket so that you can easily access them without opening the entire bag.
How to Pick the Right Size Backpack?
To choose a backpack (which is perfect), it has to be proportionate to your body and spacious enough to carry all your items. The right fit backpack size is measured based on your torso length. To find the right size backpack, you have to consider the following things.
Your Torso Length – Backpacks are available in multiple different sizes—from small to extra large. But, you should pick the backpack that fits your torso length.
Your Hip Size – The major part of your backpack weight will be managed by your hips. So, it is recommended to buy adjustable backpack hip belts to accommodate your hip size.
Easy to Lock Zippers
Always buy a backpack with two zippers to easily lock them together. No one's going to steal from your bag, but it's a must-have safety measure.
When you are purchasing locks for your backpack, always get TSA-friendly locks. These locks have a special release valve that facilitates TSA to open locks without breaking them. They are easily available at local retail stores like Walmart or Target.
However, if you don't want to buy an extra lock for your backpack, you can get backpack's with following zipper options –
Auto Lock Slider – This slider will automatically lock when you stop pulling the zipper.
Pin Lock Slider – This system zipper lock has a pin inserted into the slider that'll lock when the zipper isn't moving. It will prevent unwanted slider moments.
Double Pull Slider – It is the same system like pin lock slider with two sliders to pull the zipper.
Key Lock Slider – This slider comes with a seperate key to lock the zipper. This will be very useful when you have to lock your backpack at the airport or carry important documents.
Comfort is Essential
If your backpack hurts your back or puts a strain on your shoulders, you can't carry it for longer. And worst, you might injure yourself. That's why you should choose a backpack that is comfortable for traveling.
One comfortable backpack's characteristics are adjustable back panel, padded shoulder straps, and hip belt to distribute the weight across the body. To wear a backpack comfortably, you can make the following adjustments.
3 Tips to Wear a Perfect Backpack
Arrange the shoulder straps in a way that won't put a strain on your back.
To choose a backpack for traveling, ensure that it has natural padding that can arch according to your lower back shape to keep pressure off your back.
Use the hip belt when you have to carry heavier loads for longer. The belt ensures no strain on your back and shoulders.
Traits of a Comfortable Backpack
Extra Handles: The backpacks with extra handles on the top or side can offer more flexibility to carry. When you are in a hurry, you can quickly hold your backpack from the top handle. Additionally, while hopping from one bus to another, handles make transportation easier. So, if you find a backpack with extra handles, that would be nice.
Padded Shoulder Strap and Hip Belt: It is ideal to have padded shoulder straps and hip belt to gain comfort and support while carrying a heavy bag. The padded shoulder straps can support your shoulder while long walking trips. And the hip belt can have a perfectly diverse weight on your hips.
Lumbar Support: One comfortable backpack has lumbar support with a back panel so that you get sufficient support. Furthermore, proper airflow is maintained to protect the backpack getting wet from body sweat.
Get Detachable Backpacks
All travels are different—sometimes you have to travel for a day or two and that time you don't need a big pack. Now, it isn't feasible for everyone to buy different sizes of backpacks. Thus, you should buy a detachable backpack that gives you an option to reduce the size as per your needs.
When you are going for a day trip, you can detach all the bulky compartments and keep what you need. With detachable backpacks, you can save money as you don't have to carry multiple travel bags. The detachable backpacks are offered by numerous leading brands like Roamm Nomad, Mountain Warehouse, Deuter, Urban, AceCamp, etc.
Budget Friendly Backpacks
Never compare price with the quality if you don't want to deal with a tear opened bag in the middle of a road. If you once invest in a good quality backpack, you'll get a long term travel partner.
The price of a backpack is determined based on quality, design aesthetics, and craftsmanship. You'll find a different price range of backpacks by various brands like North Face, Osprey, and Gregory in the market. One basic backpack can cost between $150-$400, whereas top end backpacks can go beyond $1500. So, choosing a backpack also widely depends upon your budget and requirements.
Top 5 Budget Backpacks
THE ROW Backpack 11 Leather Bag, $3900
Brunello Cucinelli Leisure Backpack, $4195
Chanel Grained Calfskin & Gold-Tone Metal Backpack, $4700
Santiago Gonzalez Caiman Crocodile Backpack, $5500
Tom Ford Full-Grain Leather, $2450
Choose A Backpack For You Now!
The definition of the perfect backpack is different for everyone. Someone might be interested in the comfort and someone in the flexibility. So, you need to understand your requirements and then select the perfect backpack for traveling.
However, in this how to choose a backpack guide, I have shared a few vital tips that can pretty much help every traveler. So, do follow all the tips carefully and have a safe and happy trip.