Peak Design Review: The Best Carry Bags & Camera Gears
With today's Peak Design review, we want to nourish your bag obsession. Well, known peak design gained popularity with its intelligent products and variety. The brand strives to provide the best quality and features in their products.
Checkout our honest Peak Design review to find the best backpack for your daily commute; be it professional or casual:
Introduction to Peak Design
Whether it's for hiking, work, or everyday use, it is never easy to choose a perfect bag. Your bag must feel comfortable for a stress-free experience.
The bag's design and strap are vital elements that keep your neck and shoulder straining weight. With enough space to fit your stuff, the bag must be capable of keeping your gadgets and belongings safe and secured.
You have to find such a perfect bag that fits in all requirements and has a long life. Our Peak Design review will give you a perfect solution to all these needs.
Peak Design is the most genuine brand which took birth with need. The founder of this prestigious brand realized that there is no perfect bag that can protect, organize, and give access to his gears.
He then started designing each tiny requirement in the bag. It took months to reach a final design and it resulted in a perfect one.
Peak design emphasizes on the accessibility of the gear with comfortable design. They know that comfort is most important while carrying any bag or backpack.
It was thus a huge challenge to integrate volume and comfort at once. Peak design did well with this challenge and came up with amazing products.
Neat classy designs and flexibility to adjust volume make Peak Design products priority of buyers. The brand solves the carry-problems of all gear owners with a simple solution.
It has everything ranging from straps, clips, dual side access, and features like waterproof fabric.
We'd love to mention all the unique features of the brand in this Peak Design review. As it is impossible to list all of them here are the most important features that define the excellence of Peak Design bags.
Peak Design Backpack Features
Comfort to Carry
Peak Design has versatile and innovative bag designs. It has the best quality products like an everyday backpack, everyday tote bag, travel duffle, and so on.
These bags are versatile with add-on options. Peak Design has five warehouses that facilitate shipping all around the world at cheap rates.
The Everyday Backpack has the most comfortable carry feature. It is perfect for carrying your MacBook or Laptop up to 15 inches.
It has the design to carry all you need to go out from your lip balm to your nylon raincoat. Peak Design provides adjustable straps which can be tightened or loosed according to your comfort.
Straps have attachment points having a compression design. What else one can demand to enjoy the outing.
Material & Design
I have read universal Peak Design reviews and each one backs it. When you buy a bag you first check its material to assure its durability. And yes, it is essential to confirm how long the bag can accompany you.
Everyday backpack V2 is the improvised design in all sense to its predecessor. It has the best material which is 100% recycled 400D nylon canvas shell.
Material has a double PU coat for extended life% recycled 400D nylon canvas shell. The material. Peak design backpacks have the best quality zips operating at ease.
Peak Design bag has eye-catching looks achieved with the best quality material. All the color options available in Peak Design bags are classy and attractive.
Space
You need good space in your bag if you are planning a short or long trip. Peak Design backpacks are the best choice if you are looking for more space. We curated the list of some of the best everyday backpacks which you can pick for your travel.
However, there is no competitor to Peak Design bags when it comes to the spacing factor. The travel backpack from Peak Design has a massive space of 45L.
The bags have an intelligent design with a primary capacity of 35L. This capacity is designed following maximum carry on standards for international flights.
Peak Design gives dual zip which expands bag capacity by 10L. Peak Design understands that no two trips can be the same. You have to be always ready for the situation.
With the huge space, you get all other features like dual side zippers, compression straps, stash pockets, and comfortable shape.
Functionality
Peak Design brand is most interesting as they come up with improved ideas with their products.
This brand has 'The Perfect' bags when it comes to functions you can expect in a bag. Peak Design Everyday V1 bag is the perfect travel partner. It offers flexible dividers giving you the freedom to configure the bag's internal organization.
It has inner side pockets to carry small items like hard drives. Peak Design always stays ahead of your expectations and this Everyday V1 bag is the best example for it.
This voluminous bag can carry your gears with complete protection. It has a top slit pocket to seal your phone, document, or wallet.
Fit & Feel
Thoughtful designs of each bag from Peak Design makes it possible to enjoy a stress-free hike. The travel duffel bag from Peak Design is such a timeless masterpiece that can fit each travel necessity.
It is compatible with the gears with its camera cubes. Small pockets designed on the internal and external of the bag are perfect to hold small things.
The technical fabric of the Peak Design bags makes it possible to carry the maximum load.
Users declare that Peak Design bags are the most comfortable bags they ever use. Everyday backpack from Peak Design is a complete surprise package. You can even fit a drone in it.
Peak Design uses sternum straps giving a fantastic touch to its convenience and feel. Shoulder straps with the bag add a smart carry option to it. The available color options of Peak Design are classy and perfect.
Most Popular Peak Design Backpacks
Peak Design products can look expensive to some of the users. To resolve this, we officially collaborated with Peak Design and curated some Discount codes. Check out our latest peak design promo codes and enjoy affordable bag shopping. These codes are applicable on all the pricing listed below.
Peak Design Everyday Backpack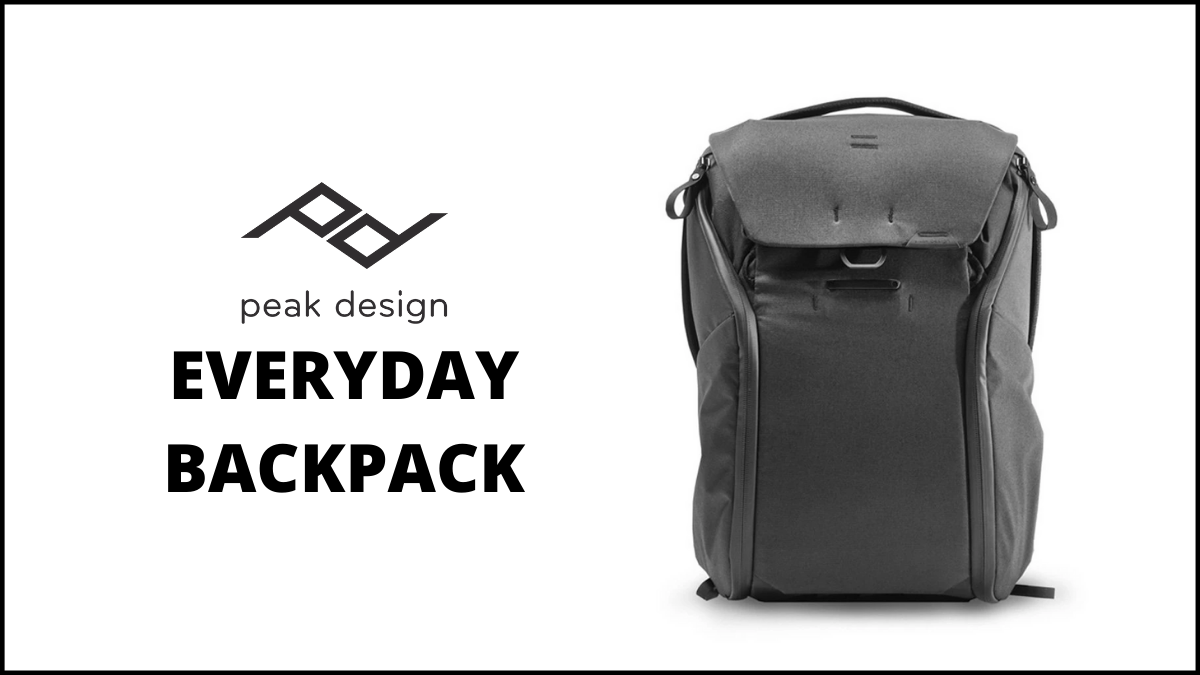 You can also buy an all-new Peak design Everyday Backpack designed to adapt to your lifestyle. You can carry your everyday gadgets and important files in this bag.
It offers 20L capacity to store gears and useful stuff. You get instant access to each compartment making your day easier than before. You can expand the bag for an extra capacity of 3L.
Everyday Backpack has an extra-durable zip design. Quick connecting straps have comfort padding to ease your carry problems. Everyday Backpack gives brilliant customization options with its Flexi-fold dividers.
You can buy this ultimate comfort at $259.95.
Peak Design Travel Duffle Bag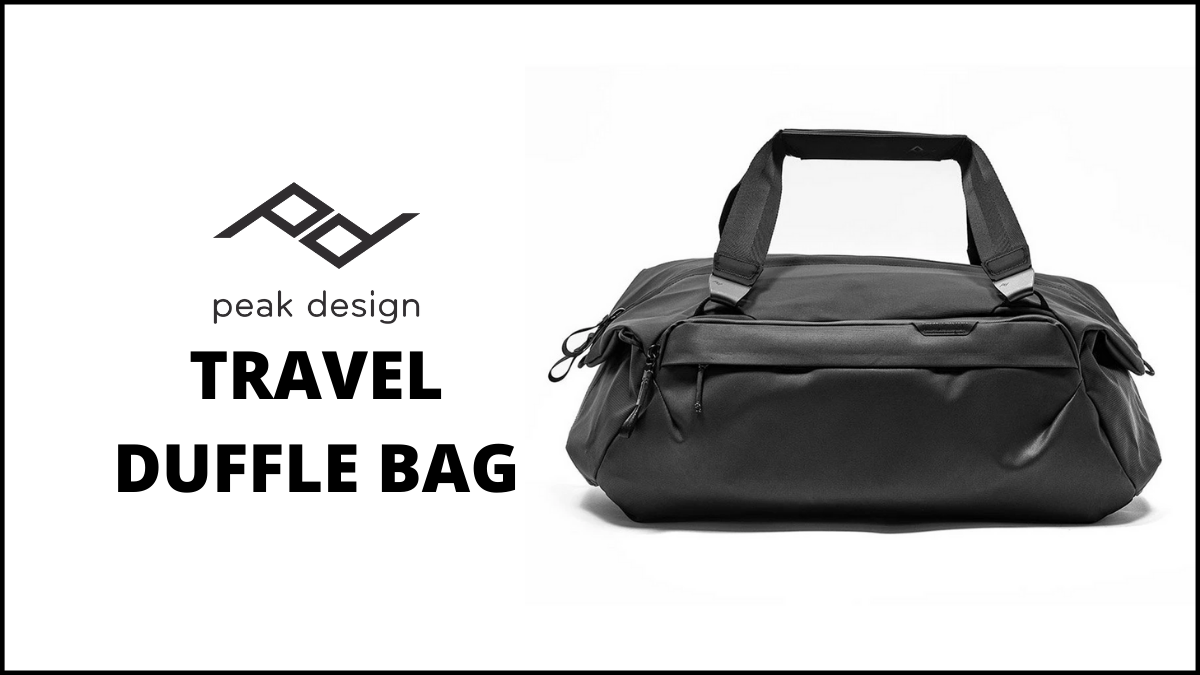 Your travel experiences are priceless only when you have a perfect travel partner. This makes it mandatory to select your travel bag wisely.
We can tell you there is no other than Peak Design travel duffle to understand you. This 35L timeless Duffle bag has a thoughtful design. It is manufactured with the nylon canvas material.
You get 2 internal and 4 external pockets in this bag. Duffle is approved for international carry-on regulations. You can carry this duffle with its double padded straps.
Buy this diverse travel bag at just $129.95.
You can also check out our detailed list of top best travel backpacks if you want to compare Peak Design with other bag brands.
Customize Your Peak Design Bag with Addons
Along with the brilliant design, Peak Design offers customization options. You can buy addons for all Peak Design bags at an additional price.
You can buy a washing pouch at $60 which carries your toothbrush and grooming kit.
It also has a tech pouch to add on into the bag at the same $60.
If you are carrying your camera you can buy a camera cube at $50 for small, $70 for medium, and $90 for large size.
Peak Design also has a shoe pouch at $25 and rain fly at $30.
Why Should You Buy Peak Design?
Waterproof Fabric
You get a complete weatherproof bag from Peak Design. You can be carefree with Peak Design bags as they are designed to resist weather changes.
Flexible Dividers
Peak Design bags offer flexible origami dividers. These dividers are strong and thin to fit more than your expectations.
Simple Strap Management
This strap management feature helps you change the carry option of the bag. You can sling it or carry it like a backpack as you wish. It also changes the look of your bag and saves you from repetitive appearance.
Eco-friendly
It is worth applauding how they use 100% recycling bags. You can be assured that you are not hurting nature with the peak design product.
Peak Design Backpacks Cons
Over-engineered
You may think it is all over-engineered with its Flexi dividers, dual side zipper, and multilayer fabric. You may not need such over-designed bags all the time.
Outside Pockets
External packets of the bag help you access your things easily and so as for the thefts. It also has a risk of dashes and damages to the small things we keep in these external pockets.
Dense Filling
The bag becomes too dense to carry. Sometimes it cannot sit properly on your waist or back.
Ready to Choose Your Next Bag?
Peak Design bags are love. It is insanely successful in all its users. The feature set of Peak Design backpacks make it a strong suggestion for your next buy.
This Peak Design review is all about the comfort and innovation you are looking for while choosing your next bag. It is surely expensive but worth your convenience. It will protect your gears and give you quick access to get at the same time.
You can go for any of the models from Peak Design as per your requirements and surely receive more than you paid for.