Jungle Scout Review: The Best Tool For Amazon Sellers
Jungle Scout is the best product finder and also an amazing keyword explorer. This tool is designed and developed exclusively for Amazon Sellers. The tool targets sales improvement and multiplies your business revenue in no time.
Speaking of multiplying your business revenue, If you're an Amazon seller who wants to expand your business to other platforms like eBay, Walmart, and so on, you'll need an online marketplace management tool. An online marketplace management tool is a one-stop shop for collaborating on all eCommerce websites where you sell. Sellbrite is one such solution. Learn more about Sellbrite and use our Sellbrite promo codes to save $60 on your purchase.
Let us now jump straight into Jungle Scout Review.
In this Jungle Scout Review, you can explore the features and tools you get with the product. In short, you can also examine how this Jungle Scout research tool can change the game.
What Is Jungle Scout?
Jungle Scout is one of the best Amazon product research tools that helps small businesses reach their goal with minimum effort. It was designed and developed by former engineer Mr. Greg Mercer. He started guiding Amazon sellers towards success.
At present, Jungle Scout is the top Amazon product and keyword research tool that serves all in one feature. The Jungle Scout team gives complete support to sellers all around the globe. You can also manage your inventory, sales, and optimized listing of your products.
Jungle Scout tool gives you market insights with the analysis of trending products. Over 400,000 amazon-based entrepreneurs use this tool. Our exclusive Jungle Scout review will take you on a tour of its features, products, pricing, benefits, and limitations.
Jungle Scout is a web-based software tool providing a complete suite for growing business on the Amazon platform. It will guide you to grow and earn more profit with a strategic plan. It follows a data-driven approach to make decisions for your business.
You can explore products having high demand to start your business. The seller thus can automate your inventory and go for high-rated keywords to boost your business performance. You can evaluate your product ideas with the instant result of this Jungle Scout product. Most importantly, the seller will get all the features listed in this Jungle Scout review with this product. It is the best one if you are an individual seller who wants to build a strong business on the Amazon platform.
Jungle Scout launch is an extraordinary product that helps you with all kinds of promotional activities on Amazon. Read our latest jungle scout launch review and get to know more.
Why Jungle Scout?
More sellers turning to the Amazon platform are making it a competitive marketplace. For Amazon sellers, product research is the key to raising their sales. Product research provides characteristics and information about specific products. It evaluates consumer's demands and also analyzes the competitor's business strategies. You have to create spreadsheets for the results and maintain the library.
This complete process sounds tedious and time-consuming, for which an automated tool will make this task easier and instant.
Consequently, this amazon research tool will assist you to find the best keywords. These keywords will help your customers find your products. Analyzing your amazon sales will improve your value proposition. The analysis report can narrow product offerings by investigating underperforming sales. It will also help you predict the features of your product sale and give a realistic image of your efforts.
Above all, analyzing competitor business strategies will guide you to add omitted features of your business strategy. This analysis report will benefit you in increasing the conversion rate, generating leads, and gaining customer trust.
Jungle Scout Features
Browser Extension
You get a Jungle Scout Chrome and Firefox extension to forecast your amazon product sales. It also explores new opportunities and project profits. You can get the assurance of your product ideas through the AccuSalestm analysis algorithm. This is the best algorithm that predicts average, daily, weekly, and monthly sales for more than a million products.
This extension also helps you decide on your product idea. It uses a Proprietary Opportunity Score for this decision whether to eliminate or continue with the product idea.
You can get the average sales rank of the product and calculate its average price with the feature Average Buy-Box price.
Product Tracker
Jungle Scout tool can track the performance of a group of products and give you market insights. This feature creates a strategic plan through sales monitoring. You can create a group for a similar product to organize them. You can also customize columns and order of products as per your need.
Most importantly, product Tracker gives you results containing general trends. You can invest in these trends to attract more customers. Product trackers also suggest the price of these products that can boost your sales. Product tracker results also provide information about your inventory stock, best seller rank, units sold, and much more.
You can analyze product history through data gathered by the product tracker. It will also help you estimate sales per month
Opportunity Finder
Opportunity finder helps you search for demanded keywords instantly. This tool promises keyword discovery as per your product and business niche and saves your time to search for the perfect keyword.
Opportunity Finder includes filters like average price, average units sold, seasonal trends, supplier details and search volumes. Moreover, these filters can be customized to organize niches on Amazon. You can also develop your strategy for product research. Sellers can see the total transaction every month.
You can see the average sales price of a niche listed in your strategy. It gives you data regarding the monthly search volume of products. This includes the count of keyword searches last month.
Product Database
This is an advanced filter that advises opportunities on amazon to earn a massive profit. The product database pulls a huge database of about 475 million products from amazon itself. This database is evaluated and explored to come up with potential product ideas.
Product Database has numerous options to find out a potential product from its huge catalog. You can select a marketplace to find products according to specific marketplaces. It also has a category filter to get products that result in that particular category. You can select multiple categories at an instant.
Supplier Database
Supplier Database comprises information about genuine suppliers from all over the world. This is the unique feature we want to highlight in this Jungle Scout review, which can turn your product idea into reality. You can go through this database to find the supplier of your business product and confirm the deal.
Supplier Databases doesn't have additional monthly charges as it is a part of the Jungle Scout tool. In other words, You can match your product with the factories in this database. It will help you locate suppliers of your niche product without wasting time.
Jungle Scout Academy
This is a training program for Amazon sellers that will turn you into an expert Amazon entrepreneur. It explains each minute aspect from product research to earning profit with more than 130 videos to guide sellers.
This training industry is designed and developed by Jungle Scout CEO, Greg Mercer. If you are new to the Amazon selling world you must take advantage of interactive modules of the Academy platform.
Alerts
It is the necessary feature that keeps you updated with the price change, inventory, and reviews of your product. You will thus receive email alerts regarding the daily performance of your business. You can also customize alerts to track the activity of your competitors.
This feature needs no login into your Amazon account. You will receive all the important alerts that can boost your Amazon sales.
Keyword Scout
Most Importantly, the keyword Scout feature helps explore buyer intent keywords for amazon sellers. It studies the keyword strategy of competitors to come up with high converting amazon product keywords. It gives you the exact result through a broad search of millions of data points. You can also analyze the past performance of the keyword. The seller can study the insights with the monthly and quarterly data filter.
Consequently, keyword Scout helps you identify keyword rankings of particular products through a reverse ASIN search. It identifies keyword volume with exact count and also gives PPC bids which include headline search ads.
Keyword Scout can now deliver keywords from the Amazon EU marketplace. Active sellers can get target keywords of their regional market improving Amazon sales.
Rank Tracker
This analysis tool is the spotlight of this Jungle Scout review. It acts as a metric monitoring system that analyzes keyword ranking across a period. You can track the performance of your keyword all on one graph. This tracker gives you insights into influential keywords.
This thus helps you know the actual product rank on the Amazon search engine. It allows you to track competitors' ASIN too.
This feature can improve your data-driven decision-making for sales It will notify changes in the rank through data visualizations. This can help sellers understand the factors affecting product rank.
Listing Builder
This listing builder tool optimizes your listing with recommended keywords and its proven strategies. You can reach the highest conversion rate with the list builder feature. It provides live feedback to customize your Amazon listing and improve optimization score.
In addition, listing Builder helps you decide the perfect product title to attract target customers. Optimal keywords and relevant information can create the best listing for the product. In short, an informative and effective listing will surely increase your sales and improve the conversion rate.
Review Automation
Customer reviews are necessary for setting honest expectations for customers about the products. Jungle Scout's review automation feature generates review requests for each customer. This feature ensures that each of your customers reviews your product on Amazon.
Once the review request of the order is sent to the customer, sellers do not need any follow-up for the same. This feature keeps customers protected from spam. Review automation provides incentive reviews from customers. So, this review request will be a genuine request without manipulative language from the seller. It thus builds trust in customers for a fair business.
Sales Analytics
This is the updated feature that has command over your profits and thus the financial health of your Amazon account. It provides strategies to focus on earning more profit by tracking Amazon sales data in real-time. This sales analysis shows revenue, taxes, hidden fees, and expenses, etc.
Sales Analytics provides the actual profit count of Amazon FBA. Hence, it helps you determine margins and calculate the expected return on investment based on sales analytics.
It helps you explore revenue details, unique sales, shipping cost, the performance of pay per click campaigns for specific products.
Inventory Manager
The inventory management feature of Jungle Scout helps you plan ahead of time. This automated feature keeps an eye on your inventory and predicts when you should order your stock. You get quick access to explore stock in your inventory.
Inventory Manager gives you an insight into ROI in terms of how much you are investing in your product and how much you make out of it. Hence, it maintains the safety stock of your products to ensure the availability of best-selling products on hand.
Promotions
Promotions play a vital role in boosting your sales on Amazon. This includes earning reviews and improving the rank of your Amazon listing. Jungle Scout gives you a platform to promote your business on Amazon through promotional campaigns. It also keeps your business prevented from promotional abuse by restricting the maximum quantity for the individual buyer.
It is important to take care of existing customers to make future customers. Methods of promotion can spread the word about customer service to ensure that they will come again and buy your product.
Jungle Scout Pricing
Jungle Scout offers a 14 day risk-free trial of its products. You can be assured of the money-back guarantee from this amazing Amazon business tool. Select from the three available Jungle Scout pricing plans with monthly/yearly payment options.
Moreover, we collaborated with their team for this Jungle Scout review and got some exclusive discount offers. You can grab the best discounts with our Jungle Scout coupon and enjoy up to 40% & $20 OFF.
Basic
Firstly, the basic plan starting from as low as $19/mo. You get a single-user license and full access to its browser extension. This plan will provide product tracking for up to three products for one month. You will get complete training and customer support with this essential plan.
Suite
Secondly, Suite plan manages your business like a pro at just $49/mo. With all the features in the basic plan, you get added features like review automation, more than one month's historical product data, and product tracking for 150 products. This plan gives you rank tracking by studying over 3500 keywords. It also includes listing builders, alters, promotions, inventory managers, and supplier trackers. You will of course get 24X7 customer support and Academy training with this plan.
Professional
The professional plan is designed for more users providing all-in-one solutions. This plan costs $84/month for additional features and priority onboarding. It includes tracking of 10000 ASINs, keyword data of the past two years, product tracking of the past six months, and access to 10 marketplaces.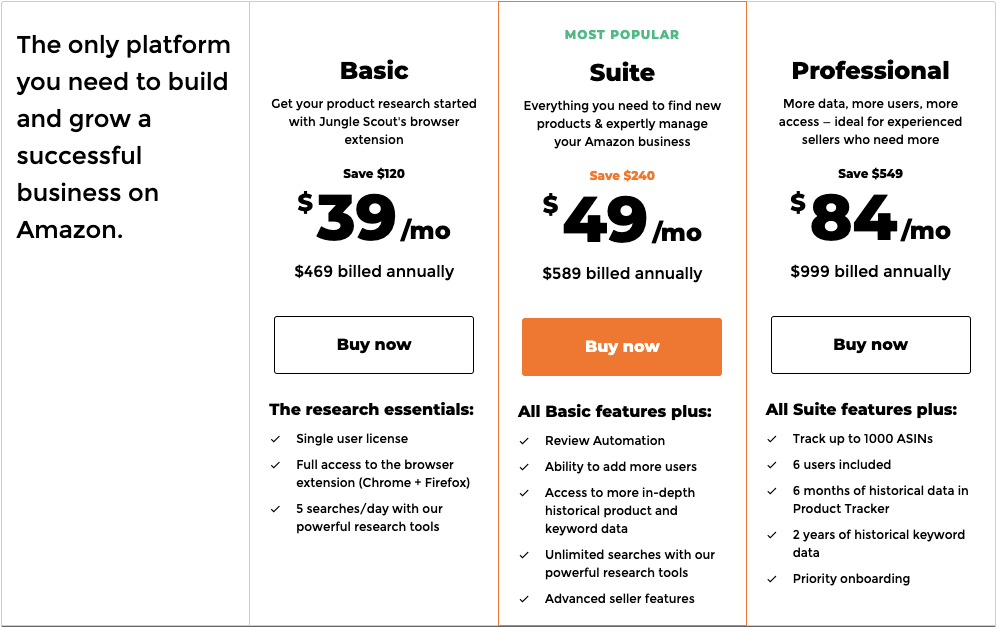 Jungle Scout Pros
24X7 customer support
Easy to use software
Real results with accuracy
Guide for beginners
Jungle Scout Cons
Expensive monthly plan
Complicated integration of web app and extension
Buy Jungle Scout Today
Jungle Scout has helped a huge number of Amazon sellers to build their business on the most popular eCommerce platform. This is to say, all the features and plans make Jungle Scout an effective and essential tool for Amazon sellers. With the expert team and experience Jungle Scout has developed every need of individuals and brands who want to boost their Amazon sales. Jungle Scout review can conclude that it is a must-have tool for taking your business beyond sky-high limits.