How to Choose Your First Camera Drone? (Best 6-Step Guide)
Are you in love with photography? OR Do you want to turn your passion into a full-fledged career? Then, you must be already looking for the best camera drones. So, let me show you "how to choose your first camera drone?"
If photography is your passion and you want to try new things, you can capture some of the rarest scenes with a camera drone. When you shoot with a camera drone, you have a whole sky of opportunities ahead of you. Aerial view shots or videos are the most trendy way to spice up your photography skills. 
If you are going to buy your first camera drone, you have clicked on the right post because I am going to share everything that you need to buy your first camera drone.
Why Should You Get A Camera Drone? 
When you want to capture the outer as well as the inner side of an object through your photography skills,  you need the best commercial and professional drones. With standard aerial photography, you can only capture the outer side. Thus, when you want to capture a realistic-looking photo, you need to change your views because one camera drone can help you with the following functions.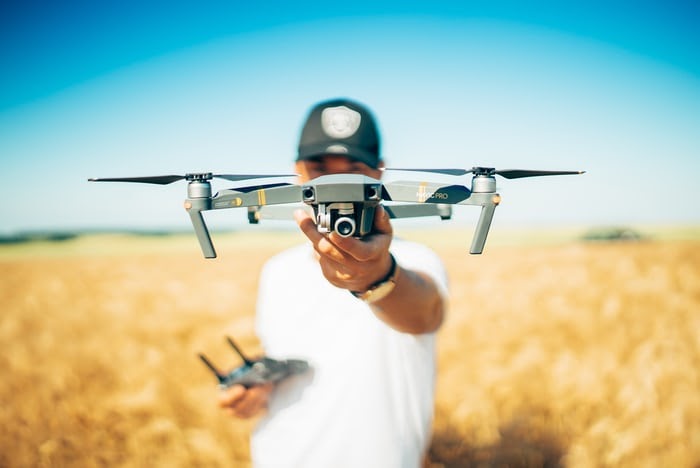 Click Some Magical Shots – Some natural and magical shots that you can't click through your regular camera can be captured with the drone camera. From a majestic cliff view to the birds close up shot, you can capture dynamic shots with drones.
Boost your Business – If you are into the photography business, you can provide excellent services to your clients. Drone shot and video services can help you in gaining real estate, weddings, commercial videos, music videos, and many other clients.
One survey suggests that homes with aerial view sell 68% faster than homes with regular images. And that's enough to push your photography business. So select your camera drones accordingly.
Cheaper and Easy to Operate – To use drone cameras, you don't need to possess any advanced skills. You can operate drones simply like a toy remote car or plane.
Additionally, drone cameras won't dent your pocket. One standard drone camera can be bought for between $100-$300. On the contrary, the drone photography costs start from $150 – now, you can cover up your buying cost from one photography job only.
How to Choose Your First Camera Drone?
Since you can push your photography business and skills to the next level, you must be eager to buy your camera drone quickly. However, before shopping, let's check out a few tips to buy the best camera drone –
Stay Focused on Image Quality
As you already know that sensors directly impact the image quality. This rule also applies to aerial photography. Thus, you have to get the latest technology oriented sensors to click powerful aerial images.
The larger CMOS(complementary metal oxide semiconductor is a transistor switch for each pixel) makes it very easy to click high-quality photographs in dim lighting by amplifying pixel signals. If you are shooting during nighttime, you don't have to think much about it. But, if you have a daytime shoot, you should get the right CMOS to capture the perfect footage.
Let's Practice a Little
A fundamental tip in how to choose your first camera drone would be to get an inexpensive camera for practice. I mean, you should buy a cheap camera drone or second-hand piece to learn the skill.
Additionally, when you are ready to take your camera drone out for the ride, you have to follow some precautions –
Pick an open area without any human intervention.
Stay away from obstacles like power lines, trees, buildings, etc.
Don't begin your flying lessons on windy days.
Make sure that you aren't harming any pets, birds, or any human in the process.
Pick the Right Resolutions & FPS
When you are making fun videos with your friends to post on your social media, you are good to go with a 1080p resolution. But, if you are a vlogger or professional photographer, you better get 4K.
With the editing process, the resolution of photo or video gets reduced. Thus, when you are working with 1080p, you will get a less sharp image after all the editing work. That's why it's better to start with 4K pixels, so you have enough room for editing.
Secondly, you need to check out the frame per second (FPS) mentioned under the drone camera's specifications. This shows how many unique images your camera can manage each second. So, if you want to get smooth aerial footage, 24-30fps will be sufficient for you. On the contrary, if you want to capture slow romantic shots, you might need a higher FPS – somewhere around 60 or above.
Go Through Basic Controls
Usually, every camera drone has different control gestures and features. So, you will need to spend a moment with the manual to go through all the controls. But, some of the common functions that most of the camera drones possess are:
Arm your Drone – When you open the pack of your new camera drone, it will be in a disarmed state just like a gun. So, to shoot your camera drone, you have to arm it first as per the user guide.
Transmitter Mode – Generally, camera drones come with two transmitter modes. In the first mode, the left stick controls – forward and backward motions control pitch, and the right stick – controls the throttle. The controls are reversed in the second mode, so check your drone's control mode before flying it.
Flight Modes – In the drone cameras, numerous flight modes are used. In some cameras, more than one flight mode is available. The common flight modes are – a standard mode that levels itself when the sticks are released, the advanced mode is less restrictive than standard mode, 3D mode cuts 50% of power to the motors, and many more.
Trim – The majority of drone transmitters let you make small adjustments to correct the imbalance in the motors. When your drone keeps on moving anti-clockwise, small yaw trim can cancel all the unwanted movements.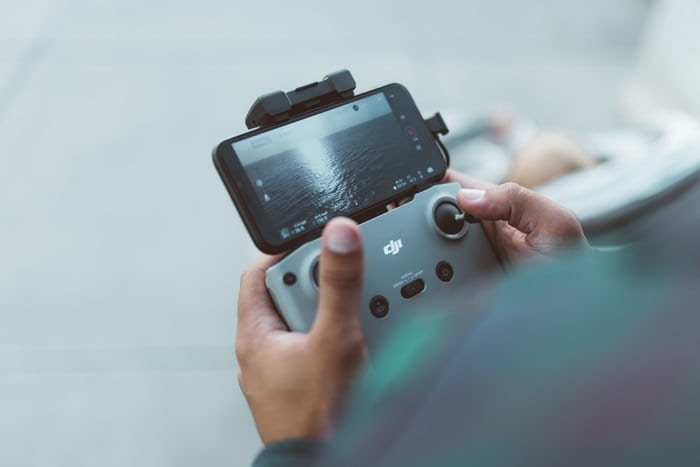 Get RAW/DNG Format Support
If you don't use Photoshop or Lightroom to refine your footage, you can skip this point. But, if you are choosing a camera drone that can support RAW/DNG formats, this will facilitate you to make an array of post-production edits. 
In this format, the photo will record all the data received by the camera sensors. This will make your nighttime shoot super amazing. This format has opened up a lot more options for aerial photographers.
Buy a Mounted Gimbal Camera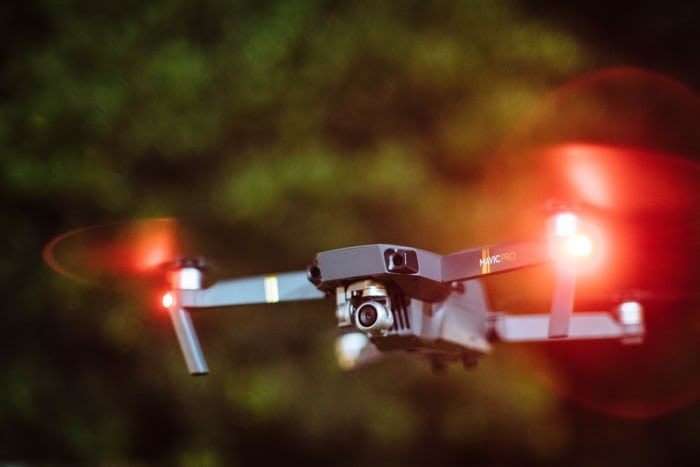 Gimbal is one of the crucial elements to keep your camera steady. Many cheap camera drones only provide gimbal as accessories, and some even don't offer that. If your camera drone doesn't have a gimbal, you'll get shaky videos. For decent photo quality, a three-axis gimbal is sufficient.
Best Budget-Friendly Camera Drones
If you hit the market in search of the best camera drone, you will find plenty of different brands waiting up for you. Some of the best camera drone brands are DJI Mavic 2 Pro, Ryze Trello, PowerVision PowerEgg, and Parrot Anafi. While choosing the camera drones, you have an array of options under different price ranges.
The Best Camera Drone Under $50
JJRC H31 is a great camera drone for beginners who want to learn how to fly a drone. It is a fast and agile drone with some good features under the given price range. It is a lightweight, speedy, and durable drone that you can buy anytime. If you want to crash and twirl your drone a lot, go for this product.
The Best Camera Drone Under $500
Under $500, DJI has launched a dynamic drone – DJI Mini 2. It is a foldable, lightweight, and highly functional drone. You can easily carry around this drone in your backpack and shoot outdoors efficiently. It is one of the most stable drones that makes it perfect for photography purposes. On the top, it is super easy to fly. So, if you are starting your photography career, get this drone for sure. 
The Best Camera Drone Under $1000
When you want full value for your money, you should buy the DJI Mavic Air. This drone has high-quality camera performance, dynamic controls, longer flight mode, and many other awesome features. This is a sophisticated drone for grand uses. You can definitely boost your career with this drone.
Conclusion
Whether you are learning photography or running a professional business, you should get your hands on camera drones for sure. Camera drones are the photography business's future, and for a progressive photography career, you need to practice aerial shots more.
I hope that now you are ready to buy your first camera drone and click some magical aerial footage. Don't forget to share your aerial photography work with me? And, do share how you find this 'how to choose your first camera drone guide.