Viddyoze Review: Pricing, Features & Everything About Free Bonuses
If you want to rise from the competition in 2021, you must create video content. However, visual content creation is not an easy task, especially for a newbie. But Viddyoze can help you to start your video marketing/editing journey. No matter if you never edit a single video before. In this Viddyoze review, we'll talk about all the aspects of it alongside every pros and cons of it. So you get an ideal value for your time and money.
Before starting this Viddyoze review, I want to be honest with you. Yes, you can try other video editors too. And also there are already tons of video editors available on the internet. But finding a perfect video editor for you/your business is difficult.
Your video editor must create incredible video content in an easy, fast, and budget-friendly way. So, to make things easy, we'll introduce you to an updated video creation software named "Viddyoze." This is the tool that helps you to create engaging content, in a few clicks.
And you won't need to read 100+ how-to guides to do it. To make it even easier for you, we have created an easy guide on how to create videos with Viddyoze. Moreover, it also doesn't cost you a hundred dollars. So you can invest this money and time in other productive things.
All You Should Know About Viddyoze
Now, after reading the name "Viddyoze" you'll Google queries like "Viddyoze Review." But you don't have to go anywhere to know more about Viddyoze.
We already created a Viddyoze review to understand this video editor in a better way. Also, in this Viddyoze review, you'll know about the features of "Viddyoze", its pricing plans, and the free bonuses you'll get with it.
Viddyoze As Your Business Help
Viddyoze is a web-based 3D animation software developed by Jamie Garside, Joey Xoto, and David Chamberlain. The first version of Viddyoze was created in September 2015 named Viddyoze 1.0. And, just after the launch, it broke multiple sales records.
After Viddyoze 1.0, they launched Viddyoze 2.0 (2016), Viddyoze Live Action (2017) and Viddyoze 3.0 (2019). In between this explosive growth, Viddyoze introduced a couple of advanced features for its users. For example, responsive templates, new transition effects, real-life animations, Social media call to actions, and a new enhanced interface.
The one thing I most liked about the Viddyoze is that it is entirely a cloud-based system. Also, it uses its server for rendering. So, you will not need particular hardware to run it perfectly.
As Viddyoze is cloud-based software, you don't have to go through any installation process. Just log in to the website, create an amazing animated video, and download it in MP4, or a GIF file.
Moreover, it allows you to create a breathtaking Youtube intro within just 3 clicks. And, if you're a Youtuber, video marketer, or freelance video editor, it is a must-have tool for you.
Viddyoze Features
This Viddyoze review would be a huge list if we'll try to know all the features and benefits of it. You know Trustpilot Reviews are not a lie, it has 4.4/5 stars to random software. Also, these ratings are given by 800+ Viddyoze users who're truly satisfied with it. And Truepilot isn't the only high DA website that gave a 4/5 to Viddyoze.
Here're some of the awesome Viddyoze features:
100% cloud-based product: You don't need to download and install additional software to use Viddyoze. Just visit Viddyoze.com/login. And fill in the Email and password you got after purchasing Viddyoze.
Pre-made animations: Viddyoze gives you a huge library of pre-made templates with hundreds of premium quality designs.
Export multiple video formats at once: Viddyoze supports a project to export in multiple video formats. So you can use a single video to upload it on various platforms.
Beautiful transitions and movie filters: Viddyoze provides you 170+ Slick transitions and dozens of creative movie filters. You can use them to convert your lifeless videos to interesting ones.
Custom-built audio tracks: Use your music to give a desirable vibe to your videos.
Professional-looking watermarks: Save your videos from being stolen by adding your watermark branding to it.
Complete work from anywhere: Viddyoze supports every major device such as Mobile, Laptop, PC, or tablet. So you start and finish your work from anywhere with it.
A Supportive Environment: Viddyoze team will support you 24/7 whenever you are stuck somewhere. It comes to you with a fast response of 1 business day.
Unlimited usage rights: In Viddyoze whenever you export a video, you'll get a usage right of it. So no one can use your exported video without your permission.
Video Scheduling: You can use Video scheduling features to automate your video creation process or to do multitasking.
Support Multiple Font types: Viddyoze features multiple fonts that you can use to unleash your creativity.
Background Removal Tool: Remove the unnecessary background details from your image with just one click.
Import Stock Photos: Viddyoze supports integration with major websites Pixabay, Unsplash, and Pexels. So you can import thousands of stock photos from these websites to use in your next project.
Viddyoze Pros & Cons
You might have heard the quote "No one is perfect in the world." Well, somewhat this is kind of true. And if we talk about the Viddyoze, it's a wonderful video editor. Still, we found some pros and cons of it. In this Viddyoze review, I would like to share it with you, one by one.
Viddyoze Pros
100% cloud-based program, so no software setup needed
Beginner-friendly User interface
Works well with both major platforms- Windows and Mac
Provides you with good support 24/7
Easy to register to get started
170+ pre-made templates for all the major niches
Customize audio, images, and text accordingly
High Definition graphic animations
One-time payment pricing plan
You can sell your own created projects with your usage rights
One of the best video editors to create Youtube intros and outros easily
Provides you a 30-days money-back guarantee
Viddyoze Cons
Fewer customization features for advanced professional-level editing.
Some old templates might sound boring to you.
Doesn't come with a trial plan.
Takes time to render the project.
Can't see the preview of the final product while rendering.
Viddyoze Pricing Plans
Now, after reading this Viddyoze review, you'll be curious about its pricing. Still, having all the modern features, it won't cost you hundreds of dollars, in fact, you don't need a $100 note to buy it.
Viddyoze gives you 2 pricing categories to choose from:- Viddyoze Personal and Viddyoze Commercial.
Difference Between Personal & Commercial License
Viddyoze Personal only provides you 30 renders/per month but the Commercial will provide you unlimited numbers of renders. Also, the personal plan won't give any usage rights to your videos for commercial use but in the commercial plan, you have all the usage rights for your videos.
So, if you just want to use Viddyoze for fun, choose the personal plan. But if you want to be a professional, or already working with clients, then a Commercial plan is more beneficial to you. Now, let's roll the drums a bit before the announcement of its price. Viddyoze Personal plan generally costs you only $97 and the Viddyoze commercial has a price tag of $127.

But here is a catch!
On some particular occasions, the company announces special discount offers to its new users. And, if you're reading this post in November 2020, you're lucky enough. Right now, Viddyoze is giving you a lifetime license for only $67.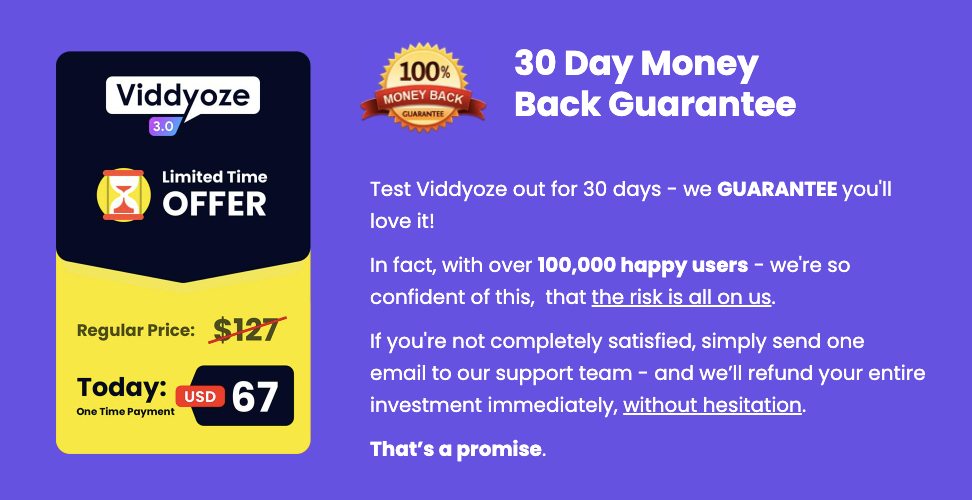 Viddyoze Bonuses
But wait, here is a little more for you.
"You have to pay that amount only for once."
Yes, you can read the above sentence again. In short, choose a plan, pay that amount and the software is yours, for a lifetime. That's it. No need to save money to pay for any monthly subscription plan.
You can check out the Viddyoze plan. If you find them expensive, worry now. We've collected some exclusive viddyoze coupon codes for an affordable purchase.
Moreover, Viddyoze also offers two growth hack blueprints: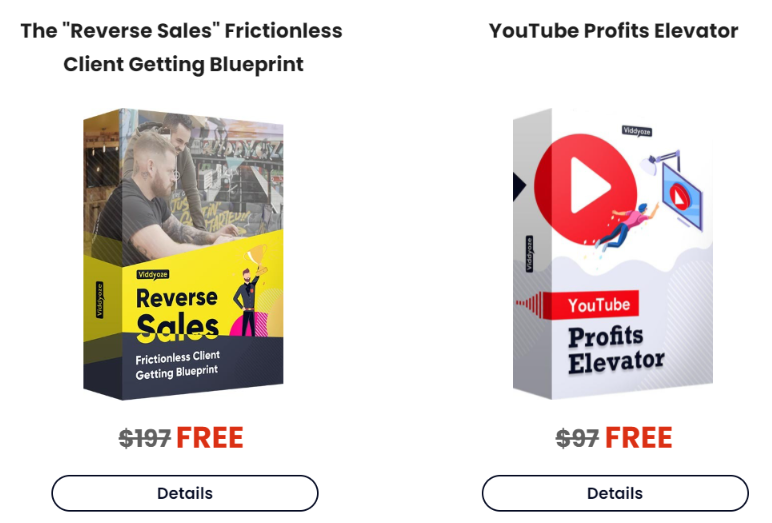 Reverse Sales blueprint helps you to get the high ticket leads/clients. Also, you can improve your Youtube revenue by following the YouTube Profit Elevator.
Now the price of both the blueprints is a little costly which is $294. It's 3x the price of the commercial plan. But Viddyoze is giving you both the blueprints for free. If you're an online marketer, a video editor, or launching a startup, Viddyoze is a necessity for you. And this deal could be a jam-packed steal deal for you.
Although I don't know when they will return to their previous pricing plans, even without the bonuses. Sadly, it might be the second, you're reading this sentence. So it's a win-lose situation and the decision is yours.
Why Should You Buy Viddyoze?
A catchy video easily grabs one's attention. And, with features like movie filters, animations, and transition in Viddyoze allows you to create that catchy video. According to me, if you're a beginner in video marketing, Viddyoze is a must-have product for you. Moreover, Viddyoze is mainly focused on beginner video editors. You can create a well-engaged video at the very first try with it. Also, you can create a lower third, social media CTA, and YouTube intros/outros within a few seconds.
Further, the one-time payment offer of $97 is very low as compared to other video editors. So you don't have to worry about your budget too. And, you can consider the free bonuses as a cherry on the top.
In short, Viddyoze is a great option for you:
If you're a newbie to video editing/marketing.
You want to buy a professional video editor on a low budget.
If you want to create professional-looking content.
You want to save time while producing professional video content.
If you want professional team support for 24/7.
You work remotely most of the time.
You're looking for a mobile-friendly video editor.
Your PC/Laptop has low-end system requirements to run a professional video editor.
You love to get freebies whenever you buy a product.
Why You Should NOT Buy Viddyoze?
No doubt, Viddyoze is a great product for newbies as well as video editors/marketers with a low budget. But everything has its advantages and disadvantages. I've noticed some disadvantages in Viddyoze which make it a not-so worthy option for some people.
Here are a few reasons to not buy Viddyoze:
It takes more time to render the final project than other offline programs.
You can't create or change a specific animation from scratch to give it a desirable look.
It might not be suitable for some advanced users.
Some features and templates may seem too basic for professionals.
It doesn't come with a trial plan.
FAQs
1. Can I use Viddyoze for free?
Well, this is the question most people will ask after reading this Viddyoze review. The short answer to this question is no.
But it comes with a budget-friendly lifetime deal of $97. So you pay once to create unlimited videos with your usage rights.
2. What if I don't like Viddyoze?
Viddyoze comes with a 30-days money back guarantee. And, if you didn't find it as you expect, you can request a refund within 30 days of purchase.
For more information you can also visit Viddyoze official FAQ page.
3. What kind of templates Viddyoze supports?
Viddyoze provides you with a wide range of templates for different businesses. Meanwhile, you can easily find templates for popular niches such as Food, music and Real estate. 
Moreover, Viddyoze also offers a template subscription club to its users. You can access 1200+ premium templates by paying $37/month. For more details you can visit Viddyoze official template club's page.
4. I never did editing before. Should I buy Viddyoze?
As I told in this Viddyoze review that it's a beginner friendly tool, you can definitely go for it. Moreover, there are lots of free tutorials available on the internet. And, you can easily get started with them.
Viddyoze has a YouTube channel where they teach you how to create incredible pieces of video content. 
Further, you can also join the Viddyoze academy to learn advanced video creation techniques. This academy consists of 170+ tutorial videos with more than 100+ hours. And, it costs you around $997 for once which is quite expensive. However, if you're damn serious about your Video marketing/editing career, you can consider it as an option. Otherwise, it's not a necessity.
5. Why the price is higher as compared to the price on your sales page?
In some countries, you'll see a higher price than the price I've mentioned. This is because of the tax law of your country. If you're living in a tax-paying country, you've to pay tax on the purchase of Viddyoze. After addition of tax, you'll see the final product price.
Also, please make sure to enter the correct location while making a transaction. Plus, don't forget to add the registered VAT number, while checkout.
Conclusion
So this was the Viddyoze review. And, I hope this review helps you to decide- should you go for it or not? Honestly, in this Viddyoze review, I just cover and uncover all the points of Viddyoze.
Moreover, I advise you to follow these three steps to find the perfect product:
First make a checklist of all your business requirements. For example, lower thirds, intros, outros, budget, simple UI etc.
After that filter out the extra products to make a top 3 list of products you can buy.
Later, choose the product which meets your business requirements most.
That's the practical checklist I work for almost every time. And I guess it would help you too. So, that was it for today guys. I hope this Viddyoze review will help you to find the ideal video editor for you. And, if it did, let's know in the comments. Also, share it with your friends who are new in video editing/marketing.