How to Create Buy One Get One Free Coupon in WooCommerce? (Guide)
According to a study, 46.8% of consumers intend to purchase under the BOGO scheme. Famous author Dan Ariely mentioned in his book that "We often pay too much when we pay nothing." Affiliate marketing businesses and eCommerce website owners work hard to grab eyeballs on their offers. Offering discount coupons is one of the strategies that help users make purchases at affordable rates. Creating a Buy One and Get One (BOGO) free coupon is a plus one and are easily available on WooCommerce platforms. No matter how many new marketing methods have evolved today. But the buy one and get one free approach is always the best. Do you also plan to use the BOGO scheme to boost your online store's sales? If so, walk with me through this guide to know how to create Buy One Get One Free coupon in WooCommerce.
How Can BOGO Benefits Improve Your Sales?
Buy one, get one free is a traditional discount technique that motivates customers to buy more. Big brands like Chipotle and TOMS have seen a huge boost in sales with BOGO. Using BOGO, digital stores can uplift their sales in several ways.
Clearing Off Inventory
Creating buy one get one free coupon can help stores clear off their unpopular inventory. BOGO is the perfect tool for fashion brands to sell off-season products before adding a new inventory.
Suppose you were making $10 after selling a commodity that costs you $2.5. In that case, you can offer two of them for $10 and make a $5 profit. And importantly, you have cleared more off-season products from your shelves.
Customer Magnet
BOGO is a customer magnet because the word "free" is sufficient to attract buyers. Professor Priti Salvi of S. V. Institute of Management, Kadi, found that customers participate more in BOGO because they get a product for free. Thus, creating buy one get one scheme is the best for new stores to attract more customers.
Cheaper Marketing Method
BOGO doesn't require much marketing effort. Word of mouth or simply social media promotions would do the job. When a person gets 2 products at one product's cost, they will tell their friends and friends of friends. In addition, BOGO promotions cost less than PPC ads or social media marketing. In a way, you are not spending anything on BOGO. You are simply lowering your profits, so nothing goes out of your pockets.
Repeat Purchase
You can send the buy one, get one free deal emails to your previous customers and motivate them to purchase again. The BOGO scheme is a simple technique to retain old customers and acquire new ones.
How to Create Buy One Get One Free Coupon?
Advanced Coupons is the plugin that you need to create a buy one and get one coupon in WooCommerce. The plugin lets you create BOGO deals with single products, product groups, or even a whole product category.
Some of the best Advanced Coupons features are:
Generate coupons that automatically add free products to the cart
Reward coupons for customers with loyalty program points
Configure cart conditions, subtotal amount, and other advanced conditions
Create gift cards so your customers can purchase store credit for gifting purposes
Auto-add a coupon when cart conditions match
Design better shipping deals than just free shipping, etc.
The Advanced Coupon plugin is a premium tool. It has a three-tier pricing structure — Growth for $119/year, Plus for $199/year, and Business for $299. There is also a popular WooCommerce plugin available for $238/year.
After selecting your plan, you need to install and activate it on your WordPress site. Simply go to Plugins > Add New > Advanced Coupons plugin.
Up next, enter the license key that you can find under your purchase on the Advanced Coupons website.
Create Buy One Get One Free Coupon Using Advanced Coupons
Go to WooCommerce > Coupons page > Add Coupon button to create your BOGO offer.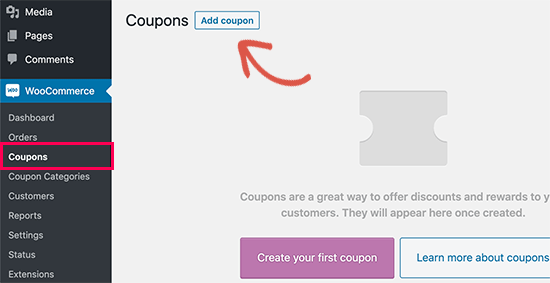 Provide a title for your coupon on the next screen. Customers will use this coupon to enter their details to redeem the deal. Thus, choose a catchy and relevant title for your coupon.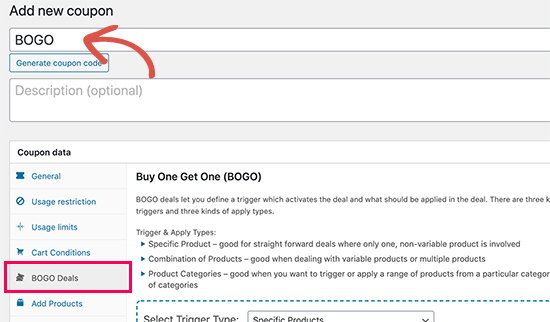 You will notice the plugin will automatically generate a coupon code below the title. Unfortunately, the coupon code will contain random letters and numbers that make non-sense. Thus, the code is hard to remember.
Therefore, you should customize your coupon code so that it's easy to remember for your customers.
After that, go to the Coupon Data section. Select the type of coupon deal you want to create. Switch to the BOGO Deals tab.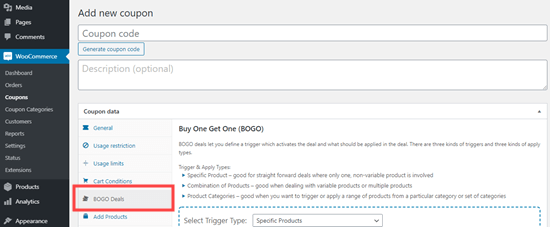 Using different Advanced Coupons specific triggers, you can create various BOGO deals. The triggers activate the deal and determine which product is applicable.
Here are the main three triggers that you can set:
Specific Product is a simple deal on a single product.
Combination of products when you have product variations or deals applicable on multiple products.
Product Categories to run sales on a wide range of products from a category or multiple categories.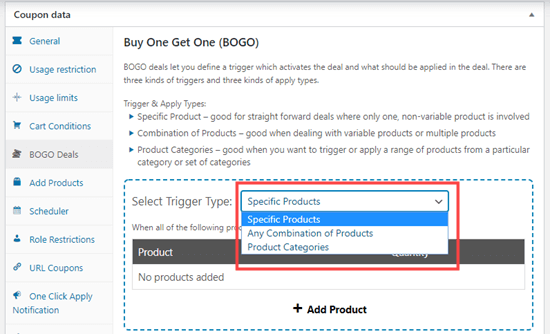 After selecting the trigger type, pick what product can trigger the deal. Simply click on the Add Product button and select the products you want to add.
You can also add more than one product. For example, a customer might need to buy two products under the footwear category to get the 3rd item for free.
You can create complex BOGO deals with the plugin. For instance, you can create a BOGO coupon where the second product is 50% discontinued instead of free.
In addition, you include products from multiple categories in a deal. For example, when a customer buys footwear, they will get one t-shirt for free and 50% off on sunglasses. You can customize several lucrative deals using specific triggers.
However, to create discounted BOGO coupons than free, you have to expand the Price/Discount tab. You can offer a percentage or a fixed discount.

Under Additional Settings, select whether you want to create a one-time deal or a recurring one.
Suppose you have created a buy one t-shirt and get two for a free coupon. But you want to clear t-shirt stock faster. So, you can make the offer available on multiple purchases. For example, customers can buy six and get three for free.
You can also add a notice that customers will see they trigger the deal. This is a button that customers can use to view the deal.
Apply Buy One Get One Free Coupon Using Advanced Coupons
Customers can simply add a product to their cart, apply the BOGO coupon code and buy it.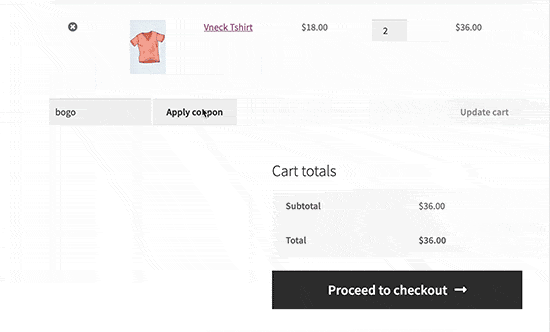 The code will generate the invoice based on your selected coupon settings. Also, the BOGO code will not work if the buyer has selected the wrong products.
Once you have created BOGO offer, there are very high chances that your sales will increase multifold. As there are a lot of orders coming into your website it's important to have a proper structure in place which will help you in managing these orders. Check out our guide on how to manage orders in WooCommerce to avoid chaos and mishaps.
How to Promote Your BOGO Deal in WooCommerce?
After creating the buy one and get one free coupon, you have to promote your deal so more people can leverage it.
OptinMonster is the best plugin that you can use to promote your BOGO deal. It is the perfect tool to convert your website visitors into your paying customers. Check out our latest guide on how to install OptinMonster on your WordPress website for detailed information.
In addition, it comes with popup options where you can display your coupon codes. Using the smart page targeting features, you can display the coupon on specific pages or your entire website. You can also use the exit-intent popup to stop your customers on the page.
Besides this, the OptinMonster plugin allows you to promote BOGO deals using:
Floating bars
Inline optins
Countdown timers
Slide-in popups, etc.
OptinMonster is also a paid plugin. It is available in four price plans — Basic for $14/month, Plus for $30/month, Pro for $47/month, and Growth for $80/month. There is also a 14-day money-back guarantee.
Create Buy One Get One Free Coupon for Your Store
For eCommerce sites, BOGO deals are the best way to promote products and boost sales. Plus, the Advanced Coupons plugin has made it super easy to create BOGO coupons. In addition, the OptinMonster plugin has made it convenient to promote BOGO deals. Both these plugins are paid, but still, they cost less than other marketing campaigns like PPC ads or social media marketing.
So, I think WooCommerce store owners should give a short to BOGO marketing technique. The good thing is that both plugins have a 14-day money-back guarantee. So, you can easily get your money back if you don't BOGO working for you.