Detailed Guide on How to Install OptinMonster in WordPress
Do you want to increase the rate of conversion on your website? OptinMonster can help you with it. OptinMonster is one of the most used and popular lead generation plugins on WordPress. It is used by more than a million websites successfully across the globe. In this article, we will tell you why you should install OptinMonster. We'll also discuss the pricing of OptinMonster followed by a detailed guide on how to install OptinMonster in WordPress account.
Introduction
There are multiple paid and free WordPress plugins to help small business owners. Plugins that maintain the website without the help of any coder and help analyze user metrics without the help of an analyst.
OptinMonster is one such useful plugin to improve online conversions by leveraging insightful user data and metrics. Their main aim of using OptinMonster is to capture the audience's attention. It does that by helping your website in various technical ways, to lessen your burden. With the use of such innovative technology more creativity can be measured, resulting in the capturing of more visitors.
OptinMonster provides a variety of forms to convert your website visitors into customers. Smart Tags is the newest member of the OptinMonster family, and it generates dynamic text for on-site campaigns. It provides a variety of codes for adding informative text to your campaigns, such as: visitors' name or location, date or day, zip code, city, state, email addresses, and more.
You can also create custom Smart Tags by integrating your subscribers' emails. This opt-in also aids in the development of personalized marketing campaigns. To know more, check out our guide on how to use OptinMonster SmartTags.
Earlier OptinMonster was allowed to be used by WordPress accounts. But, because of the huge demand, it was later converted into a stand-alone application. This means that now not only the WordPress users but OptinMonster can be used by other platform users as well, such as Shopify, BigCommerce etc.
Reasons to Install OptinMonster
Well, we tried to find out why should you install OptinMonster in your WordPress website. We were amazed with the results and responses of people who are using it. Finally, we brought down the reasons to typical business uses.
Beautiful Form Designs
OptinMonster enables you to create the stunning Optin forms which can increase your conversion rates. You can create various types of contact forms on WordPress such as floating bars, sidebar forms, welcome gates, coupon wheels and more.
Exit-Intent Technology
The exit-intent technology detects your visitor's behavior and then tries to persuade them with certain targeted campaigns. These targeted campaigns, therefore, take action and try to not let your users abandon your website. This technology is also available on your mobile phones.
Page-Level Targeting
The page-level targeting module enables you to target certain separate pages of your website. It also allows you to build a hyper-targeted email list. Suppose your page visitors are not happy, which resulted in fewer conversions, sales and leads.
The page-level targeting option, therefore, solves this problem. It allows you to use behavior personalization and help you to create page specific campaigns. Thus, generating more leads, sales, subscribers etc.
A/B Testing
This module enables you to increase your conversion rates as you won't need to guess on your works. You will be able to test the different headlines, content, layouts, styles etc. and figure out the best suitable one.
Onsite Personalization and Retargeting
You will be able to show popups to your new visitors, returning customers and current customers. This feature allows you to get the right offer in front of the right people. Many business strategies mix up the pop-ups with exit intent technology. This works.
Actionable Insights
With the help of OptinMonster, it is very easy to analyze the new clicks, views and the detailed analytics of your website. The data is also not technical and difficult to understand but simple and meaningful.
Mobile Campaigns
OptinMonster plugin can be run on your smartphones as well. It allows you to target the popups via devices. Thus, desktop and mobile users both, which help the users keep them on the page for a long period of time. With the intention to complete their activity such as form filling, registering etc.
Coupon Wheels
With the help of OptinMonster, you can make fun rewards for your users by making 'spin to win' wheels campaigns. Here's a detailed guide on how to use spin to win optin in WordPress. This makes your marketing campaign engaging and interactive leading to a chance of an increase in the conversion rates.
Integration with Email Marketing Software
OptinMonster is compatible with many marketing software such as Campaign Monitor, iContact, GetResponse, MailPoet, OntraPort, SendinBlue etc.
How to Install Optimonster in WordPress?
The Optinmonster plugin can also be downloaded for free from the WordPress plugin repository. But the use of OptinMonster requires an active paid subscription.
Now, below are the detailed steps on how to install OptinMonster on your WordPress account or on your website.
Now, there are two particular methods through which you can install Optinmonster.
Method 1: Directly in the code
Method 2: Using the plugin available on WordPress store
Let's check them out one by one and you can choose which one suits your website.
Method 1: How to Install OptinMonster on Non-WordPress Websites
According to this method, you first will need to register with the OptinMonster on their official website and choose a suitable plan accordingly.
You will be able to design your email boxes and adjust the display rules to create your first campaign.
Install the OptinMonster to your website.
Now, choose a campaign in the campaign builder (if you already have) or build a whole new campaign and select it.
Now, from within the campaign builder, click on the publish view button and then click on any website.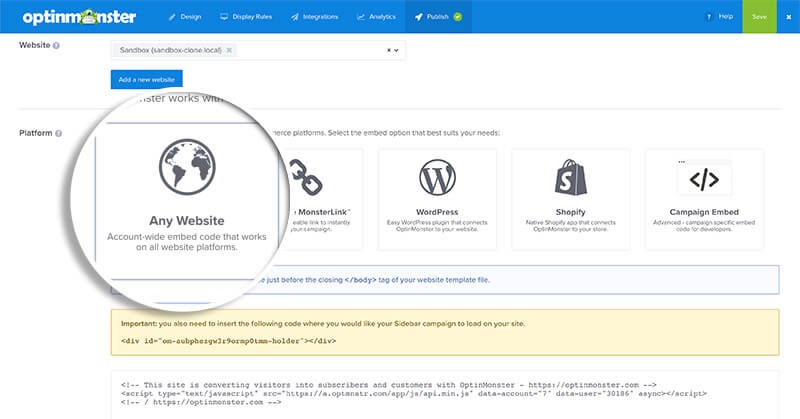 Copy the code that appears as shown below.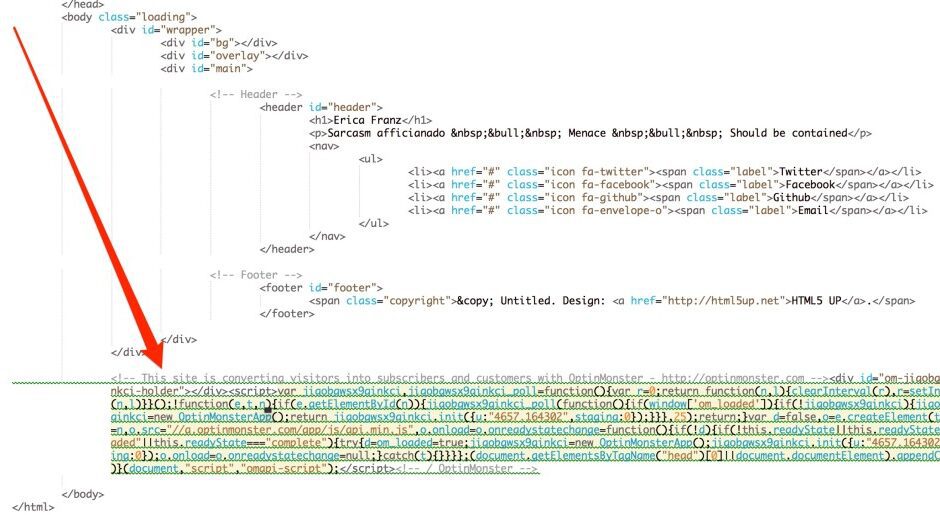 Lastly, paste that code in your website's template file right before </body> tag at the end.
Method 2: How to Install OptinMonster in WordPress Websites
First, go to your WordPress admin dashboard.
Now, go to plugins on the left sidebar and click on the add new button.
Search 'OptinMonster' in the search bar available.
As you are able to find OptinMonster, click on the install now button available in the plugin box.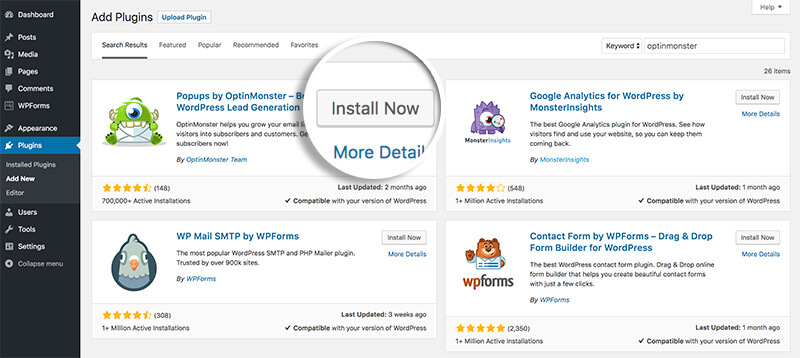 Then click on the activate button.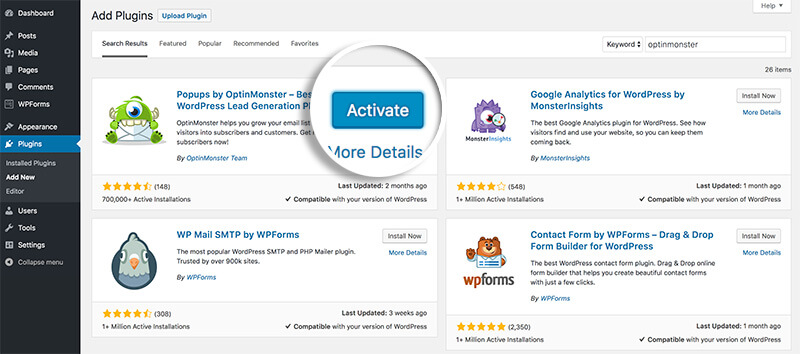 Now, click on the left-sidebar on the WordPress admin dashboard and go to the newly installed OptinMonster plugin.
You will now need to authenticate your OptinMonster account. You will, therefore, see a field named 'API Key'.

Now, click on the 'API Key' and click your name visible on the top right of the page.
Click on 'my account' and then select the API link available from the top menu.
If you are using this the very first time, then click on the big green button of 'create new key'.

As you have now completed the above steps, you will paste your API key in the given API field and click on 'Connect to OptinMonster'.

Now, by doing so the 'API Credentials', 'Support' and 'Campaigns' tabs will be available to you on WordPress. And you can start and create your own campaign.
OptinMonster Pricing
The price of OptinMonster starts at $9 per month. It is for a single website license with the availability of all the basic tools.
Their plus plans then start at $19 per month. In which the basic tools and features and also the advanced features involved such as Monsterlinks, inactivity sensor etc.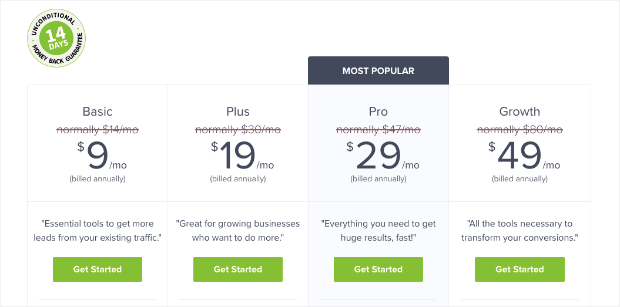 Conclusion
If you are serious about growing your online business, OptinMonster is the best option for you. It helps you to increase your sales as well as rates. You can, therefore, be able to create beautiful personalized relevant information for your visitors. Furthermore, you will also be able to look into the insights for improvements. Used by most of the websites nowadays, it is the best online plugin to help you out with.