How to Create Donation Forms For Non-Profit Organizations?
Whether you're a Nonprofit organization or you are just doing charity work, it is very important to have a donation forum to support your cause. Donation forms are one of the easiest ways to collect operational funds online for your organization. We do not pay key attention towards these forms but they play a very important role on every website's donation page. There are multiple form plugins on WordPress but WP Forms offers a wide variety of forms. Let us guide you step by step on how to create donation forms easily.
How to Create Donation Forms?
Now, these WordPress donation forms can be guided and given in the name of any nonprofit organization as well. Donation forms for potential donors to donate any certain amount, the forms take the hassle of collecting donations at any of your upcoming events or at fundraisers. You also can share the links of your forms online and can connect it with your social media platforms to connect and reach out to more and more people and can spread awareness.
It is easier to create donation forms in WordPress websites. If you don't have a WordPress website yet, make one quick. It only takes 5 minutes to create a WordPress website. The following are the steps and information needed to make the donation forms on WordPress for a nonprofit organization.
Below are the steps on how to create donation forms. Follow them and you will be all set to receive online donations.
Creating a Nonprofit Donation Form in WordPress
You need to first install any form making tool or application, we have taken the WPForms Plugin tool for the step guide.
By opening the application, you need to click on the ADD NEW button on the forms section to create a new form.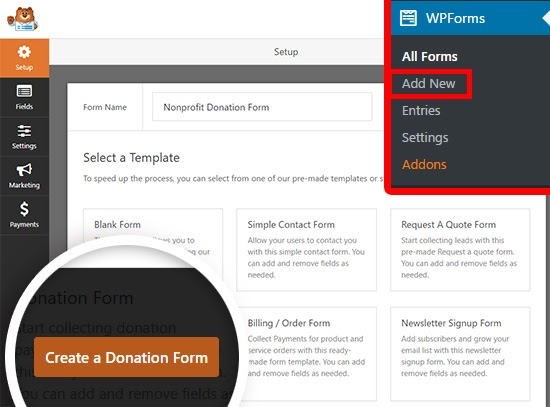 After clicking the button a new page will come on the screen in which you need to fill a name and click on the form type option.
As soon as you will click on the option, the DONATION FORM type will be seen. You need to click the template and you will see a DONATION Form page appearing on the screen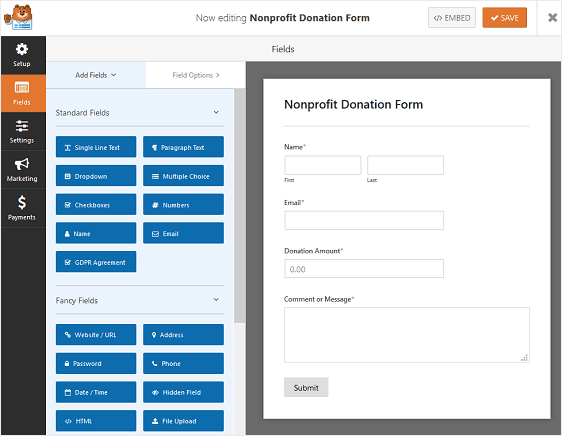 Fill in the Form Fields with Your Details
Your WordPress DONATION FORM will ask for the following fields: NAME, DONATION AMOUNT, EMAIL, COMMENT.
You can also add any other field name of your choice.
You need to go to the left-hand side of the page and need to click an option named as MULTIPLE ITEMS
After clicking, drag it towards the right-hand side of the page and then name the column as per your choice and need.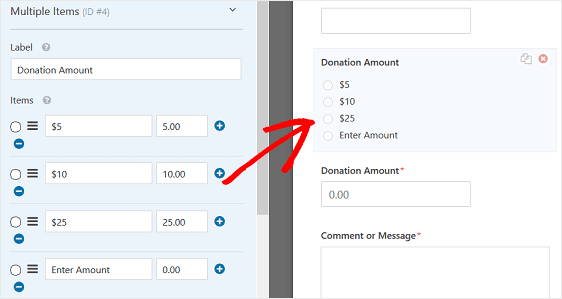 Construct Your Form in General Settings
Knowing how to create donation forms is easy but to receive the payment, you need to embed the form on your page. Follow the steps and receive payments smoothly.
After making the columns, you need to go to the SETTINGS option.
Click the option and a list will appear, you need to go to the GENERAL SETTINGS.
Click the GENERAL SETTINGS option and start filling your configurations.
The configurations will consist of your NAME and DESCRIPTION, SPAM PREVENTION, AJAX FORMS OPTIONS, GDPR ENHANCEMENT, etc.
Set them as per your choice and press SAVE.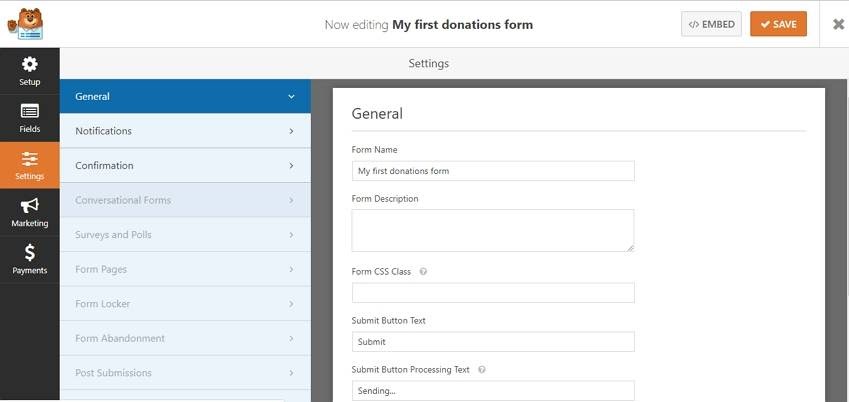 Construct Your Form Notifications
After saving your GENERAL information, go to the NOTIFICATION SETTINGS which you will find below the GENERAL option under the SETTINGS. (Notifications are very needed and important as it will show you the insights of your donors who will make their donations and visits to your site).
After clicking on the NOTIFICATIONS option, a dialog box will appear.
You need to click on the option of TURN ON to start your notification option.
After clicking it press SAVE.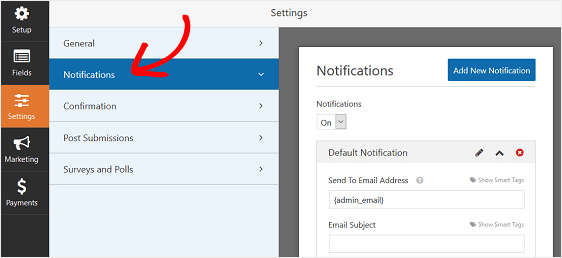 Construct Form Confirmation Messages
After saving the NOTIFICATION settings, go back to the SETTINGS option, and click on the CONFIRMATION option present.
A box will come in front of you in which you can write a customized message for your donors. ( Providing the visitors with your confirmation message will create a healthy and supportive rapport and also will notify you about the donation. By giving people a healthy confirmation message a good communication chain will be created).
After you have written the message press the SAVE button.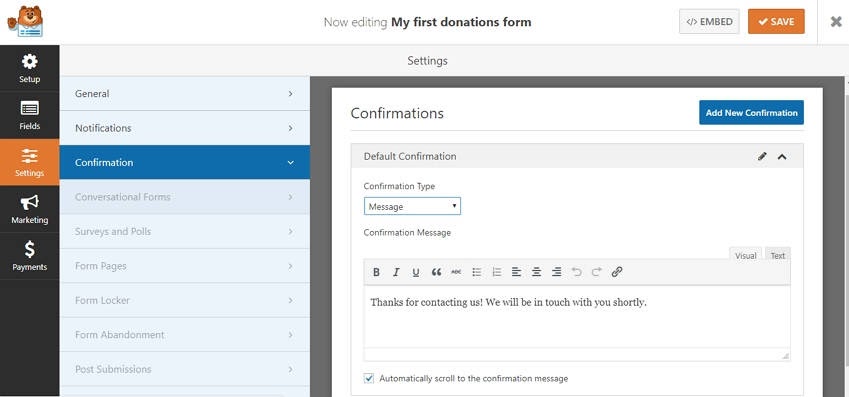 Construct the Form's Payment Status
After completion of the SETTINGS of the form, you need to install the correct payment method for the donors. It is necessary to know for organizations that create commercial forms to accept payments on their WordPress websites
You need to click on the PAYMENTS column under which you will find all the payment modes you have previously installed for your donors.
After clicking and selecting them, you need to fill the details of the Email ID linked with your Bank Account, the production model, and the payment type.
The payment type should be DONATION, URL, Preferred Shipping, and your final decision whether you want your donors to add a side note or comment with the method.
By filling all your details, press the SAVE button to confirm your form's payment status.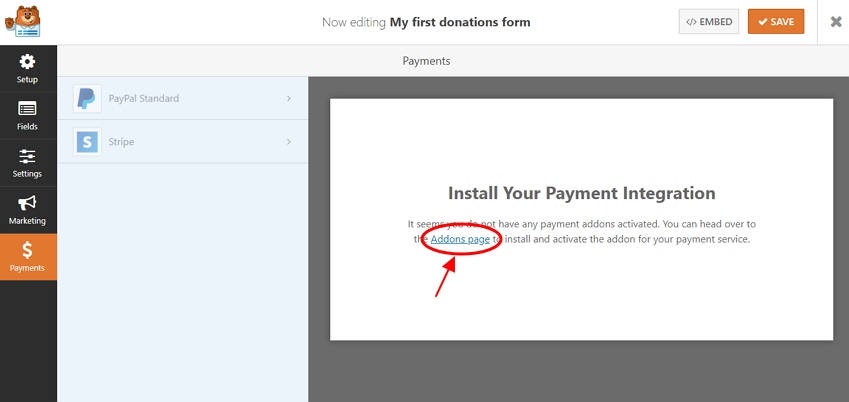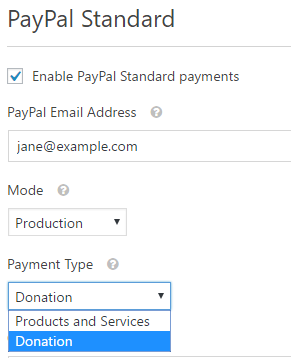 Adding the Form to the Website
Now that you know how to create donation forms, let's integrate into your website. Just follow the steps below:
Now, the final process would be adding your form to your website. ( By adding the form people will be able to directly fill in their personal details and will be able to donate amounts without any hassle).
You need to create a new page on your website for adding the form.
As soon as you create a new page, click on the ADD FORM button present.
You will select your form and publish that page on your website, thus linking your donation form with your website online.
The form will thus appear.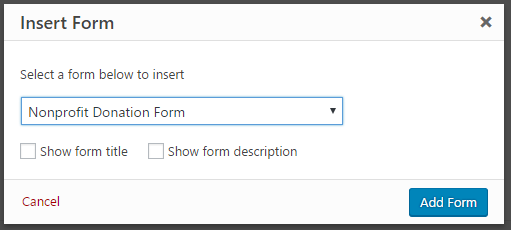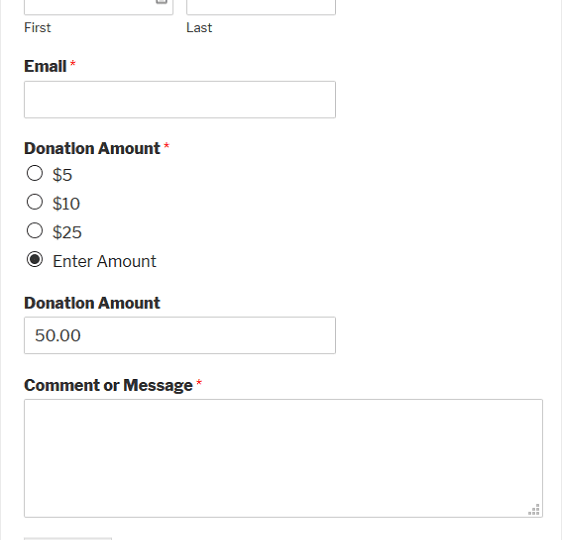 There, you go. All set to accept donations from wellwishers. WP Forms not only helps non-profit orgs but also commercial organizations by offering file upload forms and signature forms.
Bottomline
Therefore, it is very good for your organization to link your donation forms with your websites, as it gives more people to connect with your page and will also help in donating the amount very quickly without any hazard. In today's busy life, where people are not able to connect and meet physically, most of the things take place online. Thus the creation of these donation forms online can increase the rate of connectivity with your site and will also create awareness about the cause.