How to Create Exit-Intent Popups on Your WordPress Website?
Once a user bounces off your website, it's hard to get them back. You can't take the leave of your visitors lightly and should use all the tactics to retain them. You need to reduce cart abandonment for shopify and eCommerce and retain customers by learning how to create exit-intent popups on WordPress.
Popups are the best way to retain your bouncing users. It encourages them to take action on your site. With an exit-intent popup, you have a chance to recover 53% of abandoning visitors.
However, before collecting the personal information of website visitors through exit-intent popups, it's mandatory to get cookie consent. Cookies are small files that contain data from a website and are stored on a visitor's web browser. They contribute to a faster web browsing experience when the user returns. Businesses can improve user engagement by embedding cookie data in Google Analytics or HubSpot. To know more, check out our guide on how to create cookie consent popup on your WordPress.
With this guide, we will teach you how to easily create exit-intent popups on WordPress.
What Is Exit-Intent Technology?
Exit-intent technology is embedded in a webpage in the form of a popup window. OptinMonster's technology allows its users to capture more leads with the help of an interactive popup. This popup appears right before they leave your site.
You need to make sure the message in the popup is attractive with offers such as extra discount and free downloadable content.
How Does Exit-Intent Works on Desktops?
When a visitor's mouse moves towards the browser bar, exit-intent technology on desktop gets triggered. The sensitivity for visitors on desktop devices is related to the specific value present on the browser sides. If the cursor is a few pixels near your browser window, the campaign popup will automatically trigger. The pixel value setting is as follows:
High pixel value is of 150 PX
Medium pixel value is of 50 PX
Low pixel value is of 1 PX
How Does Exit-Intent Works on Mobiles?
The exit-intent technology determines mobile users behavior based on two actions – pressing the back button and scrolling up the page. The sensitivity of mobile users is high when the user clicks on the back button. It is low or medium when the user scrolls up the page.
How to Create Exit-Intent Popups on WordPress?
Here are a few things you should consider before starting how to create exit-intent popups on WordPress.
It is only available for OptinMonster Pro users. Luckily, we have exclusive optinmonster coupon codes with amazing discounts!
It can be used with any popup campaigns, including fullscreen, floating bar, lightbox, and slide-in and excluding in-line campaigns.
Now, let's learn how to improve your conversion rate by creating exit-intent popups. I'm assuming that you already have the OptinMonster campaign ready.
First things first. Check out our simple guide and follow the steps to install OptinMonster WordPress plugin.
Go to the Display Rule tab in the campaign builder.
Define Display Rules
Now, add rules as per your requirements and select the exit detected from the drop-down menu.
Choose The Devices
Choose the device that you want to target. You can select from desktop devices only, mobile devices only, or all device.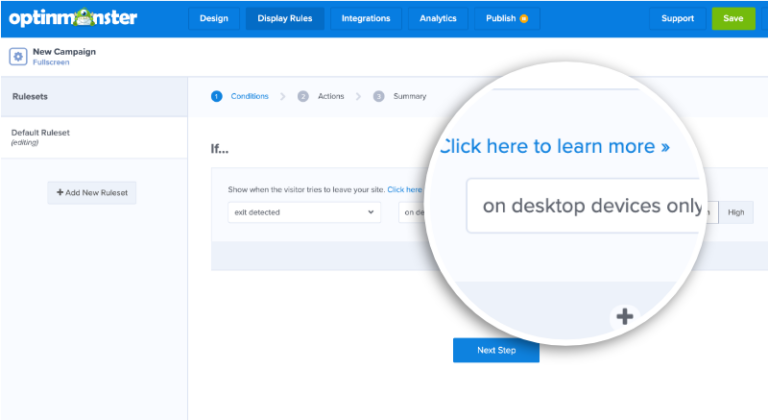 Define Sensitivity of Campaign
Next, you have to select sensitivity for your campaign. There are Low, Medium, and High sensitivity levels.

Your work is done. Save it and boost your conversion rate.
Key Elements of Exit-Intent Popup
You have to offer something to your users for them to take action such as provide an email address, go to a specific page, complete the purchase, etc.
The popup headline has to be clear, catchy, commanding, and problem-solving.
Below the headline, you should add a small description to make visitors to take action. The description should support the headline and give a strong message.
Insert visual elements to popup layout as they are quicker to interpret than text.
The display popups should be placed in the right location. You can display popups at any side of your screen.
From your headline to sub-copy, everything is a type of Call to Action. You should wrap up your popup with a straight and strong CTA button.
Benefits of Exit-Intent Popups
Exit-intent popups can make users stay for a moment and encourage them to reconsider their decision. You can convert your customers into buyers with a compelling marketing message.
Good advertising does wonders. The design and timing is a great recipe to succeed. Using OptinMonster popup plugin, you can seamlessly design result driven popups.
Today, you can't rely on one technology to increase your profits and conversions. An exit-intent technology can merge with new technologies to improve the ROI.
Popups can convert your visitors into subscribers as well. Your users won't think twice before subscribing to your newsletters if you offer them new deals or premium content. You can plan better and personalize marketing campaigns with the solid email subscribers list.
Create Exit-Intent Popups to Boom Lead-Generation
Exit-intent technology is an awesome way to convert the cart abandonments into leads. Today, this technology is benefiting many big brands by boosting their profits, traffic, and sales. You shouldn't think any longer and start your lead generation game with OptinMonster.
Oh, and don't forget to share your popup links in the comments. I might sign up for your newsletter or buy from your website.