How to Create Temporary Login on WordPress Website? (Best Guide)
There are many times when you need to provide someone access to your WordPress website. Check out our guide to learn how to add new users and authors to your WordPress.
Nevertheless, For example, you have hired a developer to work on your site or an author to publish a guest blog. But giving a stranger access to your admin panel is always risky. For this reason, WordPress lets you create temporary login credentials. The best thing about temporary login is that no login password is required. In addition, it will automatically delete after a period. This will reduce the hassle of managing and removing different user accounts. Learn how to create temporary login on WordPress for your website.
Benefits of Creating Temporary Login on WordPress
WordPress allows you to add multiple users to your website and define their roles. This way, you can only provide access to WordPress dashboard features that a person needs to perform the job.
Suppose you have hired content writers to post blogs on your website. In that case, you can give them the author roles so they can only access the features related to blog publishing. But when you have several user accounts, managing and removing the account can get complicated after work is done. In that case, a temporary login is a great option as it offers:
Hassle-free login access without password
The login link automatically expires after a significant period
Easy to manage multiple users on a dashboard
No need for manual account creation and management
Provides full control over users' activities on your site
How to Create Temporary Login on WordPress?
Your WordPress dashboard has options to get new plugins to support any website function. Enter your WordPress login url in the browser to get access to your dashboard. Check out our latest guide on how to find your WordPress login url to access your dashboard in several ways.
Setting up a temporary login account is code-less and simple in WordPress. First, you must install the Temporary Login Without Password plugin on your WordPress dashboard.
On a different note customizing your login page helps you keep your account more secure, makes your brand stand out from the herd and many more. We have made a detailed guide for you on how to customize WordPress login page, feel free to check it out
It is a robust plugin that creates secure and self-expiring WordPress login links. With this plugin, you can create a temporary account for someone and give them a special link to access your WordPress site without a username and password. Besides this, the plugin help to:
Set up unlimited temporary logins
Create a temporary login with specific user roles
Login by just clicking on the link without any password or username
Several account expiration options like one day, one week, one month, or even set a custom date
Redirect users to a specific page after login
Set a preferred language for temporary accounts
See the last logged-in time of a temporary user
In addition, check how many times a temporary user accessed your setup
Setup Plugin
Go to your WordPress dashboard > Plugin > Add New > Temporary Login Without Password > Install > Activate.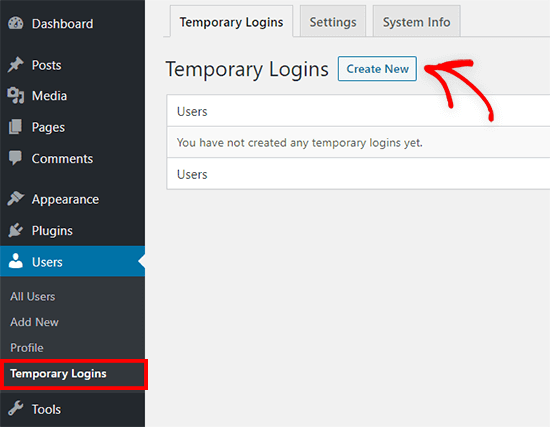 After activation, go to Users > Temporary Logins page > Click on the 'Create New' button to add a new temporary login account.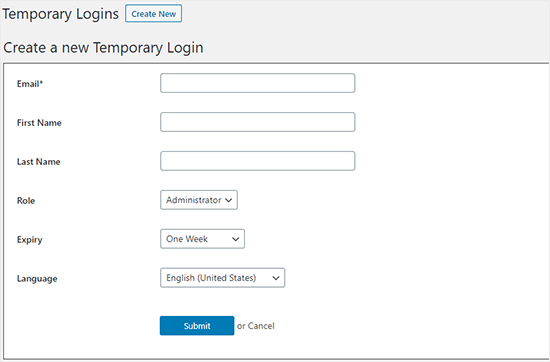 This will take you to a screen where you have to add details of the temporary account user. You must add an email address, first name, last name, and other details.
Next, you have to select the user role. WordPress provides 5 options to select the user role from, including:
Administrator roles allow users to fully manage your website, such as adding plugins, changing themes, deleting posts, etc.
Editor roles give full access to your content-related functions like editing, posting, etc.
Authors can write, edit, and publish their posts.
Contributors can add new posts and edit their posts, but they cannot publish them.
Subscriber roles let users log in to their accounts and manage their profiles. This is mainly used in membership sites.
After selecting the user role, set the expiration duration. This will be the period after which the login links will automatically expire.
Lastly, select the language that the user will see on the WordPress dashboard. Now, click on the Submit button to complete the process.
You can now see a success message and URL that you can share with anyone to log in to the temporary account. Click on the 'Click to Copy' button to copy the URL and share it with anyone.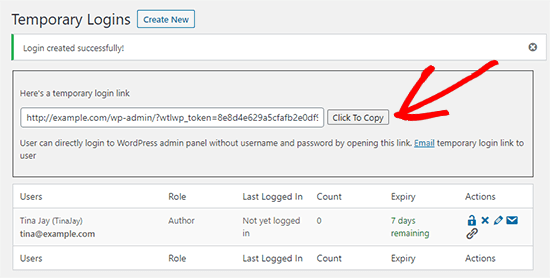 How to Manage Temporary Logins?
Using the Temporary Login Without Password, you can easily manage your temporary logins. Just go to the Users > Temporary Logins page, and you will see all the temporary logins you have created on your website.

Besides each temporary login, you can see the user's name and email address. In addition, you can also find information like the last login time, the account expiration time, users' roles, and other details. This will allow you to manage and control your temporary login with a click.
Once the temporary account is deleted, all the modifications and posts created by the temporary account holder will display under the administrator role. This way, you can change or revoke actions taken by temporary account users at any time.
How to Delete Temporary Logins on WordPress?
The best thing about temporary logins is that they automatically delete once the expiration period is up. However, sometimes you might need to delete temporary logins before the expiry date.
For instance, the user's work is completed before expected, or you are unhappy with the work and want to replace the user. In any case, it is simple to delete the temporary login before the expiry time.
Login to your WordPress admin panel and go to Users > All Users. Simply hover on the user you want to delete and select the Delete option.
Conclusion
Creating temporary logins is beneficial when you don't want a user to work for a longer period on your website. In addition, if you allow people to post guest blogs on your website, temporary logins are helpful to give them access to certain pages and automatically delete their login.
The Temporary Login Without Password plugin has made it super easy to create and manage temporary logins. So, you can install this free plugin now and start creating temporary login on WordPress quickly.