How to Fix Broken Links in WordPress Using The Best Tools?
A report on user experience states that 88% of consumers do not return to a website after a bad experience. These bad experiences come from slow website speed, blurry images, no sitemap structure, broken links, and more. In this article, we'll focus on why broken links are bad for user experience and SEO rankings. Learn how to fix broken links in WordPress to have a better-structured website.
Why Are Broken Links Bad?
Broken links are dead links, as they no longer work. When users click on the broken link, they will likely see a page stating the page no longer exists.
This can happen due to several reasons:
The content is moved or archived
The page address has been changed
Typo errors in URL
Pages deleted from the website
Or the website is shut down
Broken links are common with external/outbound links, as you have no control over other sites. Also, they can go unnoticed for months.
Outbound linking is crucial for your SEO rankings. But when a link's broken, it can take down your search engine ranking instead of moving it up.
In addition, when users get error messages after clicking on links, it will ruin their experience. Thus, in every case, broken links are bad. So, you should learn to fix broken links in WordPress quickly.
How to Fix Broken Links in WordPress?
It is impossible to fix broken links in WordPress without proper tools. Unless you open every link on your website manually and check them, this process can take ages.
Therefore, I will suggest 5 best tools to fix broken links in WordPress faster:
Fix Broken Links in WordPress With Semrush
Semrush is the best SEO optimization tool. It helps to monitor the website's SEO ranking and overall health.
It also has a powerful site auditor that can crawl your website to find broken links and other common errors.
First, you have to set up your Semrush account. It is a paid tool — a Pro plan for $119.5 and a Guru plan for $229.95 per month. However, you can use a 7-day free trial to understand the tool.
After logging into your Semrush account, click on the Site Audit link.
On the Site Audit page, click on the New Site Audit button to add your website URL.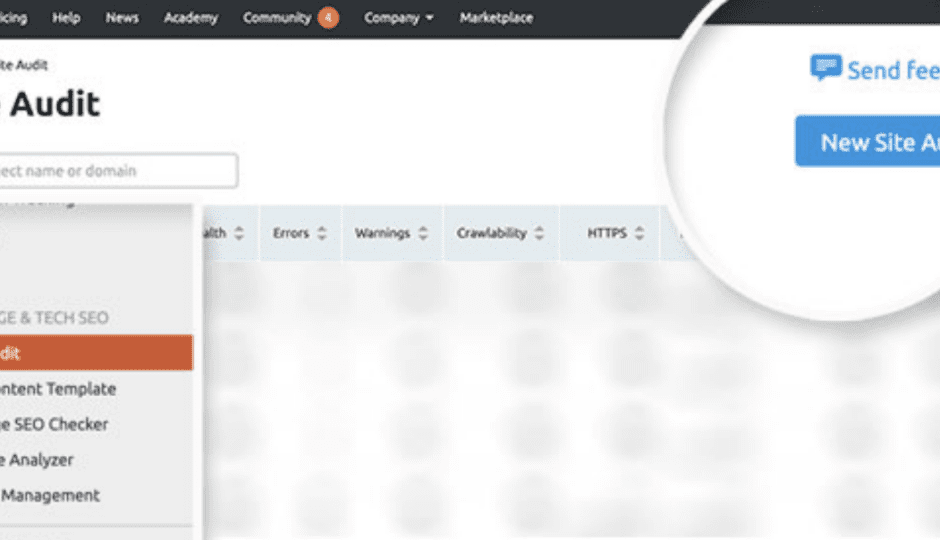 After that, you must configure site audit settings. For instance, you can select the number of pages to crawl and select the crawl source.
Click on the Start Crawling button after configuring settings.
It will take a few minutes for Semrush to crawl all your selected pages.
Once finished, click on your domain Under the Site Audit section to view your report.
To view broken links, click on the Broken Link under the report overview. You can also export the report to fix broken links on your site.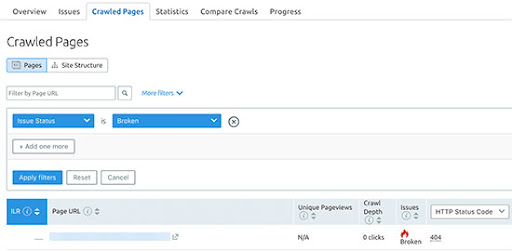 Fix Broken Links in WordPress With Ahrefs
Ahrefs is a perfect tool for SEO professionals to get a competitive edge. It offers SEO insights on your site and competitors.
Ahrefs is also useful for keyword research, site health monitoring, competition analysis, etc.
It is also a paid tool with a 7-day free trial. Ahrefs pricing plans are — Lite ($99), Standard ($199), Advanced ($399), and Enterprise ($999).
After selecting your plan, log in to your Ahrefs dashboard and enter your website domain under Site Explorer.
This tool will crawl your website to prepare reports. It will take a few minutes, depending on your website size.
Once crawling completes, you can see your website's overall health results. Go to the Pages > Best by Links menu and organize a report based on 404 status.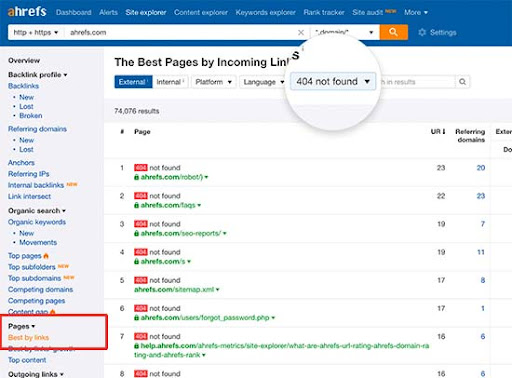 You can also export your report in CSV format to fix broken links.
Fix Broken Links in WordPress With MonsterInsights
MonsterInsights is the best WordPress analytics plugin. It can automatically track broken links or 404 errors in Google Analytics.
The plugin also has features like:
Page-level analytics
Affiliate links and ad tracking
A/B testing
Real-time stats, etc.
MonsterInsights is available under three different pricing plans — Plus ($199), Pro ($399), and Agency ($799). There you can also use our MonsterInsights coupon code.
Once MonsterInsights is active on your site, it will start tracking broken links and display a report in Google Analytics. However, it will take 24 hours before you can see data in Google Analytics.
Login to your Google Analytics accounts to view the report. After that, go to Behavior > Site Content > Content Drilldown report.
Next, enter 404.html in the search field, and Google Analytics will show all broken links on your website.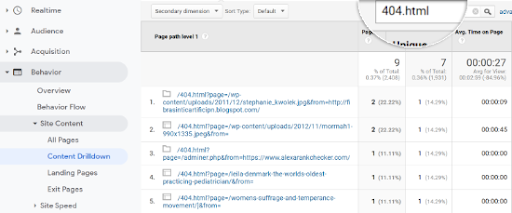 Fix Broken Links in WordPress With Google Search Console
Google Search Console is a free tool to help webmasters manage their search engine rankings. It can also notify about errors, including 404 broken link errors.
So, you have to set up your Google Search Console account if you don't already have one. After that, click on the Coverage link from the sidebar.
You can find 404 errors under the Error or Exclude tabs. Click on the 404 error to see all the broken links on your website.
After that, click on the download button to get a list of all 404 errors on your website.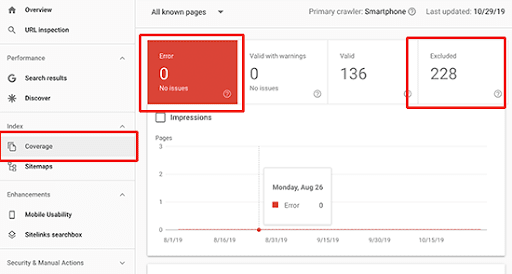 Fix Broken Links in WordPress With All in One SEO Plugin
I had saved the best tool for the last. All in One SEO is a powerful WordPress plugin that helps to find and fix broken links with a click.
AIOSEO is a dynamic SEO plugin with features like:
Rich snippets schema
Local SEO
Smart XML sitemaps
Social media integration
Video SEO sitemaps
Link assistant
SEO audit checklist
Redirection manager, etc.
AIOSEO is also a paid tool. Its basic plan starts from $99 per year.
With this tool, you don't have to manually fix broken links after receiving the website audit report. It comes with a redirection manager that can track 404 error pages and set 301 redirects.
However, this feature is only available on the AIOSEO Pro version. So, set up the AIOSEO Pro account for $399 per year.
Then, go to your WordPress admin dashboard > Plugins > Add New. Now, install and activate the AIOSEO plugin on your site.
Furthermore, visit All in One SEO > Redirect Page > Activate Redirects.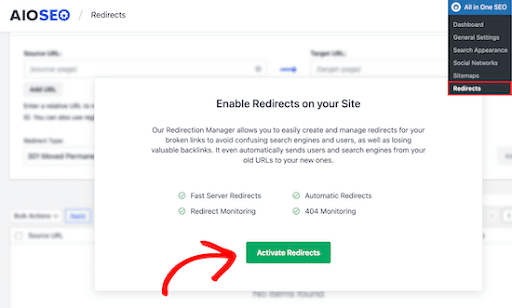 Navigate to the Settings tab under Redirects and enable 404 logs.
Under the Logs section, you can set a period to record your 404 logs using the dropdown menu. I suggest setting a period of no longer than one month to detect broken links early.
Now, click on the Save Changes button.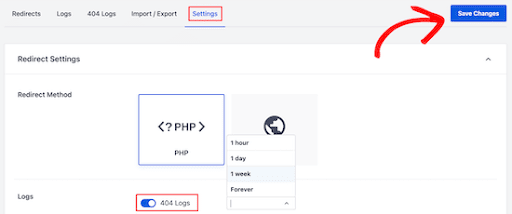 A 404 Logs tab will now appear in the Redirects sections. Clicking on it will show a record of all 404 pages.
To fix 404 error pages, click on the Add Redirect button next to a broken link you want to fix. Simply enter the Target URL to redirect your visitors.
Also, select the Redirect Type from the dropdown menu, and click the Add Redirect button.
You can repeat the process to fix all broken links on your website.
Fix Broken Links in WordPress Now!
As you can see, it is not difficult to fix broken links in WordPress. All it requires is the right tool to fix 404 error pages.
I have already shared the top 5 WordPress to fix broken links that you can use based on your requirements. For instance, if you want a free tool, go for Google Search Console. For analytical purposes, get MonsterInsights and to boost your SEO ranking, get AIOSEO.
Now, you know the best tools, their prices, and features to fix broken links. So, let's improve user and SEO rankings now.