How to Reduce Bounce Rate For Your WordPress Website?
If we look at it by definition, a website's bounce rate is a measure of people leaving the website without moving to any additional pages. Bounce rate is referred to as a percentage of single-page sessions on your website and is a very strong indicator of how valuable, relevant, and engaging your website's content is. In this article, we discuss in-depth how to reduce bounce rate for your WordPress website.
High bounce rates can directly damage your site's conversions rates. It should be well accepted that, if your site visitors are leaving your site even before you have an opening to convert them into subscribers or customers, your business won't grow.
How to Check Your Website's Bounce Rate?
If you want to monitor your website's bounce rate, you will need to set up a Google Analytics Account (it can also be any other metrics system you are using. There you can find the bounce rate statistics right on the audience dashboard.
Note: The mean bounce rate for all websites fluctuates around 40.5%, whereas content-driven websites are rated slightly higher. The ultimate aim is to target the 50% mark and the lower, the better.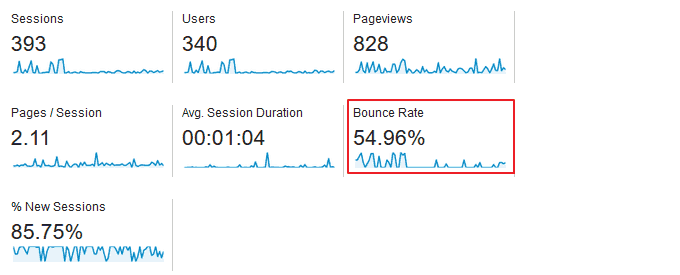 6 Proven Ways to Reduce Bounce Rate of Your Website
Reducing your bounce rate helps immensely in boosting your conversion rate. Once you get an idea of that conversion architecture, you can build up a clear content strategy that will grow your business. Here are some effective and tested ways to reduce bounce rate in your WordPress Website:
Improve Your Content's Readability
A major factor that might be leading to your target customers leaving your site is the difficult readability. User experience begins when your content is readable and legible. Specifically, large chunks of text scare readers away, so avoid them.
Check out these tips to help you format your content and make it more readable:
Utilize subheadings to throw more light on your topic.
Bold keywords a few times (don't overdo this).
Use bullet points to explain benefits or points worth noting.
Use plenty of charts, images, screenshots and quotes from industry experts, where appropriate.
Ask a lot of questions in your content, inviting your users to participate, instead of simply reading.
End your content with a subheading entitled "conclusion." This tells the reader to quickly read the last few words and take action. Make your conclusion actionable.
Enhance User Experience
Many sites have complicated navigation and hence website owners face a high bounce rate. Fortunately, there are a lot of efficient ways to improve your website's user experience and minimize the risk of losing visitors:
Be Mobile Friendly – With more people visiting your site via mobile devices than ever before, it is crucial your website be 100% responsive. Minimize scrolling and resizing by using a responsive WordPress theme or plugin. You can test your website's design using Google's Mobile Friendly Test or MobileTest.me.
Create Easy Navigation Points – Readers don't want to search around your site looking for how to explore more content. Have a functioning search bar, consider using a sticky navigation bar with clear menu items, and use sidebars to point visitors towards other content they may be interested in. Another way to enhance UX and navigation is by adding blogroll to your websites,
A blogroll is a list of links to your website's best-performing pages, blogs, or most recent articles. You can include any blog or website link that you want your users to visit in your blogroll. Thus increasing your website session durations. We have created a detailed guide on how to add blogroll to your WordPress website, feel free to check it out.
Make it easy for readers to see more – To lower your bounce rate you must get your site visitors to click on more than just one of your webpages. One way to do this is to internally link throughout your content. The idea behind this is that readers will be interested in what the link leads to, click on it, and visit a second page of yours thus lowering the bounce rate.
Include Contextual CTAs to Reduce Bounce Rate
If you want to reduce the bounce rate in your WordPress website, consider using call-to-actions (CTAs). These are a fantastic way of engaging your site visitors while cutting down your bounce rate at the same time.
What do CTAs do?
CTAs provoke a user to take some action based on the content provided by the webpage. For example, an e-commerce call-to-action, such as "Buy Now" or "Add to Cart ", could ask a user to purchase an item based on information in a sales copy on a webpage. Clicking the CTA could redirect users to another webpage to view their cart. Moreover, this navigation to another webpage is counted by analytics software as a "visit".
CTAs can be used effectively in many types of web pages. For instance, a CTA could direct readers to:
Fill out a contact form
Complete a survey
Complete a subscription
Purchase an item
Avoid Popups – Don't Disrupt The UX
Which website would you be more inclined to?
One with a popup on the landing page, or the website without a popup?
Were you aware of the fact that 70% of users say that they find irrelevant popups annoying?
Well, this won't change ever– plainly because most people hate popups. Therefore, among site owners and marketers, it's an intensely debated topic: whether or not to use popups.
We don't use popups, because they annoy users and lead to a higher bounce. We know that when a user visits a site and a popup disrupts their reading, they may decide to leave. Some marketers even use aggressive or even bullying language in their popups, which only makes users' immediate departure more likely.
On the other hand, popups work. There's no denying the fact that they can grow your email list quickly.
If that's the way you want to go, fine. But, if you want to build a long-term site that generates lots of organic visitors, consider limiting or totally avoiding pop-ups. Or, at a minimum, make them as unobtrusive and un-annoying as possible.
Improve Your Loading Speed
Slow websites are a mistake of the past and are hard to tolerate today where websites open in seconds. Your bounce rate can move even higher due to slow website loading speed. Slow websites can force your visitors to leave if a page takes over 3-3.5 seconds to load.
Test your website's loading speed by using GTmetrix and try to implement their suggestions.
WP Super Cache and W3 Total Cache are to name just a few that are the best plugins for the job. Getting a caching plugin for your WordPress website is also a great idea.
Optimize Your Traffic & Content
Traffic is a useful metric to develop website growth strategies. You need to keep checking your website traffic and optimize your web pages eventually. Check out how to check website traffic guide to know more about it in detail.
Before optimizing your blog to reduce your traffic's bounce rate, you first need to optimize your traffic and content. Here's a quick piece of advice – the traffic you drive to your blog could are usually interested in what you offer.
Moreover, one very effective change you can make is to optimize all of your titles (both for blog posts and web pages).
What help will that do?
It helps you enhance the quality of the traffic that comes from Google search(SERPs). Users searching a certain keyword will see that this is a bounce rate article for WordPress users, not just anyone. This might reduce the total number of visits, but it will increase the quality of the traffic. This, in turn, reduces the bounce rate. A simple change like this made across all of your content can have a huge positive effect.
Another prolific way of traffic optimization is to find out in Google Analytics which traffic sources are already grabbing engaged visitors for you (lowest bounce rate and highest page views per visit and avg. visit duration), and then capitalizing on that information. Overall, you should reach out to those sources and ask them to share your content or collaborate on an article. In other words, take advantage of the content you already have.
Reduce Bounce Rate of Your Website
We came through an overall understanding regarding how important a website's bounce rate is for achieving a more efficient site engagement, and for converting more site visitors into paying customers.
A lot of aspects contribute to reducing your website's bounce rate, but the above discussed 6 steps definitely cover the basics. Anyone owning a WordPress website can be capable of integrating these tips into their daily website tasks and will surely reap the benefit of a lower bounce rate quickly.