How to Protect Your Content Using MemberPress Plugin? (Guide)
If you have a membership website, premium or restricted content is the best way for you to gain new members. Premium content is also popular by the name "Gated Content". To convert your content into a premium one, you should know how to protect your content using MemberPress.
You can entice visitors with exclusive content and encourage them to take action on your site. This premium plugin can apply restriction rules to your entire site or a certain post to control user access. This will help you better strategies and boost your membership site revenue.
So, let's have a look at the content protection rules and how to use them.
Why Use Content Protection Rules?
Publishing free content is a great way to build a customer base and use SEO. But, when you want to earn money from your content, sharing free content is not such a good plan.
Rules to protect your content on MemberPress will restrict anyone to use it or copy it. You can also publish a mix of freemium or premium content to attract new readers. This way, you can encourage them to become paid members.
After launching the gifting add-on feature on MemberPress, gated content can certainly benefit the membership websites to promote their business through existing users.
For example, Medium is a perfect example of a premium content site here. To unpaid members, Medium only offers two content stories free per month. However, paid members can access unlimited content every month.
So, you can publish exclusive case studies, ebooks, and webinars for your paid members. All in all, it is an excellent business model to market your content and generate leads.
MemberPress offers better content protection rules than other LMS players in the market. We've done a comparative study between MemberPress and Teachable, which is an alternative to MemberPress. This study compares membership platforms based on features, pricing, customer support, usability, and more. Check out our exclusive guide on MemberPress courses vs teachable to learn which is better.
Different MemberPress Content Protection Rules
As you already know, MemberPress is a great WordPress membership plugin. With this, building membership websites on WordPress is a cakewalk. It can let you accept credit cards, sell online courses and control your content.
All this for $599 (Pro), $449 (Plus), and $279 (Basic) per year. Also, you will get a 14-day money-back guarantee and our exclusive coupons to redeem.
It's very simple to customize MemberPress content protection rules.
Go to the MemberPress > Rules > Content & Access section. Then, select the Protected Content dropdown menu.
Here you can restrict your content in many ways:
All content is an option to restrict your entire website content. You can add exceptions to this rule by entering a specific page URL in the Except field
Posts categorized and tagged allow you to protect entire content under a particular tag or category
A single post option helps to restrict an individual post or page
All posts will protect all your posts, but you can exempt some posts by specifying post IDs
Custom URLs allow you to protect a certain URL on your site. It is useful when you prefer to restrict ebooks or documents content
You can use a custom post type option to specify certain post types on your website
You can use any of these rule combinations to protect your content on the membership site. Although, some of the rules conflicts with each other, so make sure to check that.
How to Protect Your Content in MemberPress? (3 Protection Rules)
MemberPress has evolved rapidly adding new features. One of the coolest features launched is to send reminders through MemberPress if you're hosting an event. This cuts out the use of third-party email schedulers. To include the above-mentioned rules in your content, MemberPress offers three options:
Specific Member Rules
MemberPress allows you to make your content accessible to a certain membership tier, a member, or both.
This method enables you to maximize your revenue by upselling members. It motivates members to upgrade their membership to access more content.
It also lets specific users view your protected content regardless of their membership status. This helps when you want to give free access to certain people like your team.
Set Drips & Expirations
This method to protect your MemberPress content is useful when you want to tease your audience with a new offer or time-bound deal. It can help you boost your new signups.
Dripping content is available after a certain task is complete. For example, you can choose to provide access to a post or document once a user registers on your site and purchases a membership.
You can also drip partial content. That means non-members can see a snippet of a post, but they have to become a member to access the whole thing. You can specify the number of days, weeks, or months for which your content should be available.
For example, you can allow a user to access a particular page for one month following the registration.
Advanced Rules
There are some advanced rules while trying to protect your content on MemberPress.
You can use partial content codes to protect single paragraphs, photos, or widgets
Using the regex, you can protect particular directories containing the exclusive content on your site
How to Execute MemberPress Content Protection Rules?
You can execute different MemberPress content protection rules in many ways on your site. The basic steps to activate all rules are the same, no matter what you wish to achieve.
Once you have installed and activated the MemberPress plugin on your site, you can apply different rules as:
Protect All Content
Suppose you wish to protect all content available on your site for platinum members. To do so, go to MemberPress > Rules > Add New.

Move to "Protected Content" and select All Content Categorised from the dropdown menu and type 'platinum' in the field.

Specify the membership tier to which you want to give view permission under the "Access Conditions".
Next, to set up a drip function, head over to Drip/Expiration and check the Enable Drip box. Then, just enter when you wish to have content available and what action users have to take to view it.
Now, click on the Save Rule, and only platinum users will have access to your content.
Redirect Unauthorised Users
Next, it is important to consider what unauthorized users will see in the restricted areas.
By default, the plugin shows 'unauthorized' messages to unauthorized users. But you can use this opportunity to redirect unauthorized users to a specific page like registration.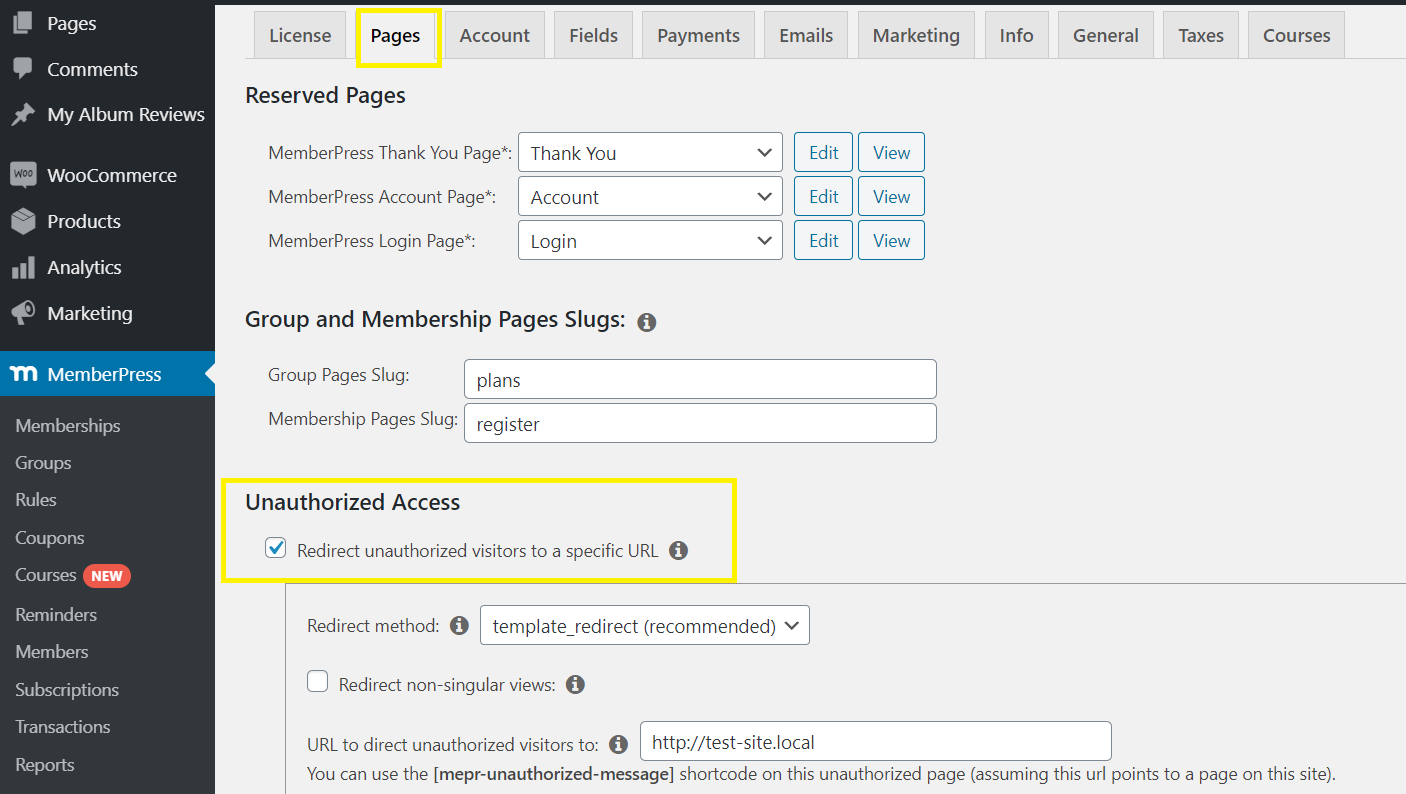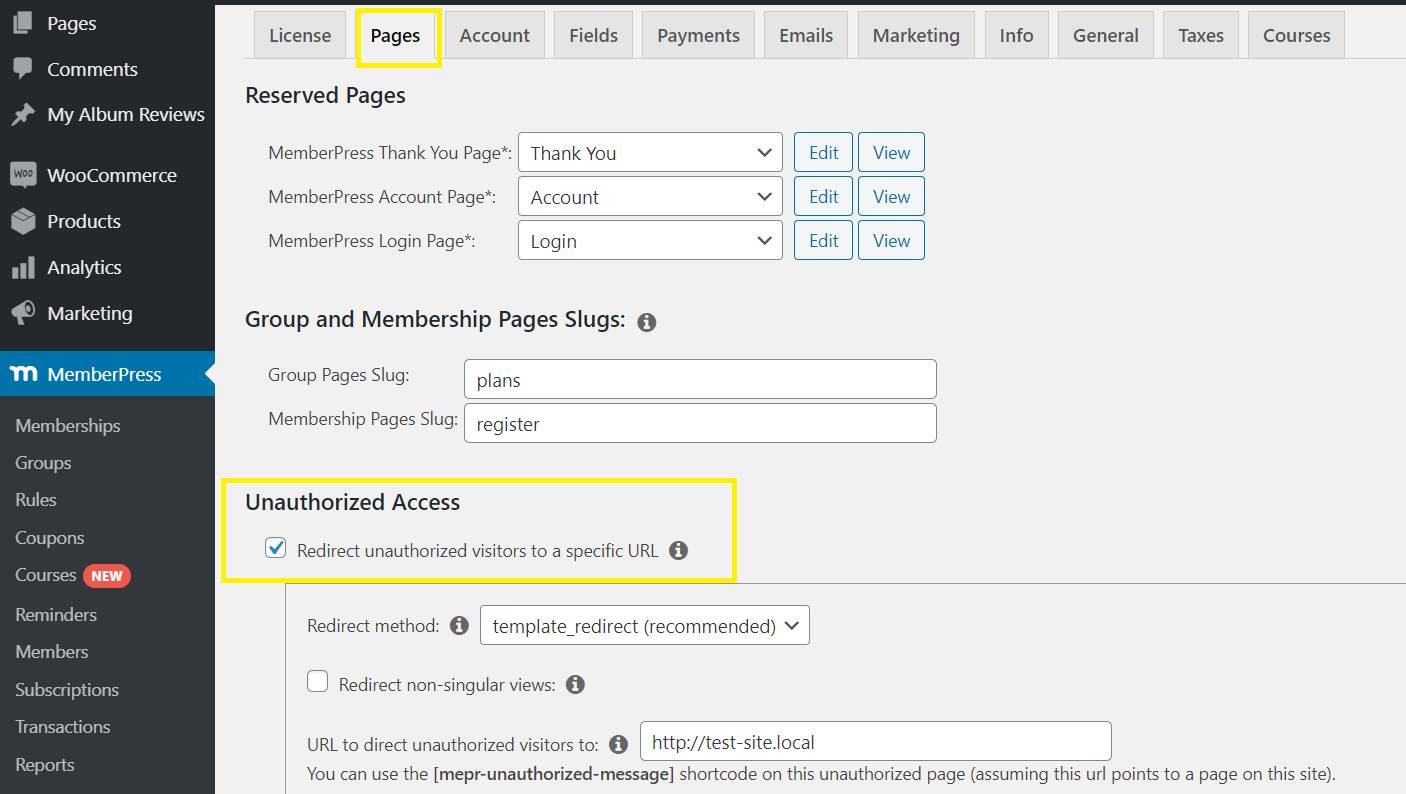 For this, go to MemberPress > Settings > Pages > Unauthorised Access. Now, check the Redirect unauthorized visitors to a specific URL box. After that, enter the specific page URL where you wish to send your unauthorized users.
Protect Your Content & Restrict
In this post, you have already learned about protecting premium content with MemberPress and how to apply them.
MemberPress content protection rules are very useful for its users for lead generation. You can motivate your potential members to become paid members with this option.
Additionally, it is very simple to apply content protection rules using MemberPress. You just have to upgrade your MemberPress plugin, and you can add content rules to your site with ease.
So, let's not waste time anymore and start publishing premium content today.