How to Save at Chewy? 11 Best Ways Save on Top Pet Products
Are you looking for a way to buy all the top quality pet products at affordable rates for your pet? Thanks to Chewy, you can now buy everything that your pet can ever want at affordable rates. In this guide, I will show you how to save at Chewy and create a pocket-friendly deal.
On Chewy, you can save a lot by pairing different deals together. From "Deal of the Day" to occasion festive offs, you have plenty of different ways to crack a meaty deal at Chewy. Also, get to know some of the best dog food brands online and how to save while shopping for them.
Why Shop From Chewy?
Chewy is a hub of more than 2000 pet brands. From your home, you can order everything that your pet wants. If you haven't ever ordered your pet supplies from Chewy, you should try today because –
Top Brands – All the top pet brands are available under one roof, including Blue Buffalo, Nutro, Natural Balance, Tidy Cats, and many other popular brands.
Supermarket for Pets – You can effortlessly order all the essential requirements from Chewy for your pets. From food items to toys, you can find every pet kind of products here.
Customer-centric Policy – Chewy has a 100% Unconditional Satisfaction Guaranteed Policy on every order. Thus, you can try new food or toy brands without any hesitation. Additionally, if you have any queries, Chewy experts are 24*7 available to help you.
Striking Deals – If you go through the Chewy website, you can easily pinpoint so many deals or discount offers. Throughout the year, Chewy offers highly lucrative and money-saving deals for its customers. That means if you play your cards perfectly, you can gain more than 50% off on the top pet brands at Chewy.
Another great reason to shop from Chewy is amazing discount on Chewy products. Plus, our collaboration with them has opened up opportunities to get better coupon codes on Chewy products. Just apply our chewy coupon codes and get amazing discounts on pet products such as pet food, pet supplies, chew toys, and more.
Save at Chewy (11 Tips)
Chewy has a variety of pet products ready to order, such as food, bedding, toys, medicines, and many more. One of the best things about this website is that you can buy the top brands at highly affordable rates. You just need to learn how to save at Chewy, and you can easily save tones. The easy tips to save at Chewy are –
Select Chewy Autoship Plan
When you are looking for a way to save money conveniently, you can use Chewy's auto-ship plan. If you place an order through Chewy's auto-ship feature, you will gain the following benefits instantly.
You can straightaway save up to 50% on your first auto-ship order.
Other ongoing benefits include – select your own order schedule, cancel or change without additional charges, 5% off on the future deliveries, and free access to chat with certified veterinarians.
With this program, you can save yourself from the hassle of ordering your pet's food or other accessories every month. You can set your delivery schedule, and your order will be delivered at your doorsteps with special Chewy offers on your given schedule.
For example, if you have a dog and cat at your home, you just have to once place an order for their monthly food items, and Chewy will automatically send your orders every month on the same date.
First Try Than Buy
Chewy highly encourages people to share their honest and real experiences with others. Thus, they have developed the blogger outreach program, in which you can receive sample products from Chewy for your pets. In return, you simply have to share your honest opinion on the products.
This way, you can get your pets to try new products for free. Additionally, you can help other people in making the right purchase decision through your unbiased reviews.
Grab Today's Deals
On Chewy, Today's Deals section is a golden opportunity to get hefty discount offers. Daily you can find new offers lined up there, and you just have to take advantage of them.
You have to open Chewy everyday to check out what they have in store for you. You can subscribe to their newsletter too for regular updates. This way, you will get all the daily deal details directly in your email.
Just Return It
This feature isn't directly related to monetary saving, but when you own a moody pet, an easy return policy is a blessing in disguise. When you are still in the phase where you are trying different food brands with your pet, you might have to try a few brands – before selecting the one that your pet actually adores.
This is not only the case with the food items but all other products. Now, if you have ordered a cute sweater for your dog – he might not wear it if it's uncomfortable. Sometimes, your pets can throw more tantrums than your three-year-old toddler. Thus, Chewy's easy 365 days return policy is highly beneficial as you can try new brands without any worry about your pet not liking it.
If you have ordered bedding for your cat and she doesn't use it even after trying for months, you can return it anytime within a year—no need to bound your money on something that your pet isn't ever going to use.
Let's Ship for Free
Chewy offers another way to save on their products through free shipping. If your order values over $49, you are eligible for free shipping. When you are ordering food for your large farm pet family, you can't even imagine how much shipping alone can cost you.
Unfortunately, Chewy doesn't offer international shipping. It is a US company, so only Vincent & Grenadines, Saint Kitts & Nevis, San Marino, Holy See, Niue, and US residents can get free shipping.
Use Manufacturer Coupons
On Chewy, you can find all the leading pet brand products. Thus, if you have received a certain manufacturer coupon, you can redeem it on Chewy's website. It will be easier for you to redeem coupons online rather than visiting brick-and-mortar stores, especially when you have to redeem coupons from different manufacturers.
Additionally, when you pair your manufacturer's discount with your Chewy's autoship and Today's Deal discounts. You can practically order at more than 50% off.
Imagine, if you have a 10% manufacturer discount and you find 20% Today's discount on the same manufacturer. On top, you are ordering through autoship for the first time; you will straightaway get 50% off. That means you can place your order at 80% off – now that is a hot deal. You are practically getting your pet's favorite brands for free.
Auto Fill Your Pet's Prescription
If your poor pet is suffering from a chronic condition, you need regular prescription fill up to keep him or her healthy. Since Chewy is a convenient pet store, you can also buy your pet's prescription from Chewy pharmacy. However, it might be a bit pricey business for some pet owners to buy expensive medicines every month.
Thus, you can use the Chewy auto fill pharmacy option to regularly treat your pet and earn a discount of up to 10%. It is similar to an autoship feature that you can set up for the food and other supplies. Through Chewy pharmacy, you can buy expensive pet medicines at affordable prices.
Use Chewy's 100% Satisfaction Guarantee Policy
"Lost orders," "Wrong deliveries," and "Delayed deliveries" are a couple of problems that online shoppers have to face often. Buyers lose so much money on these wrong or delayed orders that they start hating online shopping. And, on the top, customer services won't even help.
Fortunately, if you are buying from Chewy, you don't have to worry about all these problems. Chewy has a 100% satisfaction guarantee policy, which means they value their customers more than profits. Their customer service is available 24*7, and they won't rest unless you are fully satisfied. This policy can help you save money on chewy products.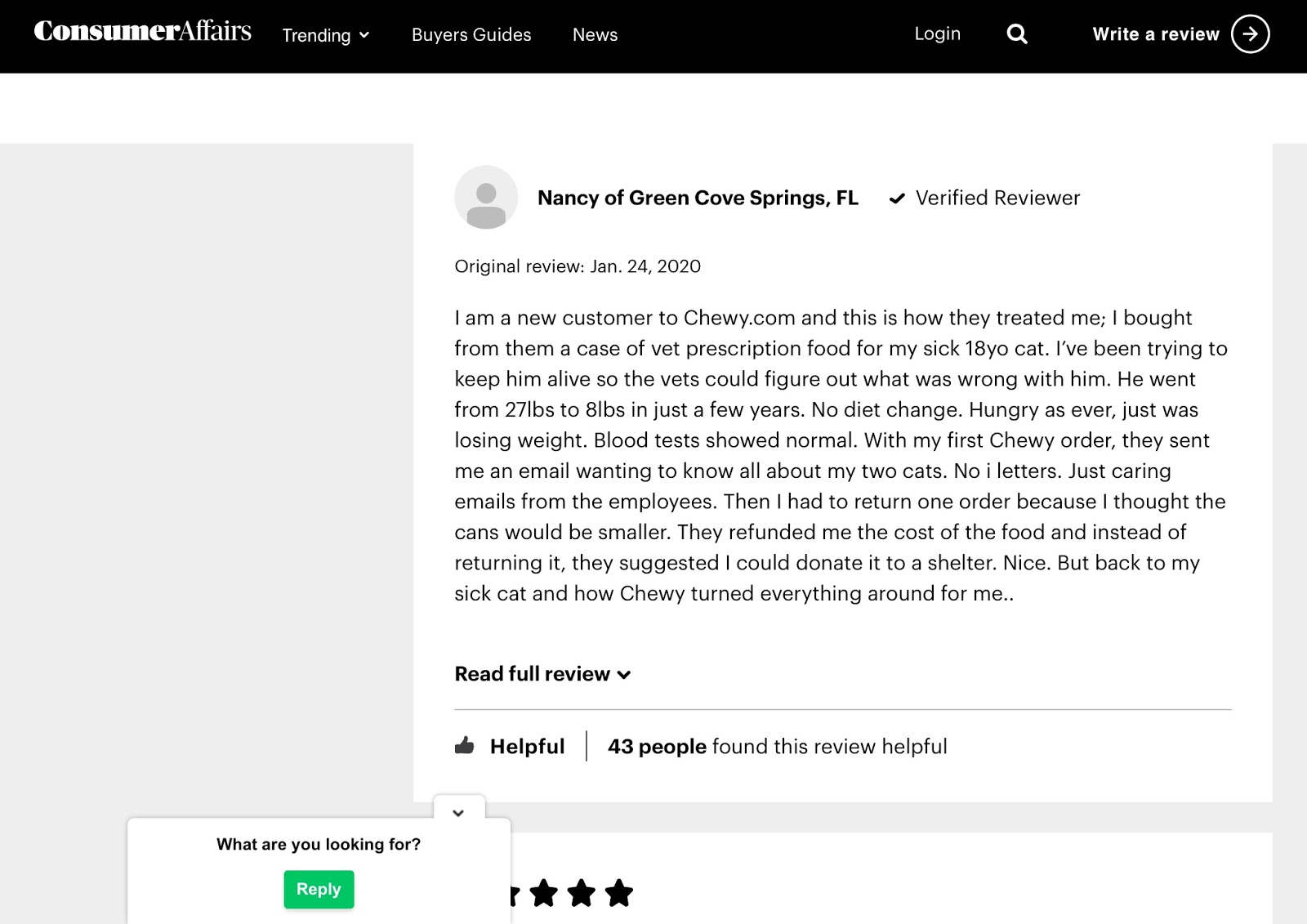 While I was reading online Chewy's reviews, I stumbled upon a buyer's feedback, where she mentioned how her cat was losing weight in spite of eating well. She was impressed with Chewy's gesture, where they sent her an email to know everything about her cat. When she had to return smaller cans of food, Chewy suggested she donate it to a shelter. With one caring email, Chewy won a buyer's heart.
Save With FlexJobs Membership
FlexJobs members get an exclusive 15% off on their first purchase of $49 at Chewy along with free shipping. This is one time offer that can be only redeemed by new members. To get this off, you can register at FlexJobs and use coupon code while placing your next order on Chewy.
Join Cashback Sites
You can order from Chewy via online cashback payment sites to save seamlessly. They publish many cash rewards and discounts for your Chewy orders. The two amazing cashback sites to save at Chewy are Befrugal and Rakuten, which provides a $10 bonus and offers 3% cashback, respectively. Moreover, if you are a first time user at Rakuten, you will get a $10 bonus.
Subscribe to Chewy Newsletter
Once you subscribe to Chewy account, you will receive notifications of various deals on your email. You should mark all the beneficial deals and redeem them during your next purchase on Chewy. You can easily register to Chewy's newsletter by entering your name, email and password.
Wrap Up
On Chewy, you have plenty of different options to save money, from the dynamic Today's Deals to the outstanding 100% satisfaction guarantee policy. You can make your pet and your pocket happy by shopping from Chewy in one go.
Thus, take leverage from all the awesome deals and offers provided by Chewy and keep on ordering top pet brands at affordable rates. And, meanwhile, keep on reading my interesting guides and tutorials.